How to Capture Email Addresses with an Active Sign Up Form
Published on Jun 18, 2018
Written by Josh Mendelsohn
Recently I was talking to a merchant at an ecommerce event and they bluntly said "I want to grow my list and am using a form at the bottom of my website, what are you going to do for me that that doesn't?" It's a great question and one that I was more than happy to answer.
After all, sign up forms do work for email capture and I'd never say NOT to use them! But that's just the beginning of what you can do to rapidly grow your list.
Active Forms v. Passive Forms
Embedded forms like the ones you often see in a sidebar or a website footer or on a contact page are what we call "passive forms." As shoppers, we've all been trained to look for them in a few key spots and they work great for people whose primary objective is to join your list.
But what about all of the people who are on your site for other reasons?
These are the folks that you can capture with "active forms" such as line pop ups, banners, and fly outs. These display types are designed to draw a visitor's eye to the form as it opens and offer a compelling reason for people to sign up.
Even better, they can be used in context to ensure that those offers are relevant and compelling.
How to Capture Email Addresses with 4 High Converting Active Forms
Depending on your business, there are a bunch of different ways to use active forms to grow your list with high converting, targeted displays for your email marketing program. Let's dive into four below.
1. Product page discount
When a shopper is on a product page for an extended period of time, there is a good chance they are debating whether or not to add that product to their cart. Offering them a discount on that product or additional information that can be sent by email is a great way to capture their email address and move them towards making a purchase.
2. PDF download of related content
If you're investing resources in building out great content, you'll want to make sure that your visitors are aware of your latest work and easily able to download it. Using a flyout on a page with a topic related to your latest download makes it easy to get a relevant message in front of exactly the right audience.

3. High value cart saver
This active form is a must do for any ecommerce business. Using a pop up with exit intent when someone has a bunch of products in their cart means you can offer them something special to finish the purchase BEFORE they even abandon your site. In fact the most successful merchants usually have a low value offer (e.g. 10% off) and a high value offer (e.g., free shipping) with a compelling message encouraging people to sign up for the discount.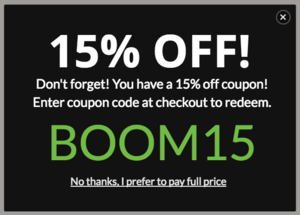 4. Offer a consultation
For businesses with a sales team, offering a free consultation to people who have visited multiple pages during a session is a great way to proactively move prospects from unknown contacts to actual leads. Sure, they could seek out a contact page, but reaching them while they are actively investigating what you offer helps capture leads you would normally miss.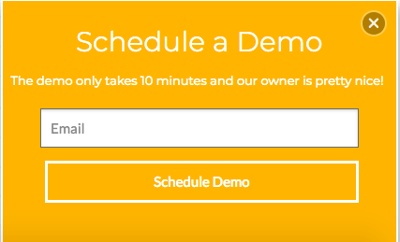 What's the moral of the story?
Passive forms are fine and you should use them (Privy has bars and embedded forms for this), but the key to rapidly growing your list sits with the active form.
Subscribe for Updates
Get our best content on ecommerce marketing in your inbox 2 times a week.
Written by Josh Mendelsohn
Josh brings his marketing chops and lifelong passion for jam bands, craft beer, and SMBs to the team at Privy. Having spent time working at SMB and ecommerce leaders like Constant Contact and Salsify, he has a deep understanding of how to help small and medium sized ecommerce businesses be all that they can be. In addition to leading Privy's marketing team, Josh spends too much of his time managing his pug Marvin's instagram account.
Subscribe for Updates
Get our best content on ecommerce marketing in your inbox 2 times a week.