75 Books, Podcasts, Blogs, and People to Follow to Inspire Your Shopify Marketing Strategy
Published on Mar 10, 2020
Written by Daniel J. Murphy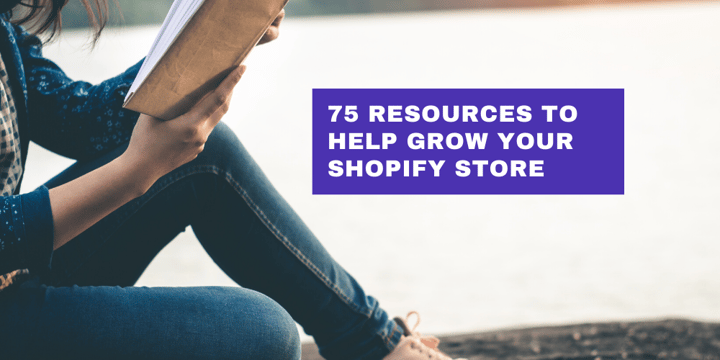 Entrepreneurship is no easy business. It requires passion, grit, resilience, and so much more. But there's no better time to start a business than today.
Here's a compilation of 75 resources you can use to get smart about the ecommerce industry, track trends, and learn how to market your ecommerce business.
These are the resources we use both internally to get our team members up to speed and as references for merchants looking to accelerate their businesses.
Podcasts 🎧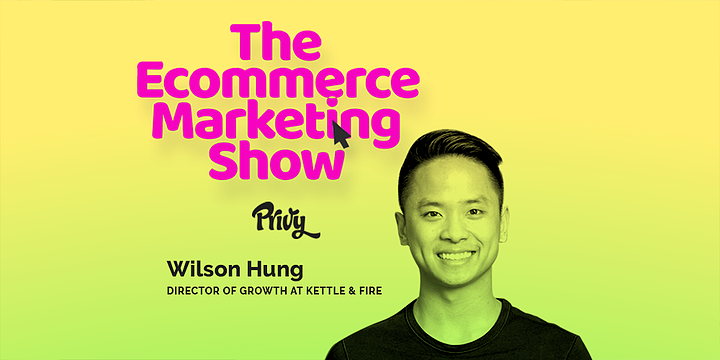 An episode of our podcast, The Ecommerce Marketing Show, about how ecommerce brands can improve their order confirmation emails. [Source]
1. Privy's Ecommerce Marketing Show – Host Dave Gerhardt, our CMO here at Privy, interviews leaders from top ecommerce brands and shares marketing lessons from the 400,000+ businesses using Privy. In a world where everyone is drowning in information, this podcast can be the one-stop-shop for everything you need to know about growing your ecommerce business in 2020 and beyond.
Get our best content on ecommerce marketing in your inbox 2 times a week
2. The Amazing Seller - Host Scott Voelker has built multiple six- and seven-figure businesses over the past 18 years. On this podcast, he shares the tips he used to launch and grow these companies, including tons of advice on email and content marketing.
3. Duct Tape Marketing - Your company doesn't need to be large to take advantage of content marketing. Listen and learn how small businesses can use content to build and grow a base of loyal customers.
4. eCommerce and Digital Marketing - Digital agency Optimum7's podcast is perfect for beginner ecommerce entrepreneurs. For example, the how-to episodes explain basic ecommerce marketing topics, like SEO.
5. eCommerce Evolution - If you're thinking of starting an ecommerce business, this podcast is for you. Many of the interviews are with founders who have launched fast-growing brands, so the content is inspirational.
6. eCommerce Fastlane - This podcast is a must for Shopify store owners. Tune in for interviews with founders and CEOs on their favorite marketing tactics for scaling Shopify brands.
7. eCommerceFuel - This podcast focuses on websites approaching or exceeding $100K in sales per year, so it's aimed at medium-to-large ecommerce brands. With that said, the episodes can still be helpful for small ecommerce businesses that are curious to know what it takes to scale further.
8. Ecommerce Influence - A lot of the advice out there about how to grow a business is fluff, but this podcast is meaty. Almost every review for this show in Apple's podcast store mentions that the hosts provide "actionable" and "practical" tips. Tune in for in-depth lessons on forming a solid ecommerce marketing strategy to scale your brand.
9. eCommerce MasterPlan - Referral Candy named this show one of the 15 best podcasts for ecommerce entrepreneurs. Tune into weekly episodes to hear interviews with ecommerce business experts sharing their best customer acquisition tips.
10. eCommerce Uncensored - With lots of advice on launching Facebook ads, this podcast is perfect for anyone hoping to learn more about paid promotions in ecommerce. The hosts talk about how they've practiced their suggested tactics with clients, so you can trust their advice.
11. The Jason & Scot Show - Retailgeek's podcast always focuses on timely ecommerce topics, so it's a great resource for staying abreast of what's happening in the space. Plus, the show's guests are always marketing rockstars, like the VP of Shopper Marketing at Coca-Cola.
12. My Wife Quit Her Job - Host Steve Chou and his wife quit their jobs to bootstrap different businesses, including a successful ecommerce store that sells linens. Steve brings on different bootstrapped business owners, shares tips, tricks, and tools for growing a six-figure business online.
13. Nerd Marketing Ecommerce - This show doesn't post consistently, but their library of episodes is a gold mine of email marketing advice. Every episode page links to additional resources, so you can keep learning even after you're done listening.
14. Shopify Masters - This is the official podcast from Shopify, where merchants tell they're getting-started stories, first-sale stories, and more. Listeners still considering ecommerce are inspired to get started.
15. Vanguard by Shopify - Need a break from podcasts about ecommerce tactics? Vanguard is your source for motivation. This podcast tells the stories of successful businesses started by people with unconventional entrepreneurial backgrounds. The subjects' determination to make the world a better place despite their tough realities is nothing short of inspiring.
16. The Unofficial Shopify Podcast - Host Kurt Elster is a well-known Shopify expert. He brings on all sorts of vendors from the ecommerce space, as well as merchants small and large. Each episode tends to have a singular theme to focus on.
Books & Ebooks 📚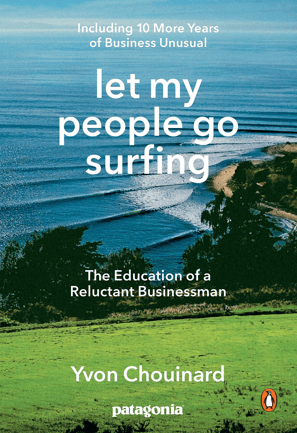 The timeless business book, Let My People Go Surfing by Yvon Chouinard, the Founder of Patagonia. [Source]
Books
1. Building a StoryBrand: Clarify Your Message So Customers Will Listen (Donald Miller) - Marketing is ultimately storytelling, so why not use classic narrative tricks to promote your brand? Look no further than this book. It walks through the seven classic principles of storytelling to teach readers how to improve their own brand messaging.
2. Crushing It! (Gary Vaynerchuk) - NY Times best-selling author Vaynerchuk breaks down how brands can build their social presence on Twitter, YouTube, Facebook, Instagram, Snapchat, and podcasts.
3. Ecommerce Evolved: The Essential Playbook To Build, Grow & Scale A Successful Ecommerce Business (Tanner Larsson) - Learn 12 core principles of ecommerce based on the author's consulting work with 10,000+ businesses and his experience launching over two dozen different companies.
4. The Everything Store: Jeff Bezos and the Age of Amazon (Brad Stone) - You've probably read dozens of posts on how to compete with Amazon as an ecommerce retailer. But do you know how the brand came to dominate ecommerce? Author Brad Stone tells the story of the company's rise based on his extensive research and conversations with Bezos' family members and Amazon employees
5. Let My People Go Surfing (Yvon Chouinard) - The founder of Patagonia offers a simple but powerful branding lesson in this book: tell people who you are. He breaks down how the outdoor retailer grew to be a large profitable company by being radically transparent about its core values.
6. One Million Followers: How I Built a Massive Social Following in 30 Days (Brendan Kane) - If your brand has little to no social presence, this book is for you. You'll learn how any company or individual can build an authentic social following from scratch in 30 days or less.
7. The 1-Page Marketing Plan: Get New Customers, Make More Money, And Stand out From The Crowd (Allan Dib) - Many business owners say they'll come up with a marketing plan but never do because they think the task will take time. This book simplifies the planning process to a single page, so anyone can create a marketing strategy—no matter how busy they are.
Ebooks & Downloadables
1. Facebook Ads Templates for Better Ads (AdEspresso) - Build your first Facebook ad in minutes with this resource from social marketing platform AdEspresso. In this ebook, you'll find free templates, best practices, and examples for every type of Facebook ad.
2. The Ecommerce Marketer's Guide To Advanced Audience Targeting (Privy) - Simply adding a popup might help conversions, but there's so much more to increasing onsite conversion rates. This is a level 2 guide that walks through how to create more relevant conversion opportunities based on key website visitor segments.
3. How to Select the Right Ecommerce Platform for Your Business (BigCommerce) - This free Excel template can help guide your ecommerce platform selection. The "marketing" tab is especially helpful, with questions you should ask to evaluate tools' marketing features.
4. The New Ecommerce Growth Model (Yotpo) - The buyer's cycle is larger and more unpredictable than ever before. Read this ebook to learn a new model for growth based on recent changes in the ecommerce buyer's journey.
5. 12 Must-Have Automated Email Campaigns to Drive Ecommerce Revenue (HubSpot) - Save time by implementing the automated email campaign suggestions in this ebook. The campaigns span the entire buyer's journey—from pre-purchase to reengagement—so you can nurture shoppers at every stage.
Blog Posts and Educational Guides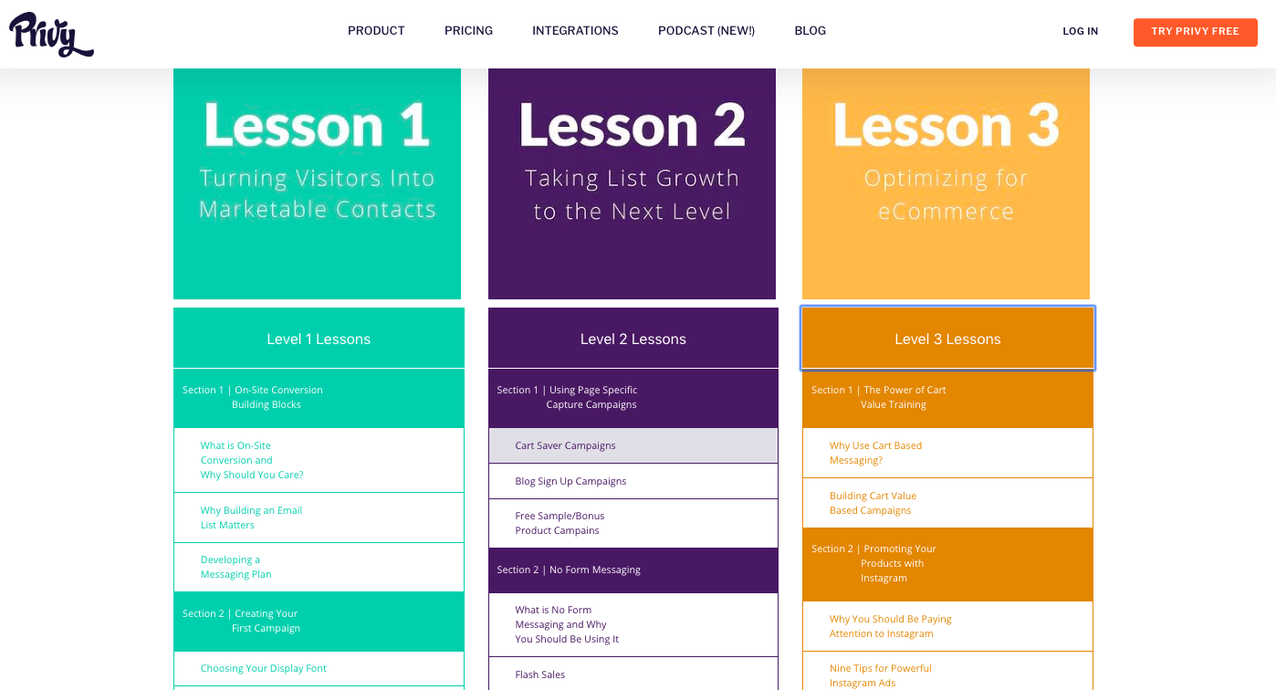 Privy Academy, a hub of educational posts on improving onsite conversions organized by level of experience. [Source]
The Basics
1. Customer Acquisition: How to (Profitably) Gain New Customers for Your Business (Shopify) - Get as much value out of your marketing spend as possible with this Shopify post. It breaks down the pros and cons of seven key customer acquisition strategies, so you can decide which are the most profitable for your business.
2. Here's The Equipment You Actually Need to Take Product Photos For Your Online Store (Privy) - You don't need a massive budget to take stunning product photos. This guide breaks down how you can secure all of the equipment you need—camera, lighting, backdrop, editing—for less than $60. No photography experience required.
3. How to Create an Ecommerce Marketing Funnel [Template Included] (Privy) - This is a solid explainer post on what a marketing funnel is and how to create your own. Plus, the post includes a free marketing funnel template, so you can build your own in no time.
4. How to Get Your First Sale in 30 Days: A Marketing Checklist for New Entrepreneurs (Shopify) - These days, the time required to launch your site, and the cost, are approaching zero. Launching is step 1, but most ecommerce sites struggle to get their first sale. Here's a guide that should inspire some ideas on achieving that first milestone.
5. Privy Academy (Privy) - A decent chunk of online store visitors leave without converting. Turn more traffic into customers with this series of educational posts on improving onsite conversions.
6. Shopify Academy (Shopify) - Learn from the mistakes of other ecommerce entrepreneurs with this robust educational hub. You'll find free on-demand courses from ecommerce leaders, as well as templates and tutorials to help you get your business off the ground.
7. Shopify's Business Encyclopedia (Shopify) - If you're new to ecommerce, it's easy to trip up on industry terms (anybody know the difference between "competitive analysis" and "market research"?). Skip business school and dive into Shopify's encyclopedia to learn all of the ecommerce concepts you need to know.
8. Social Proof: Your Most Influential Marketing Asset and How to Use It (Shopify) - Online shoppers can't meet with you face-to-face, which makes building trust all the more difficult. Boost their confidence in your brand with the help of this guide on social proof. You'll learn what this psychological phenomenon is, how it relates to business, and where to use it in your marketing.
9. The Ultimate Guide To Starting And Scaling An Ecommerce Business (Foundr) - This is a comprehensive guide for those interested in starting their own ecommerce business or scaling one.
Paid Advertising
1. The Beginner's Guide to Facebook Advertising (AdEspresso) - New to the world of Facebook advertising? This post is for you. Learn how to set up your first Facebook ad and manage your promotions once they're published with Facebook Ads Manager.
2. Facebook Ads for Beginners: A Step-By-Step Guide to Running Your First Campaign (Shopify) - If you're just getting started, getting traffic to your site is the first key ingredient in getting the word out. Facebook ads and Instagram ads can be a low-cost way to experiment with doing just that.
3. How to Build a Successful eCommerce Advertising Strategy (AdEspresso) - A helpful overview on using Google and Facebook ads for your ecommerce brand. This post lays out the pros and cons of each advertising platform and gives examples for each ad type on Facebook and Google.
Email, Text, and Social Marketing
1. Buying Instagram Likes is Hurting Your Brand. Here's Why (AdEspresso) - Artificially boosting your Instagram presence with paid likes does more harm than good for your brand. Learn why buying Instagram likes isn't worth your time or money and how to drive organic engagement instead.
2. Email Marketing 101: How to Build Your List, Send Effective Campaigns, and Track Results (Shopify) - Email remains a top-five revenue source for ecommerce businesses. This guide walks through the basics for email marketing within your ecommerce business.
3. Facebook Messenger: How Businesses Can Use It To Connect with Audiences (AdEspresso) - More and more customers today want to use bots to connect with brands to solve their problems quickly. Take advantage of chat messaging with this guide, a comprehensive breakdown of Facebook Messenger and how to set it up for your brand.
4. 3 Ecommerce Brands Who Have Nailed Text Message Marketing (Privy) - To build a base of loyal customers, ecommerce brands need to be where their shoppers are—and in 2020, that means text message marketing. Read about how three ecommerce brands pulled off successful text campaigns to inspire your own SMS marketing.
Onsite Marketing
1. How to Create a Coming Soon Page and Start Marketing Before You Launch (Shopify) - Before you release a new product, build hype around it with a coming soon page. It lists every element you should include on your page, along with a few examples to give you inspiration.
2. Product Page Tune-Up: 9 Timeless Ways to Increase Conversions (Shopify) - At this point, high-quality photos and well-written descriptions are table stakes for product pages. Engage more shoppers by revamping your product pages with these design tips from Shopify.
3. 17 Ecommerce Landing Page and Pop-Up Examples that Attract Leads (Bread) - 83% of shoppers have a goal other than purchasing on their first visit to an online store. So how do you encourage them to come back to purchase? Landing pages and popups. See how other brands nurture shoppers with these standout landing page and popup examples.
Reporting
1. Do you track these critical ecommerce metrics? (Jilt) - Search "ecommerce metrics," and you'll be overwhelmed by the long lists that appear in your search results. To keep things simple, this Jilt post highlights eight essential metrics every ecommerce store owner should track. Monitor the metrics in this guide, and you'll have enough data to evaluate your marketing spend and make well-supported decisions.
2. Marketing Analytics for Absolute Beginners (Shopify) - You've probably heard that data tracking is critical for a business' success, but you may not have any experience tracking business figures. Start monitoring performance with this introductory post. It breaks down why ecommerce analytics is useful, what metrics you should track, and how to incorporate reporting into your work routine.
Inspiration
1. 15 Drool-Worthy Product Page Examples to Inspire Your Own Ecommerce Store (Shopify) - The power of the product page can't be overstated—it is, after all, where your sales happen! Explore how you might improve your own product pages by looking through these 15 stellar examples from a variety of sectors: beauty, apparel, food, just to name a few.
2. 4 Food Brands Crushing Ecommerce Marketing & What You Can Learn From Them (Privy) - People are obsessed with food these days—taking pics of their avocado toast, binge-watching The Great British Bake Off, you name it. The key to winning over these shoppers? Craft marketing that appeals to their inner foodie. Learn how four food brands are doing just that in this post.
3. How Glossier Built a $1.2B Brand Off The Back of Content (Privy) - It doesn't get more inspiring than the story of Glossier. Learn how the beauty brand's founder grew the business from a beauty blog to a unicorn-status company in less than a decade.
4. Is Copywriting Killing Your Online Store's Revenue? 5 Expert Copywriters Share Their Advice (Privy) - Copywriting is often an afterthought for ecommerce store owners, but its impact on sales is huge. Drive more purchases by following these tips from some of the world's best copywriters—including Ann Handley and David Ogilvy. No writing experience needed!
5. 20 Ecommerce Experts Share Advice to Help You Grow Your Business in 2020 (Privy) - Soak up timely marketing advice in this quick, digestible slide deck. Tips come from marketing experts at top ecommerce brands—including The Sill, Gorgias, and Shopify Plus.
6. We Interviewed An Ecommerce Marketing Expert About His Top Do's and Don'ts For Building An Online Store. Here's What We Learned. (Privy) - Shopify expert and Ethercycle CEO Kurt Elster shares tips and common mistakes for four types of marketing campaigns: paid ads, email, text, and popups.
Social Community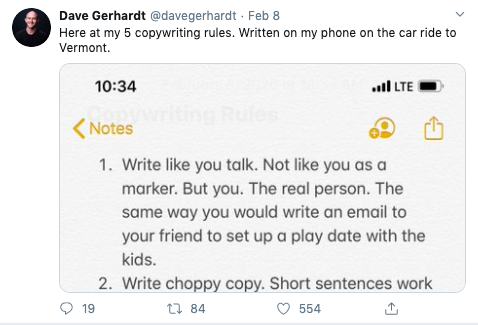 Privy's CMO Dave Gerhardt sharing his top ecommerce copywriting advice on Twitter.
[Source]
Twitter Accounts to Follow
1. Andrew Yourderian - Founder of eCommerceFuel, a private community for six-figure plus store owners
2. Austin Brawner - Host of the podcast Ecommerce Influence
3. Bill D'Alessandro - Founder of Elements Brands, a consumer products company
4. Chloe Thomas - Host of the podcast eCommerce MasterPlan
5. Dave Gerhardt - Chief Marketing Officer at Privy
6. Kaleigh Moore - Ecommerce writer
7. Kurt Elster - Host of The Unofficial Shopify Podcast
8. Linda Bustos - Founder of ecommerce consultancy Edgacent
9. Mari Smith - Social media thought leader
10. Steve Chou - Host of the ecommerce podcast My Wife Quit Her Job
11. Steven Hutt - Merchant success at Shopify Plus and host of the podcast eCommerce Fastlane
12. Zia Daniell Wigder - Chief global content officer at Shoptalk
Subreddits
1. Ecommerce Marketing - A small but supportive forum for ecommerce marketers to ask for and share their advice.
2. Ecommerce - Online Store Owners - With over 76,000 members, this forum is a bustling, helpful space to ask your most pressing ecommerce questions.
3. Shopify - Join over 50,000 other Shopify lovers to ask questions and learn more about running a store on this ecommerce platform.
Other Online Groups
1. eCommerceFuel - Are you approaching $100K in annual sales? If so, you can apply to be a part of this great community. Members discuss vendors, marketing, and the challenges of scaling their ecommerce startups.
2. GrowthHackers (with the #e-commerce tag) - Follow this hashtag, and you'll be shown the latest, greatest ecommerce articles out there when you sign into GH.
3. Quora - Search an ecommerce marketing topic you're curious to learn more about or ask your own question on this Q&A site.
4. Shopify Entrepreneurs - A free Facebook community with over 100,000 members around the world. The group is a fantastic place to ask any question you may have, small or large, and also to connect with other entrepreneurs all over the world at the same stage as you.
Subscribe for Updates
Get our best content on ecommerce marketing in your inbox 2 times a week.
Written by Daniel J. Murphy
Dan is a B2B marketing leader with over 7 years of experience helping SaaS startups grow. Before joining Privy, Dan was the Director of Product Marketing at Drift. He's also worked in demand generation, brand marketing and marketing ops. Dan loves to geek out over marketing strategies and technology. He co-authored "This Won't Scale" with Privy's CMO, Dave Gerhardt at their previous company.
Subscribe for Updates
Get our best content on ecommerce marketing in your inbox 2 times a week.