4 Food Brands Crushing Ecommerce Marketing & What You Can Learn From Them
Published on Feb 19, 2020
Written by Daniel J. Murphy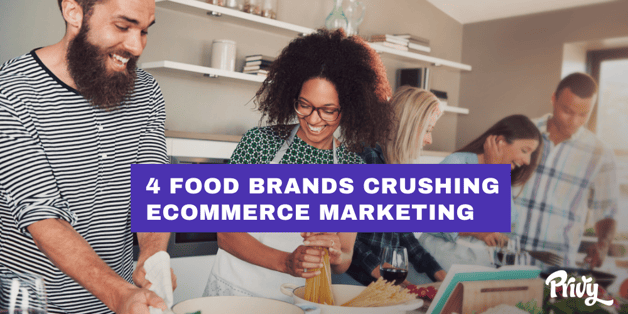 Foodies used to be few and far between — a small group of people with Saveur subscriptions and Le Creuset cookware.

But today, it seems like everyone is a foodie, especially millennials.

"People in our generation are thinking about, 'What am I going to eat next?' 'Where am I going to go dine next?' 'What's in the fridge and what can I put together tomorrow?'" said writer Eve Turow in The Atlantic.

Social media drives the trend. Influencers post shots of their drool-worthy meals, and FOMO increases with every like. Suddenly, everyone is obsessing over making avocado toast or visiting the latest ramen-burger restaurant. In fact, food and drink is the most popular Instagram topic in the UK, and food is the second most popular in the US.

What does this shift mean for culinary brands? Your marketing has to appeal to everyone's inner foodie.

That's the strategy of these four food and drink brands. Shoppers keep coming back to these companies because their marketing is both inspiring and useful to savvy foodies.
Get our best content on ecommerce marketing in your inbox 2 times a week
Daily Harvest: Drives over 10 million monthly views on Pinterest
When we think of the top social marketing platform, Instagram or Facebook usually comes to mind. But for food brands, there is another social channel worth considering: Pinterest.

Just look at the meal-kit service Daily Harvest. The brand gets over 10 million views every month from the images and videos they post on Pinterest.

[Source]

There's a reason why DH and other food brands see traction on Pinterest: it's a go-to resource for recipes. There were 23 billion dinner recipes on the site in 2018—and that was just dinner! When people search for these recipes, there's a good chance they'll use keywords that lead to food product "pins," photos and videos on Pinterest. These pins link directly to URLs, unlike Instagram posts, so food brands can send people straight to their product pages.

The key to getting those clicks? Post bright, beautiful photos and videos that tap into users' love of cooking, just like Daily Harvest does.

All of their pins are crisp, bold, and colorful. But more importantly, their photos and videos focus on the preparation of their meal kits. Instead of showing models enjoying a Daily Harvest breakfast, like a traditional ad would, DH's pins break down the ingredients and instructions for making it.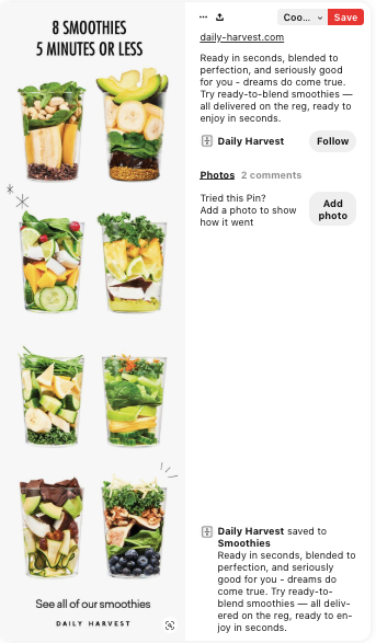 [Source]

DH also motivates users' inner cooks by posting customers' photos and videos of their product on Pinterest.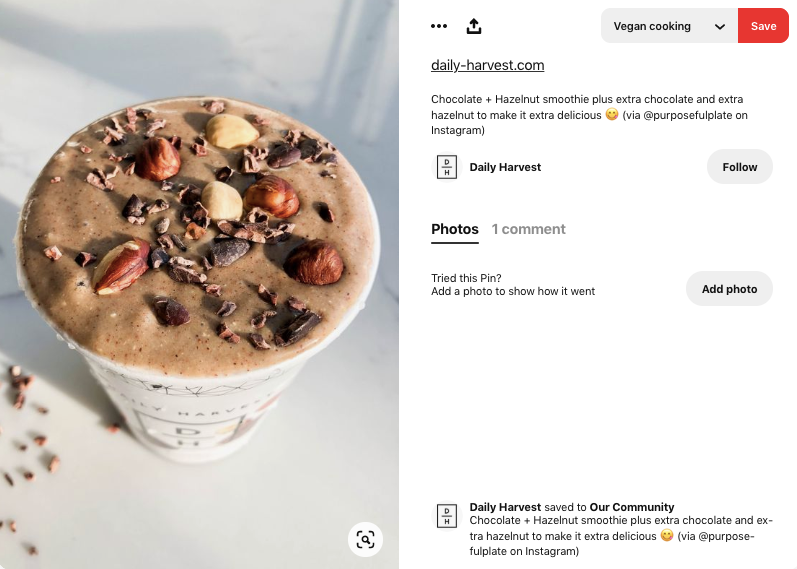 [Source]

If other shoppers can create these beautiful meals, shoppers think, why can't I?
Takeaway: Use Pinterest to drive views to your products
Take advantage of the fact that Pinterest is a foodie hub, and start creating product pins to build brand awareness. Share photos and videos that feel more like recipe content, not an ad, to inspire the classic creative Pinterest user.

If your product involves prep from the customer, like DH, use visuals and text to explain how the customer can make your food. For ready-to-go products, you can still show the creative side of your product by explaining how it's made. Highlight the ingredients that go into your product so shoppers can appreciate the quality of it. You can also create pins about how the product might be used in a recipe.

And, of course, don't forget to link to your product pages from your pins! Collecting millions of Pinterest views is worth celebrating, but it's even better if you can translate that traffic into purchases.

Looking for more ways to optimize your Pinterest pins? Check out these tips from social media expert Peg Fitzpatrick.
HelloFresh: Saw 62% order conversion rate thanks to Freddy the Chatbot
The target customer for the meal-kit company HelloFresh is, without a doubt, a foodie. They love being in the kitchen so much that they commit to whipping up several HelloFresh recipes every week.

"Our core demographic is the people that are already cooking at home," said HelloFresh chief executive Dominik Richter.

The company created a way to bond with their shoppers over their shared love of food: a Facebook chatbot named Freddy. Thanks to this technology, HelloFresh has been able to boost both sales and brand awareness.

HelloFresh used Freddy in 2017 and 2018 to promote a Black Friday deal. The company published a Facebook post asking users a food-related question or riddle, with the promise of an $80 discount if they commented with the right answer.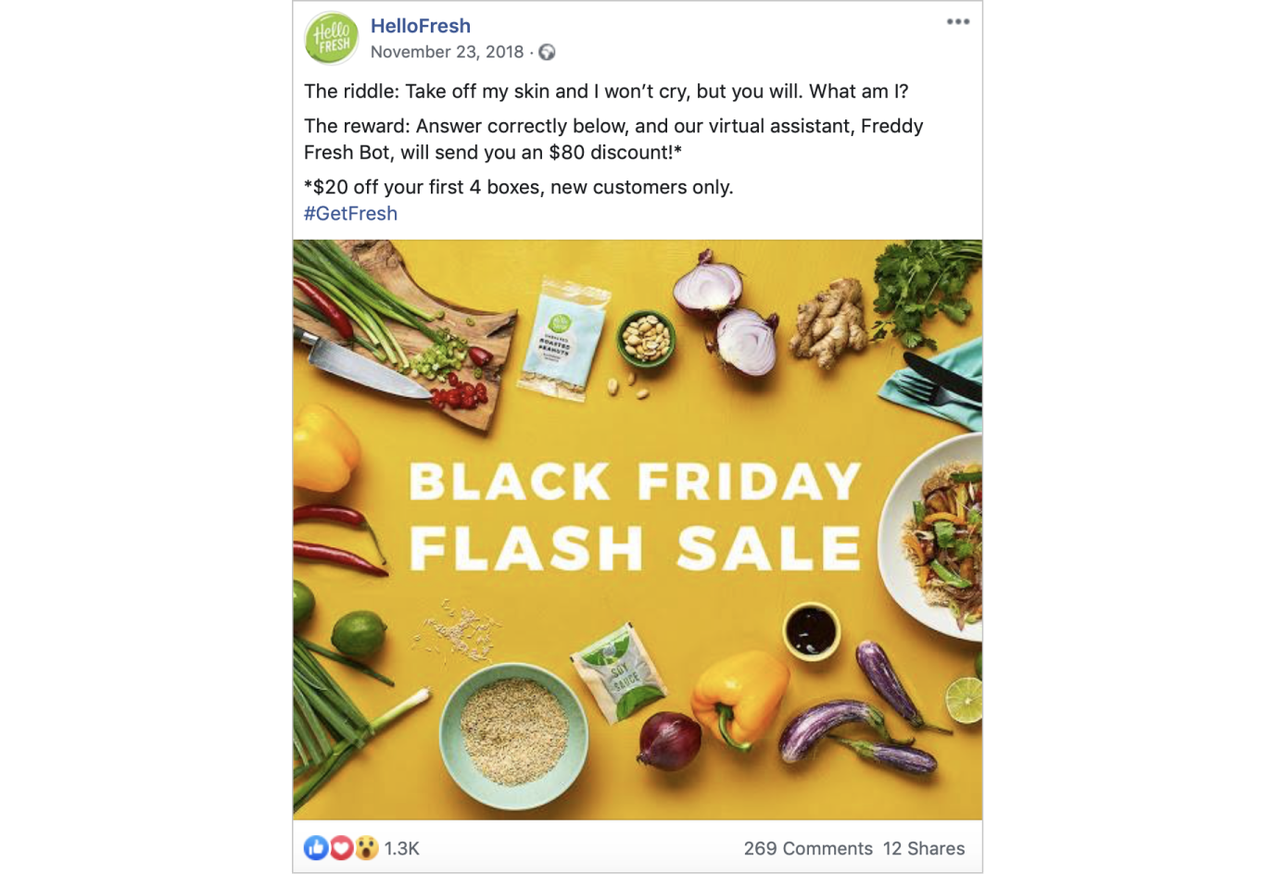 [Source]

The campaign was a success: 64% of the users who received the code used it to place a HelloFresh order.

HelloFresh also uses Freddy to keep the brand top of mind, but in ways that foodies find fun and valuable. The bot can take users through a breakfast quiz or even provide playlist suggestions based on the recipe a shopper is cooking.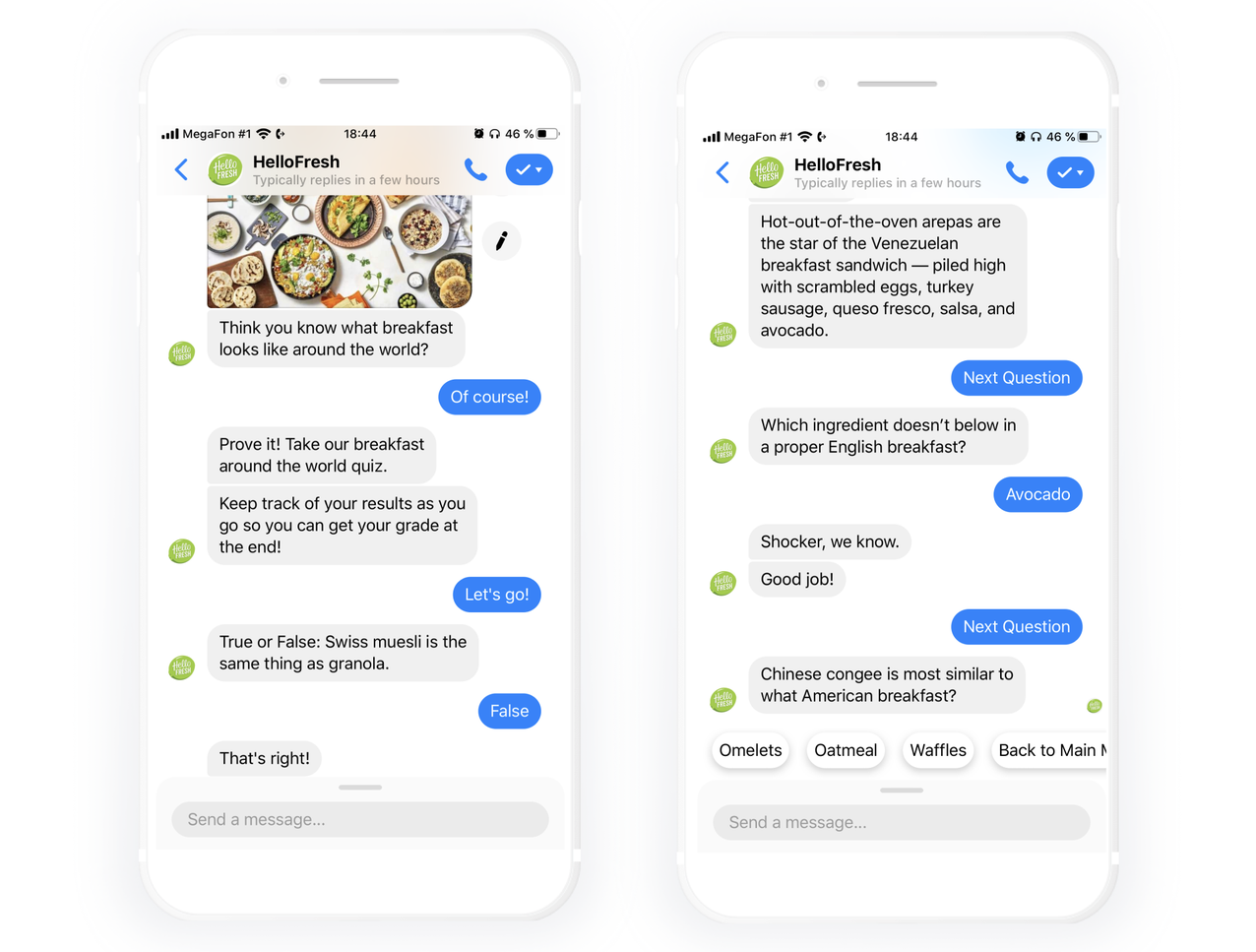 [Source]

Sharing discounts and resources, Freddy makes cooking easy and enjoyable for HelloFresh's foodie customers. And because Freddy is a bot, he provides instant gratification for shoppers. No need to dig through emails or HelloFresh's site—the bot provides the info customers need in seconds.
Takeaway: Strike up foodie conversations
Setting up a bot isn't as complicated as you may think. All you need is a chatbot development platform to set up the bot's automated conversations and connect it to your Facebook ads. HelloFresh used Chatfuel to build Freddy, but other chatbot builders are also worth considering.

Once you've selected a builder, focus on making your bot sound natural with these tips from Venture Beat:
Use the tool Hemingway to find ways to simplify your language and make it sound more conversational.
Time your bot to respond quickly, but not unnaturally fast. A bot is capable of replying immediately after a shopper hits send, but it's best to leave a little more breathing room so the conversation feels realistic.
Keep your bot's answers brief, and don't send a ton of messages. The longer it takes for shoppers to read your bot's messages, the more likely they are to drop out of the conversation.
To learn more about setting up your chatbot, check out this resource from Intercom.
Pastreez: Educates 80K Instagram followers with macaron tutorials
In the last three years, the online macaron seller Pastreez has built quite the Instagram presence. They're up to 80,000 followers, and their posts regularly see thousands of likes and views.

Their secret to success? Posting videos and photo slideshows about making macarons.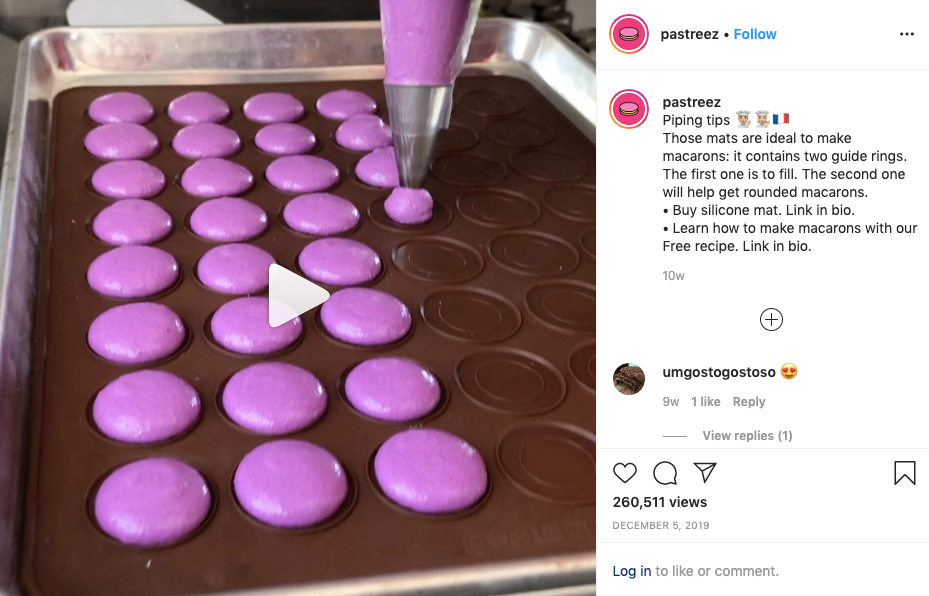 [Source]

Pastreez's educational content typically gets more engagement than their product posts. For comparison, a recent product video about their Valentine macarons got over 60,000 views. Their recent video about checking macaron batter? Nearly 115,000 views.

"Our Instagram followers are more interested in tips and tricks to make macarons at home," said Anthony Rosemond, a cofounder and CEO of Pastreez.

Beyond posting photos and videos, Pastreez responds to users' baking questions in the posts' comment threads. The company even shares links to the equipment and recipes they use in their Instagram bio.

The tactic is a smart way of getting customers in Pastreez's online store. Knowing how difficult it is to make macarons, amateur bakers and small bakeries follow Pastreez's account for insider tips. But once they're following, they'll constantly be tempted by Pastreez's irresistible photos of beautiful, colorful macarons in their feed.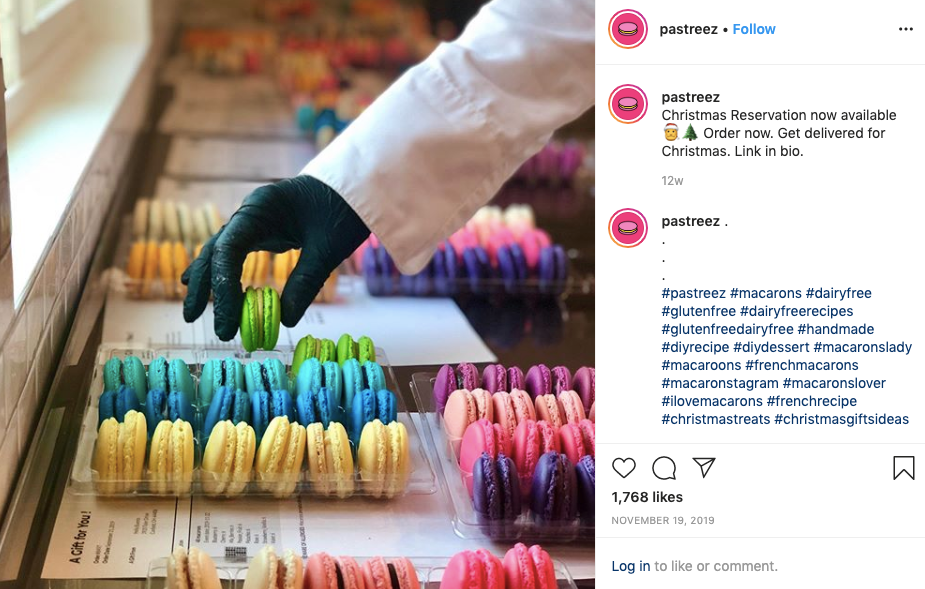 [Source]

It's only a matter of time before these macaron lovers visit Pastreez's online store and place their first order.
Takeaway: Share insider cooking tips with Instagram photos and videos
It may seem strange to share your process for creating your products with customers. Won't they stop buying from you if they know how to make what you're selling?

Pastreez shows that the opposite is true. Shoppers appreciate food brands more if they share valuable cooking tips. Even if they do decide to use your recipes and advice, they'll still have a good reason to purchase from your brand. It's convenient, and you're product probably tastes better than what they make as amateur cooks.

If your product is too complicated for a home cook to make, create posts about ways to creatively use your product. For example, an online cheese seller might post a photo slideshow explaining the steps of building a charcuterie board.

If you're posting a video, keep its scope narrow since Instagram videos can't be longer than a minute. Also, try to grab viewers' attention in the first few seconds so they want to keep watching. Even if they only partially watch, that's okay. Facebook's research shows that semi-short views, from 3 to 10 seconds, can still build brand awareness.
Winc: Grew revenue 292% with personalized email marketing
The online wine club Winc knows that anyone who subscribes to their service is serious about vino. Their target consumer wants high-quality wine but also doesn't want to drink the same variety all the time.

"Traditional wine consumers are now becoming adventurous connoisseurs, experimenting and expanding their palates," said Brian Smith, a cofounder of Winc.

The company helps their shoppers try new wines by emailing product recommendations based on Winc's customer data and their knowledge as a winery.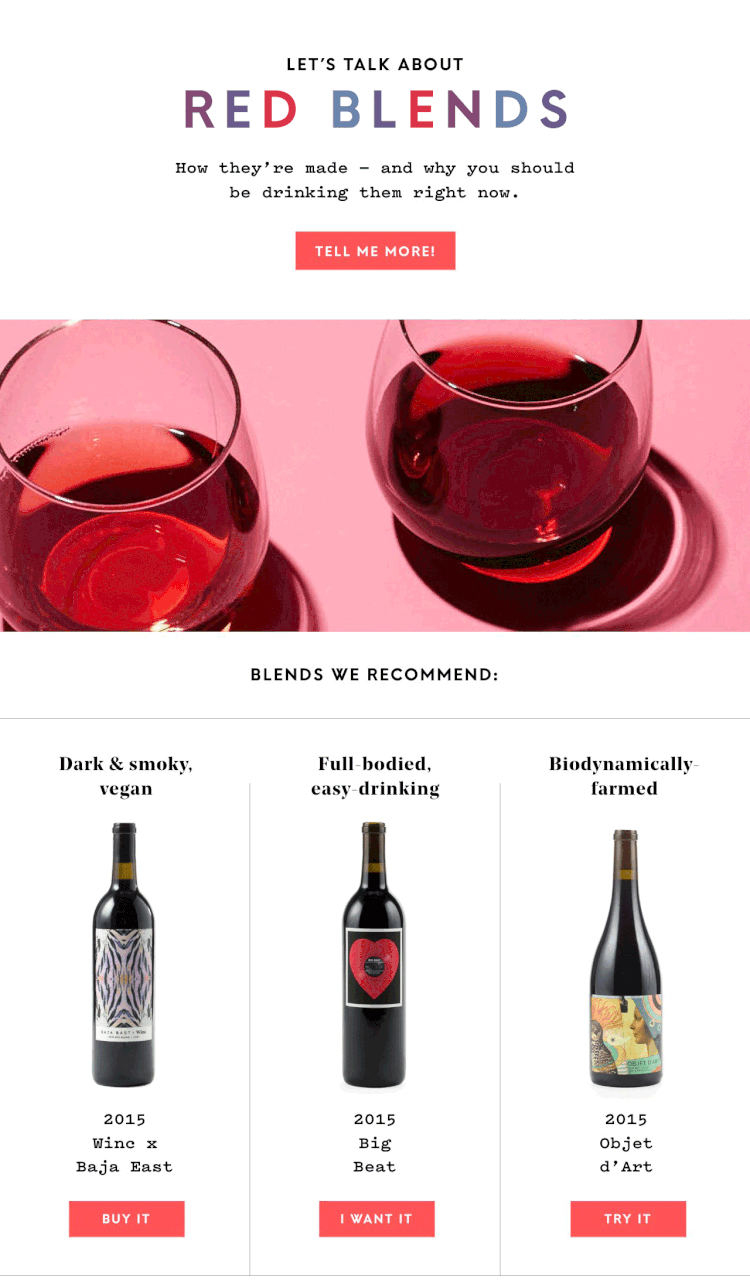 [Source]

Winc's recommendations are driven by shoppers' taste profile survey responses, along with their product ratings, order histories, and product notes. Other online wine clubs, though, make similar data-driven recommendations to shoppers. What makes Winc's personalized suggestions especially powerful is that the brand makes the wines themselves.

The winery is able to craft their products around specific tastes, based on the initial feedback they get from customers when the company releases a new variety.

"When Winc noticed that its customers preferred its Summer Water Rosé wine to be a little on the dry side, the company tweaked the sourcing strategy and saw its sales jump," said writer Mark Hamstra in his profile of the company.

Being this close to production, Winc's team understands why their wines are associated with different tastes. They can confidently make product recommendations based on this knowledge and their customer data, while other wine clubs just rely on the latter.

This system seems to be working well for Winc. The company saw its revenue increase by 292% over the last four years, and it was named one of the 50 most innovative companies by Fast Company in 2019.
Takeaway: Email recommendations based on customer data
Help shoppers find the next product they'll love by sending them strong, data-backed product recommendations.

To make these suggestions, refer to data about your customers' preferences, whether that's their survey responses or their order records. If possible, like Winc, also consider your product production. What about a product's ingredients or its preparation process makes it suited for specific tastes? The deeper your understanding of the product's qualities, the stronger your suggestions will be.

In terms of sending these personalized recommendations, consider using an email marketing platform, if you aren't already. With this tool, you can automatically send these messages instead of needing to write a different email for every customer.
Today's food-obsessed shoppers want to see food-obsessed marketing
For many modern consumers, food is more than sustenance. People look for high-quality ingredients, with one in four shoppers checking food labels. They're also eager to cook restaurant-worthy meals, as seen by all of the engagement that food influencers drive.

Tap into this interest with your marketing. Post photos on Instagram that would make anyone's mouth water. Share cooking tips for the customers who love to be in the kitchen. Make it clear to your shoppers that your brand is just as passionate about food and drink as they are. You won't just grab foodies' attention by focusing on what they love—you'll also build their trust in your brand.
Subscribe for Updates
Get our best content on ecommerce marketing in your inbox 2 times a week.
Written by Daniel J. Murphy
Dan is a B2B marketing leader with over 7 years of experience helping SaaS startups grow. Before joining Privy, Dan was the Director of Product Marketing at Drift. He's also worked in demand generation, brand marketing and marketing ops. Dan loves to geek out over marketing strategies and technology. He co-authored "This Won't Scale" with Privy's CMO, Dave Gerhardt at their previous company.
Subscribe for Updates
Get our best content on ecommerce marketing in your inbox 2 times a week.