15 Mother's Day Marketing Campaign Ideas To Inspire You (with Examples)
Published on Apr 27, 2023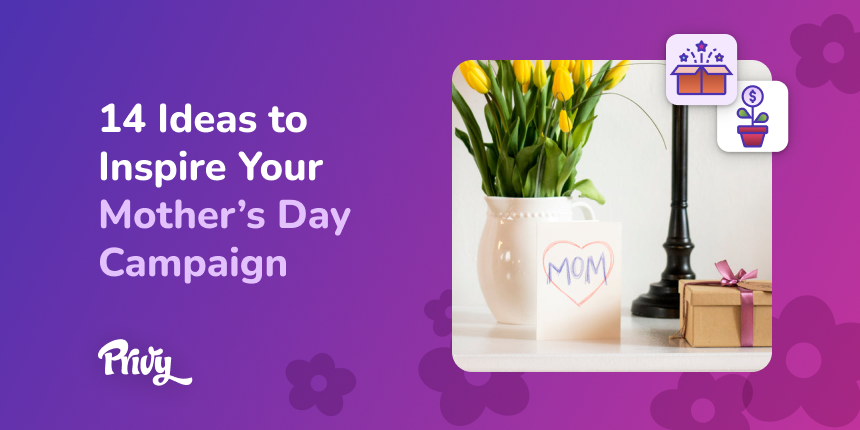 This post was originally published April 26, 2022
Consumers plan to spend over $35 Billion for Mother's Day. 🤯
And we want as much of that business going to independent stores like yours. Not Amazon. Not Target. You.
So we put together tons of ideas to inspire you and help you bring in sales this Mother's Day and beyond.
From gift guides, to bundles, to gift cards, the options are endless.
And this post has everything you need to get started:
14 campaign ideas
17 real life examples
10 subject line ideas
Mother's Day templates
a killer swipe file
…and more. Let's dive in!
Get our best content on ecommerce marketing in your inbox 2 times a week
1. Give your audience the option to opt out
There's nothing better than a brand that feels human. And over the last couple years, it's become more and more common for brands to give their audience the chance to mute messages about potentially sensitive holidays, like Mother's Day.
Here's a great example from Fly by Jing: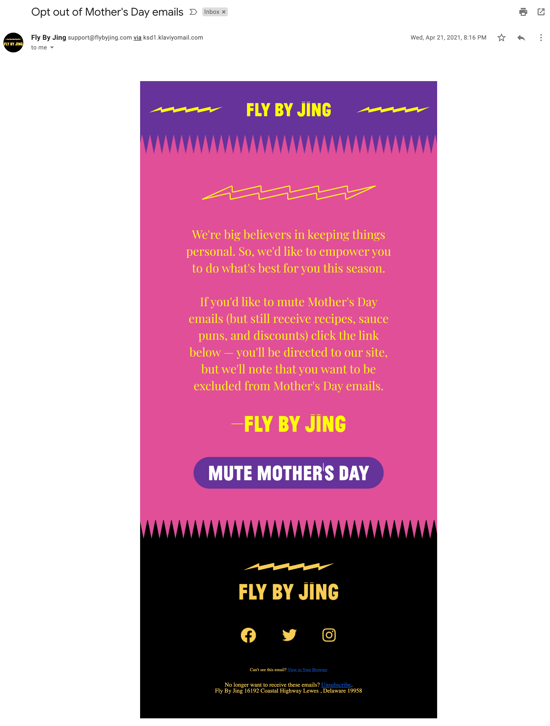 The fact that they acknowledge that this time of year might not be easy for everyone and give their subscribers the option to stop receiving Mother's Day messages is huge.
These are the kinds of gestures people remember (and keep coming back for). Plus, the process couldn't be easier. Just click the button and they'll exclude you from all future Mother's Day communications.
Want to do something similar in your Privy account? Here's how:
So before you start sending multiple emails for Mother's Day, think about sending a thoughtful message giving your subscribers the chance to opt out.
2. Send a reminder
A reminder email is an amazing way to stay top of mind and give your audience a reason to check out your Mother's Day products.
That's exactly what jewelry brand, EF Collection, did:

Right in the subject line you see, "Mother's Day is 1 Month Away," so you know exactly what to expect. And it's a great reminder that you don't have much time to get your gifts.
Plus, they make it really easy to shop, by showcasing 6 specific products and collections.
By sending reminders, you can easily send multiple emails and texts to your audience. Which means more opportunities to bring in sales for your store. So when in doubt, send a reminder email to stay top of mind and follow it up with multiple other touchpoints for a killer holiday strategy.
3. Create a gift guide
Removing friction and creating seamless experiences for your audience should always be top of mind. And email is no different. That's why gift guides are such a perfect play for holidays like Mother's Day.
You're taking the burden off of your audience to find the perfect gift on your website and serving it directly to them.
This example from clothing brand, Jenni Kayne, is really well done:
So simple, but incredibly easy to navigate based on the person you're shopping for.
In subsequent emails, they continued to highlight the gift guide in their footer: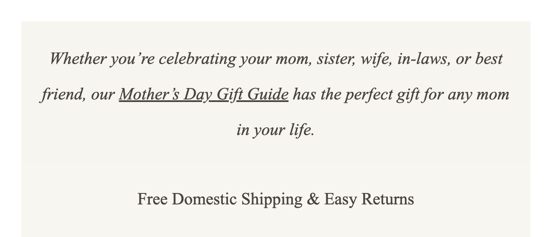 I love this play because it means you're not creating single-use content. Because ideally you have multiple emails and messages going out to your audience, so you can constantly showcase the gift guide.
You're using products you already have, but categorizing them to make shopping a better, more enjoyable experience for your subscribers. It doesn't get better than that.
4. Offer free shipping
How many times have you added something to your cart and made it to the checkout page only to find that shipping isn't free?
Chances are, it's happened more than once. And for many people (including me!), that can be a big reason to abandon your cart at the very last stage.
Because thanks to companies like Amazon, free shipping is almost expected. So if you don't already offer free shipping (especially on orders over a certain threshold), this is a great way to encourage your audience to convert.
Here's an example from loungewear brand, Lunya: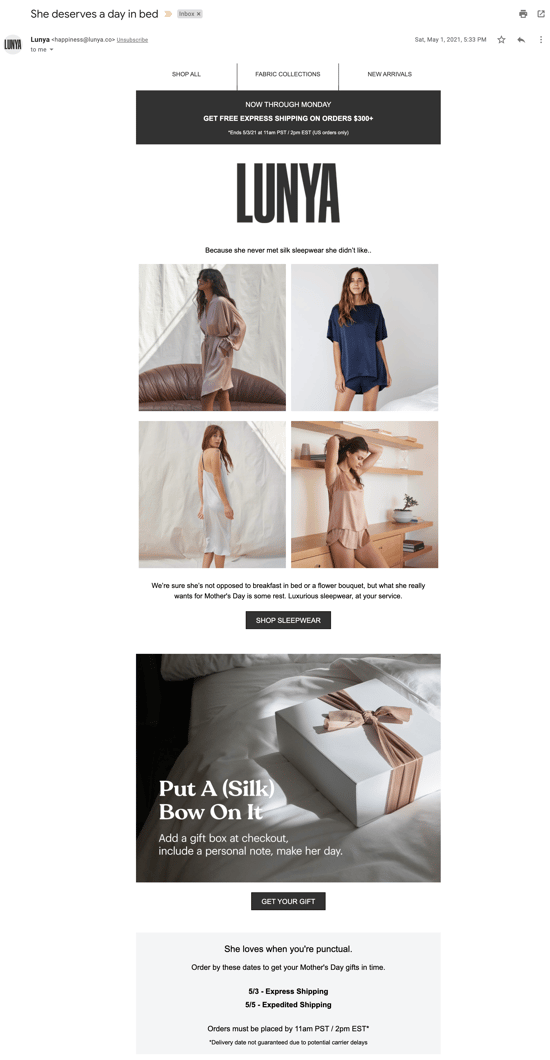 At the very top of the email, you see a banner that calls out free expedited shipping on orders over $300 for a limited time.
Plus, they highlight specific products and the fact that there's a gift wrapping option at checkout. And at the end, they show off the shipping deadlines for receiving orders in time, which is really smart.
Then, 24 hours before the order deadline, they send a reminder email highlighting the fact that orders need to be in soon to receive them in time: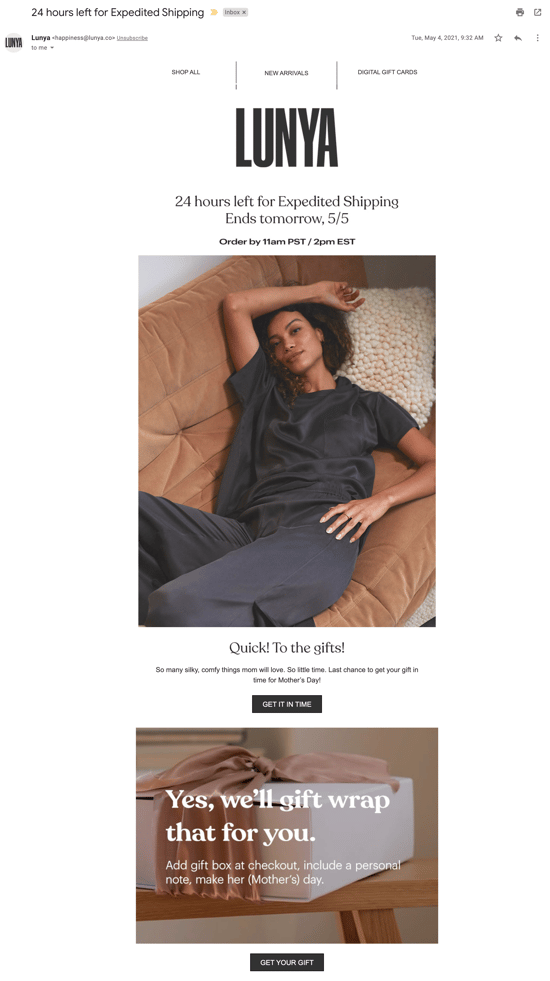 So don't miss out on another opportunity to drive revenue with reminder emails. It might be just the thing your audience needs to place that order.
5. Put together an exclusive bundle
Bundles are the perfect way to boost your average order value using products you already have.
Take this example from shoe and accessory brand, Alepel: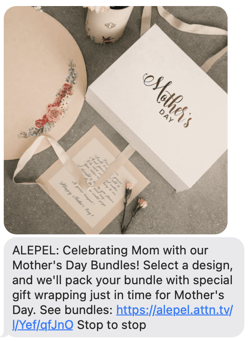 It's an easy-to-digest text message with an image to showcase their special Mother's Day offering. It doesn't get much simpler than that.
And to make it super easy to navigate to on their site, they have the full Mother's Day collection in one place: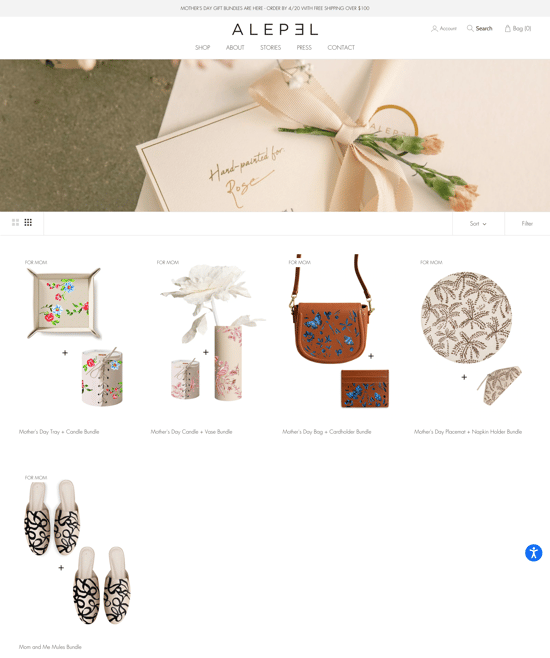 Just remember: you don't need to have a ton of options to bring in sales. Alepel just has 5 Mother's Day bundles, not 20.
Because think about all the times you've been at a restaurant looking at an endless list of options…
It's so much harder to make a choice when you have what feels like unlimited choices. So make it easy for yourself and your customers and simplify. Even if you come up with 1 Mother's Day bundle using existing products, that's perfect.
6. Create non-salesy content
Think about all the promotional emails you get in your inbox every single day. Very rarely are brands solely trying to add value and give you content they know you'll love.
That's why this example from clothing brand, Cleobella, stands out:

With this email, Cleobella showcases a celebrity mama and highlights an interview they did together.
And while you can head to their blog to read the full article, there's also value directly in the email with a quick Q&A section about Mother's Day and everyday motherhood.
Plus, at the very button of the email, there's a CTA to shop the "mama jewelry collection." Yes, this piece is meant to drive traffic to their site and ideally, bring in sales, but it fits in perfectly with the theme of this email.
They also call out the specific styles she's wearing in the photos, but again, it doesn't feel out of place. So if you're struggling to come up with an awesome campaign this Mother's Day, think about how you can add value with content.
7. Give BOGO a shot
Mother's Day couldn't be more perfect to test out a buy one, get one (BOGO) campaign – one for mom, one for you.
That's exactly with clothing brand, DONNI, did with this campaign:

First of all, they started off really strong with the subject line, "buy a set for mom & get one ON US." You immediately know there's an awesome offer inside, so it's really hard not to open the email.
At the very top of the email, you see the code you have to enter to get a pair of sweats for yourself when you buy some for mom.
But if that's not your thing, they also highlight 4 other options you might love.
Then, at the very end, they call out when the offer ends and exactly how it works so there's no confusion.
So if BOGO works with your margins, give it a shot! You don't need anything other than what you already have, just a code and your audience can shop away.
8. Try a free gift
There's something about getting a free gift from a brand you love. So this Mother's Day, think about throwing in a free gift with purchase for orders over a certain threshold.
Not only will this encourage your audience to meet the order value to qualify, but you'll make them feel like they're getting more for their Mother's Day gift.
Here's a great example from skincare brand, Sahajan: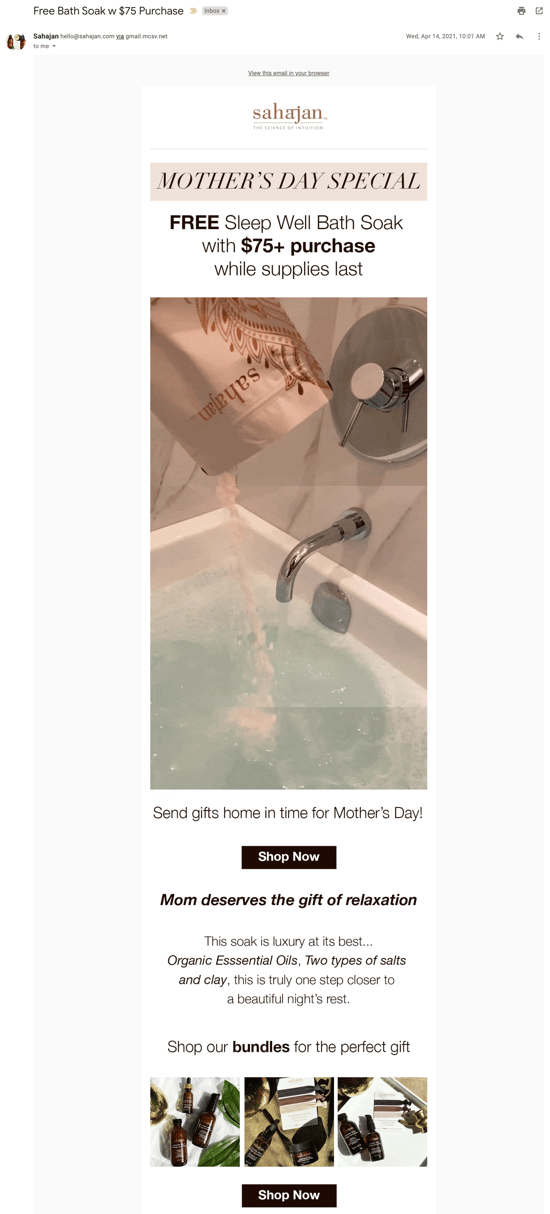 Again, they start off with a really strong subject line, "Free Bath Soak w $75 Purchase." So it's not a surprise when you open the email to see that reiterated. Pair that with a product photo that showcases the product being used, and you have a recipe for success.
To help shoppers meet that $75 order, they highlight bundles at the very bottom of the email. Because you don't want them having to spend hours on your site trying to hit that number, they're going to bounce way before that. So remove the friction and make it a great experience from start to finish.
If you already have a product that would make a great free gift with purchase, this is a really easy play to execute on. But if you really want to take it to the next level, think about getting an exclusive gift that's only available for a certain holiday with a very limited quantity so you can drive even more excitement and urgency.
9. Go with a good ol' fashion discount
A limited-time discount is perfect if you're looking for a low lift Mother's Day campaign.
And candle brand, Mala, did an awesome job with this discount campaign:

By starting off with a quick blurb about who you can celebrate on Mother's Day (mom, a friend's mom, your mother-in-law, or another mother figure in your life), it feels really inclusive.
From there, you're presented with 4 specific candles for different personality types (the baker, the busy bee, the early riser, the wanderlust). But they don't stop there. Below each candle, there's a quick description to make your decision easier. And it's worth noting that they're not sending you to a collections page, you're sent straight to that specific candle, removing friction.
At the bottom, you see the discount code and shipping deadlines to make sure you get your order in time.
But remember this offer only lasts for 48 hours…
So they make sure to send a final reminder email: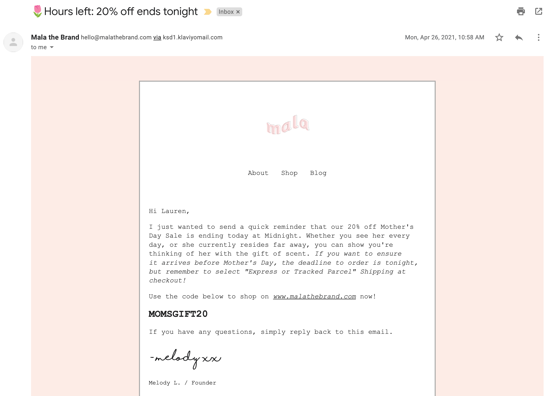 I love that for this one they kept the design incredibly simple and just call out the fact that the offer is ending soon with a quick note to reply directly to that email with any questions.
Any time you're running a limited offer, you should be sending a reminder email before it ends rather than just expecting your audience to take action immediately. Because remember: it often takes more than one touchpoint to get someone to convert.
10. Create a collection
While creating a collection isn't a great option for a last-minute campaign, it's definitely worth keeping in mind for the future.
Take this example from candle brand, homesick: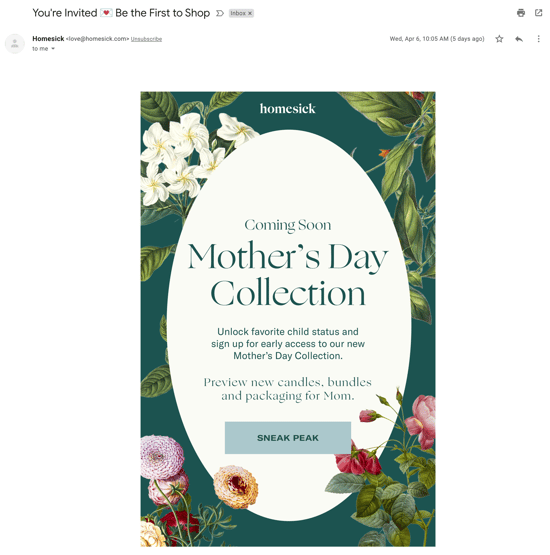 I LOVE that they sent this email before the collection is even live and give their audience a chance to get a sneak peek. What makes this so good? It means when you send your next email about the collection being live, people are waiting for and excited about it.
Not only do emails like this make you feel special (I can get a sneak peek?!), but they give you a real reason to be on a brand's email list. Because if you're not, you'll likely miss out on special offers like this.
So any time you're launching something new (not just for Mother's Day!) give your audience a heads up with a teaser email like this.
11. Launch a giveaway
Have like-minded brands you can reach out to? Put together the ultimate Mother's Day giveaway like wine brand, Usual: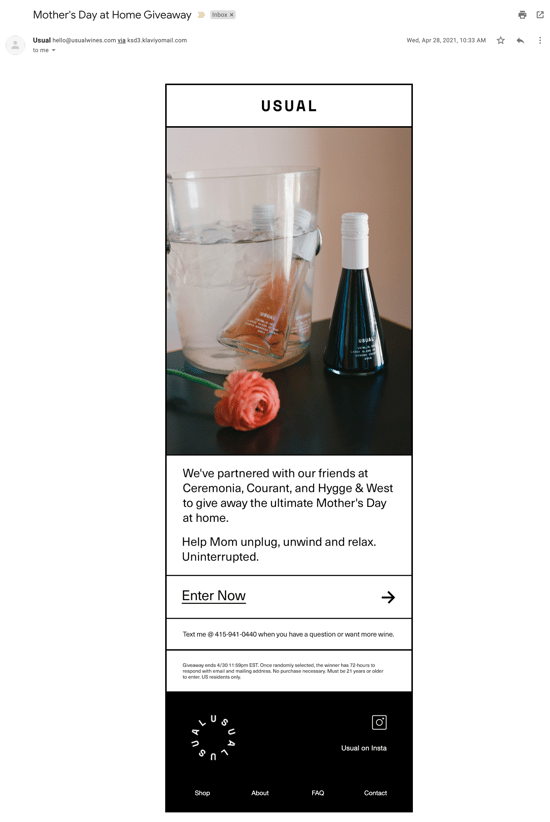 Not only is this a great way to get in front of other brands' audiences, but it's an incredible tool to help grow your email list fast. Because when anyone signs up for the giveaway, you're getting their information to add to your database.
Too last minute to put together a giveaway with other brands? You can also put together your own! Just select a product you already have like jewelry brand, Ring Concierge did here:
All you have to do to be entered to win is join their email and SMS lists using the link in bio. It couldn't be easier.
So get creative with giveaways and alternate between working with brands that have a similar audience and just doing it on your own. It's a great way to get your audience excited about their chances of winning.
12. Offer gift cards for last-minute shoppers
Gift cards are a no-brainer for last-minute shopping ideas. So once you're passed the shipping deadline to receive Mother's Day gifts in time, lean into gift cards.
Like loungewear brand, Lunya, does here: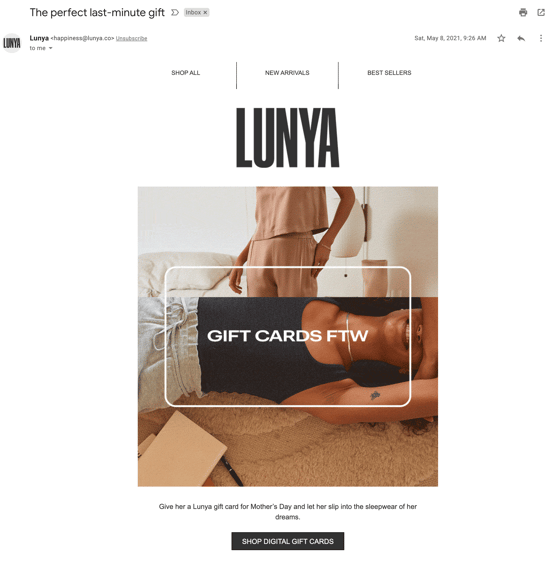 And when it comes to gift card messaging, you can keep it short and sweet.
It's almost like adding in an entirely different campaign to your Mother's Day marketing. Which can only mean one thing: more sales.
So don't sleep on gift cards this year. Give your last-minute audience a great option for Mother's Day and beyond.
13. Send a last-chance reminder
You can't expect to send one email or text message and bring in record-breaking sales for your store. Think about all the promotional emails in your inbox that go unread. If you're anything like me, it looks something like this:
So with that in mind, you can't possibly expect to stand out if you're just sending a single message. That's why reminders are critical.
Take this example from Cleobella: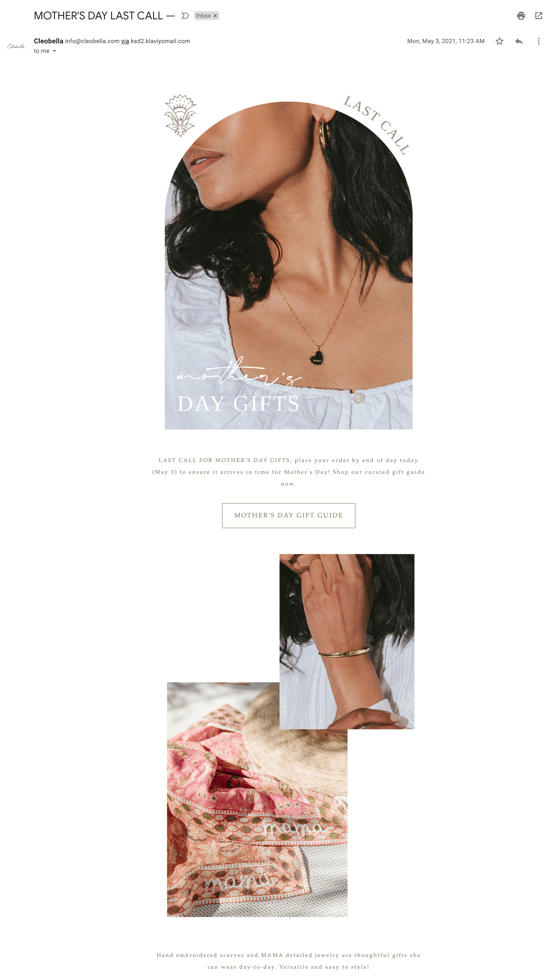 Right in the subject line, you see "MOTHER'S DAY LAST CALL." So you already know exactly what the message is about.
And to make it easy for their audience to take action, they include a link to their Mother's Day gift guide with a couple product photos to pique your interest.
So make sure you're sending announcement emails and reminders consistently any time you're running a promotion or there's an order deadline. I promise it will impact the number of sales you bring in.
14. Use a Mother's Day email template
This Mother's Day, it's easier than ever to send emails to your audience with Privy's Mother's Day templates: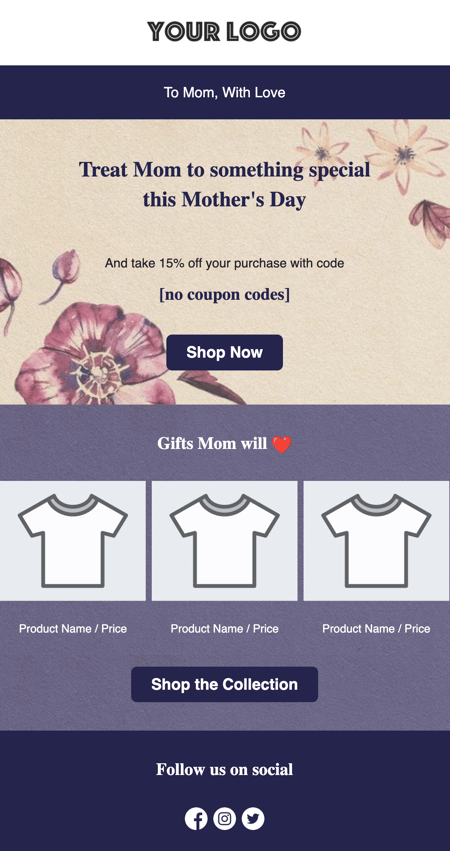 It's as easy as:
Coming up with your offer
Updating the copy and colors to match your brand
Adding your logo
Adding product photos with the drag and drop editor

You can get started with Privy for FREE today. Already have an account? Log in to start using your Mother's Day templates ASAP.
15. Steal from the Mother's Day Swipe File
Still looking for ideas? We put together a killer swipe file with 25 real-life Mother's Day emails and texts to inspire you and help you bring in sales.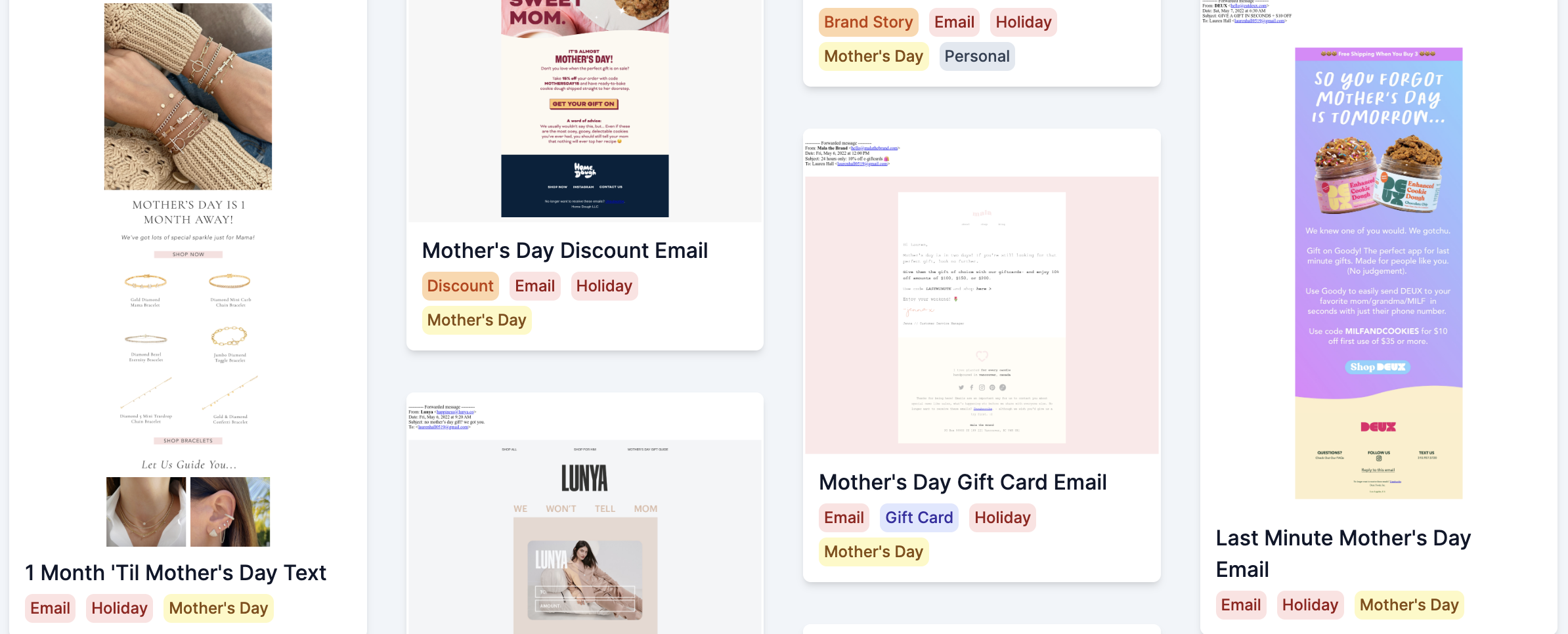 See what real brands like yours are doing and find out exactly what makes these campaigns so good.
16 Mother's Day subject line ideas
Before you send your next email, take a peek at the subject lines of your best performers. Chances are, you'll learn something about what works.
Because even if you've put together a killer email with an offer you know your audience won't be able to resist, if they don't open your email, it's not going to matter.
That's why your subject line is so important. So take the time to get it right. Here are 16 Mother's Day subject line ideas to get your wheels turning:
Mother's Day picks
For Mom, with love
The ultimate Mother's Day gift guide
Made for Mom
Get your Mother's Day gift in time
Are you ready for Mother's Day?
X days until Mother's Day
What mom really wants
Make her day
Keep your favorite child status
Better than flowers
Score points with mom
Hey ma 💌
Favorite child alert
What mom really wants
For the super moms 💪
And remember: don't be afraid to get creative!
Get your copy of The Ecommerce Holiday Calendar
How many times have you absolutely scrambled to put together a holiday campaign because you completely forgot about it?
With holidays all year long, it's hard to stay on top of what's coming up. Everything from Valentine's Day to Earth Day, there are seemingly endless options. So you have to choose the right holidays for your brand.
That's where The Ecommerce Holiday Calendar comes in. Every month, you'll get reminders about upcoming holidays. Plus, campaign ideas and templates so you never miss another major sales day for your store.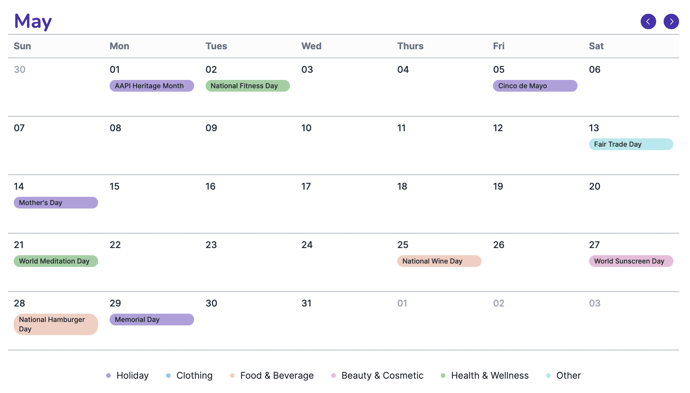 Get your FREE copy of the calendar today.
Make this your best Mother's Day ever
Mother's Day is the perfect chance to spin up a campaign your audience will love.
And whether you've been planning for months or you're looking for a last-minute idea to get out the door, you have everything you need to bring in sales this Mother's Day and beyond.
Offer free shipping, run a limited-time discount, or put together a full collection and watch the sales roll in.
Subscribe for Updates
Get our best content on ecommerce marketing in your inbox 2 times a week.
Written by Lauren Hall
Lauren is a Brand Marketing Associate at Privy. She's the brains behind all things content. When she's offline, she's obsessing over her Bernedoodle pup, Monster, and plotting ways to being a full-time Vermonter ASAP.
Subscribe for Updates
Get our best content on ecommerce marketing in your inbox 2 times a week.