6 Thanksgiving Marketing Ideas To Kick Off The Biggest Shopping Weekend Of The Year
Published on Nov 15, 2022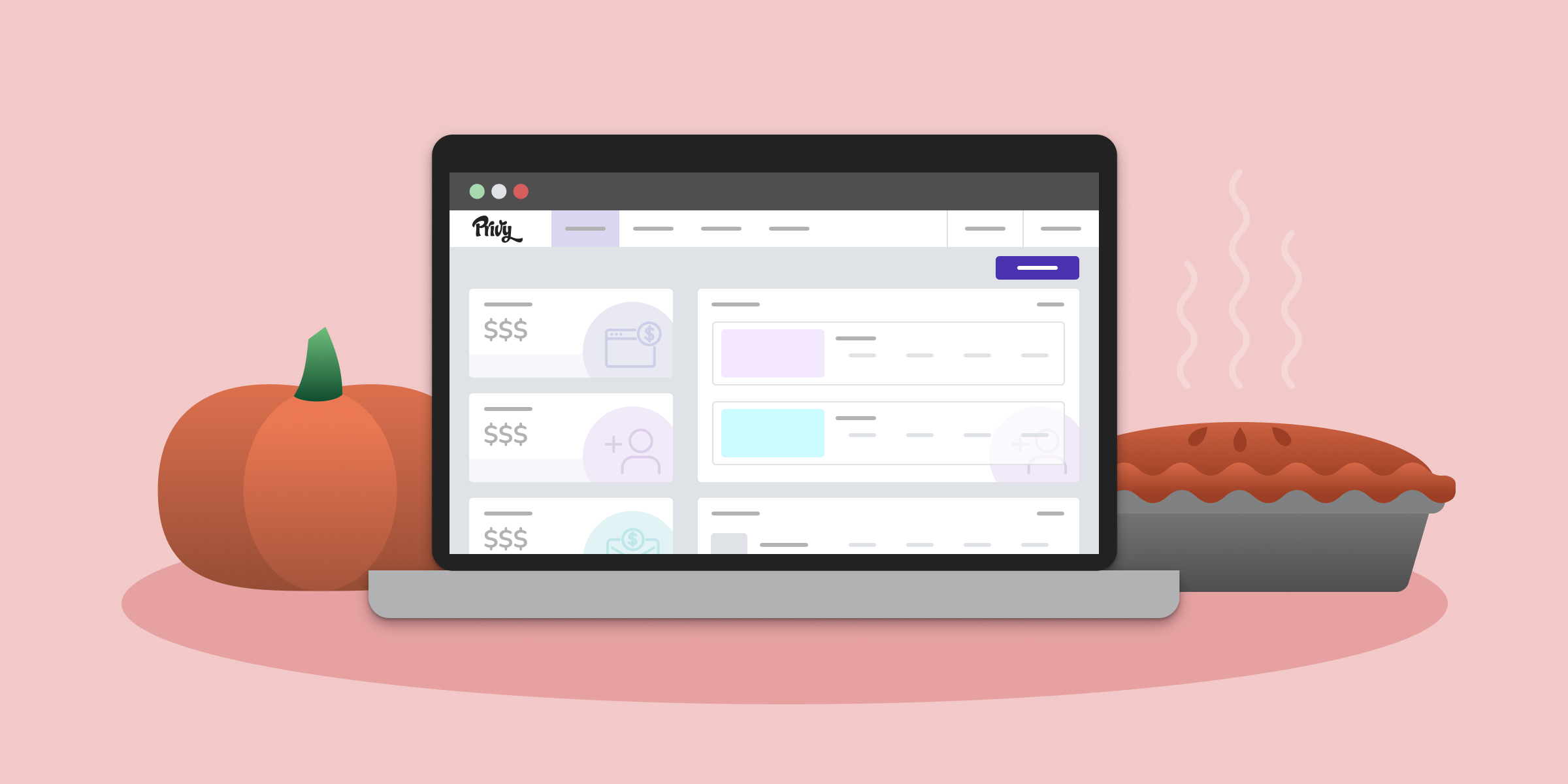 You may be busy gobbling up turkey on Thanksgiving, but don't let that stop you from sending early Black Friday deals your customers can feast on, too.
In 2021, more than 30 million people indicated they planned to shop either online or in-store on Thanksgiving.
So if you're not marketing to your audience on Thanksgiving (and the days leading up to it), you're missing out on serious sales for your business.
Use these Thanksgiving marketing ideas to generate revenue and reach those early customers who are trying to get ahead on their shopping before Black Friday begins.
Get our best content on ecommerce marketing in your inbox 2 times a week
1. Tease your Black Friday offers
A Thanksgiving email is a great opportunity to give customers an early preview of your Black Friday discounts. You'll get customers excited about your upcoming deals, and it's a great opportunity to show VIPs some love.
Snif, a candle brand, used this strategy here: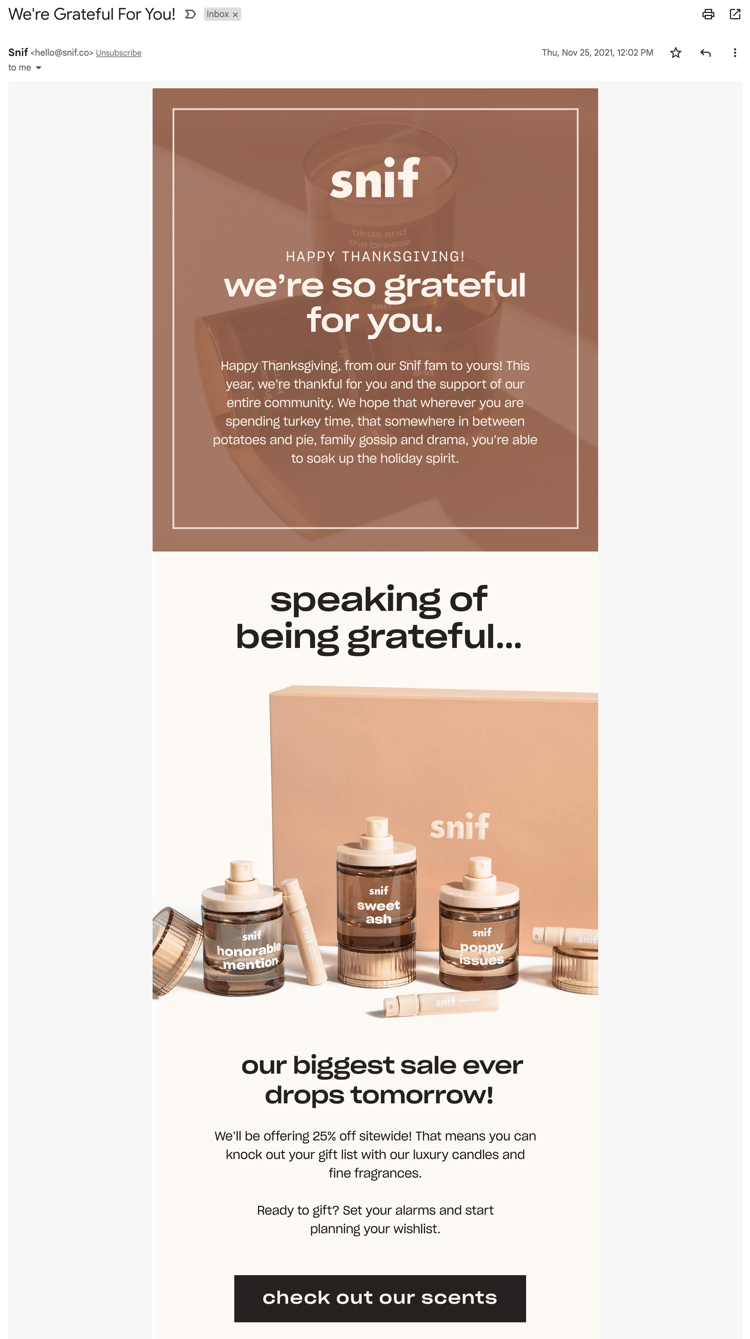 Start off by wishing your customers a Happy Thanksgiving. And depending on your audience, mention topics that you know matter to them! If they're foodies, touch on the meal. If they're into sports, mention the upcoming football games.
Next, show them your 📣 BIG BLACK FRIDAY DISCOUNTS 📣 and make sure you have some product imagery in there, too, so customers see what you're selling, exactly like Snif did in their email.
If your sales aren't live just yet, encourage your customers to browse the site and make a wishlist, so they're prepared when the discounts launch.
This is also the perfect opportunity to make your VIPs feel special. Send coupons or offers early to your most loyal customers on Thanksgiving, so they're able to shop the sales before anyone else. If you go this route, just make sure you send a specific Thanksgiving promotion email or text message that's just for your VIP audience.
2. Send a thank you note from your founder
The main purpose of Thanksgiving is to give thanks, right? If you're grateful for your customers and want to bolster your brand loyalty-building efforts, this is the perfect time to send an email that does just that.
Make it even more personal, and send a thank you message from the company founder, like Farmhouse Pottery does here: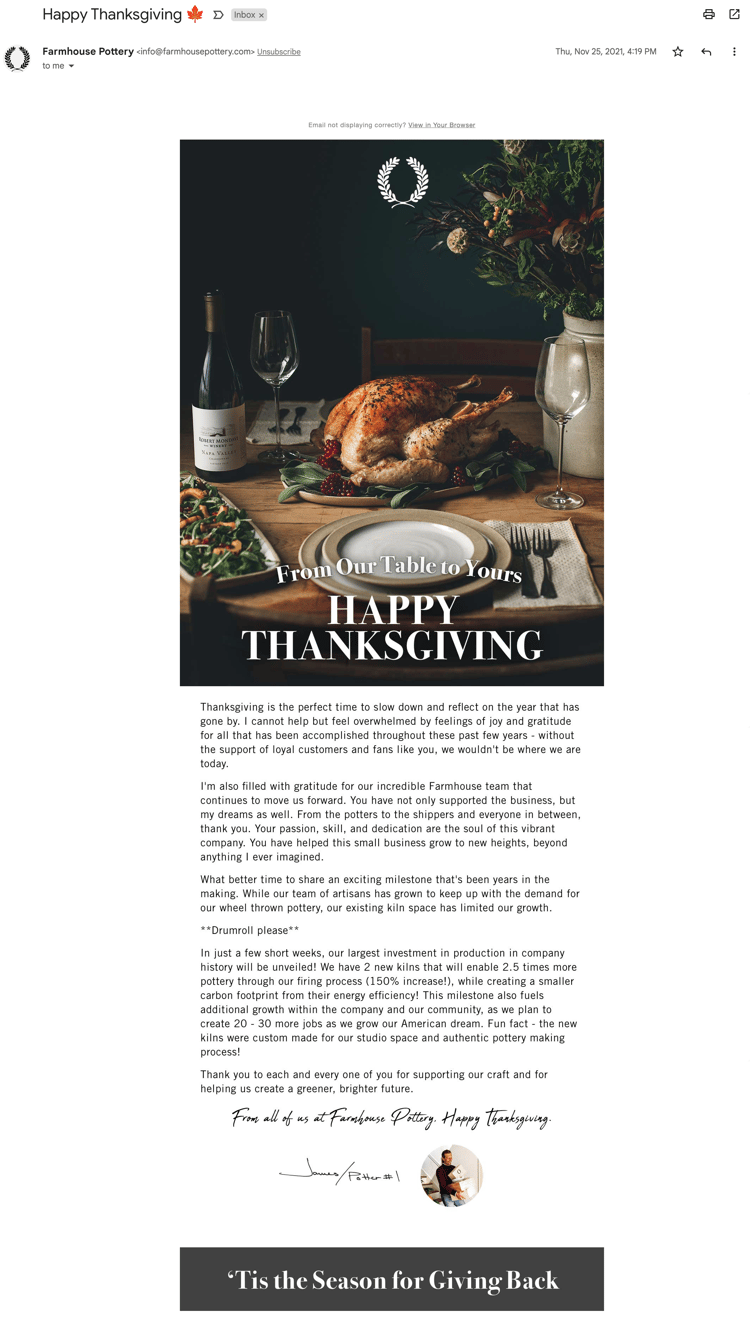 Open with a few sentences about how your customers helped make it a great year for you, then use the message as an opportunity to announce important company updates.
Farmhouse Pottery shared how their customers' support allowed them to expand the company by creating more jobs and developing new processes.
Shoppers also like to know how brands practice corporate social responsibility. While you're talking about how you feel #blessed this season, be sure to highlight how your company is giving back. Maybe you've partnered with a charity for the holiday season or donated to a food drive. This is the perfect place to highlight that.
3. Help your audience prep for the holiday
If your products apply in any way to Thanksgiving, use that selling point in your marketing strategy and help your audience prepare for the big day.
In their email, DUDE Products got super creative and used humor to get people to buy wipes: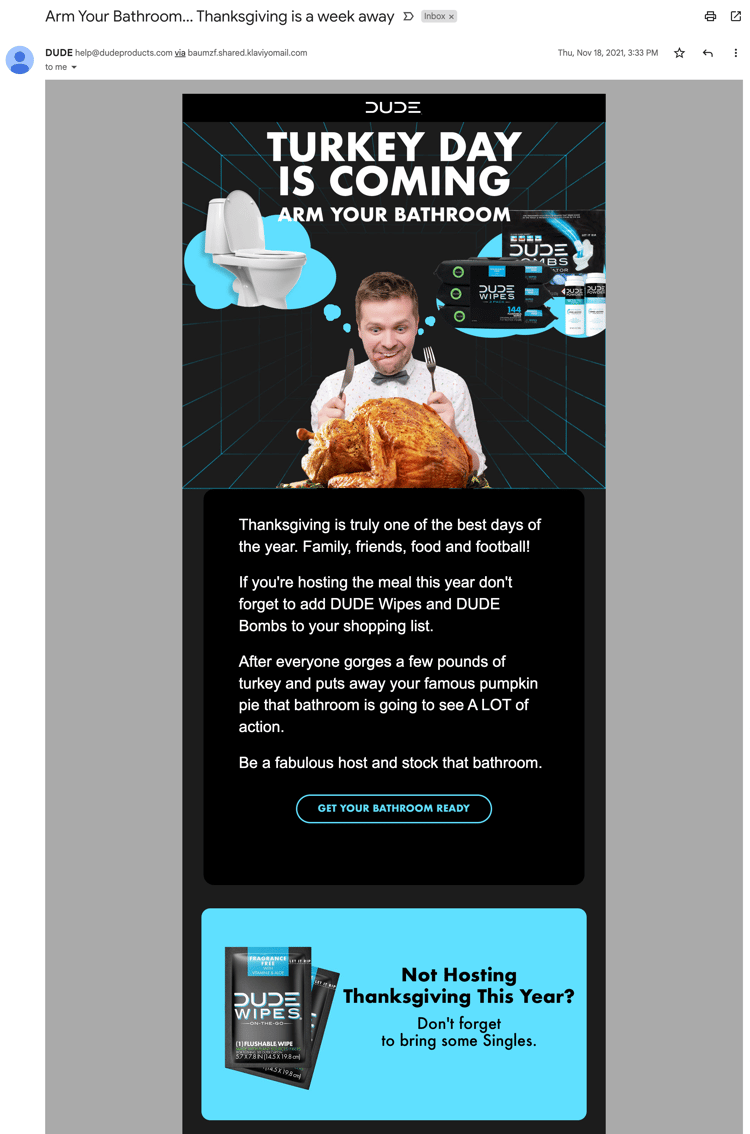 So think about how your products help your customers prep for the day. Maybe you sell comfy pants they can change into after dinner, or you sell themed candles to help set the festive fall mood.
Once you find your selling point, create an email and social media post to market the product like Cleobella does with their fall outfits. They highlight cute outfit ideas for Thanksgiving Day with this message:

If you want to go beyond an email marketing campaign, try live-selling your themed products on social media channels like Facebook, Instagram, or TikTok (depending on your audience). During the sale, host giveaways and use hashtags to help promote the event and reach more potential customers.
4. Remind your audience about shipping deadline
Make sure your customers know they have to order items by a certain time if they want them in hand for Thanksgiving. This helps you generate more sales and helps the customer get their items in time: it's a total win-win.
Farmgirl Flowers does a great job of this in their email by letting people know they have just a few hours left to order flower delivery for Thanksgiving. And when someone's already stressing over their Thanksgiving table presentation, it's a great reminder they need to order flowers for the centerpiece: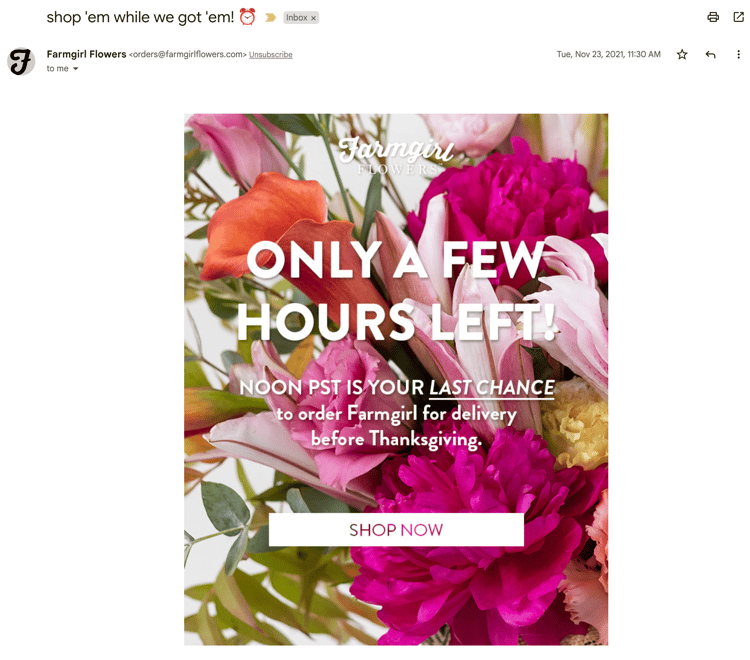 Right here is a perfect time to use a sense of urgency, which Farmgirl Flowers excels at both in the email copy and the subject line. Take note of the clock emojis, which signal time slipping by, and the language that incites immediate action, such as "last chance" and "only a few hours left!"
5. Launch a limited-edition collection
The weeks leading up to Thanksgiving are a great time to launch a limited-edition collection celebrating pumpkin spice and everything nice.
The kids' clothing brand Monica + Andy created a Thanksgiving holiday collection with pumpkin pie print pajamas, and they used product imagery to advertise and hype it up in this email:

But if that's not enough, there's another print for those who haven't bought into the pumpkin obsession. Their Holiday Feast print helps boost sales by catering to another part of the audience.
Add to the festive mood and make your website Thanksgiving-themed, too. Include fall leaves and Thanksgiving graphics, and use fun fall puns like "you'll fall for these sales," so the whole buying experience is fun and on theme.
6. Create relevant content your audience will love
Create content that helps your customers get through the holiday, whether it's newsletters, texts, or social media posts. Make sure the content is relevant, not just to your audience during the holiday but also to your brand, so that you can strategically feature your products as a solution.
The Laundress uses this strategy in their email, which includes their cleaning and laundry products:

Anyone who's ever hosted a Thanksgiving dinner knows the stress of making sure everything is spic and span. Enter The Laundress's cleaning products to help save the day!
In their email, they also link to blog posts on their site that offer info related to cleaning the house and decorating for fall. Use this strategy by compiling your best, most relevant pieces of content and sharing them with your audience as a handy holiday season guide.
Crush Thanksgiving marketing with Privy
Want to plan your holiday marketing for Thanksgiving but don't know where to start? Privy is here to help. Automate your emails and texts with our platform so that on Thanksgiving, you're only worrying about what temperature to cook your turkey at, not when your emails or SMS messages are going out.
While you're planning your Thanksgiving campaign, you might have questions about best practices for Black Friday and Cyber Monday. Good news! We've got the answers on our BFCM page.
Subscribe for Updates
Get our best content on ecommerce marketing in your inbox 2 times a week.
Written by Lauren Hall
Lauren is a Brand Marketing Associate at Privy. She's the brains behind all things content. When she's offline, she's obsessing over her Bernedoodle pup, Monster, and plotting ways to being a full-time Vermonter ASAP.
Subscribe for Updates
Get our best content on ecommerce marketing in your inbox 2 times a week.