The 8 Most Common Black Friday Cyber Monday Questions Shopify Brands Have
Published on Oct 26, 2022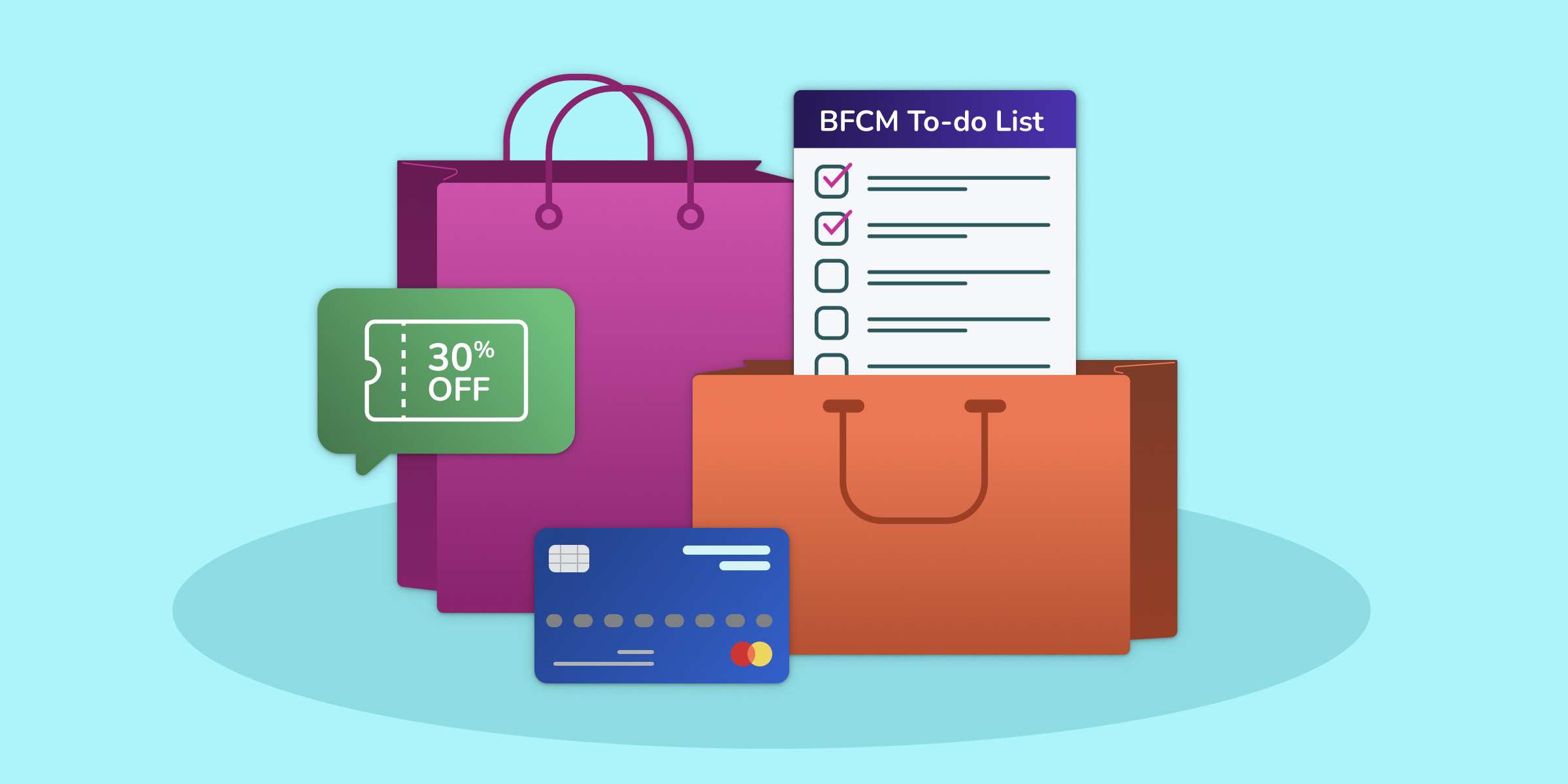 This post was originally published November 25, 2020.
Black Friday is a wildly different experience for the two main parties involved. For customers, it's an exciting day to shop and look for unbeatable sale prices. For businesses, it's one of the busiest and most chaotic days of the year.
While ecommerce business owners might be safe from facing impatient physical crowds, they're not free from the shackles of stress. In 2021, shoppers spent nearly $9 billion on ecommerce Black Friday sales. Businesses that operate in the digital world have to be prepared to offer good deals, meet consumer demand, and provide a smooth experience.
If you're just starting out in ecommerce, this might seem like a tall order. You probably have questions about your Black Friday Cyber Monday (BFCM) selling and marketing strategies. The good news is that you're not alone. At Privy, we work with many Shopify merchants who are in the same boat.
And we answered the most common BFCM questions ecommerce businesses ask to help you gear up for a very demanding – but very profitable – couple of days.
Get our best content on ecommerce marketing in your inbox 2 times a week
1. When should I start my Black Friday and Cyber Monday marketing?
In both 2020 and 2021, online retailers started their BFCM sales early, around late October. We advise you do the same because if you start later, your competition gets the upper hand. And if you start early, you also cater to that group of consumers who want to avoid delays, make sure their chosen product is in stock, and who just prefer to prepare earlier.
Since you're kicking off marketing efforts early, you should finish planning your BFCM marketing strategy by September. Know what deals you'll offer and how you'll progress sales leading up to the BFCM weekend. For example, start with smaller discounts in the beginning and work your way up to crazier sales. Also, offer loyal-customer or VIP-exclusive deals earlier on (and you might just entice people to sign up for that VIP program you have as a result).
2. How do I boost website conversion?
Website conversion rates are all about trust. During Black Friday it's no different.

We recommend bringing customer reviews to the forefront of your product pages. One great example is Native.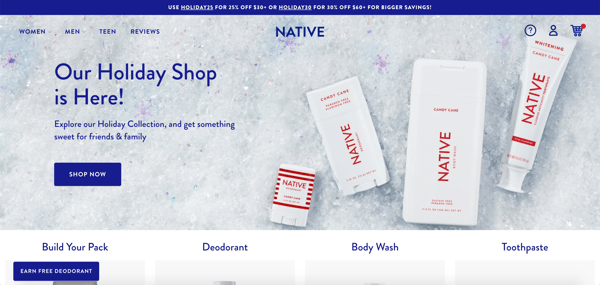 You don't need 15,000 reviews to begin. Try downloading a customer reviews app (like Loox) to help first-time buyers build trust in your brand.

And if you're looking for another idea, you can offer flexible return and refund policies to give first time shoppers more confidence in their order this weekend.
3. Should I keep capturing emails during a sitewide sale?
Absolutely. Website traffic spikes during Black Friday Cyber Monday weekend. So it's a prime opportunity to capture leads that otherwise might not visit your page. Take Privy's customers, for example. During this weekend in 2020, they captured over 1 million email addresses in just four days.
Even if people aren't ready to buy, collecting their emails gives you an advantage. You now have new leads in your pipeline to nurture and engage with after the weekend is over.
One tactic we've seen work well for customers in the past has been running sweepstakes for future sales.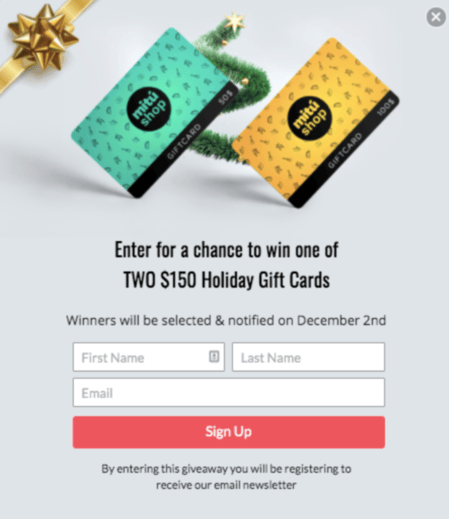 This incentivizes customers to give their email for a chance to win a holiday gift card, giving you the chance to keep reaching out through the holiday season and beyond.
4. What kind of discount should I offer?
Unfortunately, there's no one-size-fits-all discount. It's different for each brand. The key is to offer a discount that is tempting enough for customers but not so high that it keeps you from turning a profit.
Brands selling products with a lower order value might be better off increasing their normal discount rate from 5–10% to 20–30%. If you're a high-end, luxury brand, you're probably better off keeping your prices the same and offering an accessory or free shipping with each purchase.
And if you want to avoid simply discounting your products, you can always get creative with your Black Friday offers.
In the past, we've seen merchants offer options such as buy today and get a $20 gift card for future purchases. Or even offer a free limited-edition product with each purchase.
5. How can I increase my average order value (AOV)?
Offer Buy Now Pay Later options like Afterpay or Klarna. If customers have the ability to pay their BFCM order off in payments instead of all at once, it could lead to higher cart values for you.

If you're not already cross-selling on your product pages, at checkout, or in emails, then it's time to start. So, if your customer is buying a hairbrush, you could suggest items related to what they're buying, like hair rollers and hairspray. Offer a special Black Friday deal and give them 50% off on those suggested items.
6. Should I change my ads for BFCM?
You don't want to change anything too dramatically, especially if your ads are already performing well. But tweaking ad text is an easy way to promote your offer without the shopper having to visit your site.

You can also tweak the creative to include a holiday theme.
Here's a great example from West & Willow: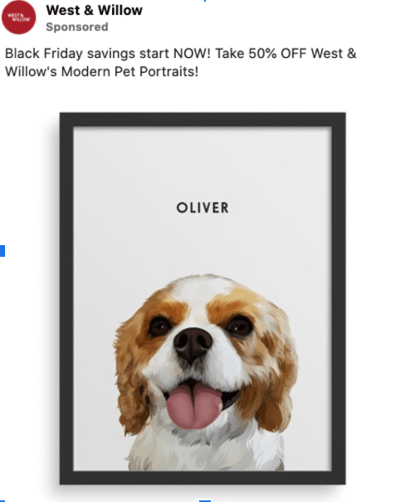 All they've done is tweak the copy slightly to promote their Black Friday offer to their target market.
7. Should I change my welcome series for BFCM?
Yes, but only change the first 1–2 emails. Try creating a 2-email series that focuses on bringing the customer back to your site before your biggest sale of the year is over.
Here's a preview of one from Hats On For Awareness, where the brand tries getting the customer to return with a 30% discount and save an abandoned cart in the process.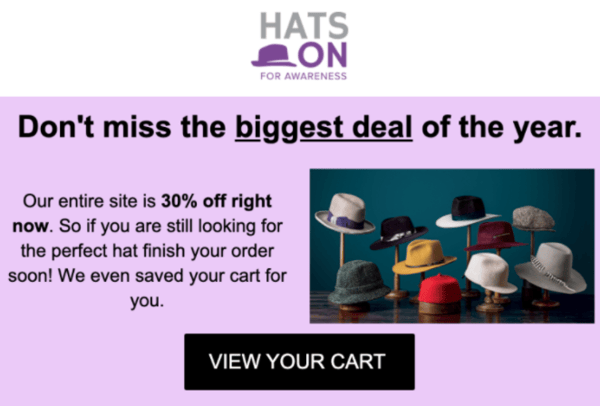 You could also temporarily replace your abandoned cart series! Just remember to document which automated emails you're updating so you can go back once the sale ends.
8. How do I keep selling after Black Friday?
One of the easiest ways to keep selling after this weekend is through purchase follow-up emails. Types of purchase follow-up emails you can send include:
A "thank you" message: After a shopper makes a purchase, send out a thank-you email. Here you have a chance to cross-sell related products.

Share helpful product info: Teach new customers especially how to make the most out of their purchase. This is a great place to include a video or step-by-step instructions. Not only will they appreciate the proactive tips, but it'll save you a bunch of support tickets.

Ask for a product review: You know social proof is important. And a satisfied customer might be willing to give you a review for the items they bought. Offer them a discount or incentive in exchange for that review.

Share product recommendations: Send out a classic cross-sell email. If they liked the product, they might want to buy others that are related to it.
If you want the most reach possible, then plan out an SMS marketing campaign along with those emails for customers who opted in. A discount or free shipping might just draw them back in after the hubbub of BFCM dies down.
Need ideas for what to text? Check out our SMS templates for inspiration.
Focus on selling as much as possible and automate the rest
There's no question. The time from Thanksgiving Day to the end of December isn't an easy time for online retailers. You have orders to fulfill, customer questions to field, and marketing campaigns to plan.
Automate as much of your Black Friday marketing as you can. And plan ahead. When you automate tasks like emails, texts, and even social media posts, then you're able to focus on more hands-on issues during the busiest shopping time of the year.
And with Privy, it's easier than ever to boost holiday sales. Send emails, texts, and convert site visitors into subscribers with one platform. The best part? You can get started for FREE.
Subscribe for Updates
Get our best content on ecommerce marketing in your inbox 2 times a week.
Subscribe for Updates
Get our best content on ecommerce marketing in your inbox 2 times a week.