Welcome Email Tips To (Actually) Engage Customers
Published on Jun 16, 2021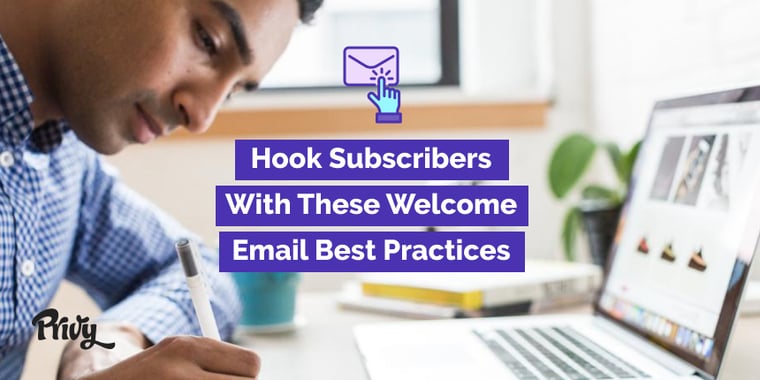 Email marketing is one of the most effective and direct ways to engage with your customers (and potential customers).
You're in control of the communication, which means you can send targeted messages based on your subscribers' interests, purchase behavior, and preferences. And if you get the messaging right, it will have a direct impact on your bottom line.
It's also an incredible opportunity to be yourself and show that you're a real person behind the business.
...but don't take it for granted. Being in someone's inbox is a privilege that comes with a few rules of engagement.
When you're thinking about your email marketing strategy, you should be making a conscious effort to put yourself in your subscribers' shoes. What do they care about? What problems do they have that you can solve? What information will they benefit from knowing?
And, just like any other relationship, expectations and little "get to know you" interactions set the tone early on.
With your email subscribers, your welcome email (that goes out as soon as they sign up for your list) is the perfect place to do both: set expectations and introduce yourself and your business.
An amazing welcome email will make your readers feel, well, welcome, but it's also going to act as the foundation for the rest of your relationship. So put in the time to make it great.
Table of contents:
Get our best content on ecommerce marketing in your inbox 2 times a week
What is a welcome email?
A welcome email should be triggered automatically every time someone new subscribes to your email list. lt should set expectations about what your business is all about and how often you'll be in touch.
Remember that your welcome email is one of the first impressions for your subscribers. Use it as an opportunity to show your personality and reiterate that there's a real person behind the brand. Because at the end of the day, people want to buy from other people, not businesses.
So make sure you're using your welcome email as an opportunity to stand out in your subscribers' inboxes. Tell your story, be entertaining, and deliver on the promise you made when they signed up.

Plus, 74% of email subscribers expect a welcome email. So make sure you deliver on that and go above and beyond to make it stand out...it doesn't take much.
Welcome email statistics
Imagine walking into someone's home you barely know, and rather than getting an introduction and warm welcome, you get a plate of desserts shoved at you before you've set foot in the door.
That's exactly what it feels like to new subscribers if you don't send a welcome email and instead immediately start sending promotional emails with no context.
Val Geisler calls this "The Dinner Party Strategy." And it's incredibly powerful.
Your welcome email is your chance to really WOW your newest "guests" and make them feel like they're in the right place.
So whatever you do, don't skip out on sending an automated welcome email to every new subscriber that joins your list.

But, if you're still not convinced, check out these welcome email stats.
Welcome emails have a 91% open rate
The average welcome email has an open rate of 91.4%. To put that into perspective, the average open rate for other types of emails is only 20%.
So your welcome email will likely have one of the highest open rates of any email you send (which means it's something you can't afford to skip). Because you're catching your subscribers while your business is still top of mind.
If you knew you'd get a 91% open rate for a newsletter, it would be a no-brainer, wouldn't it? Well, that's exactly what your welcome email is. And it will impact the rest of the emails you send. So take advantage of the insanely high open rates and set the tone for the rest of your relationship with new subscribers so every time they see your name in their inbox, they're excited to find out what you have to say.
The click-through-rate for welcome emails is 5x higher
The click-through-rate (CTR) for welcome emails is 5x higher than standard email marketing campaigns. Which means 5x the number of people are following the specific action you want.
So they're going back to your site, or reading a blog post that positions you as a thought leader or someone they can trust, or they're following you on social media…
Which is why it's so important to be thoughtful about the call to action (CTA) in your welcome email. Because 5x the number of your subscribers are going to follow that link. So take the time to think through where you're sending them. And remember to keep in mind that at this stage, you're building the foundation for your relationship, so you don't want to be transactional or salesy.
Welcome emails have a 42% higher read rate
On average, welcome emails have a 23% read rate, which, compared to every other type of email campaign, is a 42% increase.
Almost double the number of people read welcome emails compared to other emails. Because remember: they just signed up for your list, so you're top of mind and they're expecting to hear from you. Especially if you promised something like a discount code or free shipping.
So take advantage of the higher read rate for your welcome email and make sure it's memorable and sets a solid foundation for your future relationship.
Welcome emails generate 3x more revenue
Welcome emails generate 3x more revenue than any other promotional email. Crazy, right?
So while you don't want to be overly salesy or promotional at this point, you do want to make sure it's incredibly easy to get back to your store (especially if you include a discount code or free shipping on their first purchase) in case they're already at the point where they want to buy from you.
Because when you do include an incentive like that, it makes sense that your welcome email would be responsible for 3x the revenue of other emails. You're not offering 15% off every order, right?
So make sure your welcome email does both: allows the subscribers who are ready to buy from you ASAP to do so easily, AND tells your story and builds trust for those who aren't quite there yet.
5 welcome email best practices
By now, you know exactly what a welcome email is and why it's such an important piece of your overall email marketing strategy.
But if you're wondering exactly how to create the perfect welcome email for your newest subscribers, look no further.
Whether you're just just getting started or you already have a welcome email up and running, these best practices will ensure you're getting the most out of the first interaction with the newest members of your email list.
Send personalized messages
Segmentation starts now. The more relevant your welcome email is, the better.
So let's say you have specific campaigns set up depending on where your visitors come from. The offer is different if someone's coming from a Google search or a specific ad, for example. Ideally, you'd create a specific welcome email for the different welcome campaigns you have set up on your store.
Then, you can tailor the messaging in your welcome email specifically to their experience. That way, you're giving new subscribers a more personal welcome message that matches their journey to your brand.
It seems like a minor adjustment, but these tweaks create a better experience and build trust from the get go.
Have a clear email subject line
Email subject lines are a critical piece of the email marketing puzzle for every single email you send.
So even though you know welcome emails have incredibly high engagement compared to other email types, you still need to be thoughtful about your subject line. It's still what your readers will look at first to decide whether they're going to open or not.
Since this is the first time you're emailing this new member of your list, you want to make sure your subject line makes it really clear who you are and why you're emailing them. The best subject lines keep it short and sweet with a welcome theme.
If you're using a double opt-in, where you require any potential new subscribers to give you permission twice, then you'll want to be clear about that in your email subject line, too, since there's action required.
Set the tone for new subscribers
Before you jump into your brand story, make sure you address the reasons your subscriber signed up with you in the first place.
First and foremost, this means you deliver on your promise. So if you mentioned a coupon code when they signed up, make sure you include that in a clear, easy-to-spot way.
And remember: your first priority in any email you send is to serve the needs of your subscriber or customer, so make sure it's crystal clear why they're here in the first place as part of the welcome email.
Bonus points if you set expectations for how often (and when) your subscribers should expect to hear from you. So if you send an email every Friday, let's say, make sure you include that! Or maybe you send something just once a month. The earlier you set that expectation and build trust with your subscribers by delivering on your promise, the better.
Introduce your brand
Here's your chance to get creative! You're welcoming a new person into the fold, so it's a good idea to mention:
Who you are and what your brand does
Why you're so excited to have them on your list
You might also want to include:
Some of the benefits of being on the list
Other ways to connect with you, such as social media
Just remember that you don't want to include too many CTAs in your welcome email. So decide what's the most important action you want these brand new subscribers to take before you add a bunch of different topics and split their attention.
So start by sharing the story behind your business (after you deliver on the promise that got them there in the first place, of course). A memorable story is an incredible way to build a connection and solid foundation from the very beginning. If your subscribers can picture you sitting in your garage packing orders at midnight, you did your job.
So get specific and share the details. Because if you can tell your story in a way that resonates with your audience, they'll remember it and feel connected to your business. And the more connected they feel to you, the more likely they are to support you and make a purchase in the first place.
Include a call to action
One thing is for sure: keep your welcome email simple and to the point. While it can be tempting to cram as much information as possible into your email, you want to make it easy for people to take action and don't want to turn them off right away. This is your big first impression moment, so make the most of it.
Stick with one major CTA. Whether it's driving subscribers back to your store, encouraging them to follow you on social, or asking for a little more information about them so you can create a better, more personalized experience. Think about the one action that matters most for your business from the very beginning and make that the focus of the ask you're making of your subscribers.
6 ways to make a lasting first impression with your welcome email
You know the saying, "you never get a second chance to make a first impression?" Well, your welcome email is the perfect place to create a memorable experience for your subscribers.
If your welcome email just includes a discount code, your brand name, and social links, you've lost out on a huge part of creating a relationship that's built to last.
So use your welcome email as the opportunity it really is: your first chance to increase brand love and awareness.
Here are 6 simple ways you can make a lasting impression with your new subscribers and turn them into your biggest advocates.
Send new subscribers a special welcome offer
While a more generic, "15% off your first purchase" offer is great, it's even better to create more personalized experiences for your new subscribers.
So, let's say you have a subscriber who signed up for a campaign that's specific to your referral program, you can tweak your welcome email (and offer) to that experience.
Because the more specific you can make your offers and emails, the more trust you build and the better the journey is for your subscribers and customers.
Build trust with content
At this stage of the game, education is especially important. You want to establish your business as the go-to place to find the products you sell. So the more you can position yourself as a thought leader in the space, the better.
So as you're thinking about the #1 focus of your welcome email, consider whether or not a piece of educational content makes sense. So rather than driving these new subscribers back to your store (likely well before they're ready to buy), maybe you should be sending them to a specific piece of content from your blog or website you know your customers love. If you're going this route, though, make sure it's evergreen so it's not something you have to constantly update or refresh.
Try a welcome series
The most important thing if you're just getting started is that you have a welcome email in place. Then, you can turn that single email into a full on series to take your welcome strategy to the next level.
By crafting a series of 3-6 welcome emails, you can educate your subscribers and get them familiar with your brand in a less overwhelming and more helpful way.
So if you start off by telling your story and delivering on your promise in your first welcome email, further along in the series you can share things like:
A behind the scenes look at how your products are made (where, photos of real people, anything that makes it real)
Any content (blog posts, videos, infographics, etc.) that would be helpful for new subscribers
Information about how your business operates (sustainability, charitable donations, drops, etc.)
If your business never has sales, it might be helpful for your new subscribers to know that up front (maybe even explain why!)
Any FAQs
Your best-selling products (you want to be careful not to see too early...this is still just the beginning of your relationship)
There's SO much information you can share if you set up a welcome series. But clearly having all of this in a single email would be way too much. So think of everything you'd want to share with brand new subscribers and slot it into a welcome flow that makes sense.
This way, your subscribers don't suffer from information overload at the very beginning of their journey with you. So be thoughtful about what you share (and when). And when in doubt, ask for feedback about what's working and what's not with the newest members of your list.
Test a gamified approach
Just like a gamified popup (like a spin to win) is a surefire way to grow your email list, gamifying the experience your subscribers have with your welcome email is an amazing way to drive engagement.
If you included a discount code as part of the welcome email, you could test out an offer for these new subscribers that includes a surprise gift if they purchase in the next 30 days. Or maybe you're running a contest or hosting a giveaway.
People love the thought of winning a prize or getting something for free. So think about how you can tap into that as part of your welcome email experience.
Get creative with video and GIFs
Your welcome email is the perfect place to show off your personality and put a face to your business. And a video is the perfect way to incorporate both you, the founder, and your story.
Maybe even incentivize people to watch the video by teasing something like a secret code for a free gift with purchase. The sky's really the limit here.
And if you're not comfortable with getting in front of the camera, you can still give your welcome email personality by including a GIF. Because when you write your emails like you're writing to a friend, it's much easier to build a connection with your subscribers.
Share the selfish benefit
Every company has multiple stories. There's the founder story, why your company exists and the need you're trying to address. There's the story of how you started and where you are, and there are the success stories from happy customers.
No matter which story you tell, you need to make sure one thing's incredibly clear to your new subscribers: what's in it for them.
You need to bring it back to the ultimate benefit for them. Whether it's sustainability, social causes, belonging to a tribe (think Apple), status (think Rolex) or anything else that defines you and your community. Make sure your subscribers know from the very beginning how your business can help them.
Because if they don't understand what they're going to get out of spending their valuable time reading your emails, they're not going to open them, much less make a purchase. So it's critical that you spoon feed that information to them.
6 welcome email examples to inspire you
Now that you know why welcome emails are so important, best practices to incorporate into your strategy, and a handful of ways to make sure yours stands out, it's time to get into examples.
What does all of this actually look like?

Well, here are 6 examples from real businesses to help you get started. These founders are using their welcome emails to build relationships, increase brand awareness, and foster trust from the very first interaction. And you can, too.
The friendly face welcome email
Bella Doña's welcome email makes the brand feel human, warm and inviting by showing the faces behind their business.

You're introduced to the founders and other members of the team and treated like a friend from the very first line of the email.
They also set expectations and share exactly what they'll be sending. Not to mention the fact that you find out they started their business from the couch and get a solid understanding of their mission (with a video!).
This welcome email is seriously a textbook example of what you should be doing for your business.
The educational welcome email
The bright colors aren't the only thing that make this welcome email from Fly By Jing stand out...

First and foremost, she delivers on her promise to include a 10% off coupon code at the very beginning of the email so new subscribers who are looking to buy right away don't have to search for it.
Then, there are amazing product photos, a picture of Jing as a child, and her founding story. It's short and sweet, but powerful.
And at the very end, there are fun facts about a few of the products. No buttons to "Shop Now" (although if you click on an image it will bring you to the specific product you clicked on) or overly sales language. She's completely aware that at this stage in the game, the main purpose is not to sell. So it's subtle and teaches the newest members of the list a little about the products without feeling like too much.
The founder story welcome email
Oddbird takes a very straightforward approach with their welcome email and sticks to one thing and one thing only: the founder story.
Rather than splitting the focus, the only message is meant to help you form a bond with Ceren, the founder. Because if you know her story, you'll start to understand her business and ideally, want to support her mission.
This is the perfect introduction to your business. You're not trying to see too soon, just giving your subscribers a chance to get to know your business and why it's worth supporting down the road.
The underdog welcome email
Being a small business owner is not easy. And Jarod from Muddy Bites shares a behind-the-scenes look at his struggle to get the business off the ground.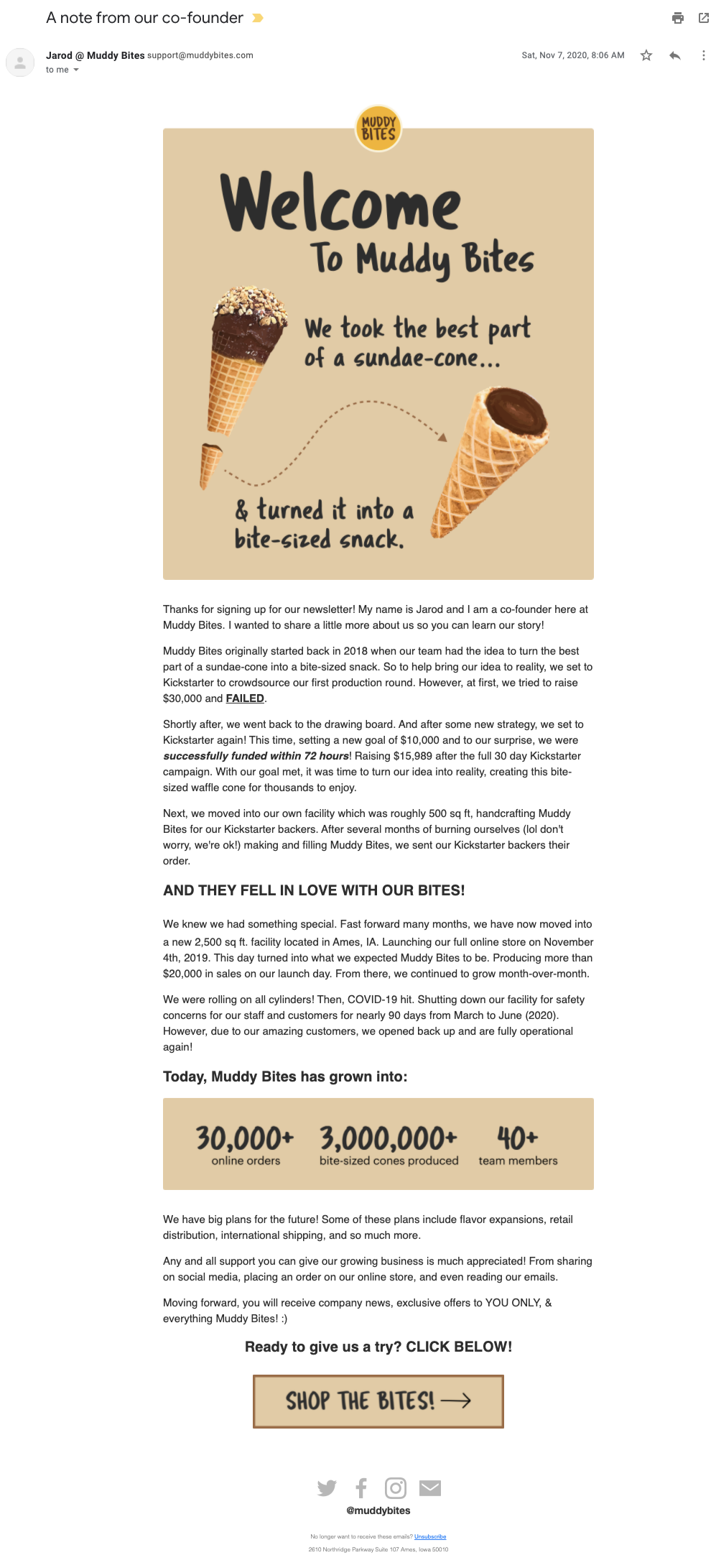 By positioning Muddy Bites as an underdog, you really want to support them and see their business succeed. He also shares a little about the success they've had in a short period of time and the messaging feels sincere.
He also outlines what new subscribers should expect to get by being on the list and encourages people who aren't quite ready to buy to keep reading the emails and share their products on social, making it clear that support doesn't just mean making a purchase.
The personal welcome email
The welcome email from Steph Hon at Cadence is a textbook example of what an amazing welcome email looks like.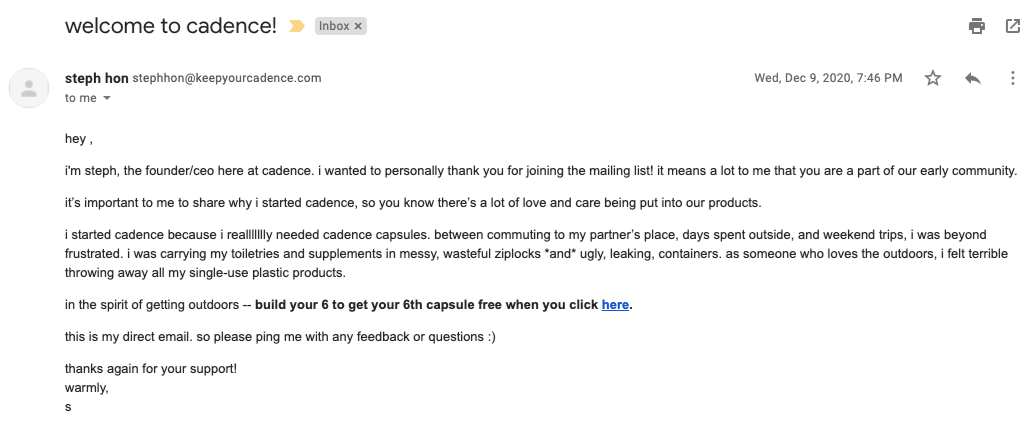 It feels like she sat down the moment you submitted your email and wrote out a personal note to you. It comes from her personal email address (rather than an info or support alias) and she encourages you to reply if you have any feedback or questions.
The fact that it's all lowercase makes it feel casual and fun and she uses it as an opportunity not only to tell the story, but also to give you an exclusive chance to get a free product with your purchase.
The impact welcome email
Like Lingua Franca's welcome email subject line suggests, the focus is on the impact the business has and getting you up to speed on the brand.

The photo of the founder and her sons makes her relatable as both a business woman and mom.
Then, there's a mix of product photos that doesn't feel like a sales pitch. And finally, a section with helpful links a new subscriber would find valuable as they're getting acquainted with your brand.
Level up your welcome email and engage customers with Privy
Privy Email allows users to easily create a welcome email (or series of emails) to bring the newest members of their list up to speed and introduce the business.

And if your goal is to have a few different welcome emails that are specific to your different customer journeys (how they got on your list, where they're coming from, what products they're browsing, etc.) you can personalize email content in a scalable way. Email marketing benchmarks are also useful to have on hand to see how your emails are performing r

Privy makes this automation aspect simple, with detailed metrics on email sales impact, coupons that integrate with your store, and a drag and drop editor that you can use to design professional-looking emails, without any design expertise.
And you can start your free trial to start sending out impactful welcome emails today.
Welcome email FAQ
Is it necessary to send a welcome email to new subscribers?
No question, you need to send a welcome email to your new subscribers. Welcome emails have the highest open and click rates of any other type of promotional email. It's the key to building a solid foundation for your relationship with new subscribers, setting the tone for what's to come and capitalizing on high user intent (it's the highest within the first 48 hours after they subscribe).
What's a good welcome email message?
A good welcome message is short and sweet, but accomplishes a few key things. It should set expectations on who you are and who will most benefit from reading your emails. Is also has to deliver on the promise that got them to subscribe to your list in the first place and should include one primary CTA to get them to further engage with your business.
How to write welcome emails that stand out?
The welcome emails that stand out most are the authentic messages that tell a real story and create a connection with subscribers. They show real faces, are consistent with your brand tone and make readers feel like they're part of your community. Your welcome email should make your subscribers feel like they belong.
How do I engage with subscribers with welcome emails?
By telling real stories, offering exclusive promos to new members, and targeting your welcome email based on your customer's journey, you can create highly engaging welcome emails that your potential customers will want to interact with. It is also useful to leverage email automation with the right email tool.
Subscribe for Updates
Get our best content on ecommerce marketing in your inbox 2 times a week.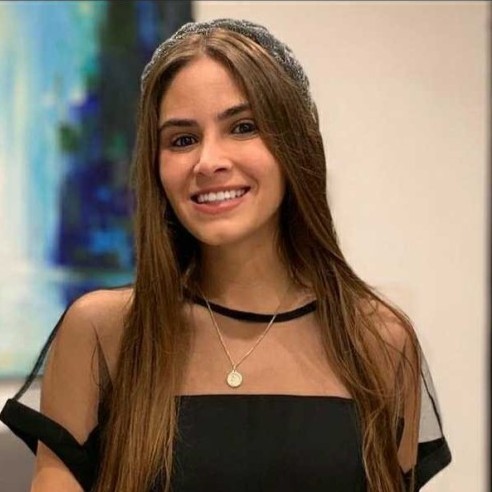 Written by Ivanha Paz
Ivanha is a content marketer for SaaS/B2B. She's on a mission to bring some fun into B2B, you'll usually find her writing lots of techy things in non-technical ways.
Subscribe for Updates
Get our best content on ecommerce marketing in your inbox 2 times a week.