How To Keep The Momentum Going After Black Friday: Drive Sales This Holiday Season With These 15 Ideas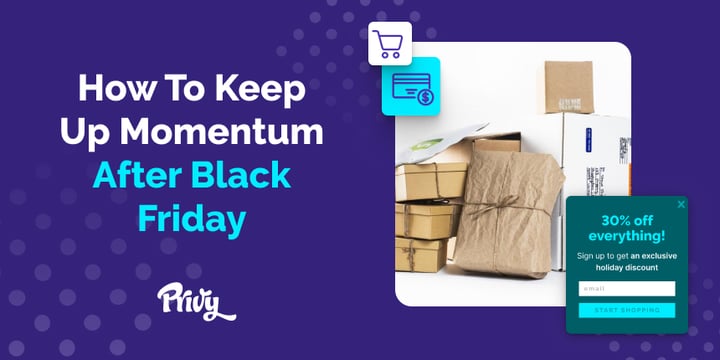 After Black Friday, you have a small window of time to reach a highly valuable group of customers – so don't let up on your marketing efforts.
While Black Friday is one of the most important shopping days of the year, it's not your last chance to win customers and move inventory.
If you're looking to keep the sales coming in after Black Friday, then check out some of our suggestions to make the most of the holiday shopping season.
Get our best content on ecommerce marketing in your inbox 2 times a week
1. Make holiday shopping easy
The easier you can make gifting, the more likely your audience will make a purchase. Because giving thoughtful gifts can take a ton of time. And especially as shipping deadlines get closer, that's a luxury your audience doesn't have. Here are 4 ways you can make holiday shopping a breeze:
Create a gift guide
Gift guides are the perfect way to showcase your best-sellers and gift-worthy products this holiday season.
You can create personas, like "For the Host" or "For the Foodie." But you can also filter by price, think "Gifts under $50" or "The Perfect Stocking Stuffers."
Take a look at this example from The Great:

But Jing from Fly by Jing took it in a different direction and highlighted some of her favorite brands: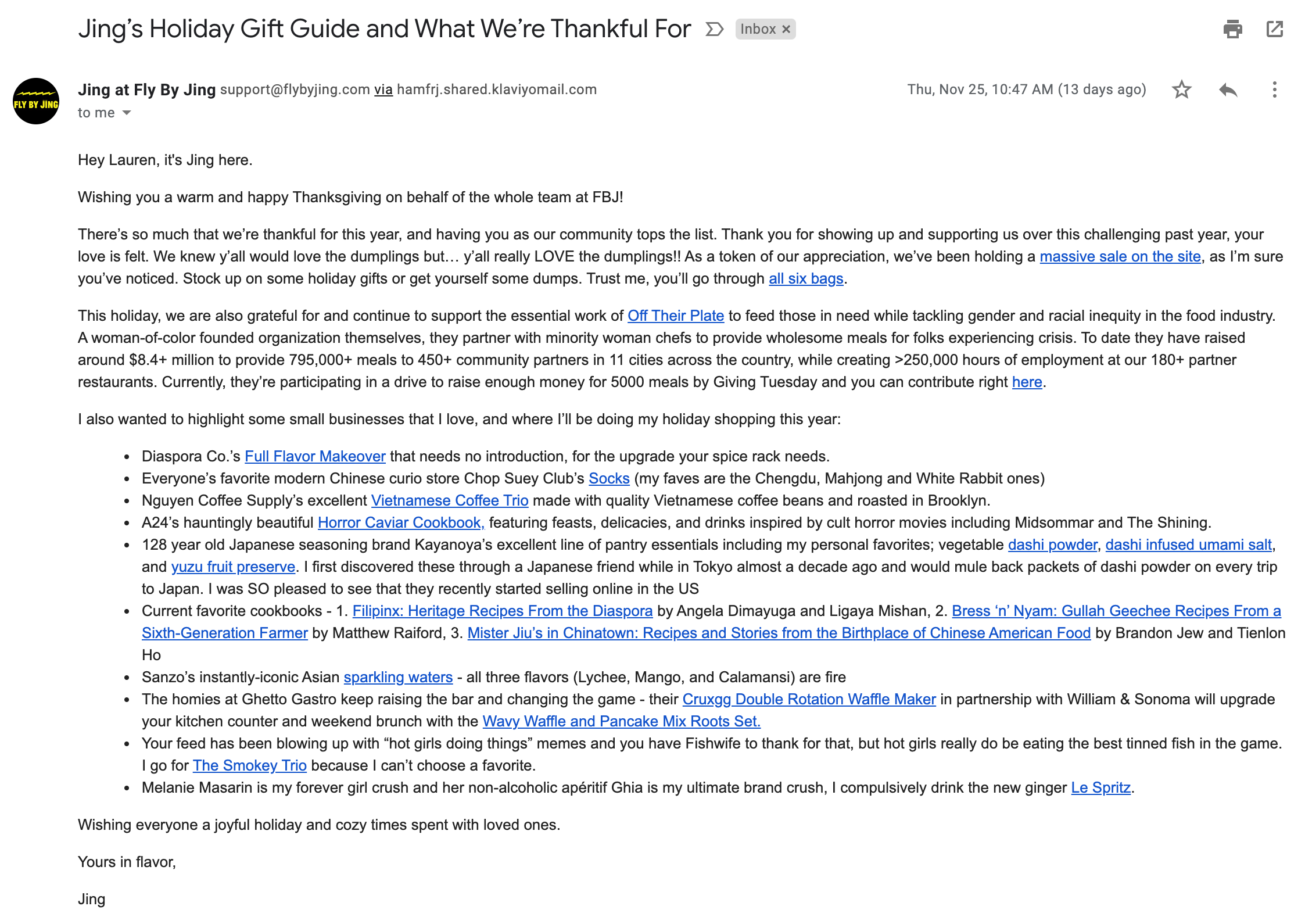 Have a holiday section on your site
But don't stop at a gift guide...turn that into a collection on your store! Just take a look at this page from Jenni Kayne:

It's included in the nav, showcases shipping deadlines at the very top of the page, and makes it super simple to shop for gifts.
Put together holiday bundles
Bundles aren't just a good way to boost your average order value...
They're perfect gift ideas. You're basically doing the shopping for your audience. Here's how Shoppe Amber Interiors showcases holiday bundles: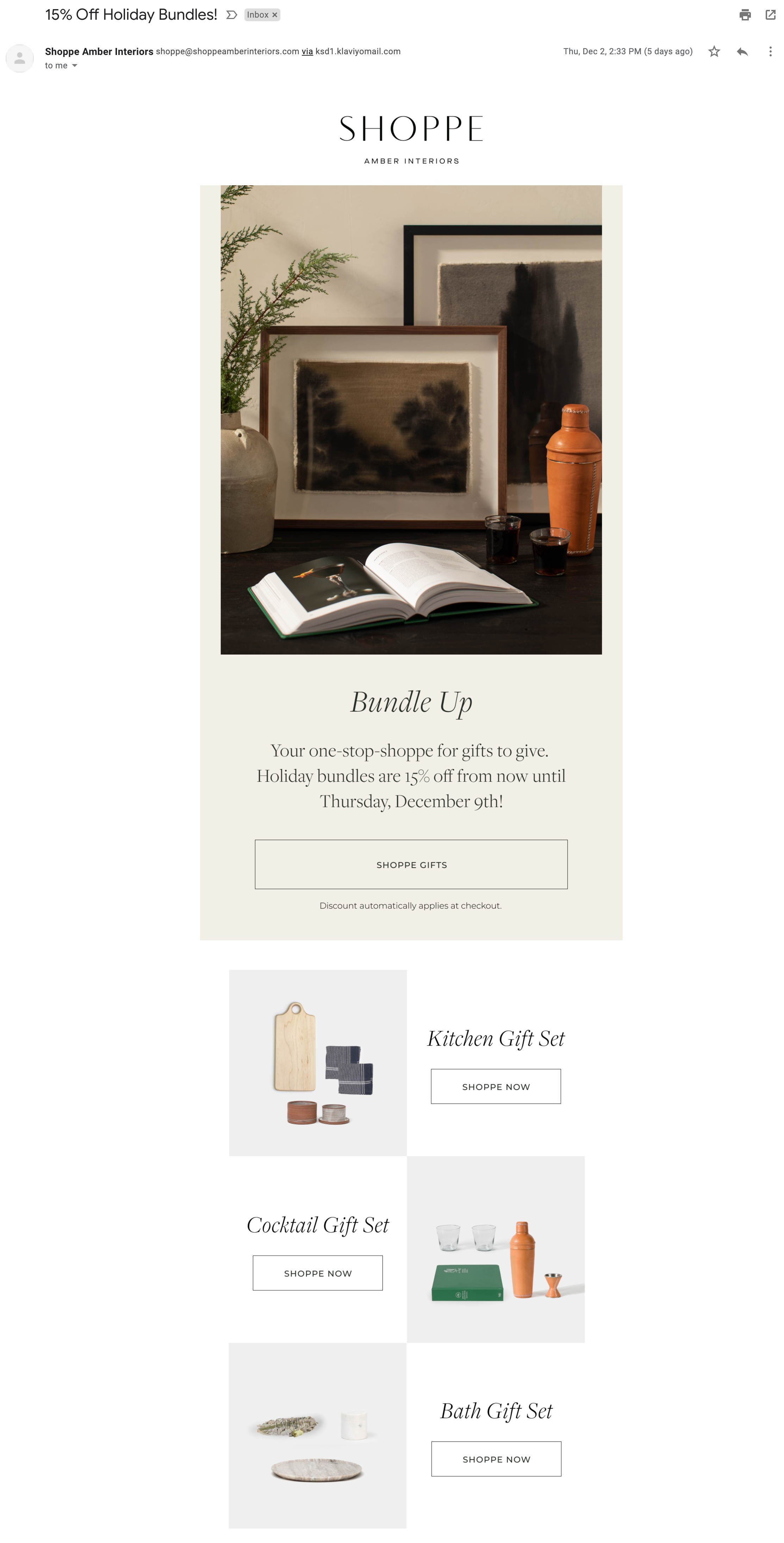 Offer gift wrapping
Gift wrapping is just one more opportunity for you to save your customers time this holiday season.
But that doesn't mean you need to actually be doing the wrapping for them. It can be as simple as this trick from Piecework: a box so pretty it doesn't need to be wrapped.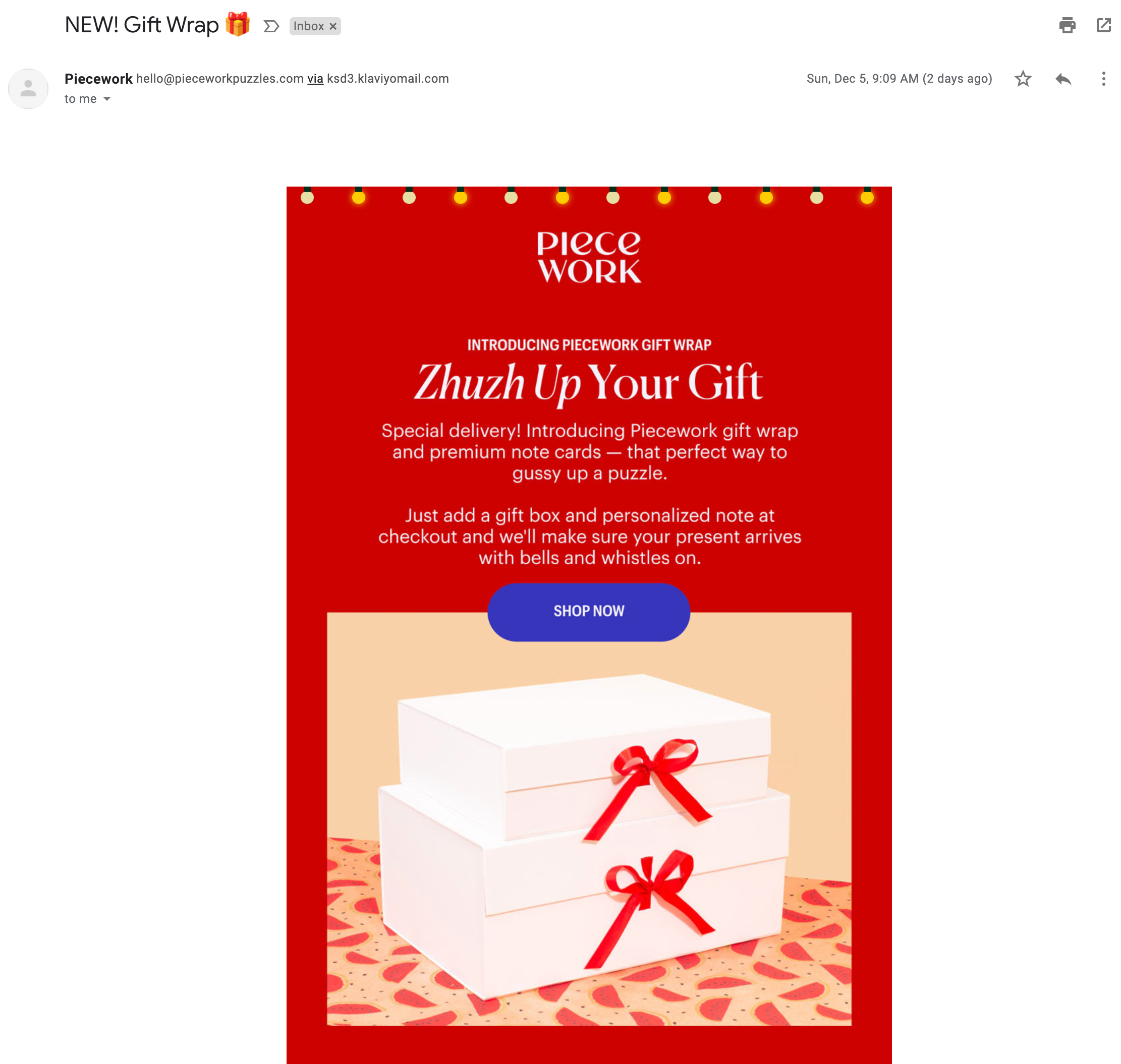 2. Run daily promos
I don't know about you, but this year I've been seeing a lot of spins on the 12 Days of Christmas. It's the perfect way to make your audience feel like they didn't miss out on Black Friday deals.
Here's an example from Jenni Kayne: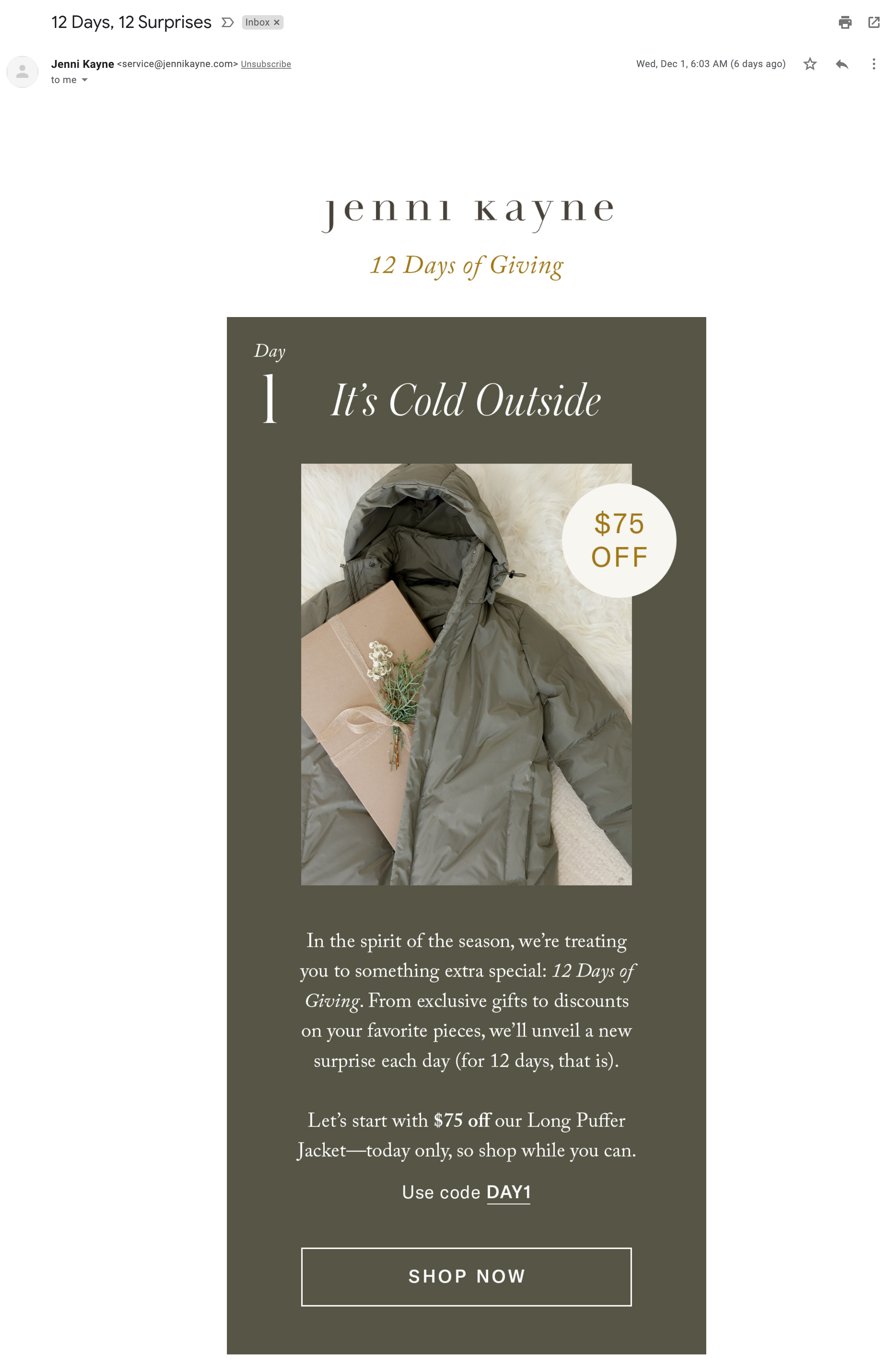 Every day, they share a new promo with their audience to bring in holiday sales for 12 straight days.
But if 12 different promos feels overwhelming to you, don't feel like you have to go that far.
3. Offer a free gift with purchase
A free gift with purchase is a great way to drive sales without giving discounts. I'm obsessed with the example from Mala: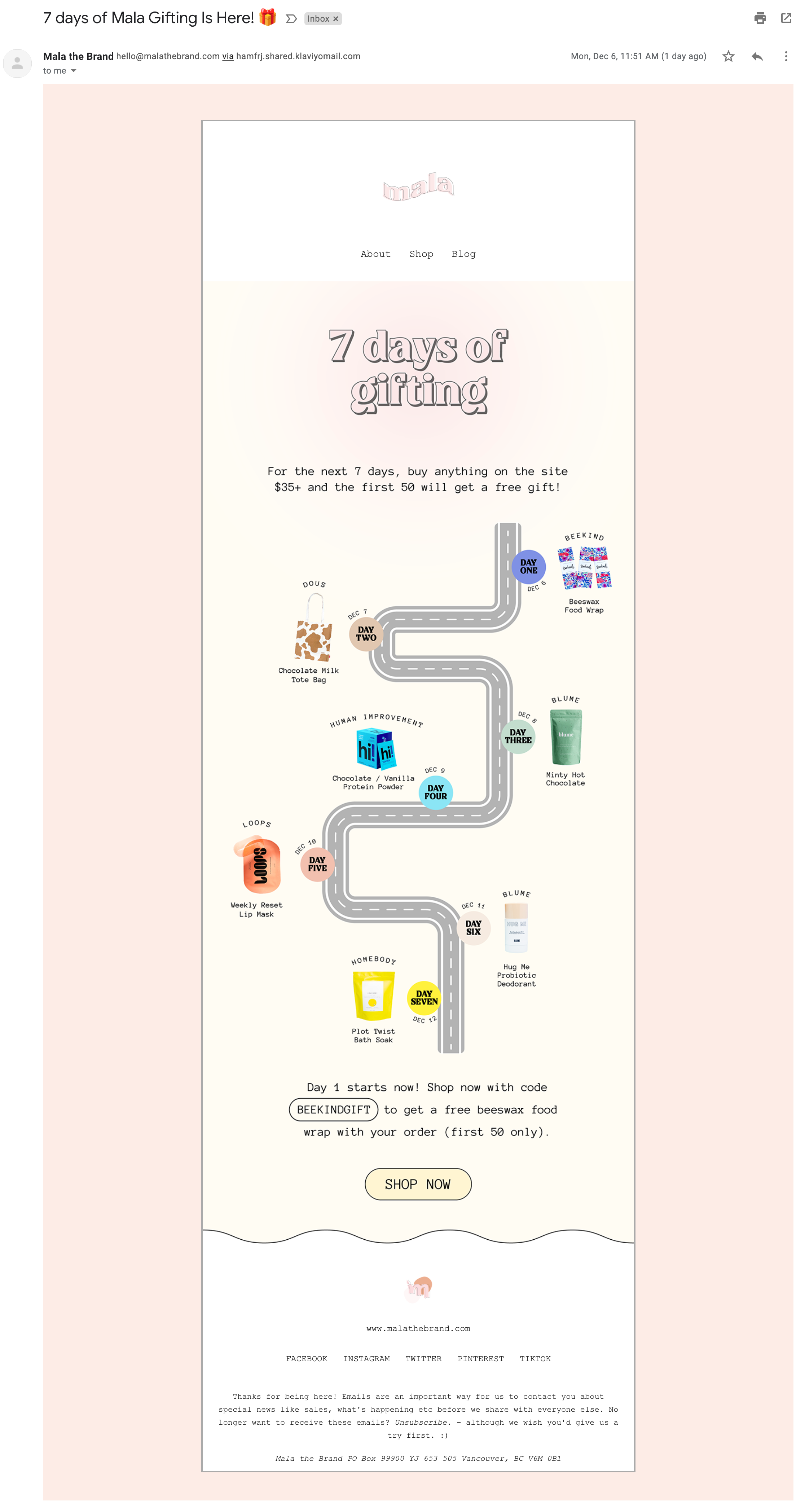 Every day for 7 days, they're gifting the first 50 people to spend $35+ something different from another brand. If I had to bet, I'd guess they got the products from the other brands for free for getting them in front of her customers. Which means this free gift with purchase play isn't costing her a thing. Genius.
4. Launch a new product
The time between Black Friday and the end of the year is the perfect time to launch a new product and keep the sales coming.
Human Improvement launched a new flavor:

If you don't already have a new product, this one is tough to execute on last minute, but it's a great way to drive sales without having to offer a discount.
5. Set up alerts for low stock items
There's nothing like urgency to get people to pay attention. That's why low stock reminders work so well. Especially during the holidays when pretty much everyone is shopping.
Youswim highlights a color way they're retiring: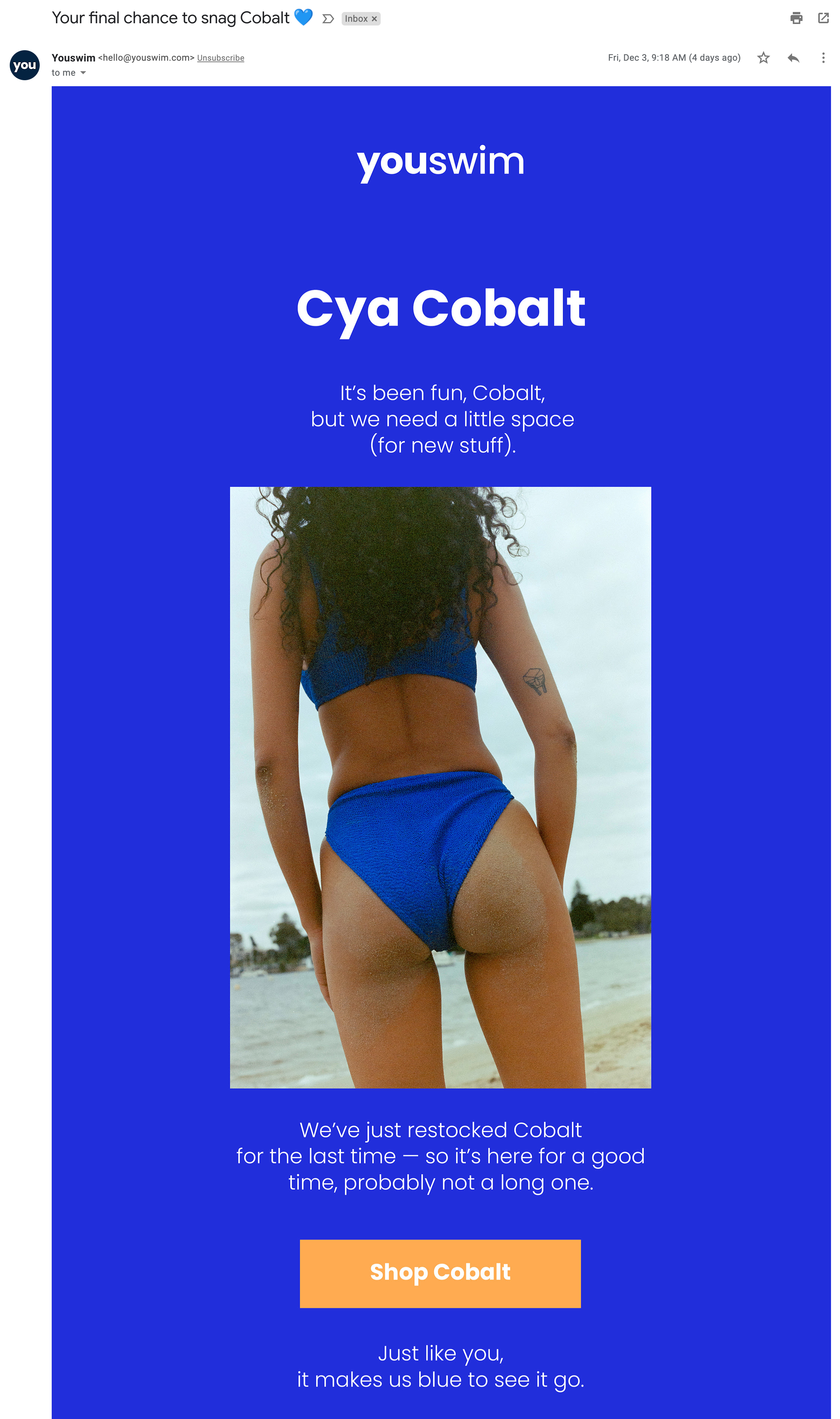 And Kimai takes a different approach by highlighting the fact that they only have limited quantities of ready-to-ship gifts: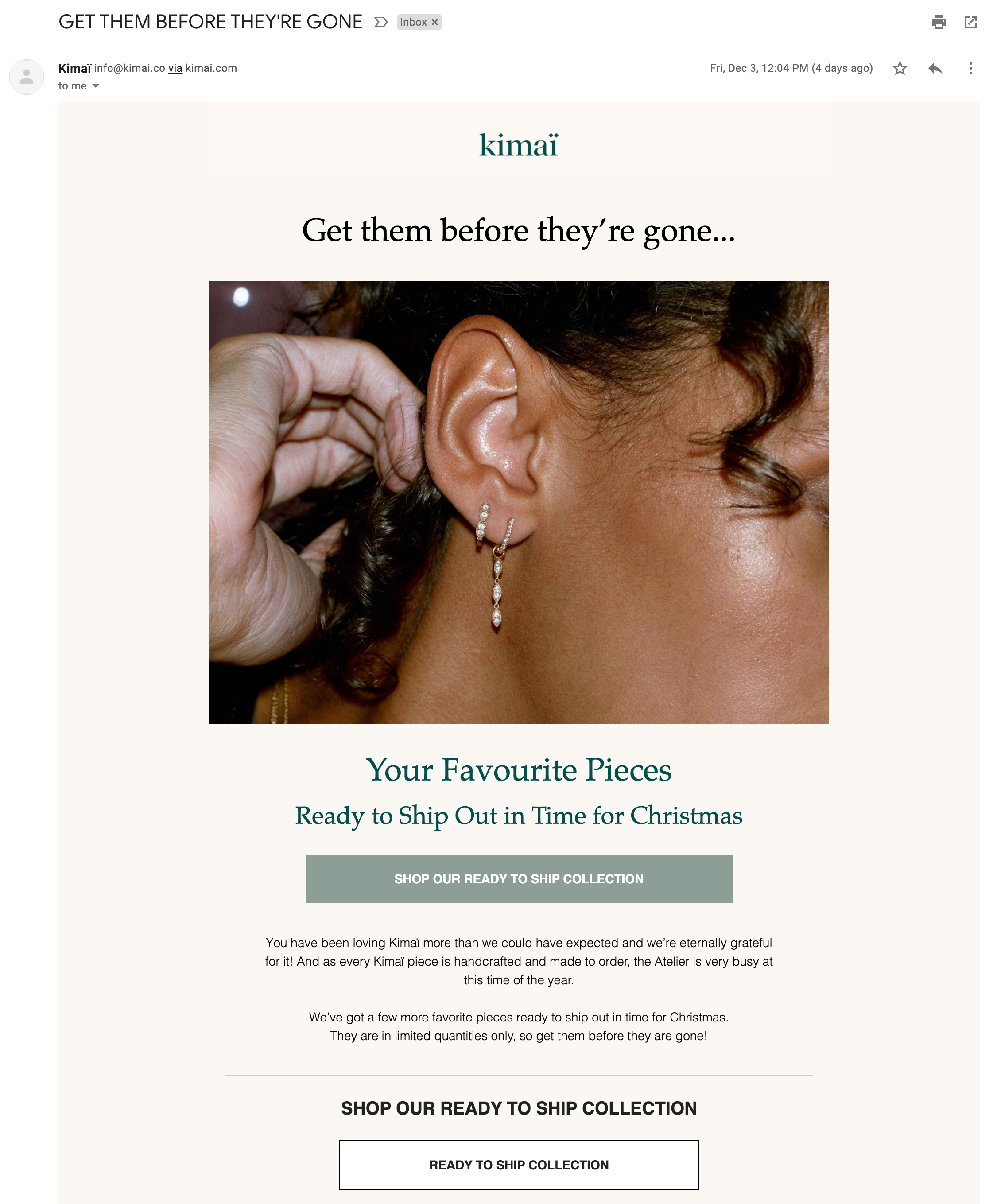 6. Send back in stock alerts
The counterpart to low stock notification, back in stock alerts are another great way to drive sales.
"If something was so popular it sold out, I might need it too." At least, that's my rationale...
Here's a holiday-themed back in stock email from The Foggy Dog (I cannot even begin to tell you how obsessed my dog is with his Foggy Dog bed, btw):
I also love this example from Oddbird: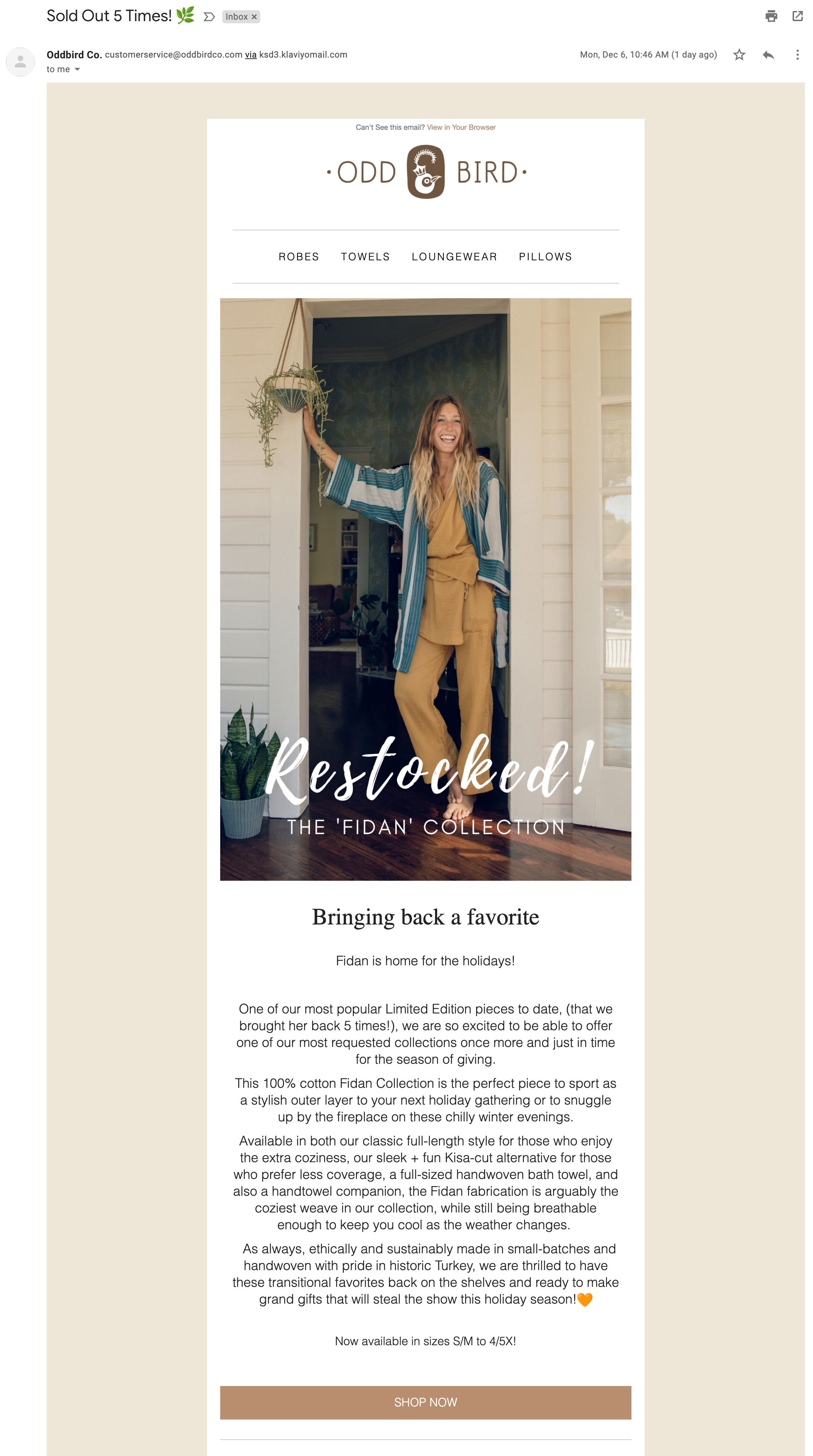 They had me from the start with the subject line: "Sold out 5 times." But they also help you picture yourself actually using the product with lines like, "the perfect piece to sport as a stylish outer layer to your next holiday gathering or to snuggle up by the fireplace on these chilly winter evenings."
7. Send an exclusive offer to first-time buyers
Chances are, you had a handful of first-time customers around Black Friday. And you want them to come back. So it's the perfect time to encourage them to do just that.
Check out this episode of Ecommerce Marketing School to get ideas in 5:09.👇
Or steal a few ideas straight from here:
1. Cross-sell: Once the customer has received their order (you want to give them a chance to love your product before you try to sell them something else!), share another product that would pair nicely with what they ordered.
2. Focus on gifting: Again, once they've received their order, you could send an email that's focused on gifting, encouraging them to purchase again for someone they love.
3. Winback: You should have a customer winback series running all year, but the holiday season is a great time to have one in place, especially for these first-time buyers you so desperately want to win over again.
And don't miss the opportunity to reward your best, most loyal customers either! This is the perfect time of year to surprise them with something special: a free gift with purchase, secret flash sale, free 2-day shipping, etc.
8. Send shipping deadline reminders
It's no secret that shipping is insane this year. Which means shipping deadline reminders are key when it comes to telling your audience when they need to place orders to receive them in time for the holidays.
I love this plain text example from Sarah, the Founder of Curie: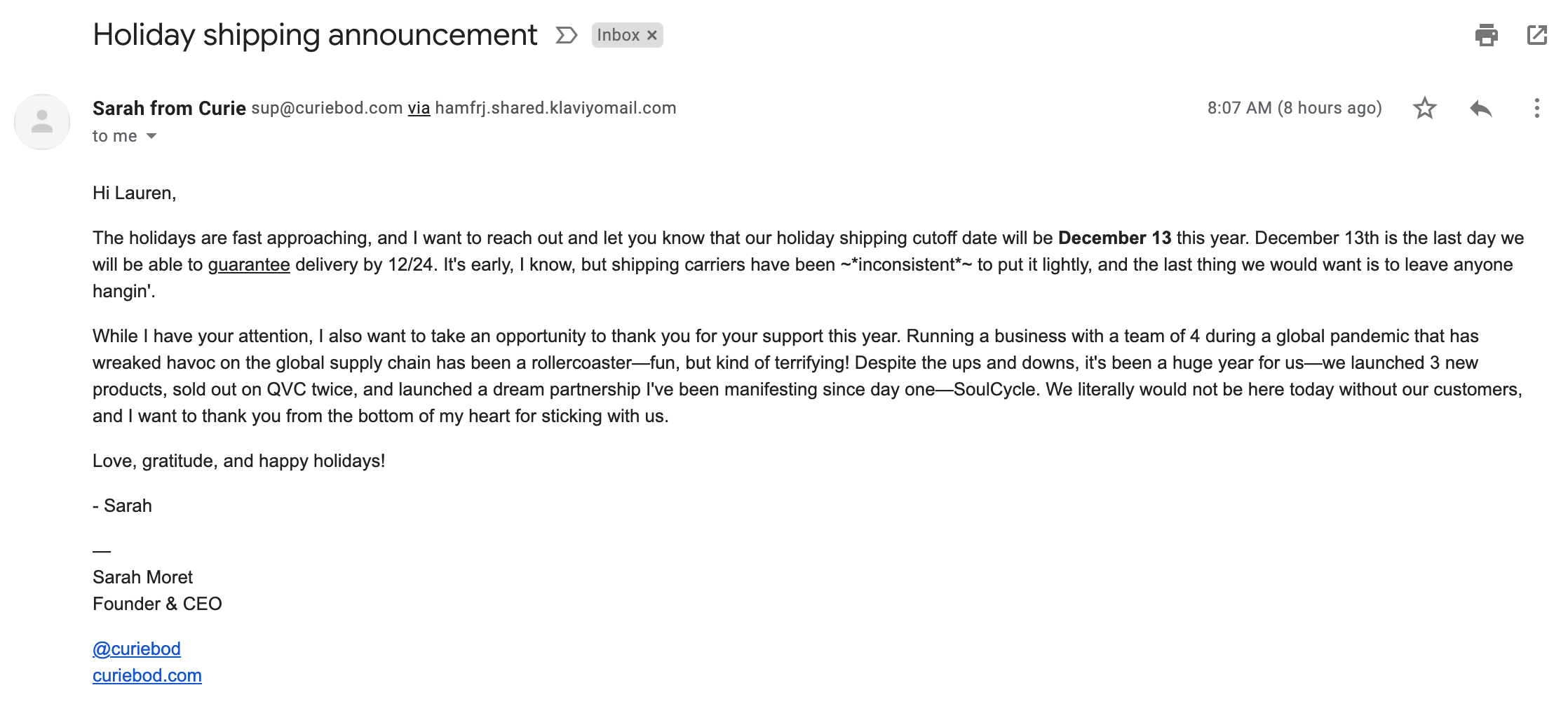 Sure, you can send a beautiful email with a bunch of images, but this feels like she just sat down and wrote an email to a friend reminding them about getting their orders in time for the holidays.
Don't just send one email and expect people to remember, though. Make sure you're sharing constant reminders on social and in any other emails and texts you're sending between now and the shipping deadline.
9. Have a sample sale
This is the perfect time of year for a sample sale. Let your audience shop deep discounts and get rid of inventory you've been hanging on to.
Here's a great teaser email about a samle sale from Caraa: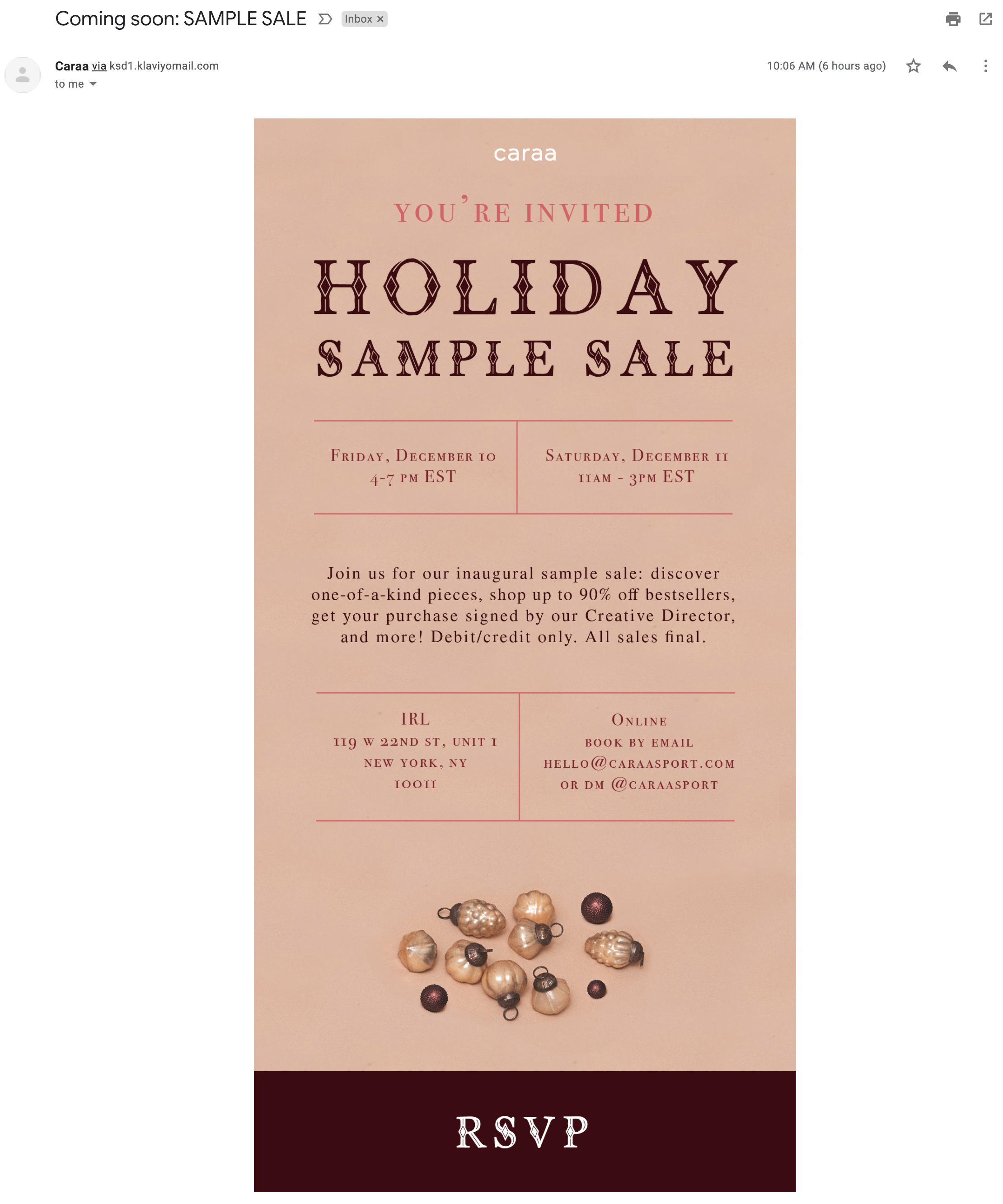 I also love that they're making this accessible to their customers who aren't in the NY area, too.
10. Highlight payment options
Now is the perfect time to highlight alternative payment options, like buy now pay later. If your customers are tight on cash with all their holiday spending, it might be the exact thing they're looking for.
Here's how Sahajan approaches it: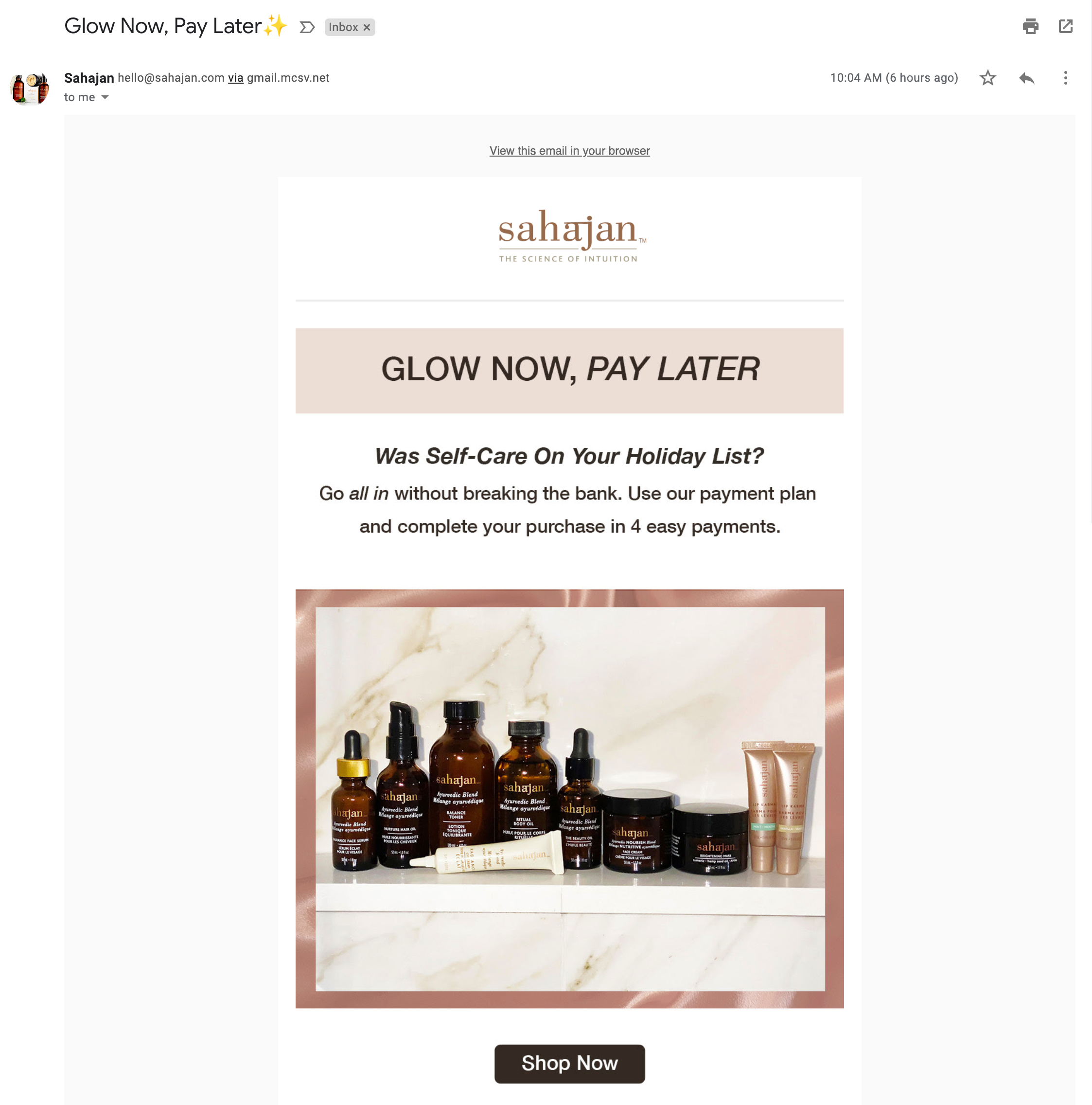 Payment plan options can improve conversion for your store all year, but especially during the holidays when cash is tight for a lot of people.
11. Incentivize referrals
Referrals are a great way to tap into a new audience. And when the offer is sweet enough, your subscribers might actually take you up on it.
Here's a holiday referral email from Vuori: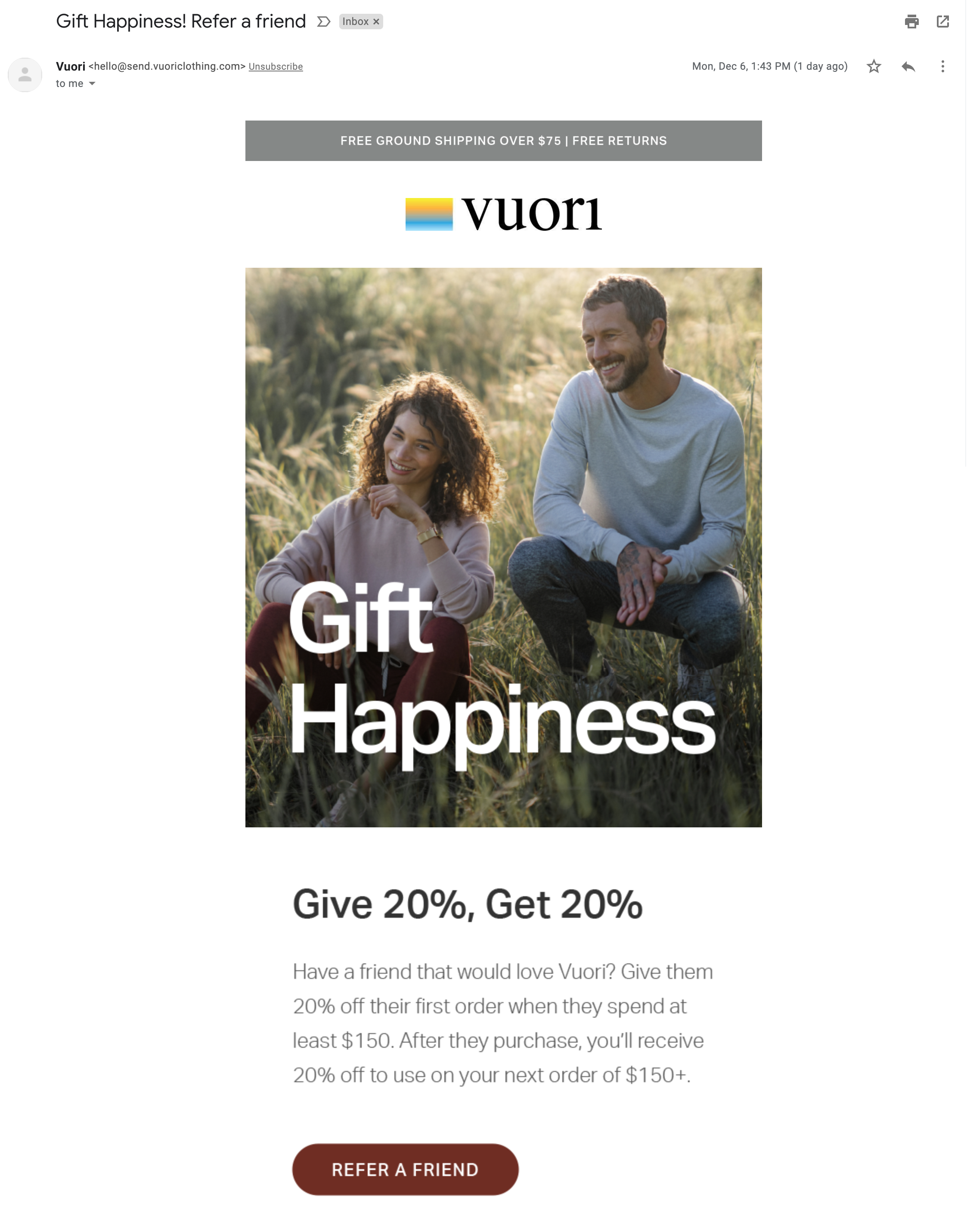 Simple and to the point with an incentive to go and share their brand with someone you know.
12. Share feel-good updates
Maybe you've donated $X to different charities with purchases made so far this year. Or maybe you've planted a certain number of trees...
It's a great time to remind your subscribers of that!
Cadence shares the number of water bottles their customers helped recycle during Black Friday:
There's no ask or product features, but it does make you want to support them. A simple email like this might just encourage someone on your list to go and make a purchase to support your mission, too.
13. Give out free points
If you have a rewards program, I absolutely loved this idea from Charlotte Stone: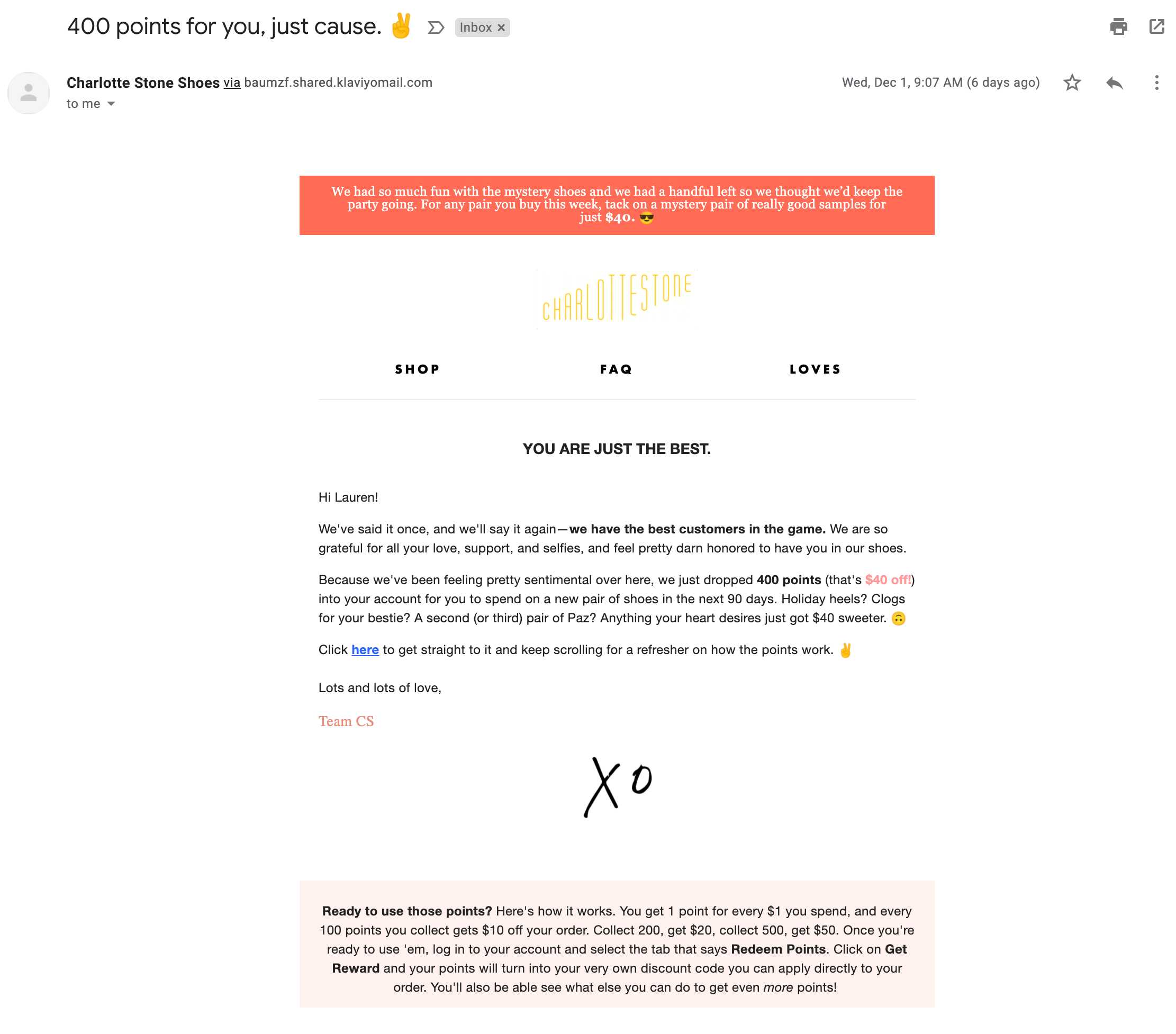 As a previous customer, this was such a nice surprise and delight moment. $40 for free? It feels above and beyond. The fact that it expires in the next 90 days also acts as an incentive for me to jump on it.
This went a long way for me, so if it's something you're able to do for your store, I highly recommend it.
14. Highlight other places to buy your products
If you sell your products in other places, whether it's in retail locations or other online platforms, it's a great time to highlight that, like Sunwink does here: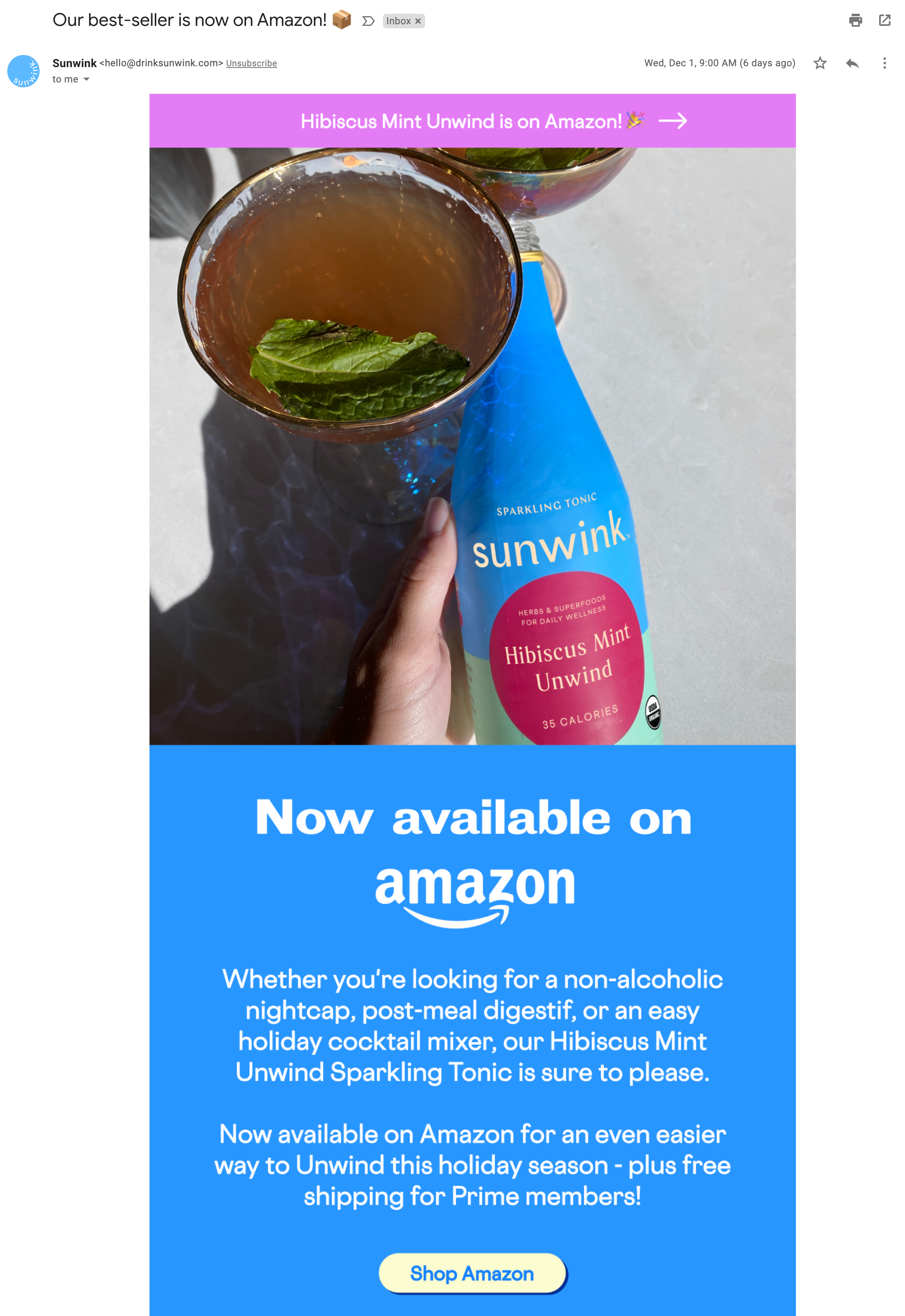 Maybe your audience wants to shop directly from Amazon to keep orders in one place. Or maybe you sell your products at locations that are close to where they live. It's the perfect way to give optionality.
15. Make sure you have digital gift cards
You'd be surprised just how many people wait until the last minute to do their holiday shopping (I don't know about you, but I'm not done with mine yet)...
That's where gift cards come in. Especially after your shipping deadline has passed (when you want to highlight them even more).
Here's how Mate the Label showcases their gift cards: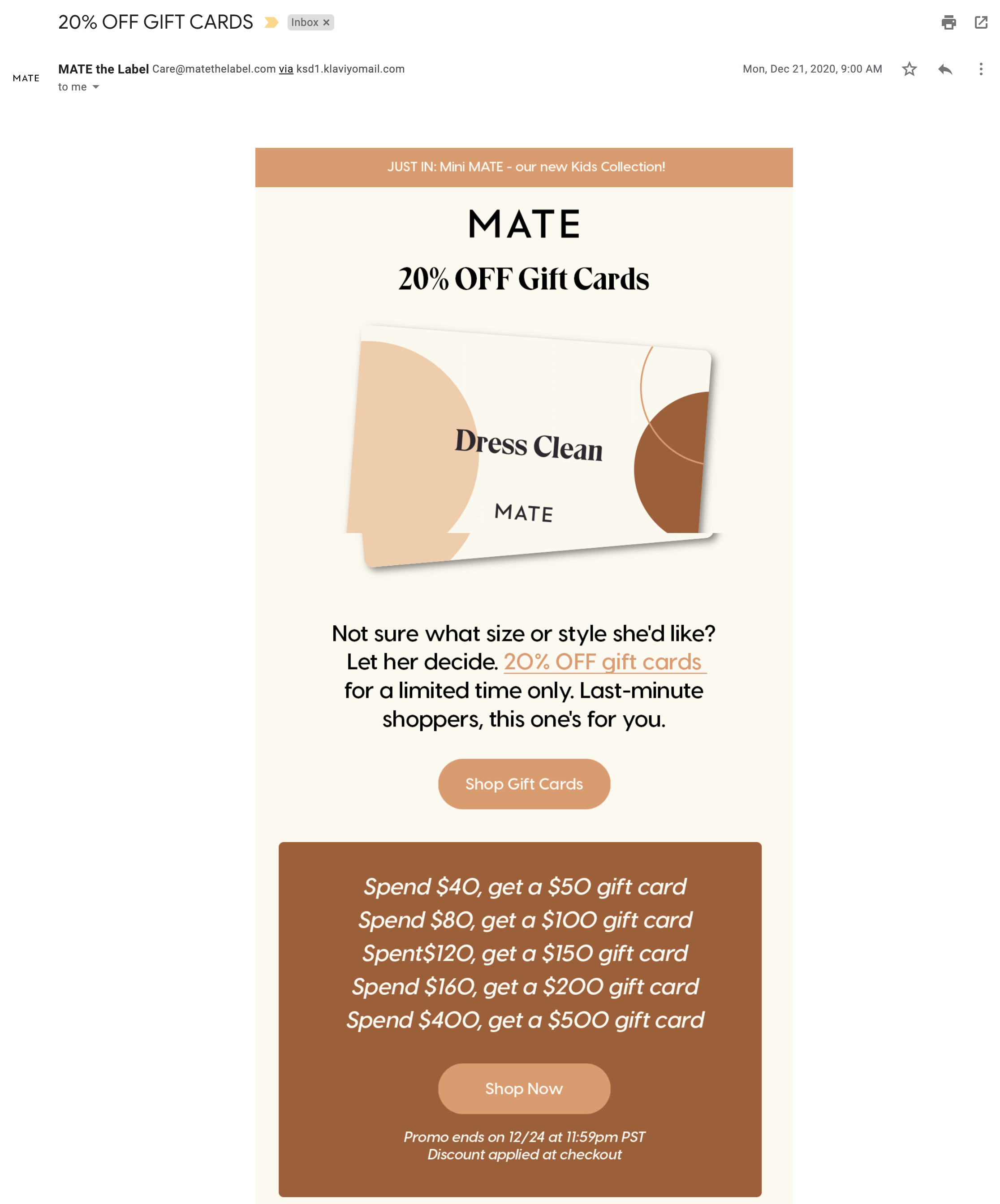 Not only are they offering discounts on gift cards, but they're also giving away gift cards for different thresholds of spend. It's a great way to incentivize gift purchases at a discount.
You still have plenty of time to drive sales this holiday season
Even though Black Friday is over, that doesn't mean it's time for you to take your foot off the gas. There are so many ways you can continue driving sales for the rest of the year.
Even if you just test out a couple of these ideas, I promise you won't be disappointed.
I hope these ideas and real-life examples leave you inspired and ready to bring in those holiday sales this year.
And don't forget: the Privy Growth Plan has everything you need to have a successful holiday season and beyond.
Subscribe for Updates
Get our best content on ecommerce marketing in your inbox 2 times a week.
Written by Lauren Hall
Lauren is a Brand Marketing Associate at Privy. She's the brains behind all things content. When she's offline, she's obsessing over her Bernedoodle pup, Monster, and plotting ways to being a full-time Vermonter ASAP.
Subscribe for Updates
Get our best content on ecommerce marketing in your inbox 2 times a week.