Holiday Shipping 2021: How To Navigate Delays And Build Trust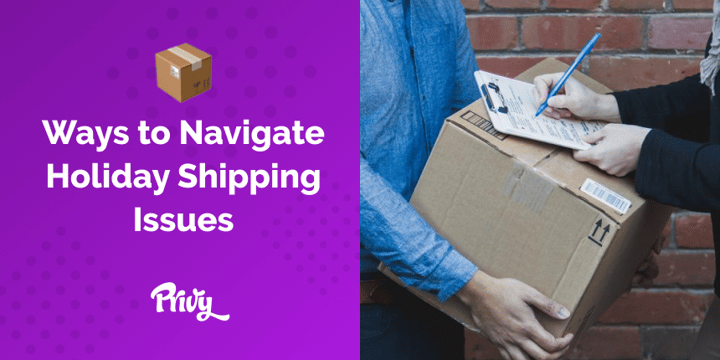 The 2021 holiday season isn't exactly the "back to normal" event we were all hoping for at this time last year. COVID-19 is far from a distant memory, and uneven global recovery is still wreaking havoc on supply chains. But, normal or not, the holidays are still coming, and customers are still in need of gifts.

Fortunately, customers understand the situation; just 21% of buyers say they'd place the blame on retailers for shipping delays this holiday season, according to a Deloitte survey. But that doesn't mean shop owners shouldn't be proactive when it comes to notifying customers and getting creative to work around 2021 shipping issues.

Since issues stretch across the supply chain, from labor shortages causing backups at major ports to lack of items due to pandemic-related production stoppages, there will be many businesses looking at low inventories and limited ways to ship what they do have on hand. Ports are now operating around the clock to try and unload ships, and larger stores are chartering their own vessels to deliver goods in time, but small and medium businesses have to accept a certain amount of uncertainty.

The good news is that there are ways to navigate these issues.
Get our best content on ecommerce marketing in your inbox 2 times a week
Be up-front with your customers about shipping delays
Don't be shy about letting your customers know that shipping delays can happen.
Take this example from Mala the Brand. Not only do they let their audience know that deliveries will be slower than usual, this strategy also encourages customers to place their orders early and prepares them in case their orders happen to be late.
You should also be sending at least two emails: one to let your audience know when your holiday shipping deadlines are (like Mala the Brand) and one that's a last chance reminder before the deadline ends, like this example from The Little Market.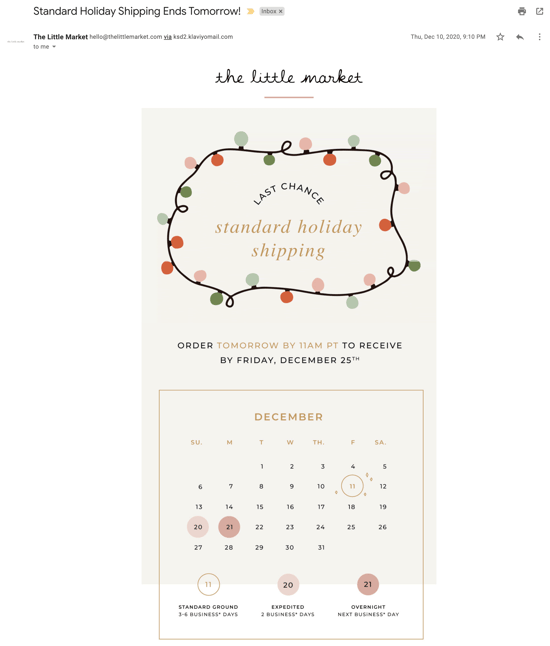 You should also be including your shipping deadlines in every other email you're sending between now and the deadline date.
If you're looking for holiday shipping subject line ideas, here are 3 you can steal:
ATTN: Shipping deadlines this season📦
Holiday shipping updates!
Hurry! Last chance for holiday shipping
But don't stop there...
You should also be making it really clear once shoppers land on your site, DO NOT make them search. With Privy, you can use a banner that sits at the top of your site as a constant reminder. 👇

Privy also makes it easier than ever to send emails and texts to remind your audience about holiday shipping.
And if you're looking for shipping deadlines, the ShipBob team put this together:
UPS Surepost and FedEx SmartPost – December 9th
UPS Ground – December 15th
FedEx Ground – December 15th
USPS Priority – December 17th
USPS First Class – December 17th
The more transparent you are, the better.
Offer digital gift cards
One way to guarantee that shoppers will have presents in time for the holidays is to offer them digital gift cards. You can deliver them instantly by sending them right to their email.
This is a great option to present to customers who are trying to order out-of-stock items; they can substitute a gift card for the same price as the item, to be redeemed after the shipping crunch.
But also keep in mind that there are so many last-minute shoppers out there. Which means there's a huge opportunity for you to lean into gift cards, especially after the deadlines to receive holiday orders in time have passed.
Test out an incentive to sweeten the deal. Offer $5 off their next purchase if they buy $50 in digital gift cards or a free gift that will ship to them after the holidays.
Here's an awesome gift card example from Fly by Jing: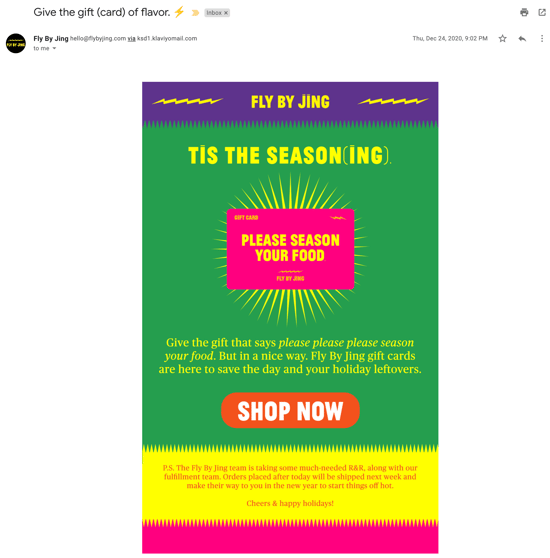 And if you're looking for gift card subject line ideas, here are a bunch to get you started:
Last-minute gifting made easy
The perfect gift (card) 💌
When in doubt, gift card it out
Gift cards delivered straight to their inbox.
It's not too late to give a gift card
Running out of time? Try a gift card.
There's still time!
The perfect last-minute gift
Provide several shipping options
The 2021 holiday season challenges aren't just about the global supply chain; they extend all the way to last-mile delivery. Right now, it's tough to guarantee a delivery time, so along with standard shipping, consider providing 2-day and overnight shipping options.
Explain that premium shipping options cost more but will give customers peace of mind knowing that their gift will arrive on time for the holidays – as long as they order by the deadline you provide.
Once the item leaves your store, it's the delivery service's job to get it to the customer. However, if an item is late and the customer reaches out to you, don't just shrug and pass the buck. Offer them discounts or gift cards, or even offer to refund the purchase to keep them happy. Happy customers are repeat customers, and you should do everything in your power to keep their business.

If it's possible, you could also offer local deliveries for any customers that are within a certain radius of your store or give customers the option to pick up the order themselves. However, these strategies are most suited for retailers with a brick-and-mortar location or small operations that can afford the time investment of arranging pickups with individual customers.
Free Express or 2-day shipping on orders over a certain threshold is also a great way to drive sales and increase AOV this holiday season. Just ask Frēda Salvador: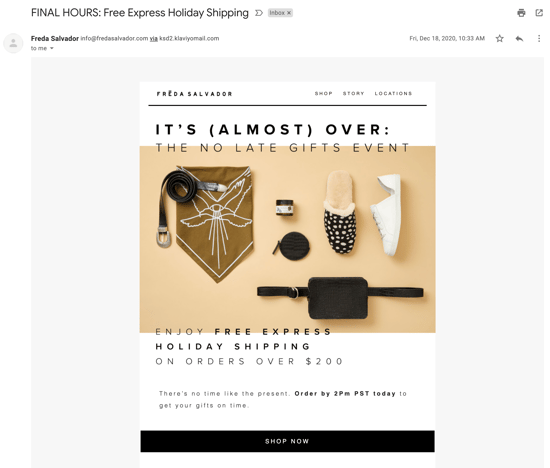 Don't let shipping issues stop you from having a great holiday season
The holidays can be stressful for both you and your customers. But if you're up-front and constantly communicating, you'll build trust and encourage repeat purchases.
So don't get discouraged with what's out of your control. You can still navigate shipping delays with poise and win big this holiday season.
Subscribe for Updates
Get our best content on ecommerce marketing in your inbox 2 times a week.
Written by Lauren Hall
Lauren is a Brand Marketing Associate at Privy. She's the brains behind all things content. When she's offline, she's obsessing over her Bernedoodle pup, Monster, and plotting ways to being a full-time Vermonter ASAP.
Subscribe for Updates
Get our best content on ecommerce marketing in your inbox 2 times a week.