When to Exclude a Segment from Your Campaigns (+ Simple Tips for Email Segmentation in Privy)
Published on Aug 29, 2023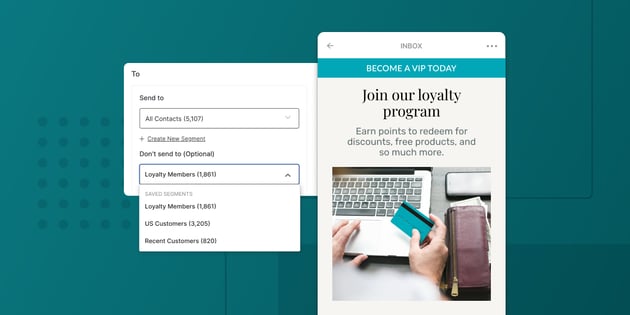 Segmentation is key for delivering personalized experiences across your subscriber base.
And we know your email list is more than just a number. Each contact on your list is a real person with their own relationship with your brand.
You want to treat your contacts with an email experience that's going to best fit their preferences (both from a frequency and content standpoint).
But that doesn't mean you need to go overboard personalizing every single touchpoint.
Because no one has time for that 🤷
In today's post, we're going to share simple yet powerful segmentation tips that you can follow without having to spend hours more on your emails.
So you can fine-tune your targeting strategy and grow revenue with campaigns that convert contacts into customers.
Craft your segmentation strategy (without overcomplicating it)
1. Get personal
With all the data and tools available these days, it's easier than ever to send mass email campaigns – but consumers don't want cookie-cutter shopping experiences.
Personalization is really all about meeting your contacts where they are in your customer journey and adding a personal touch based on what you know about them.
This could be as simple as calling attention to the exact product (dynamically of course!) they bought in the past when promoting a complementary product.
Or sending them an email when it's time to re-up on a product they're likely running low on.
Ultimately, segmentation is all about using what you know about your contacts (they're real people, after all!) to offer experiences with your brand that are relevant to their particular interests and needs. And that makes them feel special and appreciated whenever possible.
When done right, this minimizes the friction between a consumer opening one of your emails and hitting checkout on your site.
2. Consider who your key segments are
If you had to simplify it, you likely have 2 primary qualifiers in your subscriber list.
Whether or not a contact has made a purchase from your store
Whether or not they are engaging with your marketing emails
Take the time to review your subscriber list and create segments that best match these qualifiers. You'll likely end up with something like this:
Past customers who are engaged with emails
Past customers who are no longer engaged with emails
Potential customers who are engaged with emails
Potential who are no longer engaged with emails
Now, as you plan out your marketing calendar, think about which messages are most important for these segments.
And keep in mind, this should make sense to your unique business. Depending on the type of product you sell (and how often repeat purchases happen), this will look different.
But to simplify this tip—the majority of the time, you should be including segments #1 and #3 on your marketing emails.
While on the other hand, you should be more selective with #2 and #4.
If these contacts are already showing signs of disengagement, you should balance your frequency and see if you can get them to re-engage overtime.
So, as you map out your marketing calendar each month, mark down who should be included for each and take a note of how many emails each segment is getting.
Use that to assess your frequency and start to understand what does or doesn't work.
Simple tips for your email segmentation in Privy
1. Use Privy's pre-built Smart Segments
Smart Segments are pre-built segments that live directly within your Privy account, and are the easiest way to add segmentation to your email marketing strategy.
Today, you can choose from 4 different smart segments:
2. Create your own custom segment
Privy's segment builder gives you control over your audience, flexibility in how and when you create new segments, and ease of mind when it comes to reusing your segments.
The Segment Builder has 4 types of targeting options:

With 21 different fields to create your custom segment:
Shopping activity

: cart value, first order, last order, lifetime spend, order count and purchase history.

Website behavior

: by display, last seen and created at.

Customer attributes

: by country, custom field, imported, name/email, Privy tags, Shopify tags.

Email engagement

: opened, did not open, clicked, did not click, sent, was not sent.
Plus, with the latest updates, you now have more flexibility when filtering based on email engagement. Simply choose an email engagement event and enter in a date range (now up to 270 days).
3. Exclude segments you don't want to receive your send
Fine-tuning your targeting strategy with segmentation also means defining who does and doesn't receive your emails and texts.
So you can have greater control over how and when your market to different contacts across your entire subscriber base.
That's where segment exclusion comes into play. Segment exclusion gives you the ability to prevent contacts from receiving any campaigns that aren't intended for them.
Excluding a segment of contacts from certain campaigns means they won't be inundated with messages that don't resonate with them, or be confused by offers they've already used.
Segment exclusion can help you increase the relevance of your campaigns with hyper-targeted content tailored to specific audiences. And help you determine how often you're engaging with different segments in your list.
When to use segment exclusion for your campaigns
Every marketer's goal is to get the right message in front of the right people at the right time.
And when you're competing for attention in cluttered inboxes, who you don't send your emails and texts to is just as important as who you do.
That's why segment exclusion can play a critical role in fine-tuning your targeting strategy to keep your campaigns as relevant as possible.
But you might be wondering when exactly it makes sense to exclude certain segments from your emails and texts.
Here are some ways Privy customers are using segment exclusion in their marketing strategies:
1.

Target distinct buyers
Depending on your business, you might have a few distinct buying profiles that you market to in different ways.
One common scenario we see with Privy customers is having a wholesale base and a retail base.
If that sounds like your business, you probably have different approaches to how you interact with your buyer profiles when it comes to general communication and offer strategies.
Your communication to wholesalers might be more professional while you may be more playful with retail customers.
Or you might offer bulk discounts to your wholesale customers while you give retail shoppers the occasional free gift with a purchase. (In fact, Bryght organized their campaign for BFCM 2022 all around targeting their different wholesale and retail bases. You can read more about their campaign and segmentation strategy here.)
Regardless of your specific approach, your marketing efforts can be made easier when you know with certainty that you're targeting the right customers with each campaign.
So the next time you're reaching out to your wholesale customers, exclude your segment of retail customers to make sure your message reaches exactly the right contacts.
2.

Boost engagement rates
There's a time and place to send to a wide base of your subscribers, like for your major sales and promotional campaigns.
But it can actually benefit you to exclude unengaged contacts, or contacts who haven't opened or clicked one of your emails in a while, from certain campaigns.
Getting into the regular habit of excluding unengaged contacts where it makes sense can improve your email health and deliverability over time.
So let's say you're a skincare brand and you like to share weekly wellness tips with your subscribers.
A content newsletter like this is great for the highly-engaged brand loyalists on your list.
But the people who seldomly open your emails probably aren't the best audience for something like this.
And that's totally okay - by excluding unengaged contacts, you can target your campaign to the contacts who are most likely to take action. And give your engagement rates a nice boost in the process.
With Privy, you can easily identify and exclude your unengaged contacts with the help of our pre-built Smart Segments.
The Smart Segment for unengaged contacts automatically builds a list of all the contacts who haven't opened or clicked an email sent with Privy in the last 90, excluding any contacts who were added to your list in the last 90 days.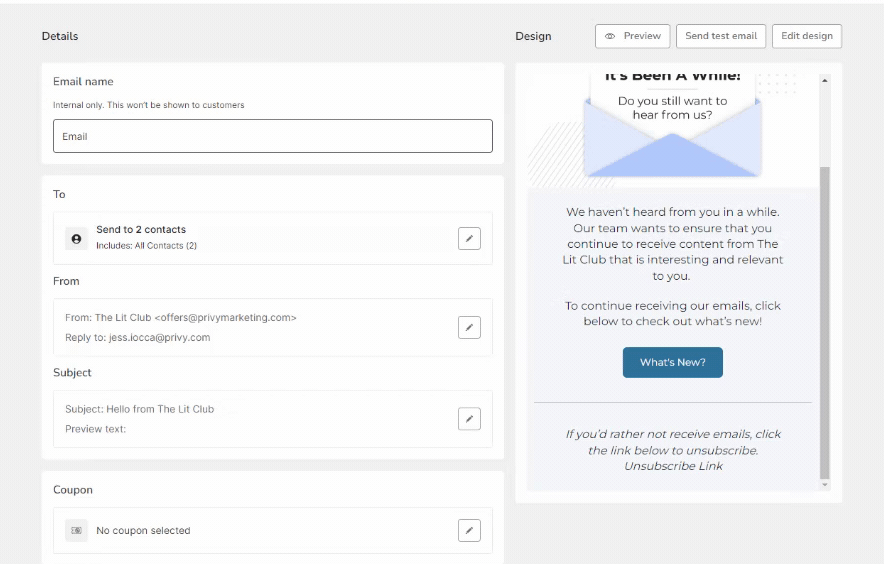 3.

Promote collection-specific content
Personalization is a huge benefit of any segmentation strategy.
And data like shopping activity can give you tons of information to work with to keep your campaigns hyper-relevant to different segments in your base.
For example, it makes sense to exclude contacts who've only shopped from your Men's Collection from campaigns focused on your latest women's styles.
If your customers are consistent in shopping behaviors, use that to your advantage when planning your campaigns.
You can use the Shopify Collections filters in Privy's segment builder to pinpoint customers who have (or haven't) shopped from any and all collections associated with your Shopify store.
And the next time you send a campaign specific to a certain collection, you can make sure to exclude any contacts who haven't shopped from the collection in the past and likely wouldn't find this particular campaign relevant.
4.

Optimize the frequency of sends to high-value segments
One of our top recommendations when getting started with your own segmentation strategy is to create a segment of your VIP customers.
How you define a VIP can be unique to your business. But to keep it simple, we typically see VIPs defined as customers who've had 3 or more orders with your store, or that have spent over a certain dollar amount, like $200.
VIPs have already demonstrated to you that they're fans of your brand and are highly valuable customers for your business.
So it benefits you to show them how much you appreciate their support with special perks and incentives.
Not only does this make VIPs feel appreciated, it also deepens their loyalty to your brand.
And when it comes to an effective VIP strategy, it's important to keep in mind how often you're reaching out to this segment. When you reach out to your VIPs, you want them to feel like the campaign was intended for them specifically.
So let's say you want to give your VIPs a discount or gift to celebrate the release of a new product. Tailor a campaign with this special offer and then exclude your VIPs from additional versions of the campaign being sent to other contacts on your list.
This way, the offer and content your VIPs receive is clear and focused. And you can still get your campaign in front of your other contacts without potentially bombarding your VIPs with too many messages.
5.

Grow customer lifetime value
Many businesses have a range of customers with different spending appetites.
Some may be super-enthusiastic and always willing to pay full price for what you have to offer.
Others may only shop when they see a deal that they can't resist.
Both types of customers pose a unique value to your business.
But when it comes to growing customer lifetime value, especially within the group that's willing to pay full price, you want to be mindful of which campaigns you don't send them.
That's why we recommend excluding customers who've never shopped your Sale collection from campaigns promoting heavily discounted items.
If they've historically paid full price for your products, let's keep it that way!
So if you have a designated sale collection for your Shopify store, create a segment of customers who have never bought from this collection and consider excluding them from campaigns pushing final sales and the like.
6.

Be mindful of sensitive holidays
Certain holidays, like Mother's Day and Father's day, aren't always a time to celebrate for everyone on your list.
Over the past few years we've seen more and more brands giving contacts the option to opt out of any communication related to these sensitive days.
Doing this can be a great way to build trust with your audience and show that you care.
So ahead of any holidays like these, give your audience a chance to mute messages related to the holiday.
And then use segment exclusion to make sure anyone who opted out is removed from emails and texts about the holiday.
7. Expand your loyalty program
Loyalty programs are amazing for customer retention. The sole purpose of a loyalty program is to turn one-time customers into repeat customers and build a loyal following.
The more customers who convert into loyal, repeat buyers the better. So it makes sense to get into the habit of inviting new customers to your loyalty program.
And it wouldn't make sense to ask contacts to take an action they've already made.
Along with regularly inviting new customers to join your loyalty program, you should also exclude current loyalty members from any campaigns focused specifically on growing the program. They've already signed up, after all!
When someone joins your loyalty program, they expect you to have a deeper understanding of their relationship with your brand.
Excluding them from irrelevant campaigns like this is just another way to demonstrate how much you understand them.
8. Extend a sale
Holiday sales, like a Labor Day sale, are huge revenue drivers for online stores. Consumers, including your own contacts, are primed to keep an eye for the best offers from their favorite brands.
And a great strategy to boost your holiday sales even more is to extend your sale with an extra day to shop, especially if it's a surprise for your subscribers.
While effective, tactics like this are a delicate balance between giving your subscribers a really exciting offer they're eager to take advantage of or coming on too strong by flooding their inboxes.
Excluding contacts who've already shopped can help ease your mind in instances like this, while giving your other contacts one last opportunity to shop.
Think about it – once a contact takes you up on your offer and converts, it doesn't make sense to send them yet another email or text promoting the same sale.
At best, it's a bit confusing to those contacts. And at worst, it can leave contacts feeling annoyed because they expect you to know that they've already bought something.
So the next time you decide to extend a sale, create a segment of contacts who've already shopped during the days of the sale. And exclude them from campaigns that let your subscribers know the sale has been extended.
This will ensure that those customers aren't inundated with emails and texts after they've already made a purchase. All while generating more orders for your store.
How to use segment exclusion in Privy
You can exclude a segment directly in the email and SMS campaign editors in Privy.
You have the option to either exclude one of Privy's pre-built Smart Segments, or you can select a custom segment you've saved to your account.
Before you hit send, you'll be able to confirm your audience, exclusions and total contact count so you can know exactly who will receive your campaign.
And once your campaign is out in the world, you can head over to your Campaigns dashboard for more insight into how your targeting strategy is impacting your campaign performance and revenue.
Here's a 2 minute video to show you exactly how it works for email campaigns.
If you're feeling inspired, you can get started with segmentation in your Privy account today.
Subscribe for Updates
Get our best content on ecommerce marketing in your inbox 2 times a week.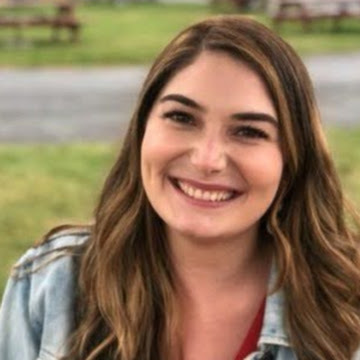 Written by Jess Iocca
Jess joins Privy after completing her MBA at Boston University, where she specialized in marketing and social impact. She loves introducing her family and friends to small businesses and emerging brands, and is thrilled to put that passion to work at Privy. Outside of work, you can find Jess organizing her virtual book club and exploring new restaurants. Jess lives in Boston with her husband and their cat, Phoebe.
Subscribe for Updates
Get our best content on ecommerce marketing in your inbox 2 times a week.