5 Ways To Turn Your Unengaged Subscribers Into Active Members of Your List (Plus 21 Subject Line Ideas)
Published on Aug 17, 2023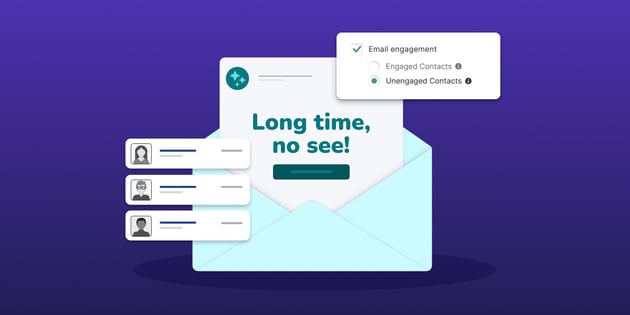 We've all fallen victim to cluttered inboxes from time to time and your subscribers are no different. Some subscribers are bound to lose steam engaging with your emails. And when you work tirelessly to grow your email list, you're probably wondering what you can do to bring these subscribers back into the fold.

Don't worry – all hope is not lost. In fact, it's easier (and less expensive) to re-engage subscribers who already have an affinity for your brand than it is to win over brand new contacts.

When it comes to re-engaging dormant subscribers, it's important to get clear on who exactly those subscribers are. In Privy, we define unengaged contacts as contacts who haven't opened or clicked an email from your brand in the last 90 days (excluding any contacts who've joined your list in the last 90 days). With a clear definition in mind, you now have some information to work with to tailor messages to these contacts.

Remember that these contacts have been receiving your emails for months but haven't gotten past the first step of opening an email. Up until this point you've likely been sending them your latest product releases, information about sales, and other standard marketing campaigns. But to re-engage dormant contacts, you need to do something different. And that starts with grabbing their attention with an eye-catching subject line.
Craft a winning subject line
When it comes to a winning formula for subject lines, there are a couple best practices to keep in mind especially when targeting an unengaged audience.
The goal of any subject line is to inspire action. But with most subscribers checking email on mobile devices, lengthy subject lines run the risk of being cropped. To optimize your chances of getting your email opened, stick to the sweet spot of 6 to 10 words in your subject line (but the shorter, the better!).
Along with keeping your subject clear and concise, try to personalize your subject line where you can. If you collect personal information like a subscriber's first name, a re-engagement email subject line is the perfect place to use it. Personalizing subject lines has been shown to increase open rates by up to 50% which is critical for a re-engagement campaign.
Steal these subject lines
Now that you have a better understanding of how to make your subject lines stand out, here are 21 subject lines you can steal today to start re-engaging your audience.
Not every subject line will make sense for every brand. Maybe your brand strikes a friendly tone. Or maybe your brand is witty and playful. That's why we included multiple examples here. So you can find a few options that are a good fit for your brand's tone.
The "friendly check-in" subject line
Why it works: The "friendly check-in" subject line often reads like a message the recipient might receive from a friend. This can be a great way to encourage readers to give your email a closer look by leaning into the warm emotions usually associated with getting a message from a friend.
Here are a handful of subject lines to test with your brand:
Just checking in!
An update from us to you
You + [Your Brand's Name]
Hey [Name], we miss you
Knock knock, still with us?
The "long time" subject line
Why it works: These subject lines tend to be simple and punchy. They also serve as good reminders to your subscribers that they've been inactive for a while. The subscribers who want to stay on your list will be nudged into taking action.
Here are some examples we love:
Long time no see, [Name].
It's been a while, [Name].
In case you forgot, we're still here.
Is this a bad time?
The "break up" subject line
Why it works: The "break up" subject line is a creative way to acknowledge that by remaining inactive, subscribers are effectively ending their relationship with your brand. The subscribers who want to stick around will be sure to give this a second thought when they see one of these subject lines hit their inbox.
Here are a few options to try:
Goodbyes are hard.

Breaking up is never easy.
I'm sorry it didn't work out.
We're sorry to see you go.
The "guilt trip" subject line
Why it works: This type of subject line is definitely a bit bolder than your typical subject line. But that's what makes it so effective. Most people don't like being impolite and this type of subject line plays into that feeling, prompting subscribers to take action.
If it feels right for your brand, give these a shot:
Ghosting us?
Are you ignoring us?
Was it something we said?
Don't forget about us…
Giving us the silent treatment?
The "one last message" subject line
Why it works: By the time you get to the point of sending a re-engagement campaign, chances are you've already reached out to these contacts numerous times with your usual marketing emails. Use a "one last message" subject to create urgency to act before these subscribers stop hearing from your brand altogether.
Here are a few examples that get to point:
Still want to hear from us?
Are our emails still worth your time?
Act now or you'll be unsubscribed.
5 re-engagement campaigns to try today
Now that you've picked a killer subject line, it's time to focus on the content subscribers will see once they open your email.
Here are 5 different strategies to re-engage dormant contacts, along with real examples to spark your creativity and give you confidence to add re-engagement campaigns into your email marketing playbook.
1. Reconfirm their interest
If a contact hasn't opened or clicked an email for an extended period of time, it's fair to assume that they might no longer be interested in what you're sending. But you can't know for sure unless you ask.
Sometimes simply asking contacts if they still want to hear from you is enough to re-spark their interest. It is likely that some contacts will unsubscribe after receiving an email like this, and that's okay. When it comes to email health and deliverability, it's actually more beneficial to have a smaller list of engaged contacts than it is to have a huge list of contacts that seldomly engage with your brand.
Giving your unengaged contacts an opportunity to stay on your list will ultimately help cultivate a more valuable subscriber base for your brand.
Check out this email from at-home manicure brand, Olive & June: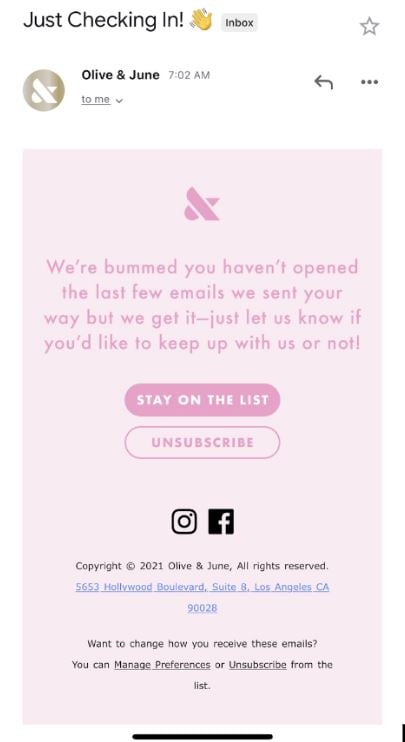 This email is straightforward and direct as to why these contacts are receiving this email. And the call-to-action is super clear - opt to stay on the list or unsubscribe.
2. Reset communication expectations
Your email list is more than just a number. It's compiled of real-life people who all have different relationships with your brand, motivations and interests. Some may be pumped to see everything your brand has to offer beyond the latest sales. And others may only want to know about sales and promotions. Chances are some of your unengaged contacts fall into the second category.
So check in with these contacts and give them the option to choose what exactly they want to see from your brand.
Here's an example from clothing retailer, REVOLVE: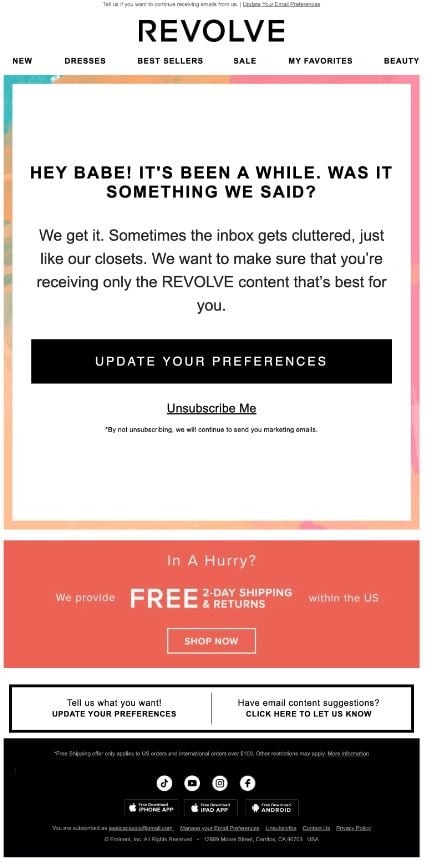 By giving contacts the ability to select what type of content they receive like REVOLVE does here, you can use that information to include or exclude them on future email campaigns.
3. Reintroduce your brand
I sign up for a lot of email lists, but I'm not actively monitoring my inbox all day long. That doesn't mean I'm no longer interested in certain brands - I just have a lot going on (don't we all?).
So I love seeing recaps of recent highlights from brands hit my inbox. It's a great way to be reminded of why I joined the list in the first place and helps me catch up on anything big I might've missed.
That's why I like this example from Girlfriend Collective:

I love that Girlfriend leads with a reminder of the brand's sustainability mission. The plain text also feels like an email I might receive from a friend versus a brand trying to sell me something. Plus, Girlfriend lets me know what's new without being too pushy about making a purchase. A campaign like this is a great low-stakes way to re-engage dormant subscribers.
4. Send a note from your founder
A message from a real person, like your founder, is bound to stand out more than your typical glossy marketing email. It's a reminder that there are people who've put a lot of effort into bringing your brand to life and that can play into the emotional reasons behind why someone signed up for your list.
Take a look at this note from Mala the Brand's founder, Melody: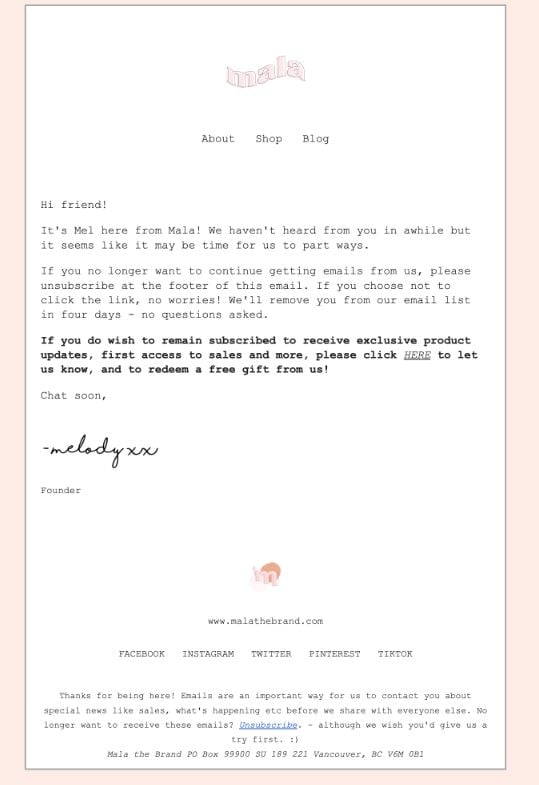 What's great about this is that it acknowledges that a contact has been unengaged for a while, but there are no hard feelings if a contact chooses to unsubscribe. The option to redeem a free gift for those who want to stick around is a nice touch to thank them for loyalty.
5. Send a personalized offer
I get it - you might be wondering why you should send unengaged contacts offers when they haven't engaged with your usual promotional emails. Hear me out. These contacts might see your usual promotional emails as exactly that - a standard marketing email.
Sitewide sales and promotions on new products are great, but they aren't necessarily tailored to specific contacts. A personalized offer on the other hand, like a discount only certain contacts have access to, is more likely to stand out in an inbox.
Truly Lifestyle Brand strikes a great balance in this email: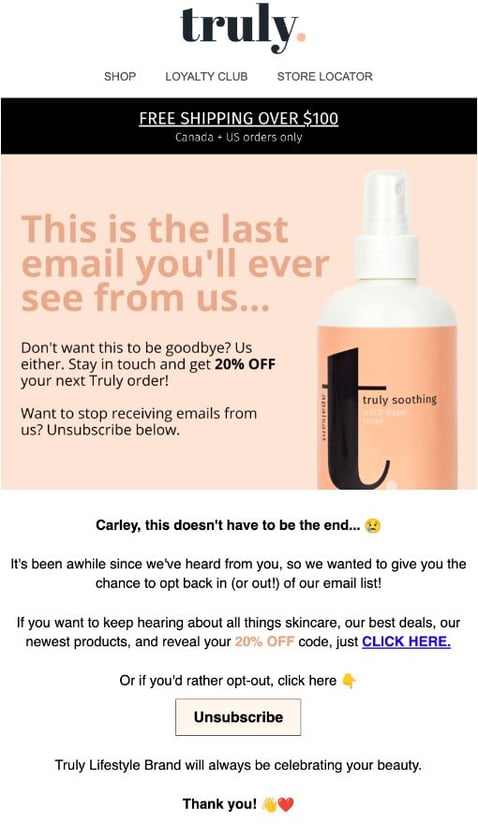 Truly still gives contacts the option to unsubscribe if that's what they'd prefer, but they offer a 20% discount as an incentive to stick around. Being brought back to your site through a play like this can be just what some contacts need to feel inspired to stay in touch. And once someone shops with your brand, they're way more likely to shop again.
Use unique coupon codes for a campaign like this to control who exactly has access to the offer (and get an even better sense of who engaged with your email).
Regardless of the strategy you choose, it's important to keep your content focused in a re-engagement campaign. Be careful not to muddy the message by being overly promotional or using competing calls-to-action. The overall goal of a campaign like this is to reinvigorate the contacts' interest in your brand. You want to make it as easy as possible for these contacts to let you know whether or not they're actually still interested.
In search of more inspiration? We've got you covered with a swipe file featuring 10 real-life re-engagement emails to help you get in front of dormant subscribers.
Add re-engagement campaigns to your email marketing strategy today
We've made it super easy to identify and target your unengaged contacts with Privy.
Once your subject line and email content are ready to go, simply select 'Unengaged Contacts' as an option under Smart Segment in the 'To' field of the email builder.
This will automatically build a list of all the contacts who haven't opened or clicked an email sent with Privy in the last 90, excluding any contacts who were added to your list in the last 90 days.
Before you hit send you'll be able to see exactly how many contacts will receive your re-engagement campaign.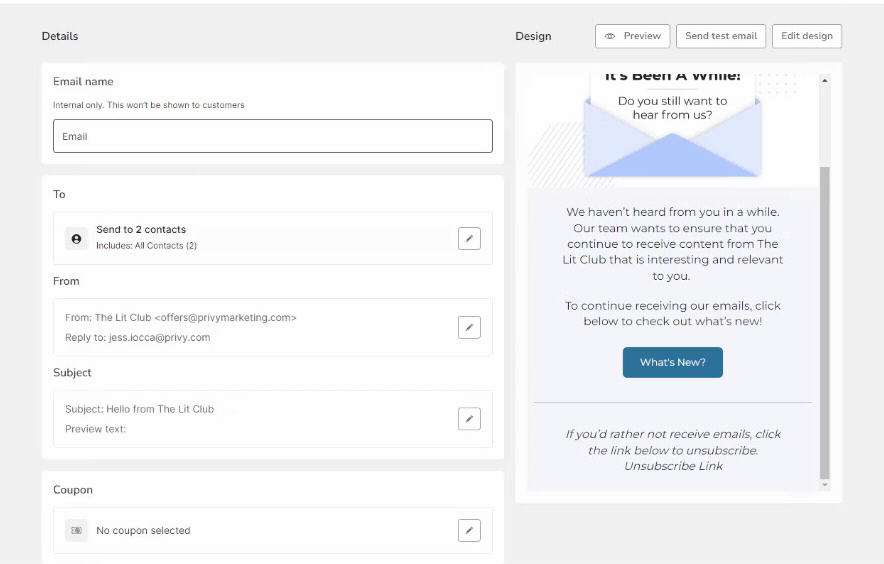 Get access to all of Privy's segmentation tools to drive revenue, build trust and so much more when you sign up for Privy today.
Subscribe for Updates
Get our best content on ecommerce marketing in your inbox 2 times a week.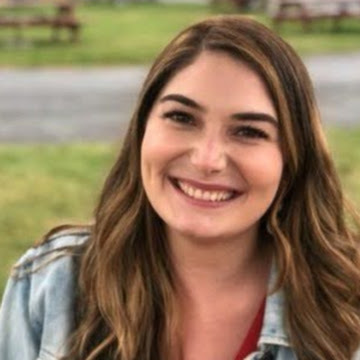 Written by Jess Iocca
Jess joins Privy after completing her MBA at Boston University, where she specialized in marketing and social impact. She loves introducing her family and friends to small businesses and emerging brands, and is thrilled to put that passion to work at Privy. Outside of work, you can find Jess organizing her virtual book club and exploring new restaurants. Jess lives in Boston with her husband and their cat, Phoebe.
Subscribe for Updates
Get our best content on ecommerce marketing in your inbox 2 times a week.