6 Mistakes That Hurt Email Deliverability (And How to Fix Them)
Published on Feb 17, 2022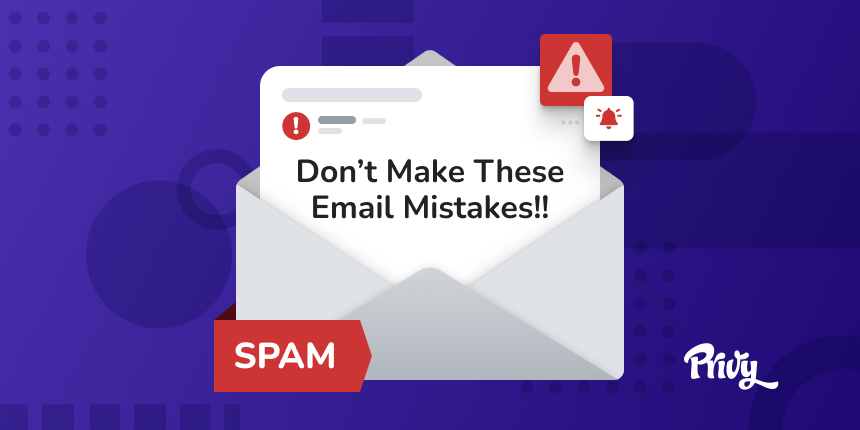 There are 3 words every email marketer hates to see when they review a campaign: "marked as spam."
Ecommerce brands rely on email to grow their audiences, share updates, and drive revenue. But if your messages don't make it to a recipient's inbox, all of your hard work is wasted.
It's especially stressful when you can't pinpoint exactly why your emails wind up in the spam folder.

Is there a glitch in Gmail's algorithm?
Are people flagging your emails as spam?
Did you break a law?

These are just a few of the factors that impact email deliverability – a term that refers to whether or not an email reaches someone's inbox. No matter how much effort you put into your subject lines, design, and copywriting, your campaign doesn't have a chance to live up to its potential if you don't lay the groundwork for email deliverability from the beginning.


Improving email deliverability isn't an exact science, but following best practices puts the odds in your favor. After working with half a million ecommerce brands, we narrowed down 6 common mistakes that negatively impact email deliverability. We'll explain how to fix them so you can escape the spam folder and get the maximum ROI for your email marketing campaigns.
Get our best content on ecommerce marketing in your inbox 2 times a week
What determines email deliverability?
There are 3 general factors that influence email deliverability:
Sender reputation: a score assigned by internet service providers (ISPs) based on your unsubscribes and spam complaints – it's like a credit score for marketers
Identification: email providers have protocols that detect spammers. These include sender policy framework (SPF) and DomainKeys Identified Mail (DKIM)
Email open rates: if recipients consistently ignore your messages, this may be factored into your sender reputation
Let's take a look at 6 specific mistakes that affect these factors:
1. You aren't using a custom sending domain
By default, your email marketing platform will use a generic domain to send your emails. However, recipients may not trust a generic domain as much as they trust your brand's domain – after all, that's who they signed up to receive messages from.

An ISP's algorithm may also flag messages from a generic sending domain as spam, even if the recipient opted in.
The solution
Use a custom domain for your business to send emails. This tells ISPs that your messages are authentic, which reduces your risk of going to spam.

Whether you purchased your brand's domain from GoDaddy, Shopify, Wix, or somewhere else, follow these instructions to add a new sending domain to your Privy email account.
2. You haven't cleaned your email list in a while
If your email list has a lot of inactive subscribers (people who delete your messages without opening them), this can trigger email service providers to flag your messages as spam.

Additionally, invalid, duplicate, or bot email addresses that find their way onto your list will also trigger spam filters and bounces – both of which are bad news for email deliverability.
The solution
Clean your email list at least quarterly, but ideally every month. List cleaning (also called list hygiene) is the process of removing inactive contacts from your audience to improve your inbox placement rate.

Here are some action items we recommend to keep your email list as clean as possible:
Remove subscribers that haven't opened an email in 4–6 months.
Remove duplicate contacts.
Delete email addresses that are obviously fake or bots (for example, random combinations of characters: jon.b4nqx@dnt-hylt.ro).
Delete contacts that have marked your emails as spam or bounced.
Remove role-based addresses such as admin@, support@, sales@, office@, marketing@. These usually forward to groups of individuals, which invalidates the unsubscribe function and is a direct violation of the CAN-SPAM legislation.
Your total number of subscribers will decrease after a list cleaning session, but this isn't a bad thing. It's actually beneficial because you'll only be interacting with subscribers who are real and eager to hear from you.
3. Your "unsubscribe" button isn't visible
Some email marketers think they're tricky by hiding their unsubscribe button or making people go through lengthy processes to opt out. But this backfires in the long run. Spam reports and inactive subscribers are actually worse for sender reputation than unsubscribes.

It's normal for people to unsubscribe from email lists they're no longer interested in. However, if unsubscribing is inconvenient (or impossible), they'll just delete the messages without opening them. Or worse, they'll report them as spam. Both of these are detrimental to email deliverability.
The solution
Make it easy for people to part ways with you by placing an unsubscribe link or button prominently in your email. Don't hide it behind a "manage preferences" link. Just let people know what to do if they're no longer interested.

Here's an example from the footer of a DUDE Wipes email:

4. Your emails aren't personalized
When the "to" field of an email only contains the recipient's email address, this tells email servers that you don't know the recipient as well as a sender who includes their first name. Depending on the algorithm, you could end up in the spam folder.
The solution
Personalize your emails. Including the recipient's name in the email adds an authentic touch to your message, but more importantly, it signals to ISPs that your messages are trustworthy.

To do this, you'll use merge tags, which let you add a unique label (usually a first name) to your emails based on the information you collect through your signup forms. When a contact receives an email, these tags automatically display the information.
For example, using merge tags, you could put your contacts' first names in the subject line of an email campaign. Something like this:

5. Your emails are too image-heavy
Image-heavy emails tend to load slowly, which can affect deliverability.
Additionally, emails that use several images, or one huge image, can trigger spam filters.
The solution
Aim for an email body size from 15–100 KB. If your email contains multiple images, add lines of text between them to break it up.
6. Your campaigns are too general
When your content isn't aligned with subscribers' individual needs and preferences, it may tempt them to ignore or flag your emails.

According to GoDaddy, which reviewed several studies on unsubscribe rates, irrelevant content is the second-most common reason people opt out of lists. That's why brands that send catch-all or "mass blast" emails might struggle with email deliverability.
The solution
Segment your email campaigns to make your messages as relevant as possible. Segmenting simply means grouping your subscribers based on common characteristics, rather than lumping them into one huge list.

There are a variety of ways to segment your email list; here are some ideas:
New subscribers
VIP customers (people who have reached a certain spending threshold)
Contacts who haven't made a purchase
Contacts who bought a specific item
According to Help Scout, segmented campaigns produce 30% more opens than non-segmented campaigns. This improves sender reputation and, in turn, email deliverability.
You aren't doomed to the spam folder
Seeing your emails go to spam can be demoralizing, especially if you play by the rules and put a lot of effort into your campaigns. The good news is this isn't a permanent problem.

Personalizing your emails and auditing your list to ensure it's full of quality contacts will help you escape the spam folder for good. It also doesn't hurt to have an email marketing platform that comes with the built-in tools and analytics you need to get in (and stay in) your audience's inboxes.

Try Privy free for 15 days and join 500,000+ ecommerce merchants.
Subscribe for Updates
Get our best content on ecommerce marketing in your inbox 2 times a week.
Written by Lauren Hall
Lauren is a Brand Marketing Associate at Privy. She's the brains behind all things content. When she's offline, she's obsessing over her Bernedoodle pup, Monster, and plotting ways to being a full-time Vermonter ASAP.
Subscribe for Updates
Get our best content on ecommerce marketing in your inbox 2 times a week.