6 Ways To Use Privy's Smart Segment For Potential Customers
Published on Apr 28, 2022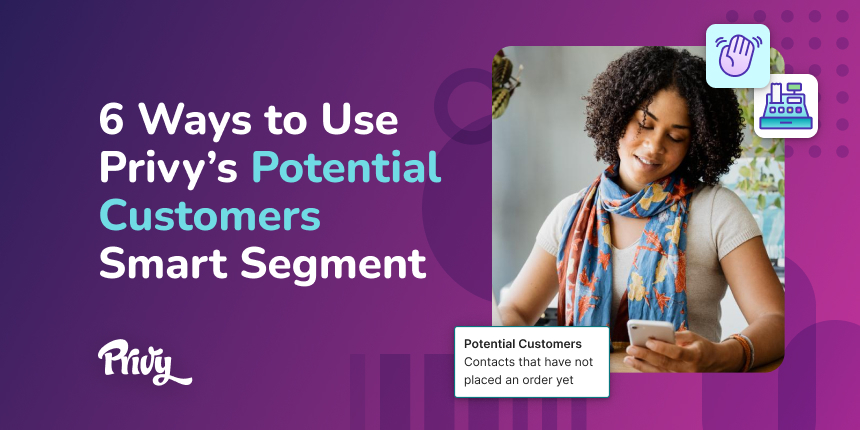 Growing your list is critical for success in ecommerce.
But once someone's on your list, your work isn't done.
When someone signs up for your list, they're taking the first step to becoming a customer with your brand.
So it's your job to help them take that next step from "potential customer" to "current customer."
Every potential customer, or contact with 0 orders with your store, presents an opportunity to grow sales.
That's why Privy created the Smart Segment for Potential Customers.
To make it easier than ever to send targeted messages that help potential customers along in their journey to becoming current customers.
So here are 6 types of emails for your potential customers to add to your marketing calendar ASAP.
Get our best content on ecommerce marketing in your inbox 2 times a week
Why use Privy's Smart Segment for Potential Customers?
Your potential customers are contacts that signed up for your list, but haven't made a purchase just yet.
So they have the potential to become your current customers.
All it takes is a nudge in the right direction to get them over the hump.
Specifically targeting your potential customers is the first step in nurturing your contacts into repeat customers.
Once someone buys from your store, they're much more likely to buy again.
But first you need to inspire that first purchase.
With this Smart Segment, it couldn't be easier to send your potential customers emails that have an impact on your business.
6 types of emails to send your potential customers
There's a ton of untapped revenue waiting for you in your potential customer base, so it's time to start reaching out to them directly through your marketing emails.
Privy has the email templates and tools you need to get up and running. So here's some inspiration to spark your creativity and give you the confidence to start emailing your potential customers.
Check out these 6 email ideas to inspire your potential customers' first purchases with your brand.
1. Offer a free gift with their order
Your after signup and welcome emails probably include an initial welcome gift, like a discount code for 10% off.
And they should. Offering an incentive at the start of someone's relationship with your brand is a great way to get your products into the hands of new customers ASAP.
But sometimes another type of incentive might be just the thing to inspire someone's first purchase.
That's why I love this email from coffee brand Jot: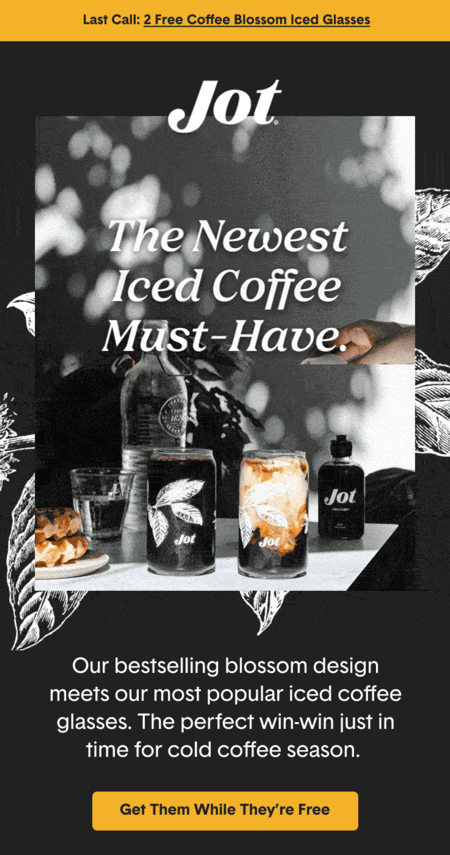 First, the subject line "Free iced coffee glasses while supplies last" piqued my interest.
Language like, "while supplies last" gives a sense of urgency around the offer. And who doesn't like the word "free?"
Plus, the content of the email is super-focused on the offer and call to action (CTA).
It's just awesome brand imagery, a couple sentences that reinforce that these best selling glasses will go fast, and a button to claim your own free glasses.
So someone who is genuinely interested in these free iced coffee glasses knows exactly where to click to find out more.
Shoppers who follow the CTA are given the option to get these free glasses with their first order, whether they make a one-time purchase or decide to subscribe right away.
Which is great because Jot is following through on its offer of free iced coffee glasses and increasing their chances of converting potential customers by giving them multiple ways to buy from the brand.
A free gift with purchase is a fun twist on your typical first-time buyer incentive and might just do the trick with your potential customers.
2. Help with product discovery
When I'm new to a brand, sometimes it can be difficult to know which product is right for me.
And I bet that's true for a lot of your potential customers, too.
So as a business, you have an opportunity to help your potential customers find exactly what they need from your brand.
Product discovery is all about helping your potential customers get to the right product at the right time.
And one way to do that is through a quiz like Urban Skin Rx:

This email and quiz are both really well done.
It asks questions about the shoppers' skin, but the quiz also asks questions like shoppers' preferred price point.
That way, Urban Skin Rx can recommend products that fit their potential customers' budgets and make a purchase much more likely.
And with only 7 questions in total, shoppers are likely to complete the quiz.
Urban Skin Rx is a skincare brand and everyone's skin is different.
So it makes a ton of sense to use a quiz to help match potential customers to products that are the best fit for them.
But I've also seen a bunch of other brands use this approach for product discovery.
Kin Euphorics has a quiz that matches your "vibe" to one of their beverages.
Mala's quiz helps potential customers find their perfect candle scent.
And VETTA will pair your style with one of their clothing capsules.
So there's tons of room to get creative with a product discovery quiz, regardless of the types of products you sell.
Plus, it's a fun way to bring your brand to life for your potential customers.
3. Offer a sample pack
If a quiz isn't the best fit for your brand, you can take another route to help with product discovery.
Potential customers who are on the fence about which of your products to try first may actually be open to trying multiple items at once.
That's why Kin Euphorics offers a sample pack of their core products: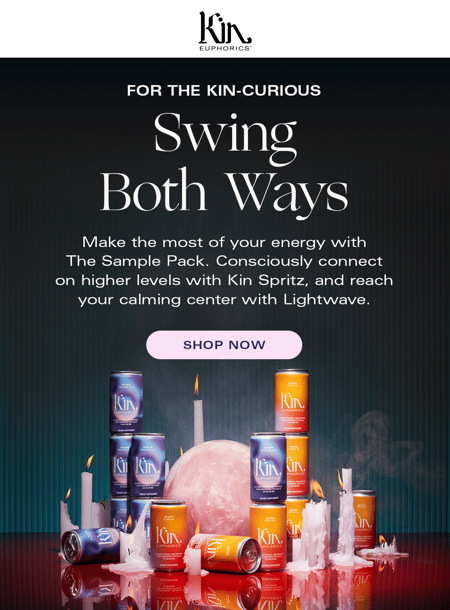 For potential customers who are the fence about which core flavor to try, Kin makes it easy for them to try both.
This sample pack is a great way to drive an initial purchase by bundling two commonly sold products together.
Shoppers feel they're getting a deal because they're not paying full price for multiple individual items.
And Kin is encouraging potential customers to give the products a try without actually offering a discount code.
The sample pack takes the pressure off making the "right" choice and makes it easier for potential customers to find a product they love.
You might not have a sample pack live on your site. But maybe you have a starter kit like Blueland or maybe you bundle your bestselling duo together like Kulfi Beauty.
Any way you might bundle your products together, try getting your bundle in front of your potential customers.
When it's positioned as a simple way to try your brand's greatest hits, a sample pack or starter kit could be what converts your potential customers into current customers.
4. Introduce your rewards program
If someone's on the fence of buying from you, you might want to show them how they'll benefit from being your customer.
That's where showcasing your rewards program can come in handy.
Take this example from Aura Bora:

There are so many things I love about this email.
When I received this email, I hadn't actually bought anything from Aura Bora yet. So I was a potential customer.
But by signing up for their list and following them on Instagram, I already collected rewards points. And they made sure to call that out in the email.
The different tiers of rewards, from Seedling to Flower to Bouquet, also shows potential customers how their perks will grow the more they shop with the brand.
And the rewards go beyond points shoppers can redeem on future purchases. Free shipping is always a plus and free gifts are fun.
But access to a secret menu? That's next level.
There should be an element of exclusivity to a rewards program to show customers that their continued loyalty is noticed and appreciated.
And for true brand loyalists, access to products that are typically off-limits is a perfect way to make them feel special.
Plus, Aura Bora makes it easy to earn points through engaging with the brand, not just through making purchases. Writing a review not only helps customers earn points, it gives Aura Bora another piece of social proof they can leverage in their marketing.
There's so much goodness in this email, I'm willing to bet it convinced some potential customers to sign up and make that first purchase (I know it convinced me).
So if you have a rewards program in place, definitely make sure to get it in front of your potential customers.
5. Highlight newly discounted products
Incentives are always going to drive more shoppers to your site.
But if you're already planning a promotion or discounting older products to make way for new inventory, you can use that to your advantage to win over potential customers.
And the best part is that since the items you're promoting are already on sale, you don't need to offer an additional discount to hook your potential customers.
Check out this example from Lunya:

Lunya runs an archive sale where the brand brings back older, much-loved items for a limited time (and at a discount!).
Everyone will get access to the archive sale, but Lunya sent potential customers (and likely all email subscribers) 48 hour early access to the sale.
Early access is a sure way to catch the attention of your potential customers.
And for potential customers who might've been waiting for certain items to go on sale, early access signals that this is their chance to snag the item before it's gone.
So the next time you're planning a holiday sale or adding products to the sale section on your site, add an email to your potential customers to your marketing plan.
6. Share social proof
Shoppers rely on reviews to give them an honest take on certain products.
Even before I read a book, I'll check out the reviews on Goodreads to make sure it'll be worth my time.
That's because reviews are a form of social proof that help your brand build trust with potential customers.
Potential customers see positive reviews and think "If others are satisfied with a product, there's a good chance I will be too."
So sharing some social proof can reinforce the idea that giving your products a shot will be worth it.
Like this email from Clevr Blends:

Clevr Blends spotlights three 5-star reviews from customers and incorporates some user-generated content of the customers enjoying their products.
And their 6,000+ 5-star review lets potential customers know that there are many more happy customers than what they see in this email.
The email content is solely focused on social proof, which is a great way to drive as many clicks to the CTAs to shop as possible.
Remember your potential customers are already interested in what you have to offer. They signed up for your list, after all.
So remind them that they signed up for a reason and share some social proof to give them a gentle nudge towards their first purchase.
Email your potential customers with Privy today
Now that you have some inspiration, use our potential customers newsletter template to get in front of your potential customers ASAP.
All you need to do is drop in your logo, update the copy to match your campaign or offer, drop in any products you want to feature and you're good to go!
And when it comes time select your audience, simply click 'Potential Customers' as an option under Smart Segment.
This will automatically build a list of all the contacts who haven't bought from you before.
Get access to Privy's Smart Segments, money-making email tools, and so much more, when you sign up for Privy today.
Subscribe for Updates
Get our best content on ecommerce marketing in your inbox 2 times a week.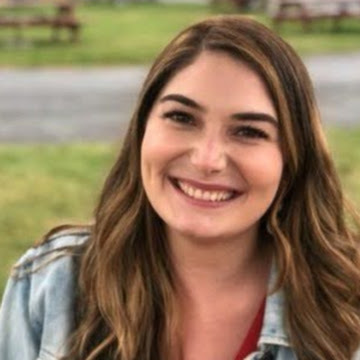 Written by Jess Iocca
Jess joins Privy after completing her MBA at Boston University, where she specialized in marketing and social impact. She loves introducing her family and friends to small businesses and emerging brands, and is thrilled to put that passion to work at Privy. Outside of work, you can find Jess organizing her virtual book club and exploring new restaurants. Jess lives in Boston with her husband and their cat, Phoebe.
Subscribe for Updates
Get our best content on ecommerce marketing in your inbox 2 times a week.