6 Ways To Use Privy's New Smart Segment For Current Customers
Published on Apr 22, 2022
Successful marketing is all about sending the right message, at the right time, to the right people.
And to do that, you have to embrace email segmentation.
But I'm here to tell you that getting started with segmentation doesn't have to be overwhelming.
That's because we recently released 2 new Smart Segments in Privy to take the heavy lifting of segmentation off your plate.
And 1 high-value segment you should be engaging consistently is your Smart Segment for Current Customers.
So here are 6 types of emails to add to your marketing calendar to keep your current customers coming back for more.
Get our best content on ecommerce marketing in your inbox 2 times a week
Why use Privy's Smart Segment for current customers?
Whether or not someone has made a purchase from your store tells you a ton about their relationship with your brand.
And how inclined they are to buy from you.
In fact, existing customers are 9X more likely to convert than first-time buyers.
Which means that if you're not regularly emailing your current customers, you're leaving money on the table.
And now with Privy's Smart Segment for current customers, it couldn't be easier to drive ROI with targeted messages to your existing customers.
With a click of a button, this pre-built segment generates a list of all your contacts who've purchased from you before.
So all you have to do is craft your email, select your Smart Segment for current customers, and hit send. Then, watch the orders come in.
6 types of emails to send your current customers
Now that you know just how much value lies within your existing customer base, it's time to start integrating targeted emails just for them into your marketing calendar.
With a little inspiration and all the tools at your disposal in Privy, you'll have everything you need to nurture your customers into true brand loyalists.
To help you get started, here are 6 email ideas to help bring your current customers back to your store time and time again.
1. Share recent bestsellers
Your current customers have already purchased from you before, so they're likely to buy from you again.
Which makes them the perfect audience to put more of your products in front of.
And a simple way to do that is to showcase your bestsellers. Let's look at this example from women's clothing and accessories brand, Cuyana:

I love this spin on a bestseller email. Cuyana released new tones for one of their best-selling bags, so they already knew it would be a hit.
Not only are bestsellers a great form of social proof, it shows that these items are in high demand, which in turn drives urgency for your customers to grab them before they sell out.
Introducing bestsellers in new colors also opens the door for customers who've bought the item in the past to buy again, just in a new shade this time around.
So if your brand releases new colors or variants of your favorite items, definitely make sure to let your current customers know with a targeted email.
2. Tease new products
While email is a top sales channel for ecommerce, it's also a great way to deepen relationships with your current customers.
Offering exclusive content or a behind-the-scenes look at what you're working on is an awesome way to engage your customers.
And new product releases are the kind of moments where you'll want to build a little extra hype.
But it doesn't need to be difficult. Existing customers are more likely to convert, so lean into that for your next product launch.
When you hint that something new is coming soon, try adding a little gamification like beam did in this example: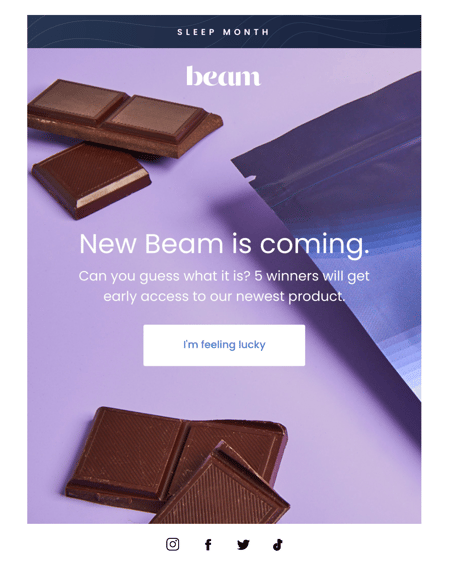 The content of this email is hyper-focused on the brand's upcoming product launch.
Which helps draw attention to the primary call-to-action and incentive in the email: guess our new product correctly and you might win early access.
Pretty appealing, especially if you're an existing customer.
The call-to-action button links to a brief survey that helps beam learn more about their customers' habits before they submit their guess on what the product is.
And once they submit their form, shoppers are brought to a landing page of beam's bestsellers.
So if customers want to shop while they wait for the new release, they can.
Offering early access to new products is also a great way to drum up some social proof before your wider launch.
The next time you have a new product coming, try giving early access to select current customers. And don't forget to follow up with an ask for an honest review to help build that social proof.
3. Send a back in stock alert
Selling out of a product is a good problem to have in ecommerce. It's a sign that your products are well-loved.
But you can turn that problem into an opportunity to drive even more sales, especially from customers who want to get their hands on your sold out product ASAP.
That makes your current customers the perfect audience to send a back-in-stock email to.
Chances are, a decent amount of your current customers are interested in your most-loved products.
So give them what they're asking for with a back-in-stock alert like this one from Deux: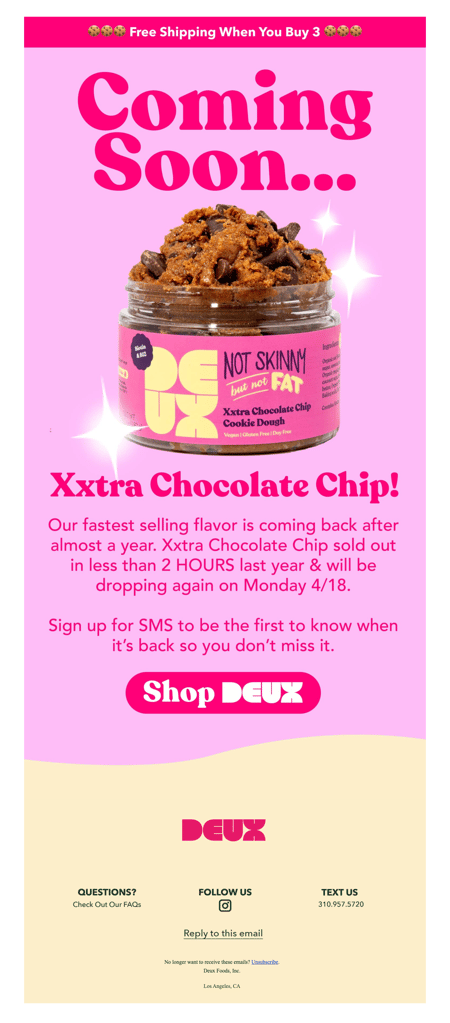 What makes this one so good?
This back-in-stock email was sent before the product was actually back-in-stock, which is a sure way to build hype about the product's availability.
Deux also does an excellent job of driving urgency by reminding customers that the last time this particular flavor was in stock, it sold out in less than 2 hours. If I knew I only had a couple hours to buy my favorite sweet treat before it was gone, I'd frantically be clicking add to cart.
Plus, Deux takes this email a step further and uses it as a hook to grow their SMS subscriber list.
Customers who sign up for texts will be alerted first when this flavor is back on the site. By becoming SMS subscribers, customers increase their chances of snagging a jar of Xxtra Chocolate Chip and Deux grows another sales channel for their brand.
4. Get insights about what your customers want next
Who better to get new product ideas from than your current customers?
When you're running a business, you often need to prioritize what gets done when.
And sometimes that extends to deciding which new items to deliver next.
But instead of making your best guess at what your customers would like to see, asking your customers directly can help get clarity quickly.
Especially if you've narrowed things down to a limited number of options to choose from.
Take this example from candle brand Siblings:

For a chance to win a $50 gift card, customers are asked to vote on the brand's next candle scent.
With only 5 options to choose from, customers aren't likely to be overwhelmed by the voting process.
Plus, the chance to win a gift card adds some excitement and incentivizes customers to participate.
And if customers are feeling inspired to shop, there's still a subtle CTA to shop at the bottom of the email.
Siblings asked customers to reply directly to the email to cast their vote, but you can easily replicate something like this for your brand and capture responses in a form if you'd prefer.
5. Give a behind-the-scenes look of your brand
As I mentioned earlier, email can be a powerful tool for boosting sales and nurturing your customers.
Your current customers are primed to being open to learn more about your brand.
And the way you turn customers into true brand loyalists is by connecting with them in ways that aren't purely transactional.
That's why I love this this email from olive oil brand Brightland:

Brightland cares a lot about the quality of their products and they want to make sure that brand promise is known to their customers.
This email gives a behind-the-scenes look at how their ingredients are harvested and how that translates to better quality products.
Sharing this type of information is an amazing way to deepen relationships with your current customers. The more customers feel like they know what's important to your brand, the more likely they are to continue supporting your business.
And, like Brightland does here, you can still use emails like these to share your products.
Brightland showcases their bestsellers, but since the focus of the email is on the harvesting process and not specific items, the 'Shop Now' doesn't come across as too pushy. It's simply making it easy for customers to shop if they'd like to.
6. Grow your community on social media
Building a thriving ecommerce business involves thinking about how your customers perceive and experience your brand.
The products you sell definitely play a role in that, but your brand is also about the promises you make and the experiences you create. Or put another way, it's about how you cultivate a community.
And social media is a really powerful tool to build community and engage your customers outside of their shopping experiences.
But you can actually leverage your customers' inboxes to bring them into your social community.
And instead of simply asking for a follow on Instagram, you can use email and social media to encourage specific behaviors from your customers, just like Blueland did here:

As a sustainable cleaning products brand, Earth Day is a big deal for Blueland and the Blueland community.
This email not only highlights Blueand's One Tree Planted initiative in celebration of Earth Day, it also gives customers a way to get involved through social media.
Rather than sharing a few recent Instagram posts and asking customers to check them out on social, Blueland is giving customers a compelling reason to actually engage with the brand on social media.
So if you're looking to grow your social media following and build community among your customers, consider adding an incentive to your ask.
And like this Blueland example, your incentive doesn't need be to a discount code or a free gift. As long as it's something that helps represent what your brand stands for, it's sure to engage customers.
Email your current customers with Privy today
Our current customers newsletter template will help you get your email up and running in no time.
Just drop in your logo, update the copy to match your campaign or offer, drop in any products you want to feature and you're good to go!
And when it comes time select your audience, simply click 'Current Customers' as an option under Smart Segment.
This will automatically build a list of all the contacts who've bought from you before.

Get started with Privy today to send emails to your current customers that boost revenue, build trust, and so much more.
Subscribe for Updates
Get our best content on ecommerce marketing in your inbox 2 times a week.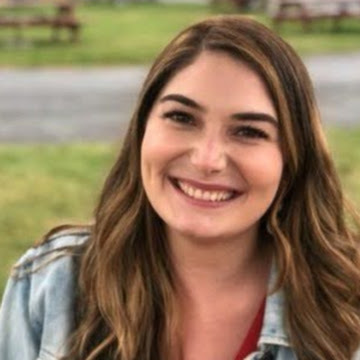 Written by Jess Iocca
Jess joins Privy after completing her MBA at Boston University, where she specialized in marketing and social impact. She loves introducing her family and friends to small businesses and emerging brands, and is thrilled to put that passion to work at Privy. Outside of work, you can find Jess organizing her virtual book club and exploring new restaurants. Jess lives in Boston with her husband and their cat, Phoebe.
Subscribe for Updates
Get our best content on ecommerce marketing in your inbox 2 times a week.