12 Women's History Month Marketing Campaign Ideas (with Examples)
Published on Mar 17, 2022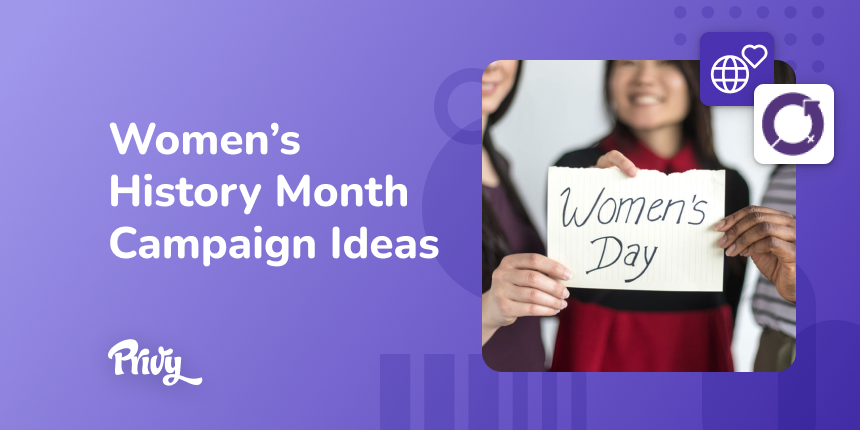 March is Women's History Month.
And whether your brand was founded by women or not, it's the perfect chance to put together a revenue-generating campaign for your store.
With 29 examples and 12 marketing ideas, you'll walk away with everything you need to build a winning Women's History Month campaign.
And don't forget.
March is packed with other holidays you can leverage to bring in sales for your business. So if Women's History Month doesn't feel like the perfect fit, think about spinning up a March Madness or St. Patrick's Day campaign instead.
Get our best content on ecommerce marketing in your inbox 2 times a week
1. Share your story
Your brand's story can be a superpower. The more you share it, the more likely it is that your audience will remember it.
Which means they'll start to associate that story with a real person – you! This is critical for building a relationship with your audience. Because the stronger a connection you can build with them, the more loyal they'll be.
And if your brand is women-owned, Women's History Month is the perfect excuse to highlight your founding story again.
Here are 4 examples to inspire you.
BOXFOX kept it super simple with their messaging: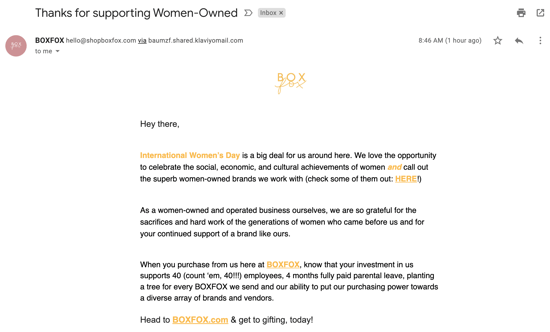 They call out some of the women-owned brands they carry, but also use it as an opportunity to highlight the fact that when you buy from BOXFOX, you're:
Backing a women-owned business
Supporting 40 employees with a 4-month parental leave
Planting a tree
I love that they called out so much more than just the fact that BOXFOX was founded by women. This email makes you want to support them.
Brother Vellies went a different route and showcased their incredible founder, Aurora James: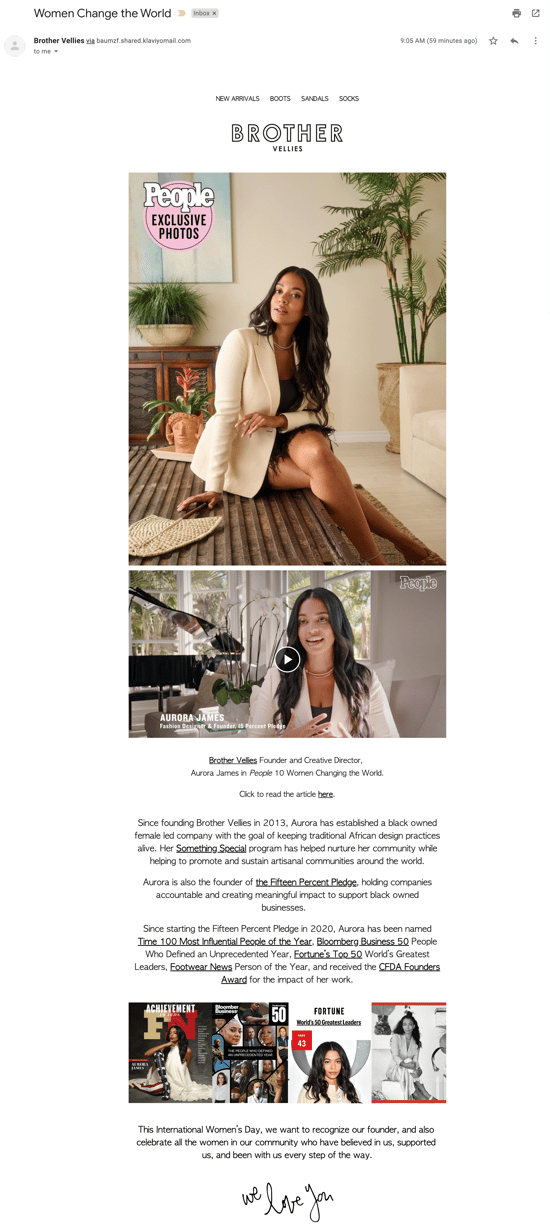 She was recently featured in People magazine as a woman changing the world, so they used that as an opportunity to share more about everything she's done to have an impact.
She's built a Black-owned business from the ground up. Leans into traditional African design practices. Supports artisans across the globe. Founded the Fifteen Percent Pledge, an organization committed to getting retailers to commit 15% of their shelf space to Black-owned businesses. And has been featured in countless publications along the way.
How could you not want to support Aurora and her brand after a message like this?
Curie used their messaging as an opportunity to call out their namesake, Marie Curie:

It's the perfect place to call out Marie Curie's achievements and reinforce why the founder was inspired by her in the first place.
Plus, there's a reminder that by shopping Curie, you're supporting a woman-owned company and a non-profit that provides homeless women with the hygiene products they need.
It's the perfect combination of their story, products, and mission.
Jewelry brand, Kimaï, shared an interview-style email with their audience featuring one of the founders:

The very first question highlights the why behind the brand. But by asking things like "What does jewelry mean to you?" and "How do you take time for yourself?" you get to know Sidney on a more personal level.
The layout makes it really skimmable, too. So even though this email is jam-packed with content, it doesn't feel overwhelming.
The photos also help you put a face to the name and brand. And the section with some of her favorite pieces of jewelry doesn't feel salesy or out of place.
So if you're not sure where to start with your Women's History Month campaign, start with your story.
2. Highlight women on your team (and in your community)
Whether you're a women-owned business or not, another great way to celebrate Women's History Month is to highlight the incredible women on your team.
Bala did a great job in this example: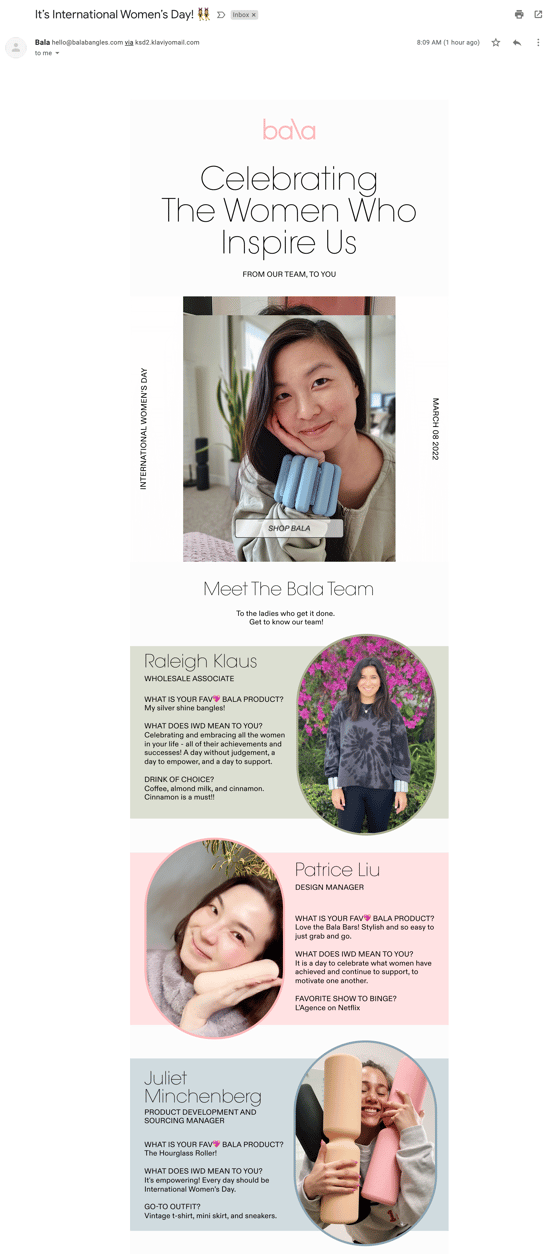 I love that they wove in their favorite products but found a way to do it without making that the primary focus. Plus, seeing the faces behind the brand is a really powerful way to build a connection with your audience.
Rather than individual photos of the women on their team, EF Collection shared a team photo:

Then, they grabbed quotes from 6 of the women on the team and featured their favorite products. This is a great way to show off some of your most-loved products in a way that builds trust.
Lastly, underbares uses their messaging as an opportunity to show off their community and customers:

I love the fact that they called out their Instagram page as part of this to encourage their audience to head there.
Overall, showing off the women on your team and community is the perfect way to pay homage to Women's History Month (whether you're a woman-owned business or not).
3. Showcase your products
Similar to what EF Collection did above, Ring Concierge used their messaging as an opportunity to show off some of their products, but the way they did it was really clever.
They asked some rockstar women about the first piece of jewelry they bought for themselves and asked them to share the story:

One bought a band after a bad breakup, another celebrated with a ring on a trip to India, and a third purchased a ring after quitting a job she loved for something new.
While these stories aren't specifically about Ring Concierge products, their team used it as a chance to put together collections with similar items for their audience to shop.
Not only does this empower women to buy their own heirlooms, this kind of campaign is a super simple way to celebrate Women's History Month and some of your best-selling products.
4. Spotlight women-owned brands
This is another great campaign you can run regardless of whether or not your business was founded by a woman or not.
The Bandier Founder started off by sharing a little bit about how the women in her life helped her get started.
Then, she called out women-owned businesses they carry with a full collection: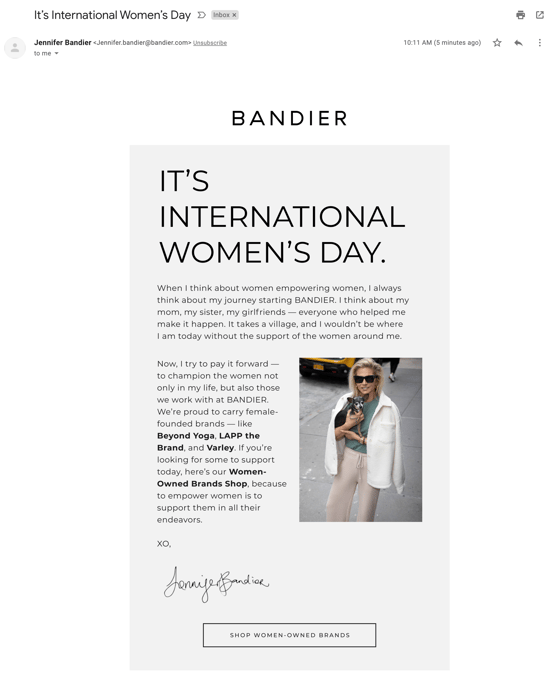 I love that this email is sent from Jennifer herself, includes her photo, and signature. Plus, it gives a little insight into what went on behind the scenes as she was building her brand.
Here's what the collection looks like on her site:

This collection takes it a step further than most other brands and it's a great way to show a longer term commitment to supporting women.
5. Create new content
Content is an amazing way to position yourself as an expert and build a real community.
For Women's History Month, Cleobella put together a full series featuring incredible women who inspire their work every single day:

The idea of incorporating content into your Women's History Month campaign is genius. It's not salesy, just 100% focused on building trust and giving your audience another reason to engage with your business.
Bonus points if you can repurpose content you've already created and spin it into something fresh. It'll save you time and give you a reason to reach out to your subscribers.
6. Boost engagement on social
Another non-salesy way to interact with your audience is to encourage them to give you a follow on social.
Because who isn't trying to grow their following on Instagram?
Bocce's Bakery sells all natural dog treats, so they got creative by incentivizing their audience to follow them on Instagram to get inspirational stories featuring powerhouse women (and their pets!) all month long: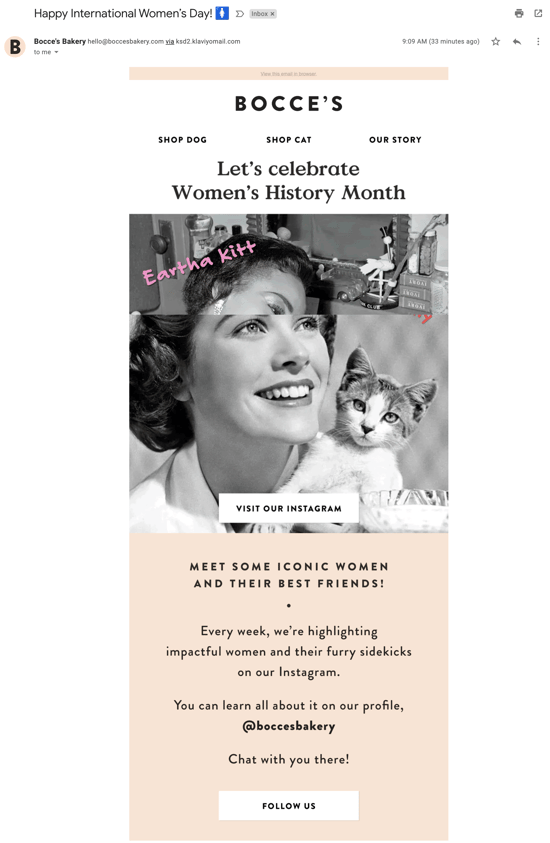 The message is short and sweet, but I love that they got creative about encouraging people to follow them on social and aligning it perfectly with Women's History Month.
Here's what that looks like in their feed: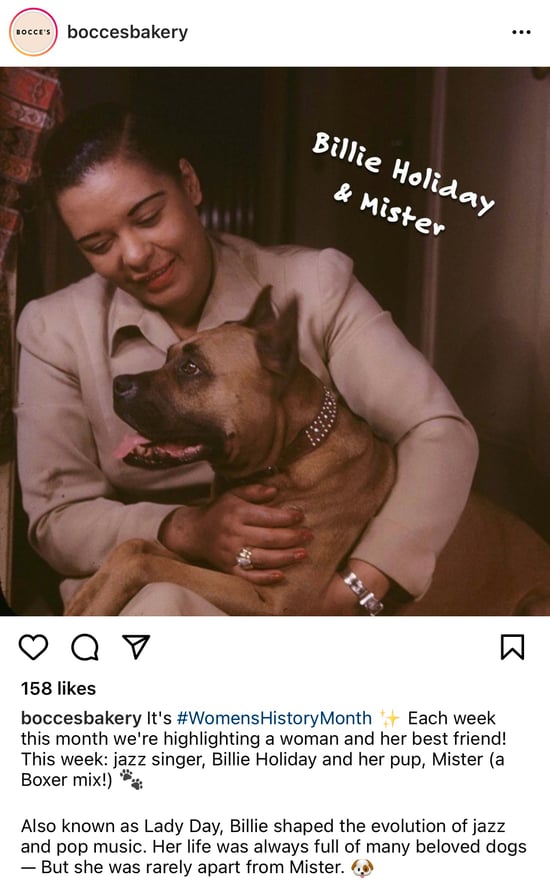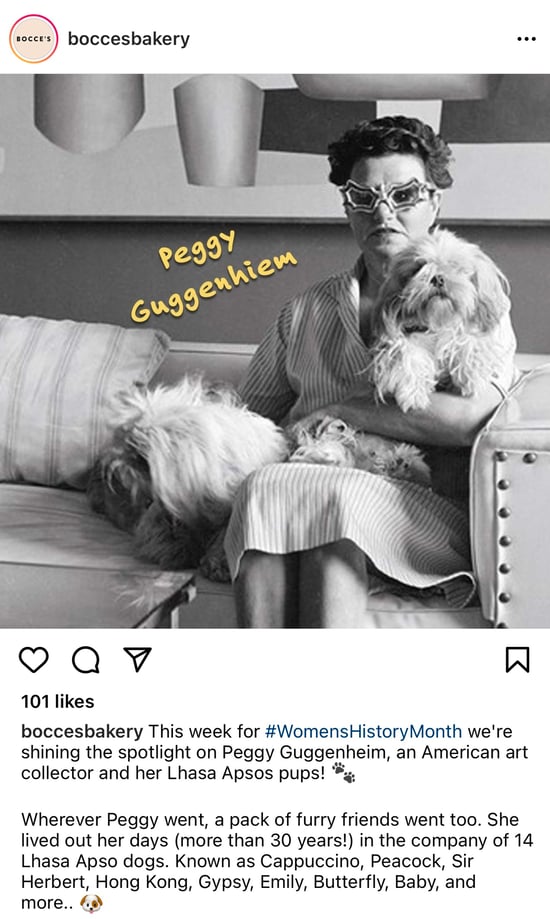 I don't know about you, but I had no idea Peggy Guggenheim had 14 (!!!!) dogs. Or that Billie Holiday was inseparable from her pup, Mister.
This is the perfect way to mix in fun, educational content on Instagram that's completely unrelated to selling your products (while still making total sense as part of your feed).
Energy bar brand, Verb, also used Women's History Month to boost their Instagram following, but they went a completely different route: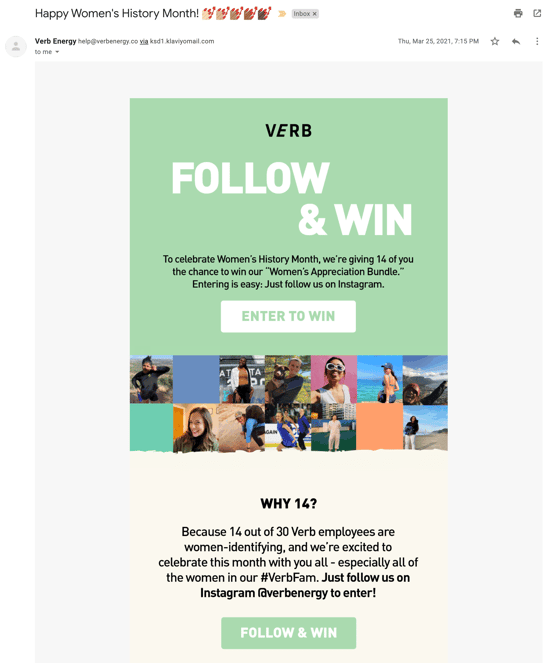 Unlike other giveaways that typically require a lot of jumping through hoops to enter, all you have to do with this campaign is give them a follow on social. It doesn't get any simpler than that.
I also love that they call out the fact that almost half of their small team is made up of women.
It's worth noting that Verb was not founded by a woman, but they know their audience and that this type of recognition builds trust and makes their customers want to keep coming back.
You should always be trying to grow your audience and creating a campaign that will give your following a boost and recognize Women's History Month is a total win-win.
7. Donate a portion of sales to a good cause
Putting your money where your mouth is is always a great way to show you care about a specific cause. Especially if you know it's important to your audience, too.
Australian swimwear brand, Bond Eye, celebrates by donating a portion of every purchase to women's empowerment: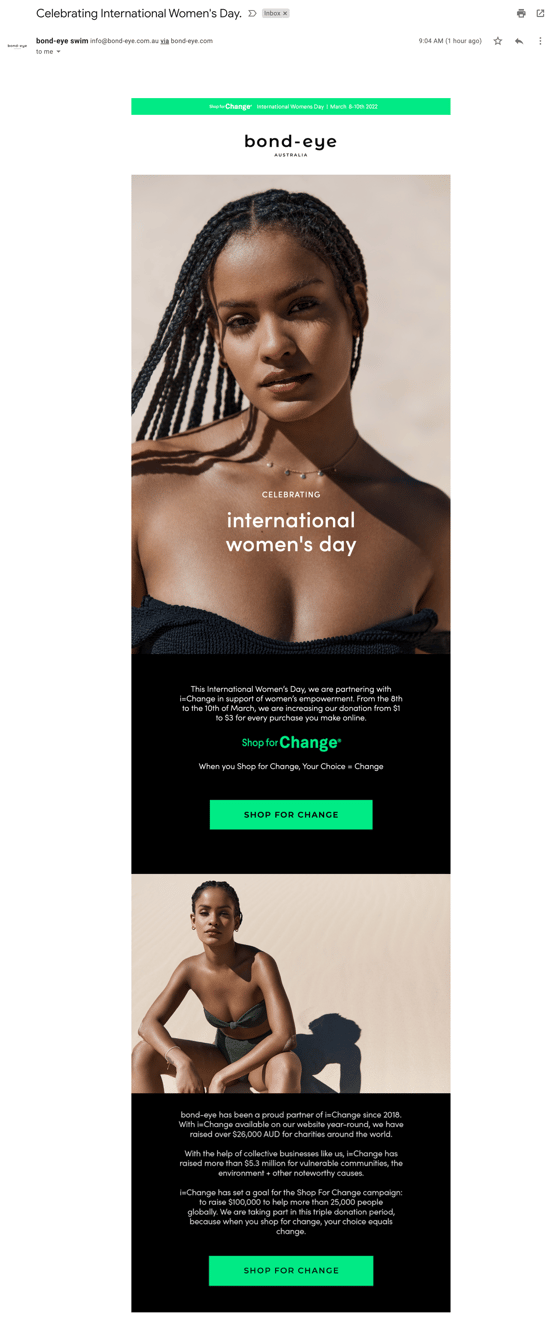 The fact that this offer only lasts a couple days drives urgency to make a purchase.
And I love that they also call out the fact that they've raised more than $26k AUD since 2018 with the help of i=Change, showing their commitment to giving back not just in March, but all year long.
Because who doesn't want to support a business that gives back?
Caraa ran a similar campaign and donated 15% of proceeds to Girls Inc. for a week: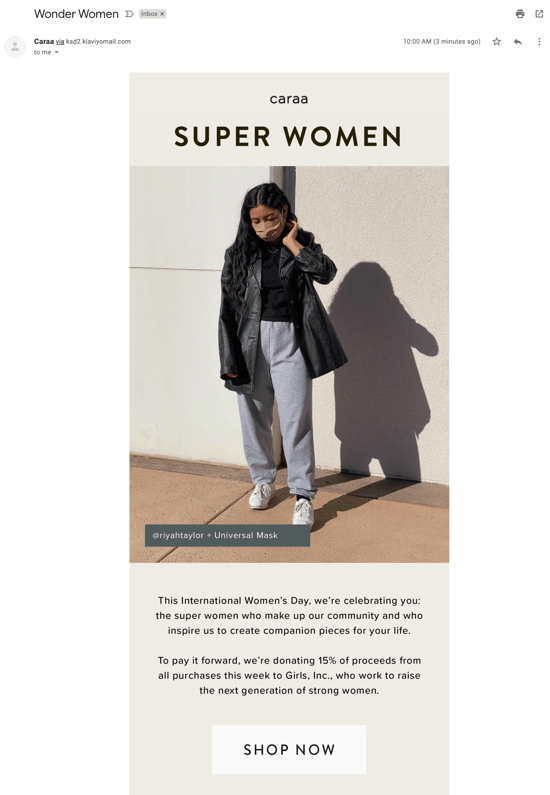 If you were thinking of making a purchase anyway, why not shop and give back at the same time?
That's exactly why campaigns that give back are a great way to capture high-intent shoppers and get them to convert.
8. Run a limited-time promo
Another great way to drive conversions this month (and all year) is to put together a limited-time promotion.
These 3 examples are the perfect inspiration to get you started this Women's History Month and beyond.
Sock brand Solmate ran a 20% off promotion for 24 hours only: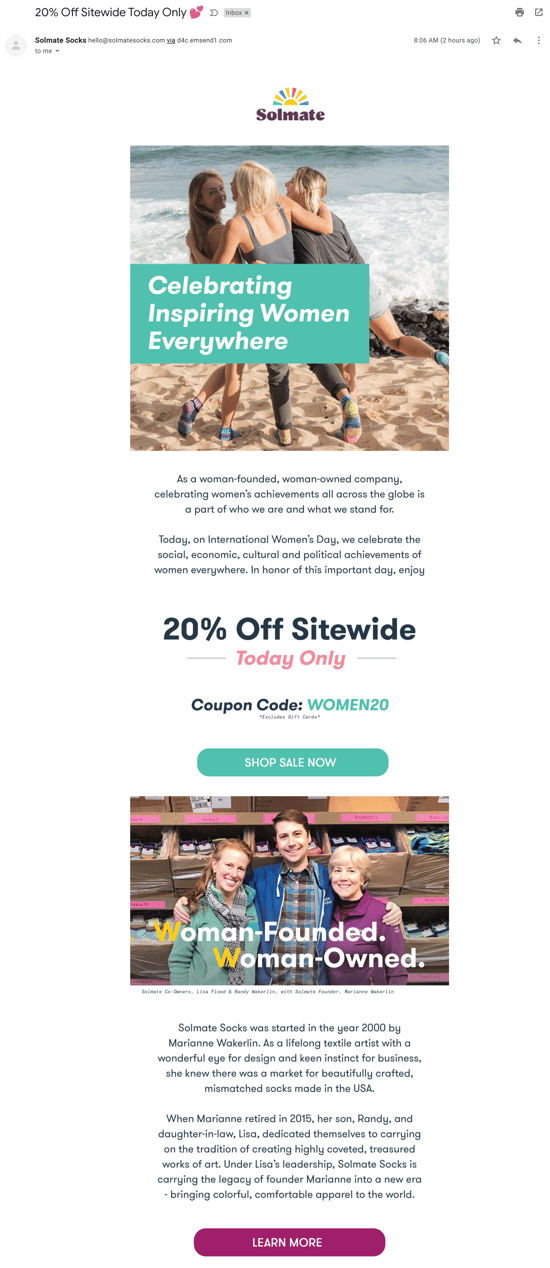 As part of the promo, they also called out the fact that they are a woman-founded and woman-owned business and shared a quick version of their story with a photo of the founder, her son and daughter-in-law, who now runs the business.
It's the perfect combination of promotional and relationship-building.
Cozyland, a pajama brand, took a slightly different approach and offered their audience a flat $20 off their purchase for the month: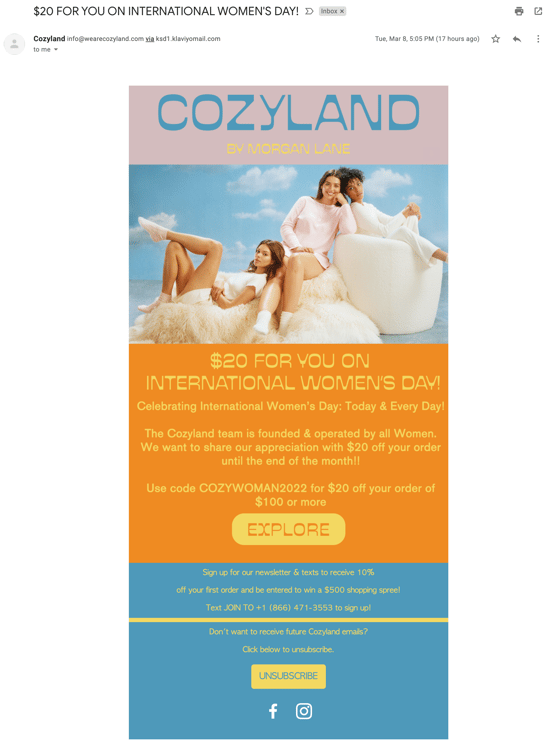 While this is still technically a discount, the fact that it's a flat dollar amount ($20) makes it more real, which means people can easily calculate their purchase price and make a quick decision.
Plus, they call out the fact that their team is founded and operated by all women.
DL1961 ran a super similar campaign, but sent multiple reminders. Here's the initial email: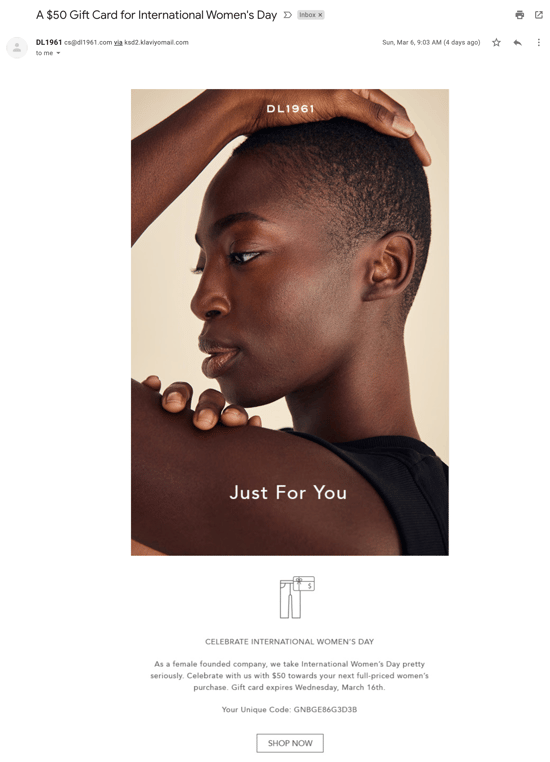 $50 off is substantial. But they didn't stop there. Since the initial email went out, they've sent 2 more reminder emails: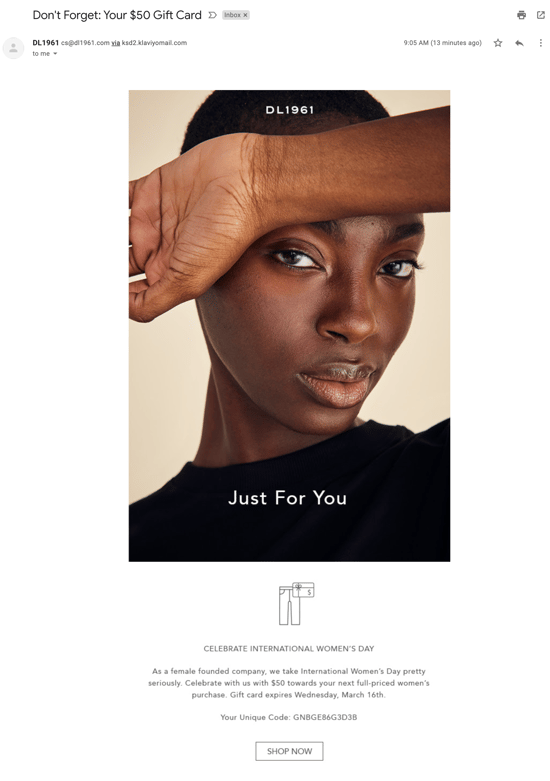 And a last chance reminder on the day the offer expires: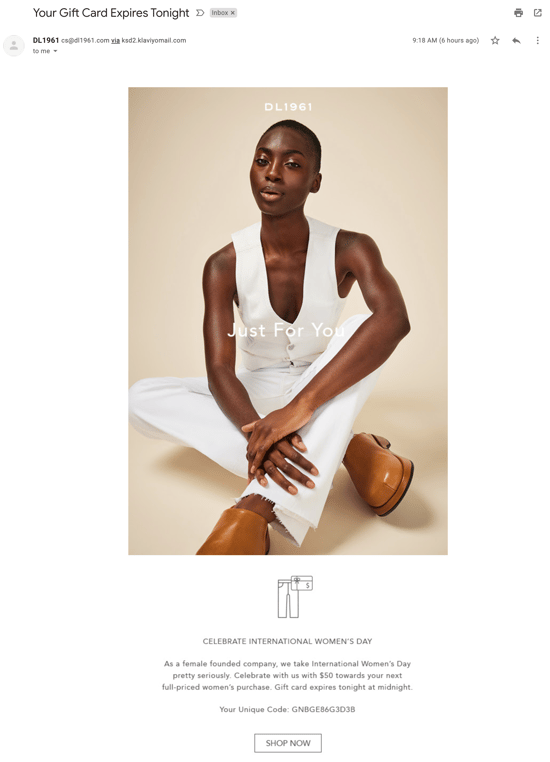 Reminder emails are a must for any promotion you run. Whether it's for Women's History Month or not. You cannot expect a single message to get your subscribers to convert (please read that last sentence twice).
So make sure you're sending multiple emails, mixing in SMS reminders, sharing on social media, and doing anything else you possibly can to keep the offer top of mind for your audience.
9. Include a free gift with purchase
A free gift with purchase is a great offer no matter what time of year it is. And for Women's History Month, activewear brand, Michi, ran this exact promo: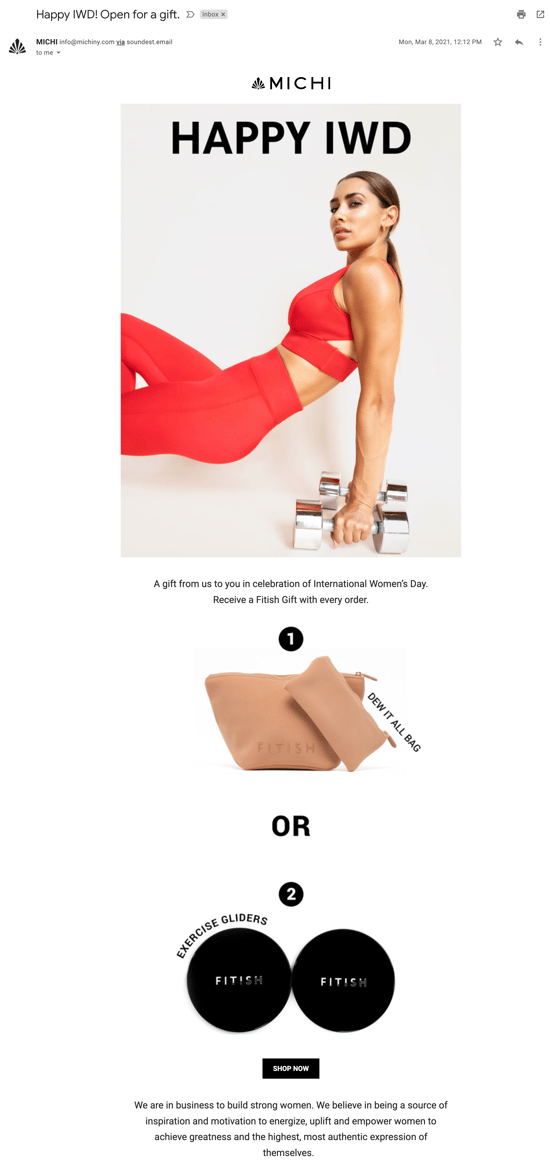 What I love most about this offer is that their audience has the option to choose which gift they'd like to receive: a cosmetic bag that's perfect for bringing accessories to the gym or exercise sliders.
You can either produce an exclusive product that's just for this purpose or you can repurpose samples or a small product you already sell.
Just remember to include when your offer ends and whether or not it applies to all orders or orders above a specific threshold. Neither is very clear in this email. And the last thing you want to do is create more confusion around your offers.
10. Launch a new product
Launching a brand new product is an amazing way to build excitement with your audience – especially if you tease the product leading up to launch.
The only downside is that it does require planning ahead of time. So if you're looking for a last-minute win, this one's not for you (but don't worry, so many other campaigns in this post can be done much more quickly!).
This Women's History Month, fashion jewelry brand, Dannijo, launched a new bracelet:

But rather than just showcasing their newest product, they also call out that 50% of the proceeds for the Women's Day bracelet support the Mambacita Foundation, created in honor of Kobe Bryant's daughter, Gigi.
Plus, they call out women-owned brands and a blog post they put together featuring 6 brands to support on International Women's Day and beyond.
Bottom line? If you have the time to launch a brand new product in honor of Women's History Month, incredible. But if you're looking for last-minute ideas, this one's not for you. Choose a holiday later in the year to test this out with. Mother's Day, perhaps?
11. Host an event
Events are the perfect way to give your most engaged audience members a reason to spend more time getting to know you and your business.
Take this example from natural body care brand, Sade Baron: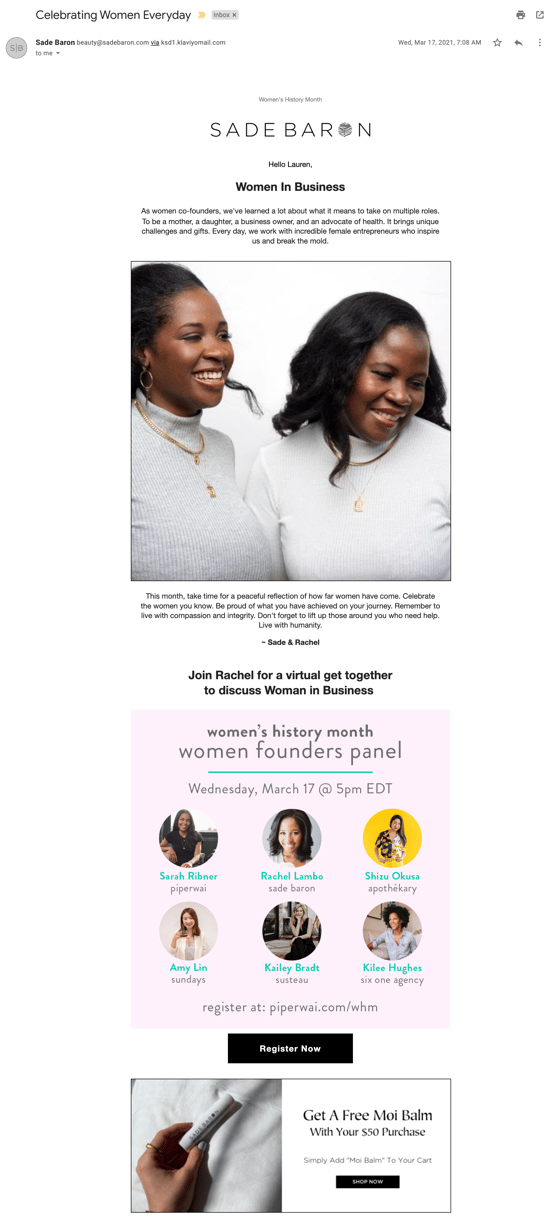 LOVE that they called out the fact that they're a mother-daughter duo and included a photo so you can put a face to their brand.
Then, they draw attention to a women founders panel that one of the co-founders is part of in honor of Women's History Month, knowing that their audience would be interested in attending.
Plus, if you make a purchase, you can get a free multi-purpose body balm.
Lauren Conrad's brand, The Little Market launched a free event series featuring big names like Kelly Ripa, Jessica Alba, Amy Schumer, Sofía Vergara, and more: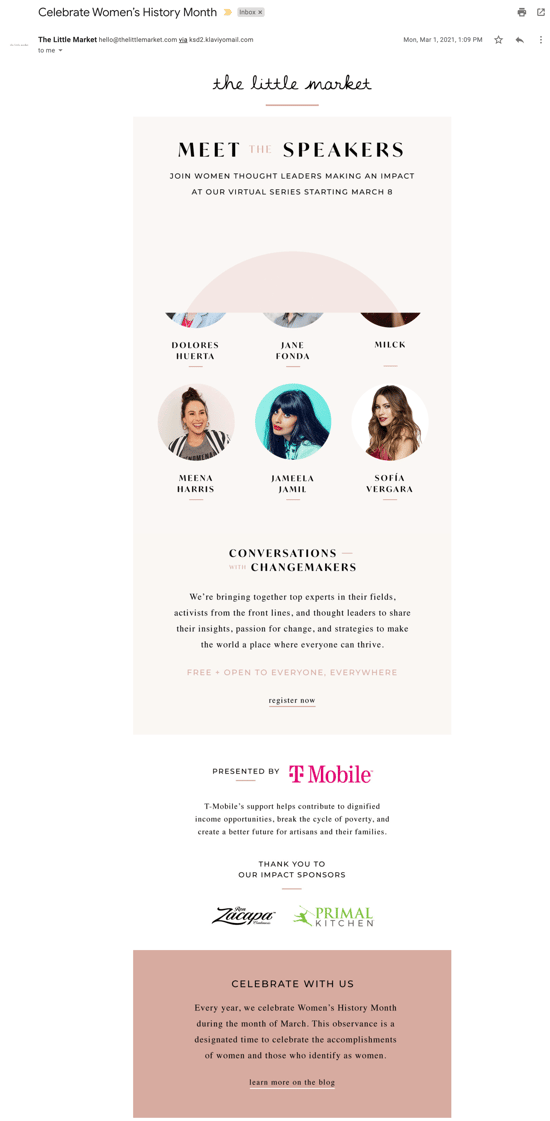 Plus, they made the recordings available here:

So even if you couldn't attend live, you can still learn from their A-list lineup on your own time.
The best part? It's evergreen content that will live on their site for a long time, bringing in traffic and building trust.
Don't want to commit to a full blown event on your own? See if you can get other brands involved that have similar audiences. Or maybe you want to give live-selling a shot.
12. Put together a killer giveaway
Speaking of brands with similar audiences, a giveaway featuring a bunch of other like-minded brands can be the perfect way to get in front of their subscribers.
Here's what activewear brand Year of Ours did: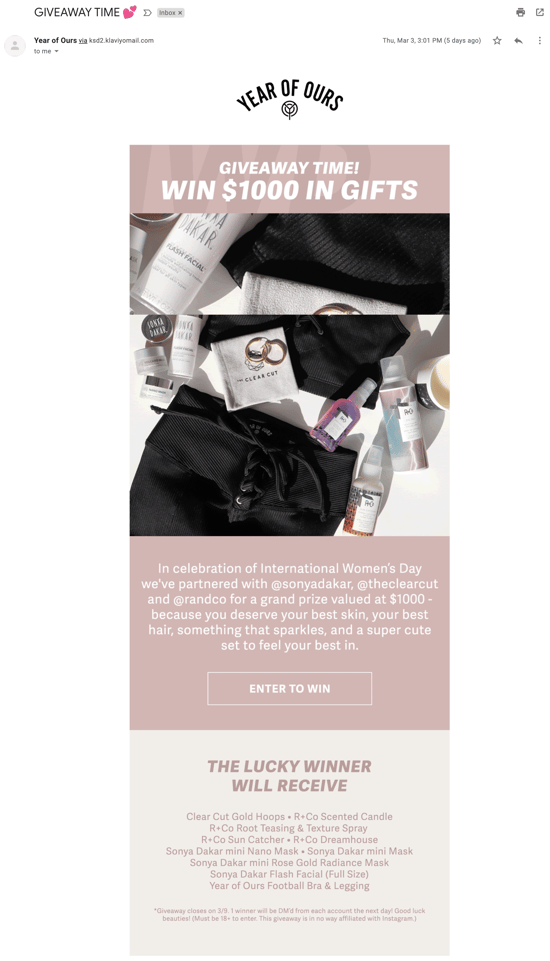 Partnering with 3 other brands to give away $1k worth of gifts is a great way to grow your email list and get more Instagram followers.
Here's what the giveaway landing page looks like: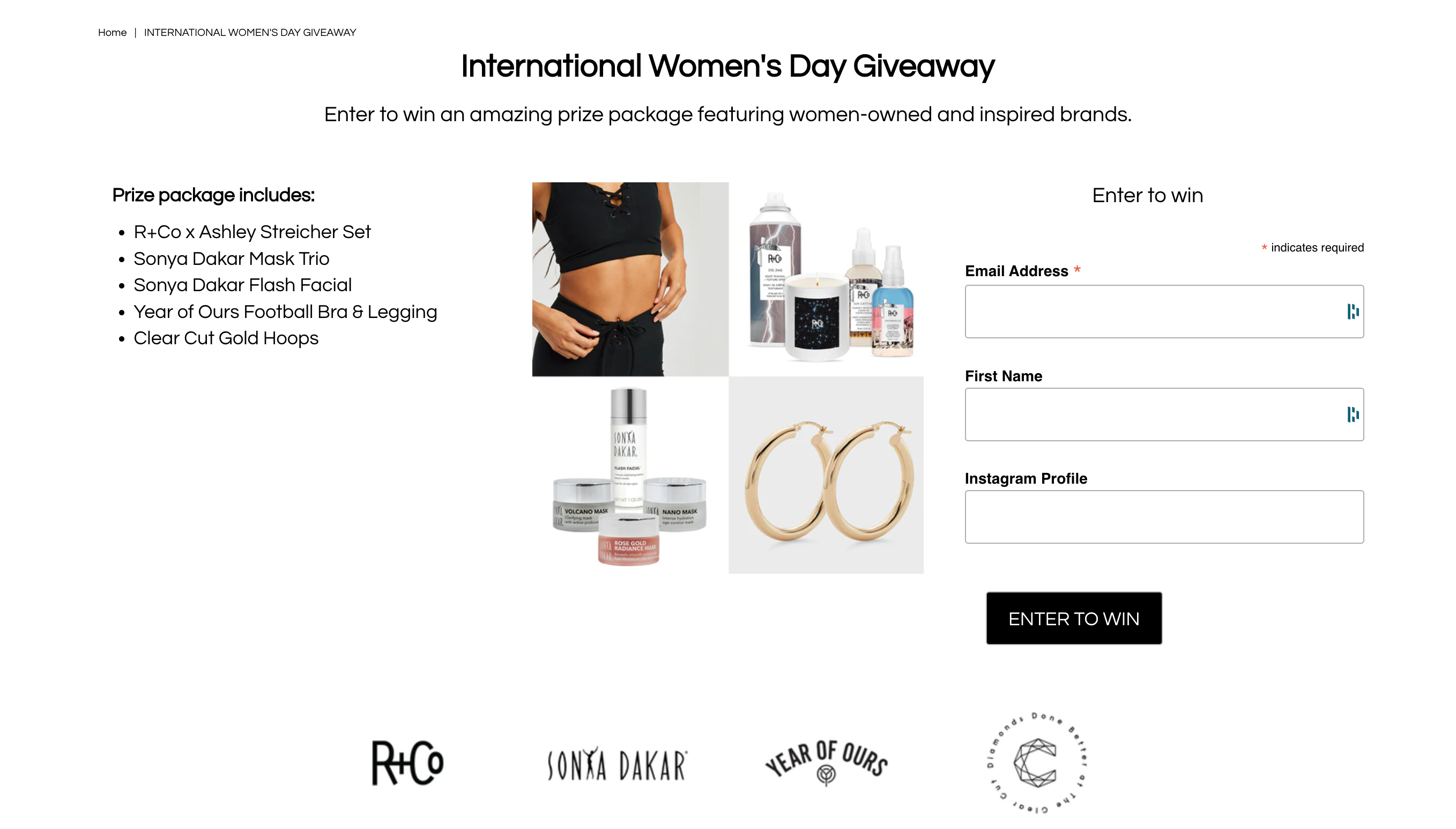 Short, sweet, and to the point.
And while a giveaway that features other similar brands probably isn't your best bet when it comes to last-minute campaign ideas, it's something you can run any time of year.
So make a list of other brands you might want to partner with and keep it in your back pocket for another campaign later this year.
14 Women's History Month subject line ideas
Your subject line should always be specific to your messaging and your offer, but here are 14 subject line ideas to inspire your own Women's History month campaign:
Wonder Women
Who run the world?
Celebrate women every day
It's a woman's world
Happy Women's History Month
Celebrate Women's History Month
Shop female-founded
Hip hip her-ray
Women change the world
Thanks for supporting women-owned
Let's hear it for the girls
Superheroes don't wear capes
Every day is women's day
Here's to strong women
Don't forget that your subject line plays a HUGE part in the performance of your emails. So take the time to make sure it's something you'd click on if you saw it in your own inbox.
If you wouldn't open it, I promise your audience won't either.
Never miss a chance to bring in sales with The Ecommerce Holiday Calendar
We put together The Ecommerce Holiday Calendar so you never miss a chance to bring in revenue for your business again.
March is packed with dates you can use to come up with an offer, share it with your audience, and watch the sales roll in. There's St. Patrick's Day, March Madness, the first day of Spring, and more.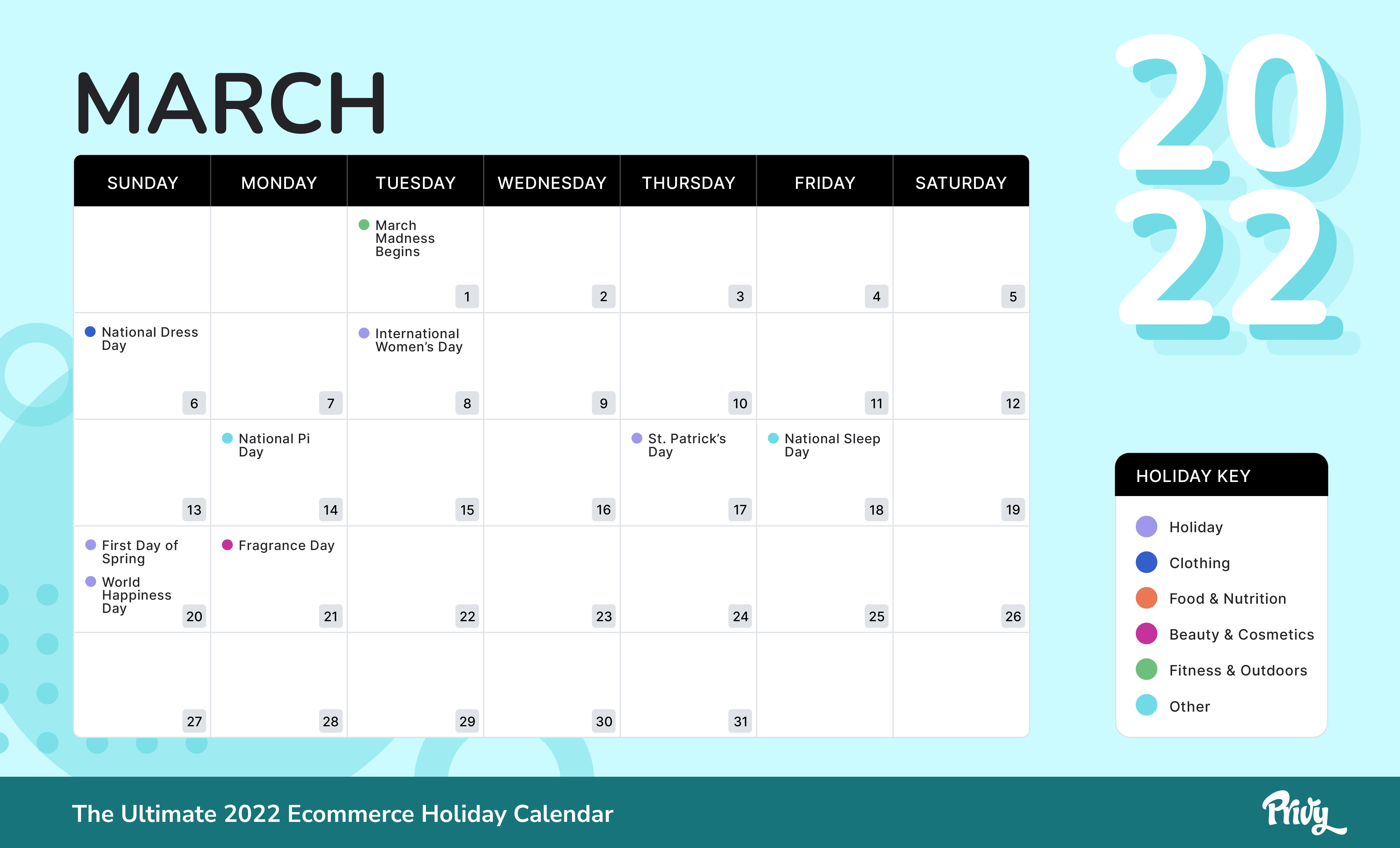 But don't forget about other holidays this year. Get your FREE copy of the calendar plus monthly reminder emails today.
Celebrate Women's History Month
Whether your brand was founded by women or not, chances are you've been inspired and supported by women from Day 1.
And as you've seen with these campaign examples, you don't have to be a woman-owned business to honor Women's History Month.
So take a minute to choose your favorite idea from this list and spin up a campaign today. And don't forget to send SMS messages and reminders and share on social to get the message out! You'll see the sales coming in in no time.
Subscribe for Updates
Get our best content on ecommerce marketing in your inbox 2 times a week.
Written by Lauren Hall
Lauren is a Brand Marketing Associate at Privy. She's the brains behind all things content. When she's offline, she's obsessing over her Bernedoodle pup, Monster, and plotting ways to being a full-time Vermonter ASAP.
Subscribe for Updates
Get our best content on ecommerce marketing in your inbox 2 times a week.