5 email marketing lessons from customers' top campaigns
Published on Feb 22, 2023
Written by Kristina Simonson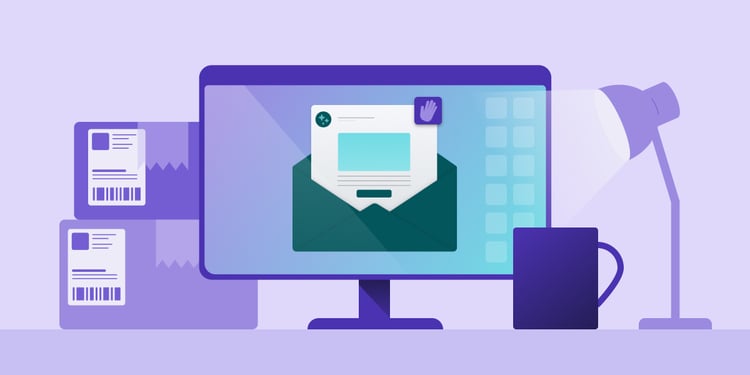 Privy customers send 100+ million emails each month.
Which means, customers are consistently learning new lessons about what's working and what's not with their email marketing.
So, we decided to ask them about their best campaigns in 2022.
In today's blog post, we'll break down the top 5 lessons we gathered from these campaigns—covering tips for:
Building authentic relationships with your subscribers (and community)
Creating demand before you launch something new
Making your message stand out from the crowd
Adding urgency to your message
Keeping it simple
Plus, we'll share real-life examples and quotes from our customers along the way.
Lesson #1: Build authentic relationships with your subscribers (and community)
"You'll work for yourself, by yourself, but you still have a boss. It's the customer." said Patrick from More Shower Space.
This quote relates to almost anything you do to operate your store—from developing to marketing your products (and everything in between).
When you center your strategy around your customer, your actions will compound overtime. Because the more you can meet their needs and show that you genuinely care, the more loyal your subscribers (and community) will be overtime.
This loyalty builds overtime because your subscribers feel a connection to your brand.
But how do you build a connection with your subscribers?
Here are 4 ways to build authentic relationships with your email subscribers:
Introduce them to your brand:

help your subscribers understand what your brand is all about and why they should trust you. A great place to do this is in your welcome email series—tell new subscribers about your founder story or store's mission.

Share behind the scenes content:

this type of content is a great way to make your brand relatable to your subscribers. Show how your products are made, introduce them to your team, promote a day in the life, host an AMA, etc.
Follow a two-way email strategy: just as you share content about your brand, you should mix in emails to get to know your customers and ask for them to reply back. Take the time to show your customers you care and you'll build trust overtime. And remember, there's a human on the other side reading your email—so don't be afraid to make your email casual and add some brand personality to it.

Create a positive experience with your emails:

the experience across your email touchpoints is another important factor to building trust with your subscribers (especially new ones). Make sure you're mindful of frequency and balancing the type of messages you're sending.
Here's a great snapshot from Vermeil's welcome series: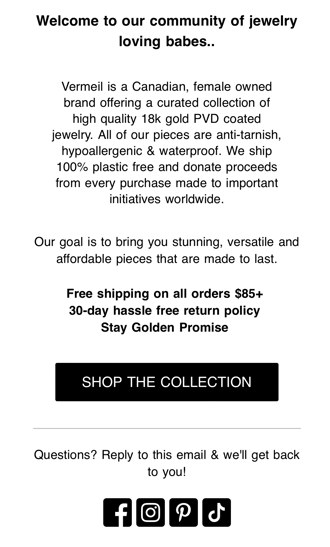 In just a few sentences, this email explains who they are as a brand, the mission behind their product, and their commitment to give back.
This is a great example of a way to build trust with your subscribers early on.
Speaking of emails fom Vermeil—we asked the team about their best campaign in 2022 and what they learned. They told us about the launch of their anklet collection and said:
"Anklets were something our customers had really been wanting to see from us, so we teased the drop on Instagram first. People were excited and ready to purchase once our email campaign went out"
Key highlight here: "something our customers had really been wanting to see from us".
Think about it: do you know what your customers want to see from your brand?
If not, ask them. It can be as simple as sending a plain text email asking them to reply with input on your next launch. Or putting up a poll on your social channels.
The more connected you are with your subscribers, the more engaged and loyal they'll feel to your brand—and the more likely they'll be to engage with your emails overtime.
Get our best content on ecommerce marketing in your inbox 2 times a week
Lesson #2: Create demand before you launch something new
Like Vermeil, many of the top email campaigns we saw from customers teased a product launch ahead of time.
Bdellium Tools used a countdown timer to announce their Black Friday sale early. When it came time to send the launch email, they saw a 43.11% open rate. Clearly their subscribers were primed and excited to shop this offer.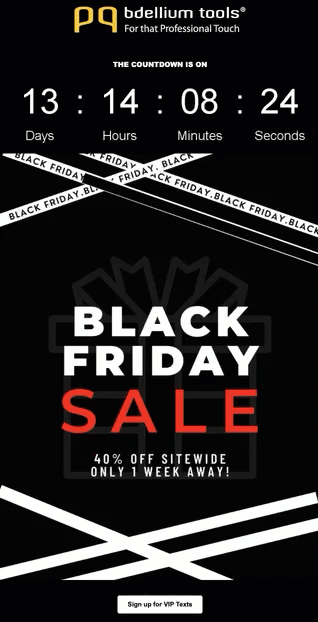 Freckles and Daisies shared the campaign they ran around their Easter collection. They said: "the campaign worked so well because we started to prime our customers 2 weeks before to create excitement and interest around what was going to be coming in their email".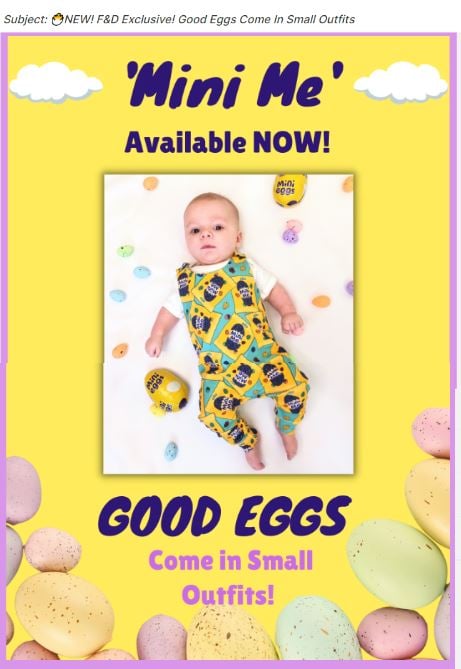 Once you decide when you're going to launch a new product or offer, don't overlook the opportunity to tell your subscribers what's coming.
As you can see with each of these examples, a simple email (or few) make a big difference in email engagement when it comes to launch day.
Pro tip: use these pre-launch teasers as a way to grow your email list, too. Try promoting early-access to the offer on your social media channels or update your website popups to call attention to the upcoming offer.
Lesson #3: Make your message stand out from the crowd
Here's the thing: people have very short attention spans.
If you can't hook your subscribers to open and read your message, your email isn't going to go very far.
That's why lesson #3 is all about making your email stand out from the crowd.
There are a lot of factors that go into whether you capture your subscribers' attention. But, to narrow down the list, focus your energy on these the top 4 factors:
Offer:

what are you promoting? Is it compelling?

Subject line:

what do they see before they open? Would you open it?

Email copy:

what are you saying in your email? Is the message simple?

Email design:

how is your email structured? Does it drive towards a clear action?
Here's a great example of a stand-out email from Bitch New York:
It's the design of the email that really stands out here—it's compelling, but not overwhelming. The layout naturally guides your eyes through the message and into the CTA. Plus, the copy is great. They start with a genuine thank you to their customers and lean into the holiday to promote a limited time offer.
PS: We're big fans of leaning into holidays for your email campaigns at Privy. Check out our 2023 Ecommerce Holiday Calendar to get holiday ideas and reminders all year.
Speaking of holidays…here's another example that stands out from FlyBoys:

This "year in review" theme hooked their subscribers in and the layout made the message easy to digest (and take action). With Privy's Shopify integration, FlyBoys was able to drag their products right into the email to showcase their top sellers and streamline the path to purchase.
But, remember—design isn't the only factor that can help your email stand out.
While it was the design that initially caught my eye in these first two examples, sometimes a short, plain text email is exactly what you need to stand out from the crowd and drive results. Just like this example from Bryght: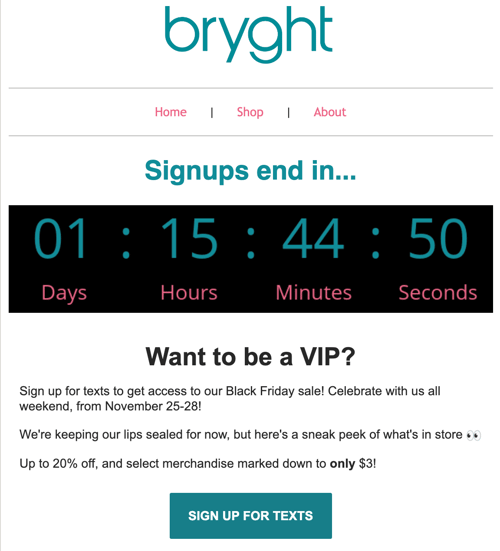 Here they used a Privy countdown timer paired with a short, but creative message to drive users to sign up for their VIP text list.
P.S: A lot of customers told us about the value of building a VIP text list and how they're prioritizing SMS marketing alongside their emails in 2023. If you're interested in getting started and not sure how—check out this guide.
The main lesson here: there's no one size fits all approach when it comes to capturing your subscribers' attention with your emails. Take the time to understand what works with your brand and your subscribers.
And once you've captured their attention, you need to get them to take action. Which brings us to lesson #4…
Lesson #4: Add urgency to your message
How many times have you seen an offer and told yourself you'd come back to it later?
No wonder the average cart abandonment rate is 70%.
You need your subscribers to feel a sense of urgency to follow through with a purchase from your emails, but it doesn't have to be super complicated.
Creating urgency can be as simple as timing and adding small touches to your promotion.
Gilbert Rugby Canada told us about a campaign they ran to clear out excess inventory. They ran a 48-hour flash sale with a discount offer—and completely cleared out inventory by sending 2 emails.
And More Shower Space told us how growing a waitlist for their back in stock campaigns became one of their top revenue generating plays with Privy. Since these subscribers already had demand for the product, the back in stock emails consistently drive urgency to purchase quickly before they sell out again.
Here are a few other ways you can add urgency to your campaigns:
Set an expiration date for your offer

Add a countdown timer to your emails (and website)

Send reminder emails before the offer expires

Add a cart saver to reduce cart abandonment

Optimize your abandoned cart email series
So, the next time you run an offer, make it clear when it ends—and remind your subscribers along the way!
Lesson #5: Don't overcomplicate it, keep it simple
Last, but definitely not least—keep it simple.
It can be so easy to overcomplicate your email marketing.
But keep in mind: just as your subscribers are busy, so are you.
Andrea, from Freckles and Daisies, told us:
"As a small business, we all have so many things to juggle—from making products, communicating to our customers, growing the business and picking up the kids!"
Sound familiar? We hear you.
That's why with Privy, we aim to make email & SMS marketing more approachable—so you can get back to everything else you need to do to run your store.
And when it comes to executing on your email marketing, your strategy doesn't need to be so complicated—and your subscribers don't want it to be either.
Ivan from Bdellium Tools shared his perspective on this lesson:
"We kept our email marketing simple, clean and to the point, using black and white colors with minimal text and gifs. During the busy holiday shopping season, it's essential to convey your message quickly and effectively, without overwhelming your audience with unnecessary information".
Not only does simplifying your email save you time, but it's more effective in driving results. Don't overwhelm your subscribers, keep your message simple and to the point.
In conclusion:
There's a lot that goes into an effective email marketing strategy. And while you need to find what works best for your brand and your audience, we hope you can take these lessons to try something new and optimize your approach in 2023:
Build authentic relationships with your subscribers (and community)

Create demand before you launch something new

Make your message stand out from the crowd

Add urgency to your message

Don't overcomplicate it, keep it simple
And if you're looking for a platform that makes email & SMS marketing approachable while maximizing your ROI—take a look at Privy. You can book a 1:1 call to walk through the platform with an expert or sign up for a trial and check it out for yourself.
Subscribe for Updates
Get our best content on ecommerce marketing in your inbox 2 times a week.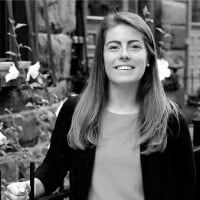 Written by Kristina Simonson
Kristina leads the marketing team here at Privy. She enjoys diving into the latest trends in ecommerce (and writing about them here) and is passionate about supporting independent Shopify brands. Outside of work, you can find Kristina either hanging out with her nieces or training for her next marathon.
Subscribe for Updates
Get our best content on ecommerce marketing in your inbox 2 times a week.