7 Gift Card Promotion Ideas for Online Stores
Published on May 17, 2022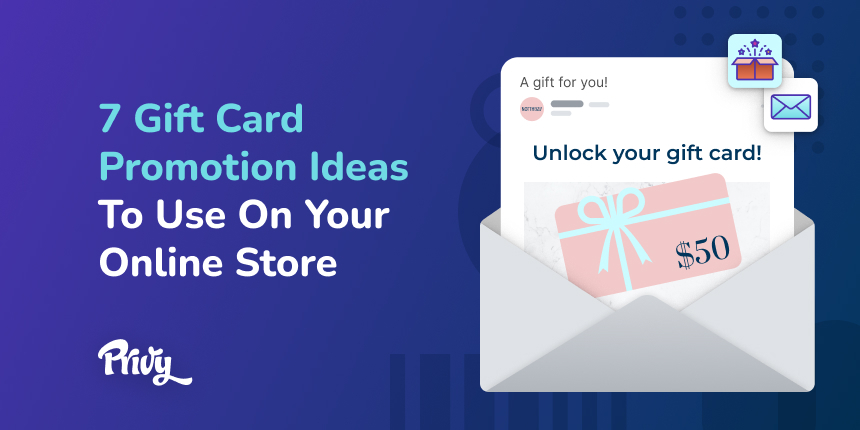 Let's be real for a minute.

That shirt you got for Christmas 5 years ago from your aunt...it's still sitting in the back of your closet, right? And chances are, a gift you've given went unused or was returned to the store after your family gathering.

When it comes to presents, most people seem to prefer giving and receiving gift cards or cash. 80% of shoppers surveyed in 2021 said they planned to buy gift cards instead of physical gifts, letting people pick out their own perfect gift.

So, as an ecommerce store owner, it makes sense for you to capitalize on that popularity and promote gift cards or give them to your customers. Here's how gift cards can fit into your sales strategy.
Get our best content on ecommerce marketing in your inbox 2 times a week
How gift cards benefit your online store
Whether you're offering gift cards as a customer incentive or trying to sell them for holidays throughout to year, they can help your store in several ways. For example, if someone has an abandoned cart, you could send them a $10 gift card to entice them to come back and complete their purchase. You can also offer incentives to someone buying a gift card as a present by giving a certain percentage discount.

If you promote gift cards to your customers and offer the right incentives to purchase them, your store could see several benefits, such as increased sales and customer retention.
Increase your sales
For you, a gift card is an easy sale. That money comes straight to you once the purchase is complete. But what makes it even better for you is that the gift card recipient is either going to spend less, giving you that unused balance as profit, or they might spend more than what the gift card is worth, bringing in extra profit for your store. This is a great opportunity for you to offer an upsell, promoting a more expensive item than what they're currently looking at on the site. They may feel that since they already have the gift card, it will be okay to put in some extra money toward an upgrade.
Reward loyal customers
If someone makes a purchase, you want them to eventually come back. You can encourage them to become a repeat customer with a gift card for their next visit. This also helps you re-engage with customers who haven't come back. But, even beyond that, you can provide gift cards to loyal clients through a customer loyalty program. In a loyalty program, customers are awarded a certain amount of points for every purchase they make. And you can set it up however you like. So maybe a customer could use 100 points and redeem those for a gift card.

You can also use gift cards to smooth over any issues that a customer might have. If a customer complains about an order, you can give them a gift card to show them that their complaint was heard and that you value their business.
Alleviate potential shipping issues
There will always be last-minute shoppers for every holiday throughout the year, and promoting a gift card a few days before could help remind them about a gift they still need to get. (This masterclass on last-minute gift card ideas gives you some great subject line ideas, by the way.) And the best part? You can email the gift card as soon as they purchase it so that they have a present in hand for their loved ones or friends. Here, Jeni's Ice Cream does that in an email, offering gift cards as presents and advertising the potential of an ice cream shopping spree.

Source: reallygoodemails.com
Also, gift cards can be a great way to circumvent any possible shipping delays. In 2021, the supply chain saw unprecedented setbacks, keeping merchants from fulfilling orders in their usual timely fashion. If there are supply chain issues affecting any of your products, you could offer a gift card instead, so you don't lose the sale, and customers can come back later when the items are in stock.
7 ideas you can use for gift card promotions
From upselling opportunities to rewarding customers, gift cards offer your store many benefits. Promoting them and following up with the purchaser (or the giftee!) via an email marketing campaign could help you capitalize on those perks. Selling gift cards is important, but so is your gift card marketing strategy. If you aren't promoting them enough, then customers won't know to buy them. There are many ways you can promote your gift card sales, and here are just a few examples to inspire you.
1. Offer a gift card to re-engage customers
If a customer has not made a purchase in a while, you can send them a re-engagement email with a gift card offer. Below, Shapermint does this by offering the customer a chance to shop their Easter sale. And when they shop, they'll unlock an offer for a $10 gift card. Since most of Shapermint's products are more than $10, that gives the shop a chance to bring in a sale that's greater than the digital gift card value and reward the customer for returning at the same time. It's a win-win. If you decide to try this for your store, make sure that the amount you're offering is feasible for your profit margins. You don't want to overextend yourself and lose profits in the process.

2. Give a discount on gift card purchases (and create urgency!)
Often, businesses will promote gift cards by selling them at a discount. Below, furniture giant, IKEA, tries this method by offering 20% off gift cards worth $50 or more. And they take it a step further by creating a sense of urgency and making it a limited-time discount, using FOMO marketing to help drive the purchase along.

3. Send your email with clear messaging
We live in a society that demands convenience, so you need to make it easy for your customers to buy a gift card. This simple email from JUDY doesn't offer any frills or copy to distract from their goal. Instead, they provide step-by-step instructions on what the purchaser needs to do in order for the gift card to get to its intended recipient. They also include visual elements, like an arrow pointing down and graphics for each step to make the email as clear as possible. And it ends with a visible call-to-action button that takes the user directly to the site to buy their emergency-preparedness gear and kits.

Source: reallygoodemails.com
4. Offer a refer-a-friend reward
Need to build up your customer base? Consider offering an incentive for current customers who refer a friend to your store. Below, Misfits Market offers a $15 credit for both the customer and their friend when the friend becomes a new customer. They also use that sense of urgency by placing a time limit on the credit so that the customer will urge the friend to order – doing the business' job for them.
Plus, to order anything from Misfits Market, the purchaser has to buy at least $30 worth of produce or groceries, so the company still earns something with this promo. And their customers sign up for a weekly delivery of discounted fruits, veggies, and other items, earning the company another repeat customer.

5. Give away a gift card on social media
Not all of your gift card promotions have to be done via email. For example, the popular store Bogg Bag ran a gift card giveaway on social media to celebrate reaching 75,000 followers.
They offered 5 $75 gifts, and to enter, people had to like the post, follow them on social, and comment on the post with what they loved most about the bags. This provides Bogg Bag with an opportunity for great social media engagement and also to obtain some comments that offer social proof or testimonials about the product. The comments are full of satisfied customers talking about how they use the bag, whether it's for a beach trip or a grocery store run.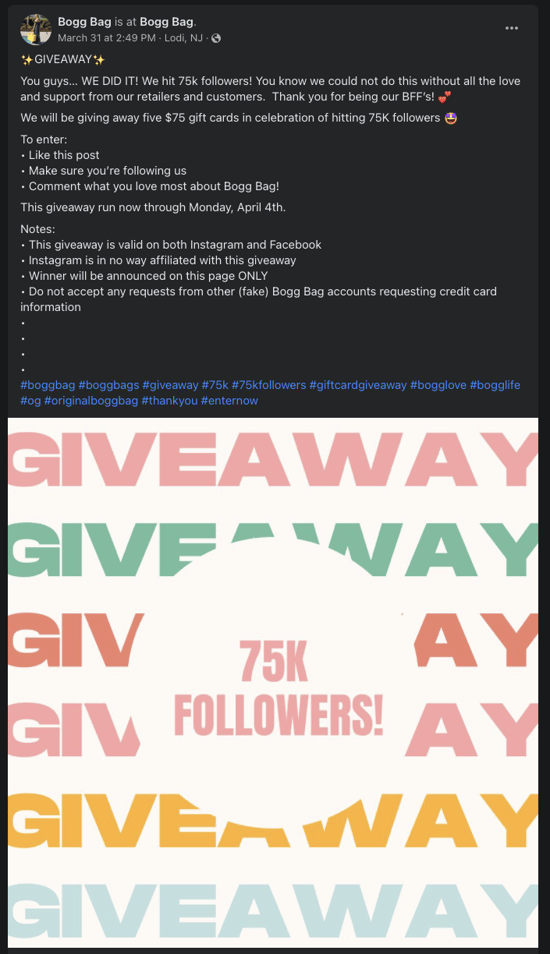 Source: Facebook
6. Use a birthday or holiday to give out gift cards
If you have collected birthday data from your customers, then sending them an email on their special day is a great way to reward them for shopping with you. In the below email, St. Ives offers a special gift, but the recipient has to click through to see what it is. This method keeps the gift a mystery, which will hopefully intrigue them enough to go to your site. And once they're there, hopefully, they'll use their gift and do a little extra shopping.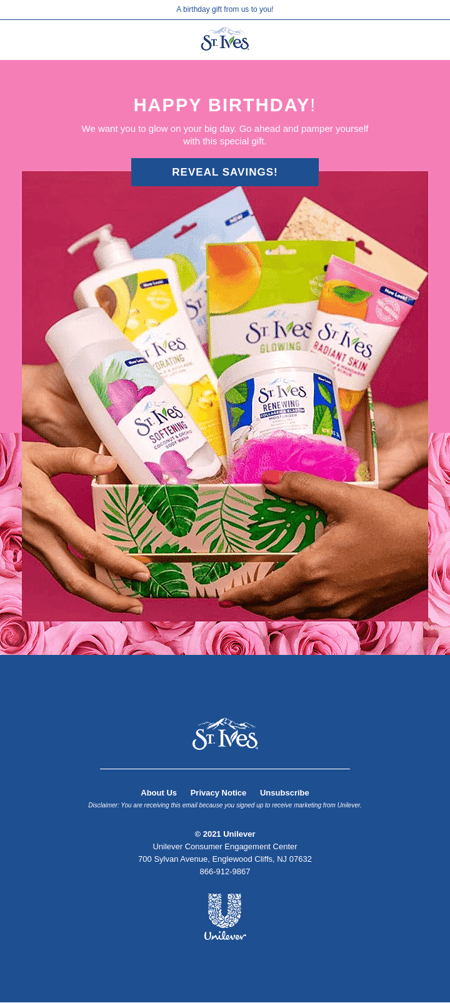 Source: reallygoodemails.com
Along with birthdays, you can also offer a holiday gift to help increase sales. For example, you could send a Black Friday promotion with a gift card for people who meet a certain order amount or create a Valentine's Day campaign and offer them a percentage off of their gift card purchases.
7. Cross-promote with other businesses
Find other businesses to partner with and send gift cards to their customers. It's a win for both of you because you can advertise to each other's customer base and build up your audience. If you're a subscription-based business, then find another business that complements what you offer. In orders from HelloFresh, their customers get gift card vouchers to Naked Wines. It's the perfect way to get in front of a similar audience that might not have heard of your brand before.
Send your gift card promotions with Privy
Gift cards can boost sales, but you have to promote them the right way to make that happen. With a platform like Privy, you can set up your emails, track their effectiveness, and even offer items via popup to customers who go to your site, to try and increase their order amount. Get started with Privy for FREE today.
Subscribe for Updates
Get our best content on ecommerce marketing in your inbox 2 times a week.
Written by Lauren Hall
Lauren is a Brand Marketing Associate at Privy. She's the brains behind all things content. When she's offline, she's obsessing over her Bernedoodle pup, Monster, and plotting ways to being a full-time Vermonter ASAP.
Subscribe for Updates
Get our best content on ecommerce marketing in your inbox 2 times a week.