5 Halloween Campaign Ideas You Can Steal
Published on Oct 22, 2021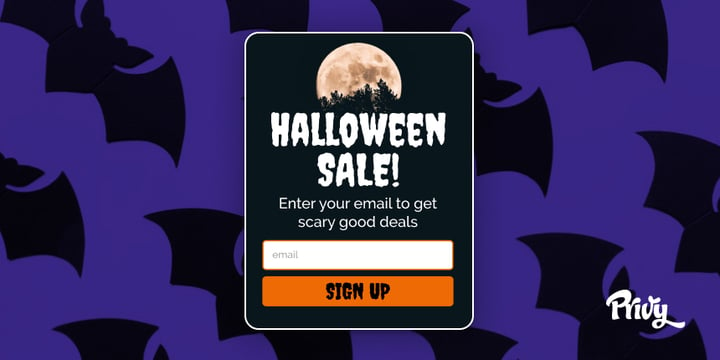 Americans are expected to spend over $10 billion on Halloween this year. So if you want to generate killer sales for your ecommerce store this spooky season, then consider putting together a marketing campaign built around the holiday.

Halloween kicks off the holiday shopping season in September, with 36% of Americans saying they shop then, according to Statista. Along with that, 38% of Americans say they begin their Christmas shopping by the end of October.
Starting to market now can help you catch those early-bird holiday season shoppers as well as those who plan to drop money on Halloween-themed goods.
A Halloween-themed marketing campaign can help attract customers' attention during this peak shopping time. If you're stumped about what to do, check out these 5 examples to inspire you.
Get our best content on ecommerce marketing in your inbox 2 times a week
1. Send out scream-worthy discounts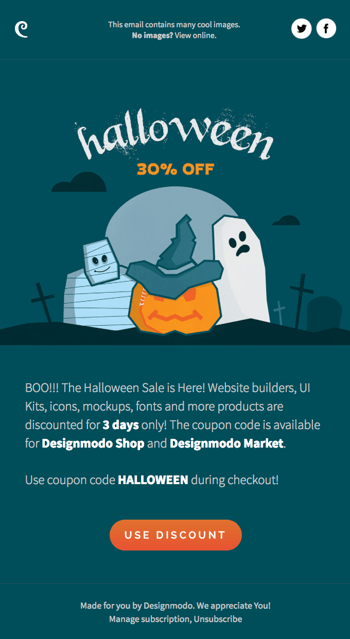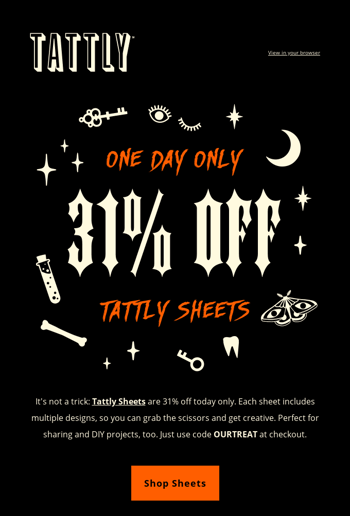 Halloween is a great opportunity to grab your subscribers' attention with an email marketing campaign. Because it falls before inboxes are peppered with Black Friday sales, you have a better shot at standing out.
Be creative with your discounts and offer Halloween-themed promotions. For example, you could offer a 31% or 13% off coupon code to entice shoppers to visit your online store.
Give customers a sense of urgency by including deadlines in your messaging. If they know there's a killer sale going on until October 31st, they'll feel more motivated to buy.
Make sure you send out reminder emails throughout the month of October and even place a countdown timer on your site to give the sale as much visibility as possible. An email marketing platform like Privy can help you plan out an email cadence and send your messages to a target audience, such as new customers or newsletter subscribers.

You could also consider a free gift with purchase promotion, where you give out a free Halloween-themed product with purchases over $50. Think something like a free trick-or-treating bag or a Halloween shirt. Even something as simple as a small box of candy! People are motivated by free items and even place a higher value on them. As an added bonus, you can add your company logo to that free item to increase your brand awareness.
2. Customize your site with bewitching Halloween accents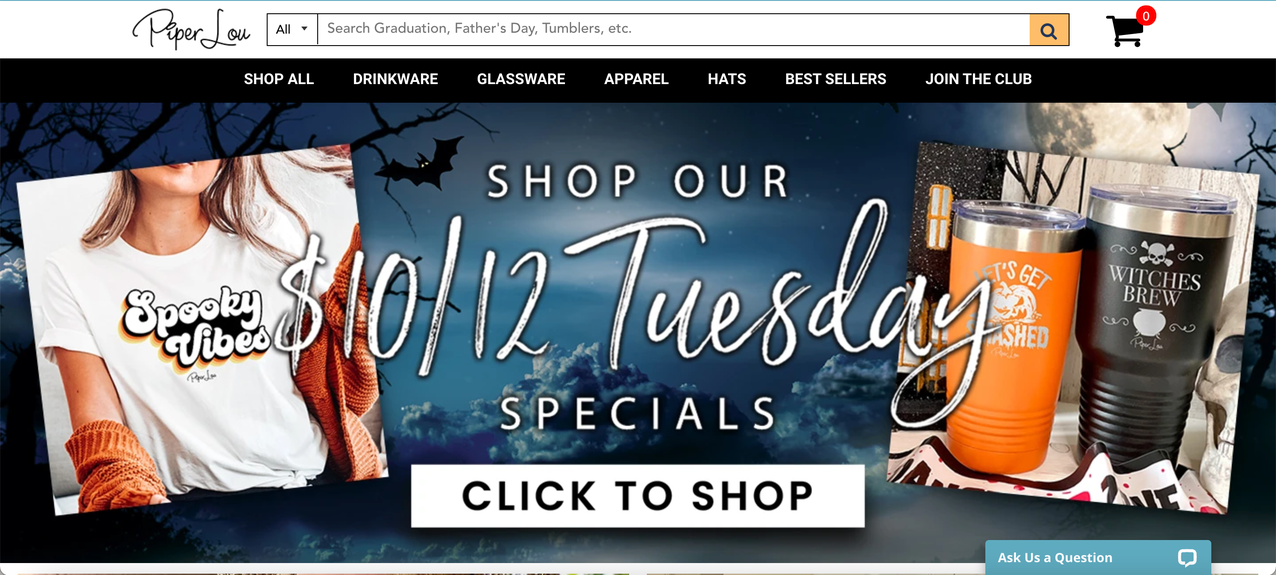 Once you get a potential customer to your store, you want to keep their attention. So dress up your site with some seasonal elements, such as jack-o-lanterns or spiderwebs, to make it feel festive. Those additions can let visitors know to look out for holiday-themed products or sales.

One easy way to change your site for a bit is to switch some of the site colors to black, orange, or purple. You could also customize your CTA buttons or change the navigation menu as a way to attract attention.

Like the store above, test out a banner image that spotlights any of your store's Halloween products or promotions. If you are trying to target people who are doing some holiday shopping before Black Friday Cyber Monday, you could also showcase some of your store's most popular gifts.
#3: Create some wicked popups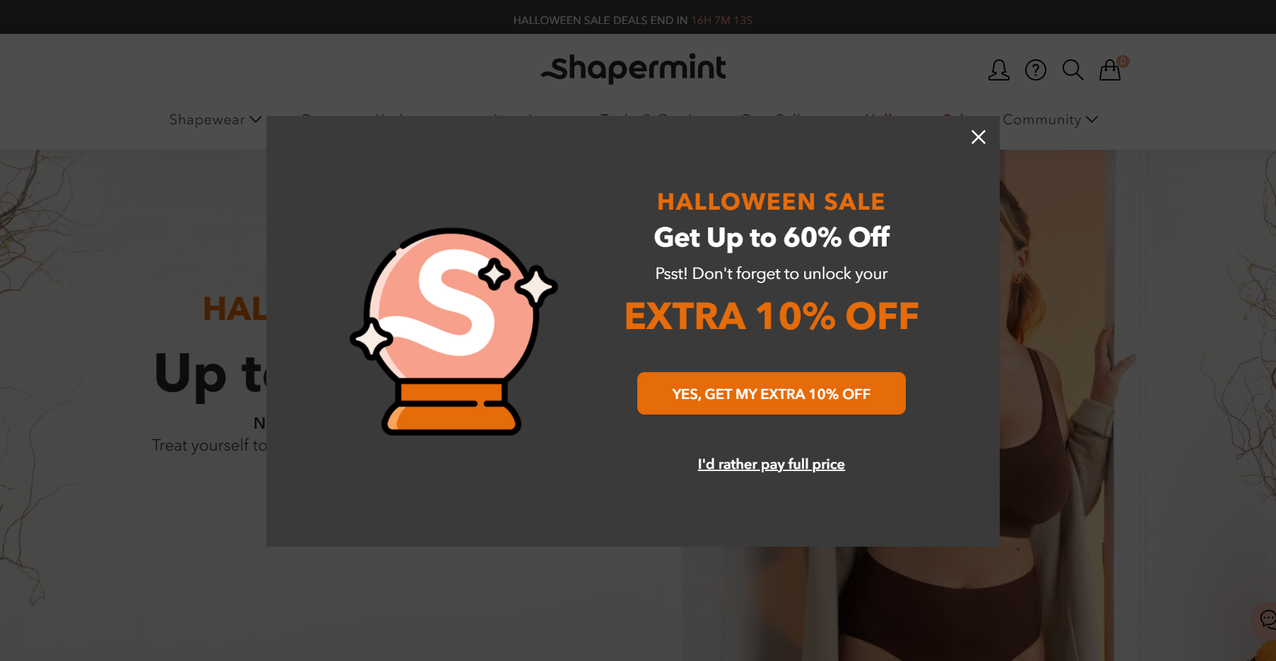 With Privy's welcome popups, Shopify stores can convert traffic into subscribers to build their email and SMS lists from the ground up. These popups greet visitors when they arrive on your site or after they've been on the page for a specific amount of time, such as 10 seconds.
There are several types of popups you can choose from, and it's easy to make or customize Halloween-themed popups with Privy. This includes:
Welcome popups
Spin-to-win games
Cart savers and so much more
4. Come up with a spooky social media strategy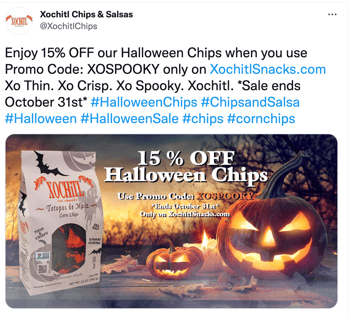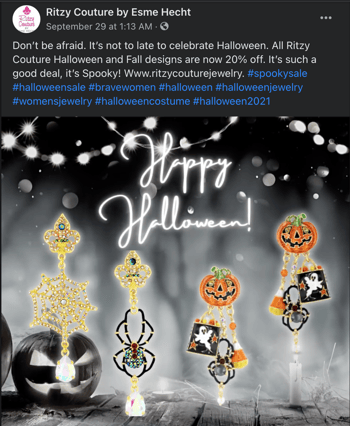 Social media marketing is another great way to grab the attention of customers, whether it's through organic posts or paid ads.
You can have a little fun with these posts, too, by playfully interacting with your customers on your social media accounts. For example, ask them to post a photo of them wearing some of your Halloween merchandise using a hashtag you create, and then choose a winner to receive a free item.
Or, hold a virtual costume contest with your followers to help provide some inspiration for others and promote your brand at the same time by doing a giveaway. As a bonus, this gives you some great user-generated content that you can share throughout the Halloween season across platforms like Instagram, Facebook, and others.

If you run paid social ads, target your intended audience with a Halloween-inspired theme. Showcase your products in an entertaining way that will catch someone's eye as they scroll through their feed.
5. Use a cross-sell campaign to drive higher AOV
Using a cross-sell campaign can help increase cart sizes by pointing customers to complementary products, so they can easily purchase products that will increase AOV and go well with what's currently in their carts.
According to McKinsey, when cross-selling is done correctly, it can boost sales by as much as 20% and overall profits by 30%. Cross-sell popups appear after a customer adds an item to their cart to suggest other items.
So, if a customer adds a pair of black boots to their cart, then you could have a popup that suggests a pair of black stockings or a pair of earrings to create the perfect Halloween costume.
Make your Halloween marketing magical with a little help from Privy
(Trick or) Treat yourself by implementing your Halloween marketing campaign ideas with Privy's user-friendly platform. With Privy, you can track the success of your marketing campaigns when it comes to emails, popups, and more.
Subscribe for Updates
Get our best content on ecommerce marketing in your inbox 2 times a week.
Written by Lauren Hall
Lauren is a Brand Marketing Associate at Privy. She's the brains behind all things content. When she's offline, she's obsessing over her Bernedoodle pup, Monster, and plotting ways to being a full-time Vermonter ASAP.
Subscribe for Updates
Get our best content on ecommerce marketing in your inbox 2 times a week.