4th Of July Marketing Campaign Ideas To Start Summer Off Strong (with Examples)
Published on Jun 24, 2022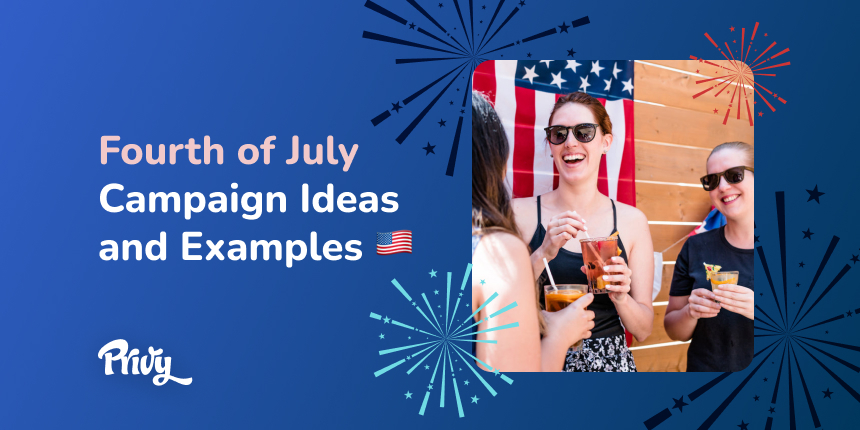 If you're not planning to create a 4th of July campaign for your store, you're missing out on sales.
And even if you haven't started planning, you still have time to put together an offer your audience will love.
To inspire you, here are 9 campaign ideas you can steal:
Plus, get real-life brand examples, subject line ideas, and more.
It's seriously everything you need to create an offer your subscribers won't be able to resist.
Get our best content on ecommerce marketing in your inbox 2 times a week
1. Highlight made-in-America products
The 4th of July is a great time to remind your audience where your products are made. Especially if you produce in the US and they're passionate about supporting American-made brands.
That's exactly what dog treat company, Bocce's Bakery, did here:
No special offer, just a reminder that their products are American-made. Pair that with a simple holiday-themed design and you have the perfect 4th of July campaign.
So if you're looking for a reason to engage with your subscribers without having to offer a discount or run a promo, this is a great option.
2. Showcase your holiday-ready products
The 4th of July is notorious for red, white and blue themes. So even if you don't have holiday-specific gear, you can still create a collection of red, white and blue products your audience will love to take the burden off of them to search your site to find what they're looking for.
Take this example from women's clothing brand, Cleobella: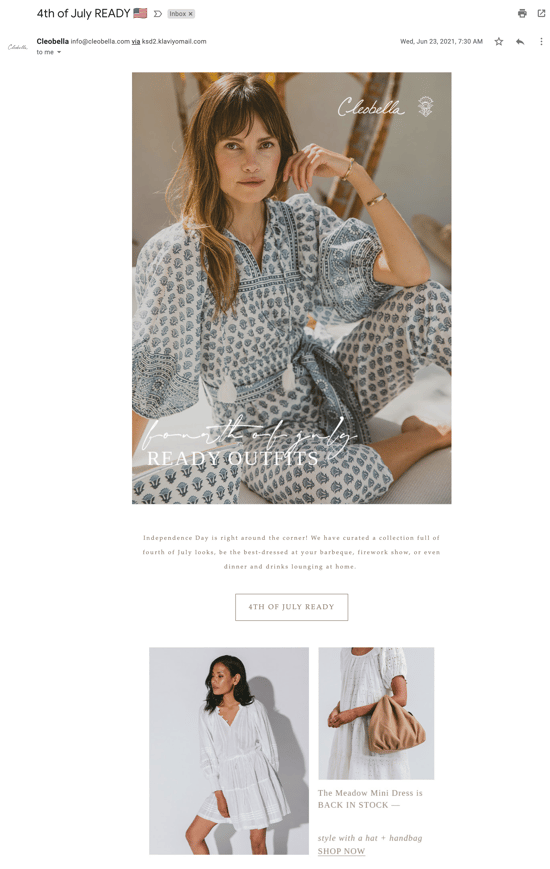 Even though they don't have patriotic gear, they have options that are perfect for the holiday – a blue and white print dress, plain white dress, and accessories to complete the look.
So don't miss out on an opportunity to drive sales this 4th of July just because your products aren't the traditional holiday style.
Whether you sell clothes, sunglasses, bags, or home goods, you can put together a killer 4th of July collection with products you already have to make shopping for the holiday a breeze for your subscribers. Trust me. You won't regret it.
3. Create 4th of July content your audience will love
You know your audience best. So when it comes to content for the 4th of July, you know exactly what will resonate with them.
Here's a great example from dog brand, DOG iD: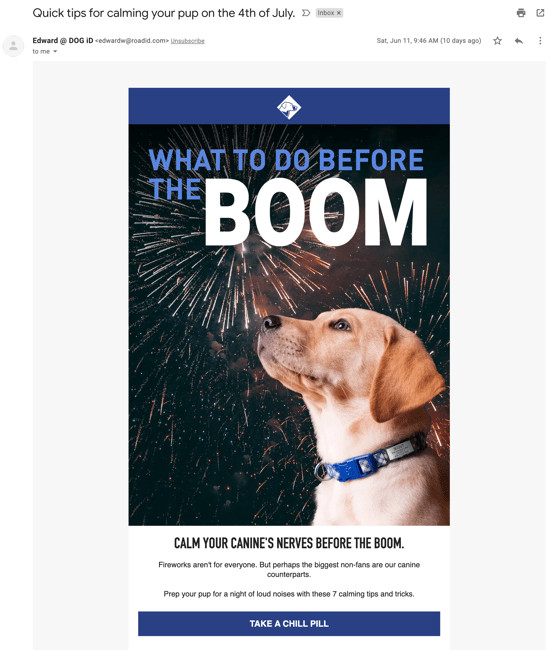 Immediately, you can tell that they understand their subscribers. Because if you're a dog person, chances are you've had or know of a dog whose worst nightmare is fireworks on the 4th of July. Which is why creating helpful content to keep pups calm is the perfect way for them to engage with their base.
So if you don't want to run a sale or promo this 4th of July, think about what kind of content you can create to help your audience. Some ideas include:
4th of July recipes for food/beverage brands

Tablescape inspiration and hosting ideas for home goods brands

Quick but effective 4th of July workout ideas for health and wellness brands
The opportunities are endless. Just put yourself in your customers' shoes and think about what they really care about. It's a win-win. You're giving them helpful content they actually want and keeping your audience engaged at the same time.
4. Try a free gift with purchase
Including a free gift with purchase is a great way to encourage your subscribers to make a purchase no matter what time of year it is.
Use a product you already have (the easiest way to bring this to life) or create a limited edition product that's used exclusively as a free gift.
Here's how beach brand, Business & Pleasure ran a free gift with purchase offer during 4th of July weekend: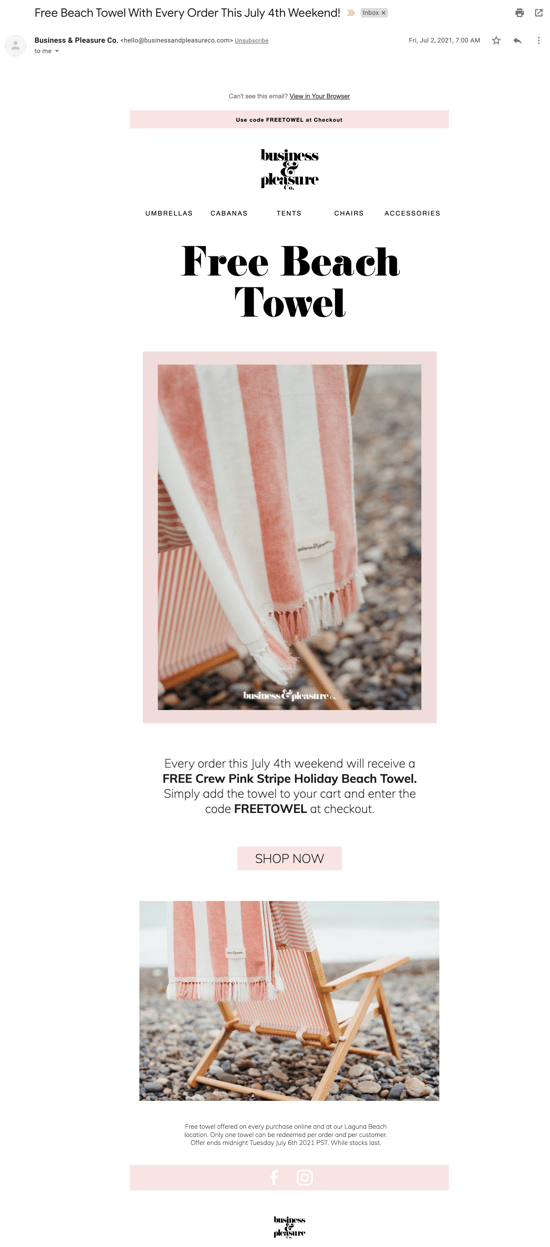 It couldn't be simpler to execute. Add the towel to your cart along with your other items and use discount code FREETOWEL to get your free gift!
And while Business & Pleasure doesn't have a minimum order requirement to get a free towel, you might want to consider what makes the most sense for your business (i.e. you probably don't want to offer a free gift that's more expensive than what someone's purchasing).
Just make sure you make the deadline really clear to drive urgency. And don't hesitate to send a reminder before the offer expires. Another email and/or text message will drive even more sales for your store. Just exclude anyone who's made a purchase during the offer window.
5. Test out a flash sale
Who doesn't love to get a surprise discount from their favorite brands? That's what makes flash sales such a powerful offer. They're time bound – which means your subscribers need to act quickly to take advantage of the opportunity.
Take this example from beverage brand, Recess:

What makes this so good? They don't just say "get 10% off for 72 hours." The copy is fun, playful, and on brand. Plus, the graphic is on-theme and they mention that this is the first time one flavor has ever been on sale.
Sure, you can send a generic flash sale email and bring in sales. But before you press send, think about how you can take it to the next level like Recess.
6. Launch a holiday-themed collection
While it takes a lot of prep to launch a specific holiday-themed collection of products, it can be an amazing way to keep your most loyal customers coming back again and again.
Here's an awesome example from men's underwear brand, Saxx:

What makes this such a perfect offer for them is the fact that they likely have a base of customers who love their products so much that every time they launch a special edition product, their top customers will jump on it.
So while you might not have time to launch a brand new product this 4th of July, think about which holidays are coming up for the rest of the year and plan ahead.
Because new product launches can have a huge impact on sales. So take a best-selling product and put a limited edition spin on it to build excitement and keep your customers coming back over and over again.
7. Send a shipping reminder
Every holiday throughout the entire year is an incredible opportunity to drive more demand for your products with shipping reminder messages.
Because if your customers are ordering an outfit specifically for the 4th of July, let's say, it needs to arrive in time for them to enjoy it.
So make sure you're setting clear deadlines and sending multiple reminders (emails and texts are a great way to do this!).
Here's how dog brand, The Foggy Dog, made sure their customers' orders arrived for the holiday: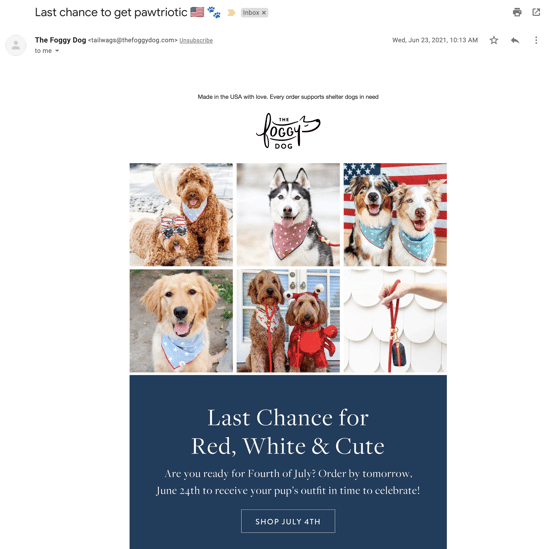 Short and sweet, but it's the perfect reminder to get orders in.
Plus the grid with product photos with real pups is a great way to help pet parents envision their pups wearing their 4th of July gear.
Without sending reminders, you're leaving it up to your audience to remember when they need to order by. Which means you're leaving money on the table. So for every single holiday year round, make sure you're sending last chance messages to squeeze the most value out of your offers.
8. Make your VIPs feel special
Your repeat/VIP customers are critical to your success. So every chance you get, you should be trying to make them feel special.
That's what I love so much about this email from activewear brand, Year of Ours:

It's just a plain text email, so no design needed. And in a sea of image-heavy emails, sending a plain text email every once in a while is a great way to stand out.
All they're doing here is giving their most valuable customers a chance to shop their 4th of July sale. It's a really simple offer, but as the recipient of this email, you feel like they went above and beyond just for you. Who doesn't love that?
So even if it means giving your VIPs early access to your offer (or a completely exclusive offer), give it a try. The more you can make them feel connected to your brand, the more likely they are to continue to support you.
9. Use a patriotic email template
With Privy, you can use pre-made email templates built specifically for the 4th of July. So you can send on-theme emails in minutes.
Here's one example:

And another:

It's as easy as adding in your logo, updating the copy to align with your offer, loading in your featured product photos, and you're good to go! It's seriously never been easier to get your holiday email live.
You can get started with Privy for FREE today. Already have an account? Log in to start using your Spring templates ASAP.
4th of July subject line ideas
Your subject line is a huge part of your email's success. Because if you're not capturing subscribers' attention before they open your messages, chances are they're never going to see your offer.
So before you press send, it's worth spending the time to nail your subject line. Here are some ideas you can steal this 4th of July to stand out in the inbox:
Are you 4th of July ready?

Just in time for the 4th

Before the fireworks…

4th of July, solved.

It's here! The 4th of July event

4th of July starts now

A 4th of July surprise

Start the 4th of July with a bang
Just keep in mind that your offer will impact your subject line. If you're offering free shipping, or a free gift with purchase, for example, don't bury the lede. You want to make sure they know that a killer offer is inside.
Get The Ecommerce Holiday Calendar
Ever completely forgotten about a holiday until it was way too late to spin up a campaign? From Valentine's Day to Memorial Day and everything in between, there are holidays all year long that can help you drive sales.
So we created The Ecommerce Holiday Calendar to give you monthly reminders, campaign inspiration and tons of examples to make planning easier than ever.
Because every time you send an email or text to your audience, you're bringing in sales for your store. So the more holidays you plan for, the better.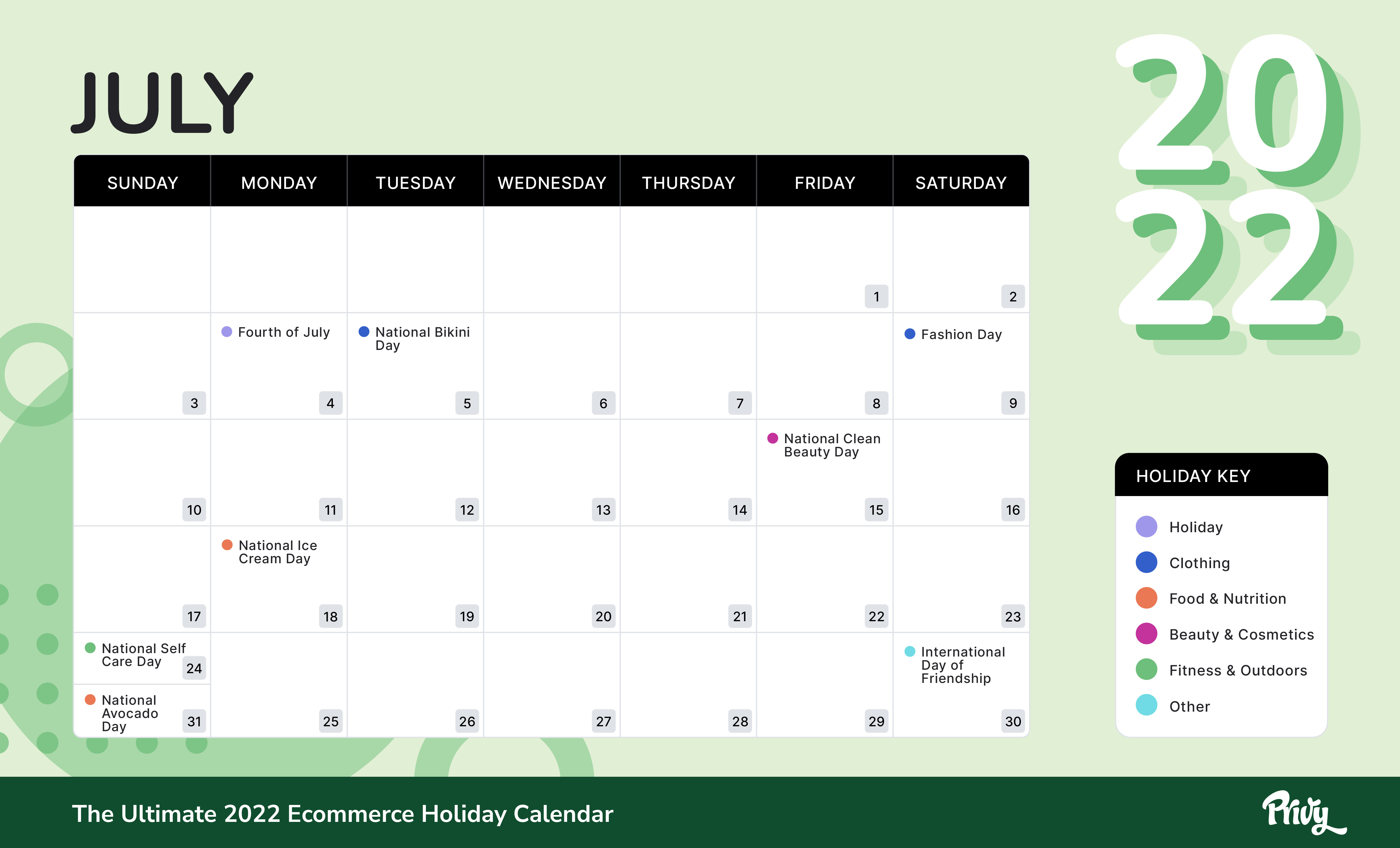 Get your FREE copy of the calendar today.
Start the summer off strong
Whether you put together an easily shoppable collection of 4th of July products, run a flash sale, or offer a free gift with purchase, the opportunities are endless when it comes to bringing in sales this 4th of July.
The best part? You don't have to spend months planning. Even if you're just getting started, there are plenty of options to boost sales and start the summer off strong.
Subscribe for Updates
Get our best content on ecommerce marketing in your inbox 2 times a week.
Written by Lauren Hall
Lauren is a Brand Marketing Associate at Privy. She's the brains behind all things content. When she's offline, she's obsessing over her Bernedoodle pup, Monster, and plotting ways to being a full-time Vermonter ASAP.
Subscribe for Updates
Get our best content on ecommerce marketing in your inbox 2 times a week.