The Best 20 Shopify Apps To Grow Your Store In 2022
Published on Jan 19, 2022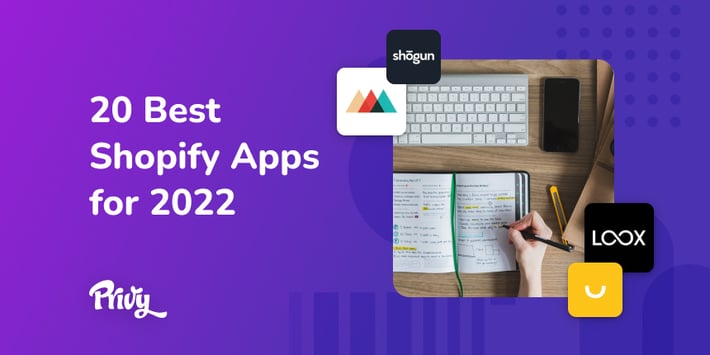 This post was originally published on July 16, 2019.
There are thousands of apps in the Shopify app store that can help online stores save time and money, bring in sales and boost conversion.
But as a founder, chances are you don't have time to go and find the best Shopify apps for your store. And if you don't know about them, you can't use them.

And since 2022 is predicted to be the first year online sales top $1 trillion, you need to be prepared to seize the opportunity. Which means automating whatever you can in order to scale.
Using apps like the ones mentioned here can take time-consuming tasks off your plate, allowing you to focus on big-picture goals such as growth, hiring, and more.
And because we work with founders just like you every single day, we see what works and what doesn't. Here's a list of 20 of the best Shopify apps to get your store ready for 2022 and beyond.
Get our best content on ecommerce marketing in your inbox 2 times a week
1. Aspire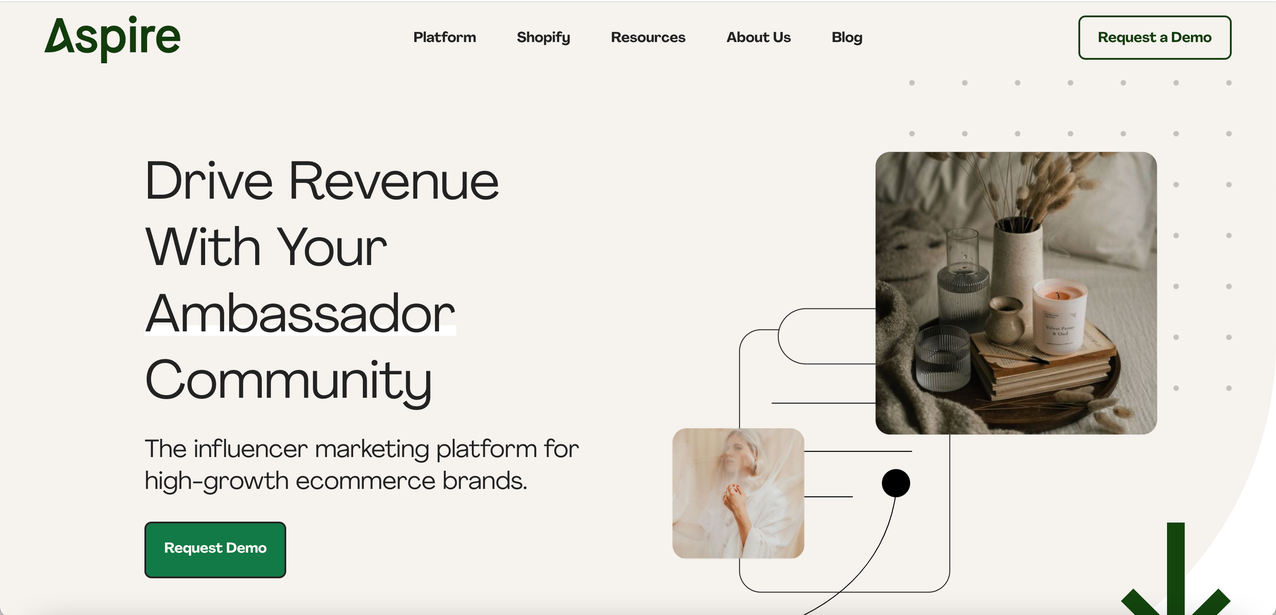 What It Does: Aspire brings direct access to social media influencers so that brands can chat with them and make sure it's a good fit. Store owners also can link to their Shopify account and find past or current customers on social media with a large following to ask them to be brand ambassadors.
How It Benefits You: It's difficult to locate influencers specific to certain product types, and when you do, you have to reach out cold, which doesn't always work out. You'll need to vet the influencers yourself and take it on trust that their posts perform as well as they claim. Aspire removes those difficulties, saves you time, and brings relevant influencers to you.
Cost: Aspire has three plans: essentials, pro, and enterprise. While it doesn't publish specific pricing, it does say that it'll offer custom pricing.
2. Awtomatic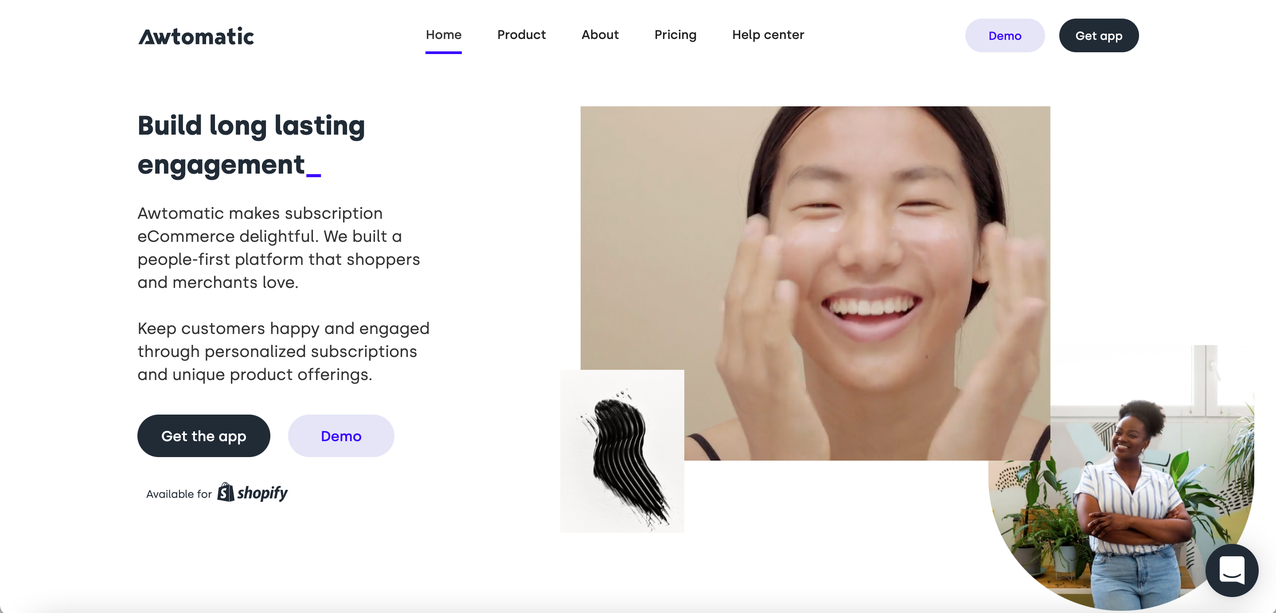 What It Does: Awtomatic helps manage subscriptions or monthly boxes. For example, customers could subscribe to a monthly box of clothes or coffee, bringing in recurring revenue for your business.
How It Benefits You: You can work on fostering long-term relationships with your customers through monthly subscriptions. It also offers ways to encourage those subscriptions on your site to make it a seamless experience for your customers.
Cost: Awtomatic is free to install and set up, but there are monthly charges once you go live on your store. The pro plan is $99 a month, and the enterprise plan is $299 a month.
3. Cogsy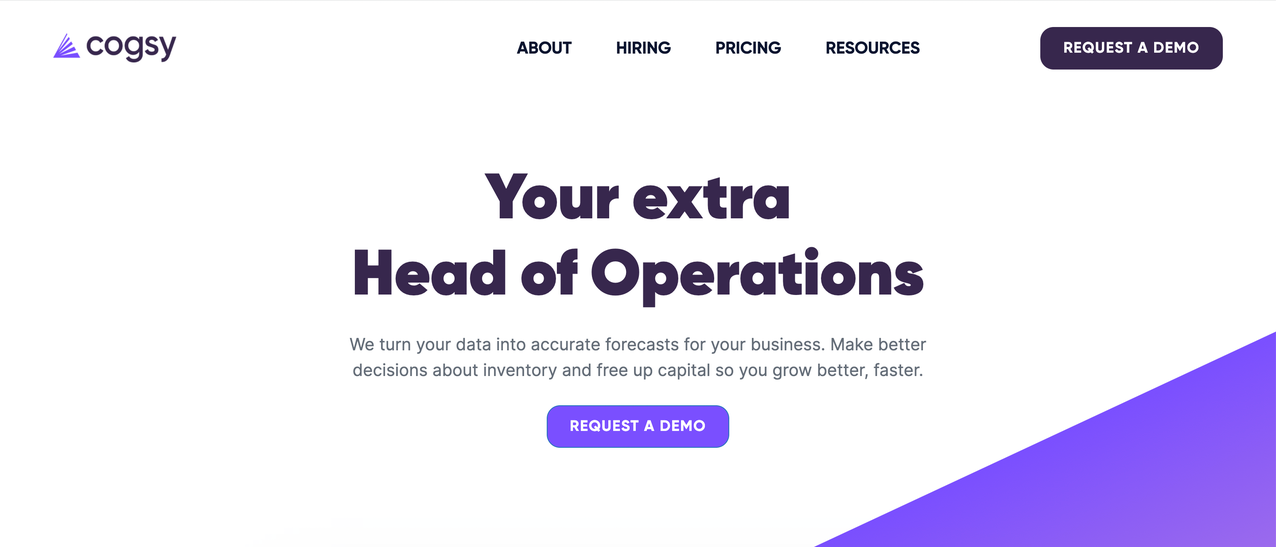 What It Does: Cogsy creates sales forecasts based on your existing data, making it easier to order stock in the most cost-effective way.
How It Benefits You: Spreadsheets can fall subject to human error, and it's not always easy to keep them updated when you're a busy store owner. Cogsy can automate your sales forecasting, update your inventory in real time, and generate purchase orders.
Cost: If your shop's annual revenue is $250,000 or less, Cogsy is free to use. Between that and $2 million in revenue, monthly fees start at $69 a month. Its advanced plan starts at $199 a month.
4. co-op commerce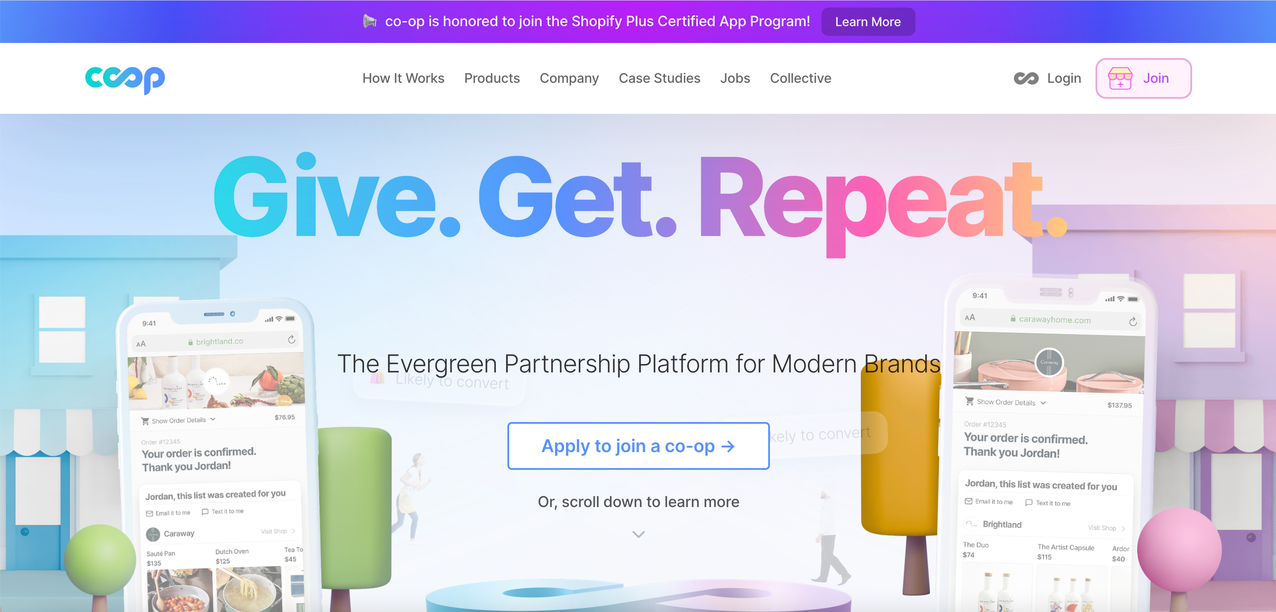 What It Does: co-op commerce offers a partnership platform, giving brands the opportunity to cross-promote each other and help lower costs associated with advertising.
How It Benefits You: When you're partnered with other brands, your products display on their sites when someone completes an order, providing you with cross-selling and upselling opportunities. Its AI engine will recommend sites for you to partner with. Plus, it also provides you with analytics and reporting so you can see where most of your sales are coming from.
Cost: co-op doesn't publish its costs online, so you'll need to reach out to get more information.
5. EcoCart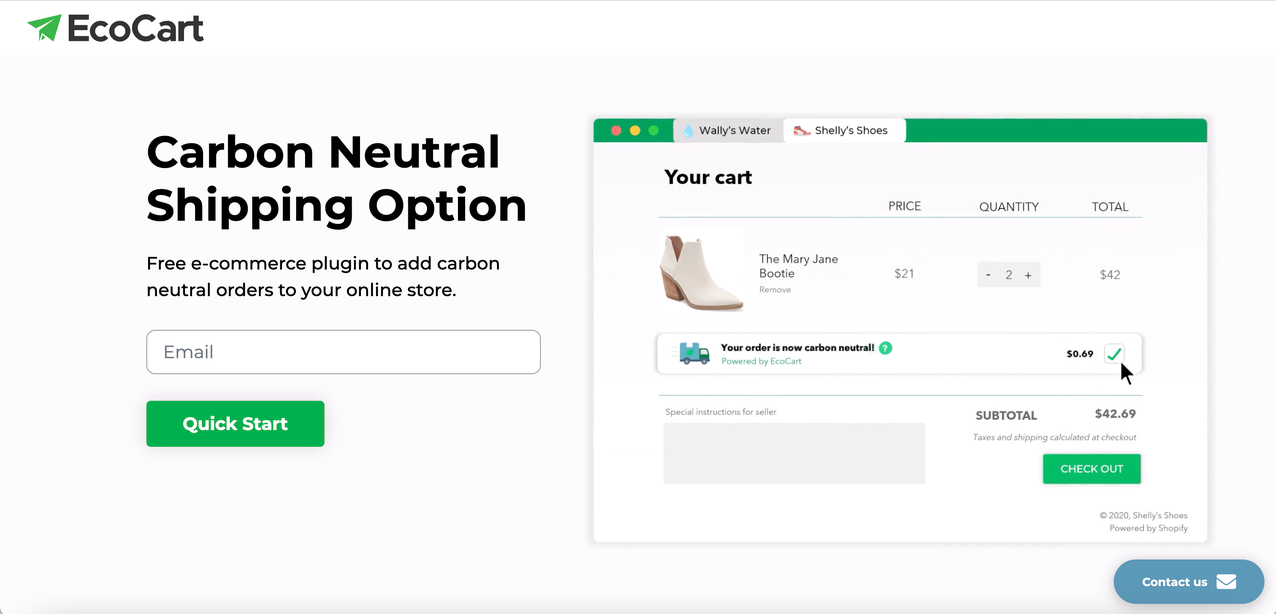 What It Does: EcoCart gives merchants the opportunity to offer carbon-neutral shipping options, lowering your store's overall impact on the environment.
How It Benefits You: Customers will see that you're supporting the environment with your store. According to EcoCart, 88% of customers are more loyal to a store that shows they care about environmental issues.
Cost: EcoCart is completely free for merchants to install and use. It charges the customer an optional fee of 1% to 2% to make their order carbon-neutral.
6. Gorgias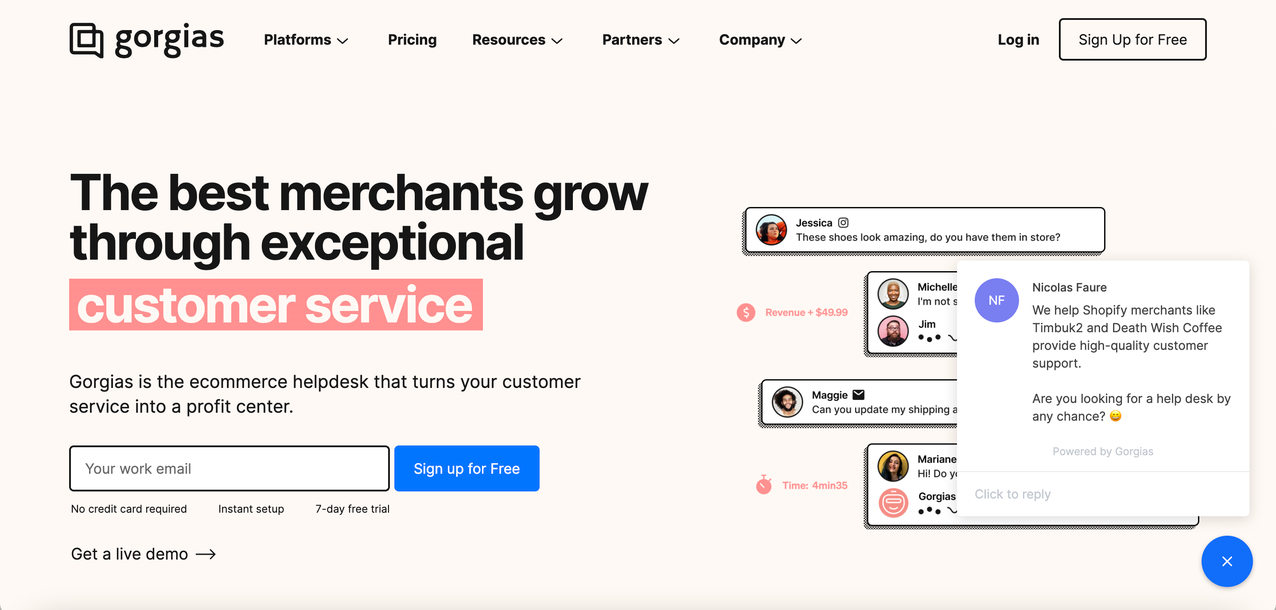 What It Does: Gorgias centralizes your incoming customer queries in one place and also includes their data so you don't have to spend time looking it up. It also offers automated answers to your FAQs.
How It Benefits You: Gorgias' biggest selling point is that it saves time for you and the customer asking questions. It fills in customer data so that you can respond as quickly as possible without having to ask them for their order number or shipping address. Gorgias can automate up to 20% of customer support tasks.
Cost: Gorgias has different monthly plans starting at $50 a month and also offers custom plans for larger companies.
7. Govalo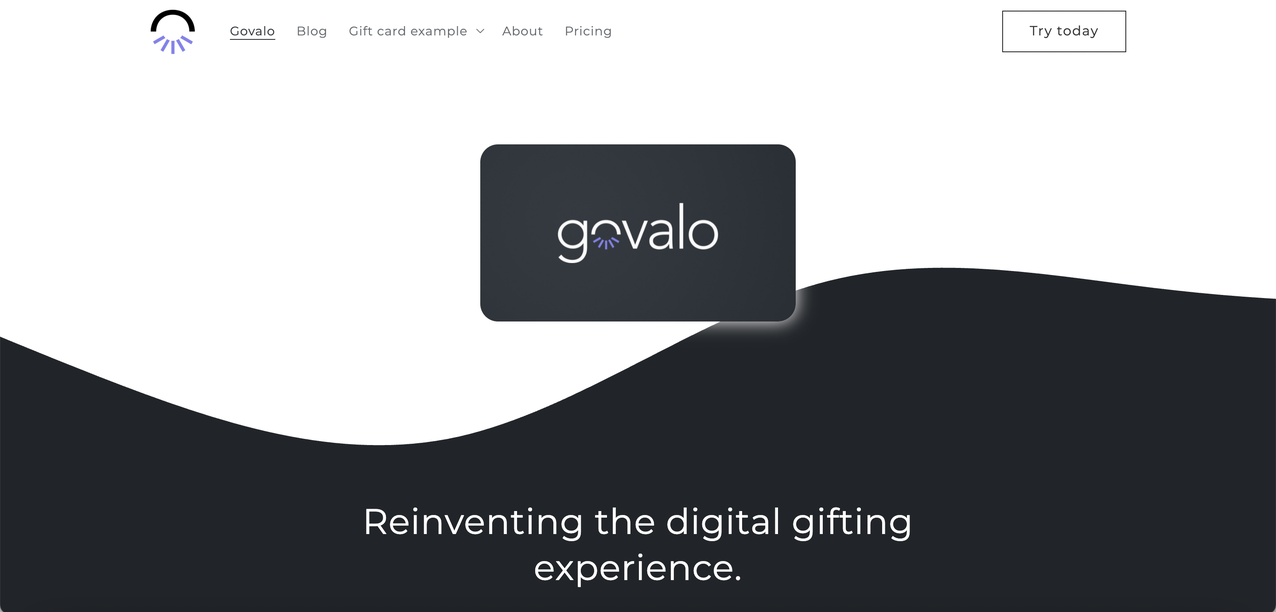 What It Does: Govalo offers custom digital gift cards that can be white-labeled, sent to recipients via email, and also gives detailed analytics around how those gift cards are performing.
How It Benefits You: With digital gift cards as an option, you can offer them to customers at any time. This helps generate revenue for your store and can bring new customers to your site if someone sends them a gift card to use. Govalo is working to modernize the gift card concept for Shopify store owners.
Cost: To use Govalo, you need to sign up for one of its three plans. It has one plan that doesn't have any monthly fees, but it charges 2.9% of the gift card value. The next plan is $50 a month and charges 2.25% of each transaction. The third tier is $250 a month and charges 1.5% of each purchase.
8. IgnitePOST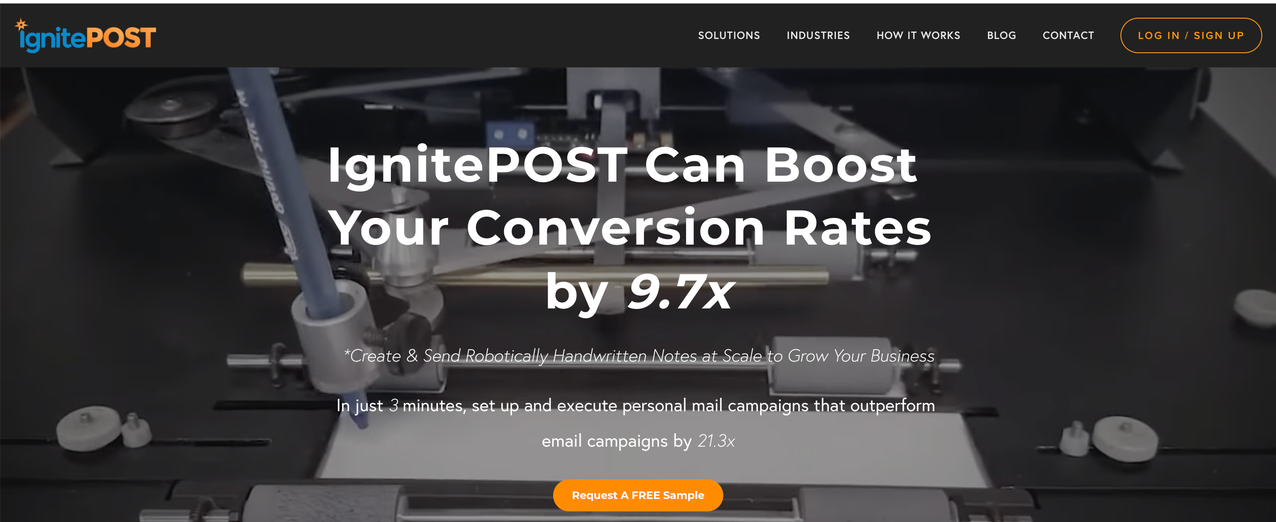 What It Does: IgnitePOST sends out handwritten notes to customers, giving shop owners a distinctive way to reach them besides email and social media posts.
How It Benefits You: Emails can get lost in inboxes and spam filters, but handwritten notes stand out. According to IgnitePOST, these types of campaigns outperform email campaigns by a factor of 21.3. The app integrates with your CRM software and can send out notes for any automatic triggers that you set up. This saves you time, as you don't have to sit there and write notes yourself. IgnitePOST handles it all for you.
Cost: IgnitePOST offers three plans: standard at $39 a month, business at $159 a month, and growth at $599 a month. There's also custom pricing available at an enterprise level.
9. Junip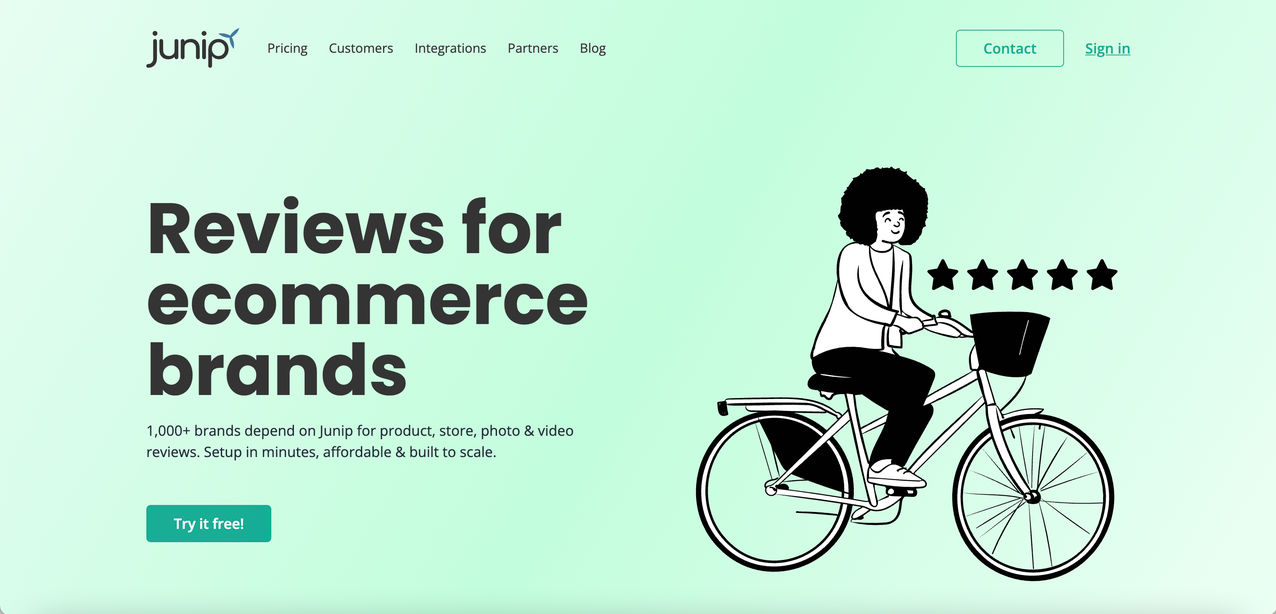 What It Does: Junip is designed to help online stores display photo and video reviews, Google review snippets, and more. It also offers an SEO and reviews page so that your ratings will show up in search results.
How It Benefits You: According to their site, Junip review requests get a 10%+ submission rate, which means more reviews for you and more opportunities for you to build trust on your site. It automatically sends review requests on your behalf after a customer purchases a product, taking it off your to-do list.
Cost: You can sign up for a free trial and then choose from three different price tiers: essential at $19 a month, standard at $74 a month, or pro at $299 a month.
10. Loox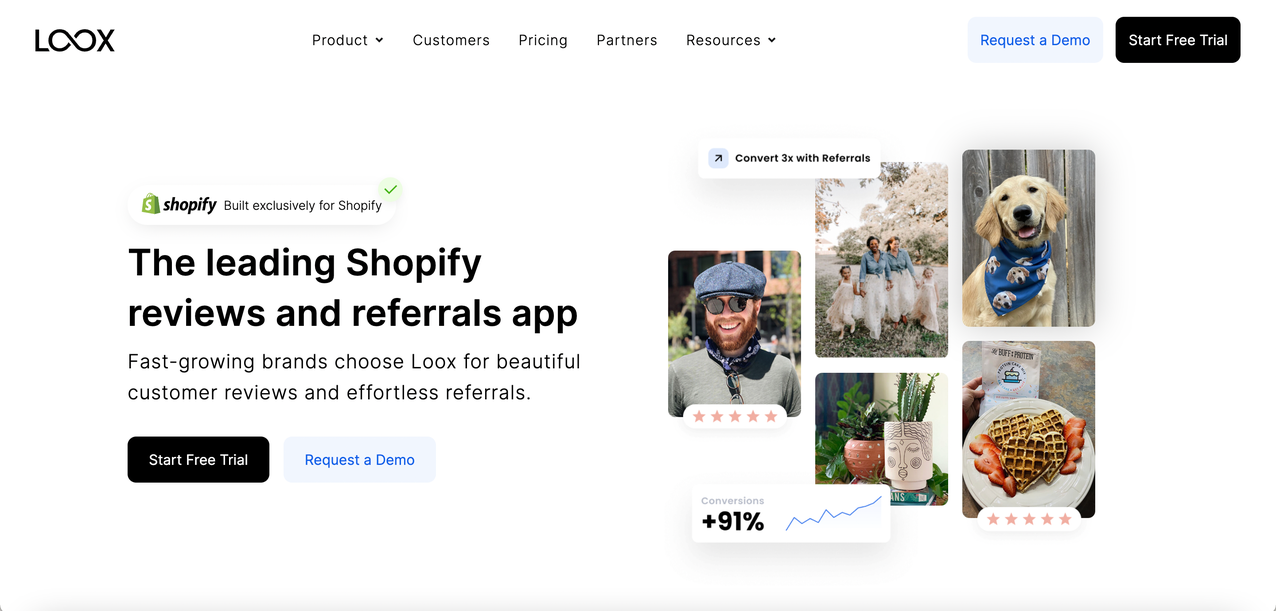 What It Does: With Loox integrated into your Shopify store, you can increase customer reviews and referrals automatically. Loox sends out emails to your customers, asking them to provide reviews and referrals for your store.
How It Benefits You: New customers often look for social proof in the form of reviews or referrals, whether it's on your site or a social media platform. Plus, referred customers are 3x more likely to convert than leads brought in through paid efforts, according to Loox, which is a huge benefit for your store.
Cost: Loox offers a free trial and monthly plans. The basic plan is $9.99 a month, while the unlimited is a monthly fee of $599.
11. Malomo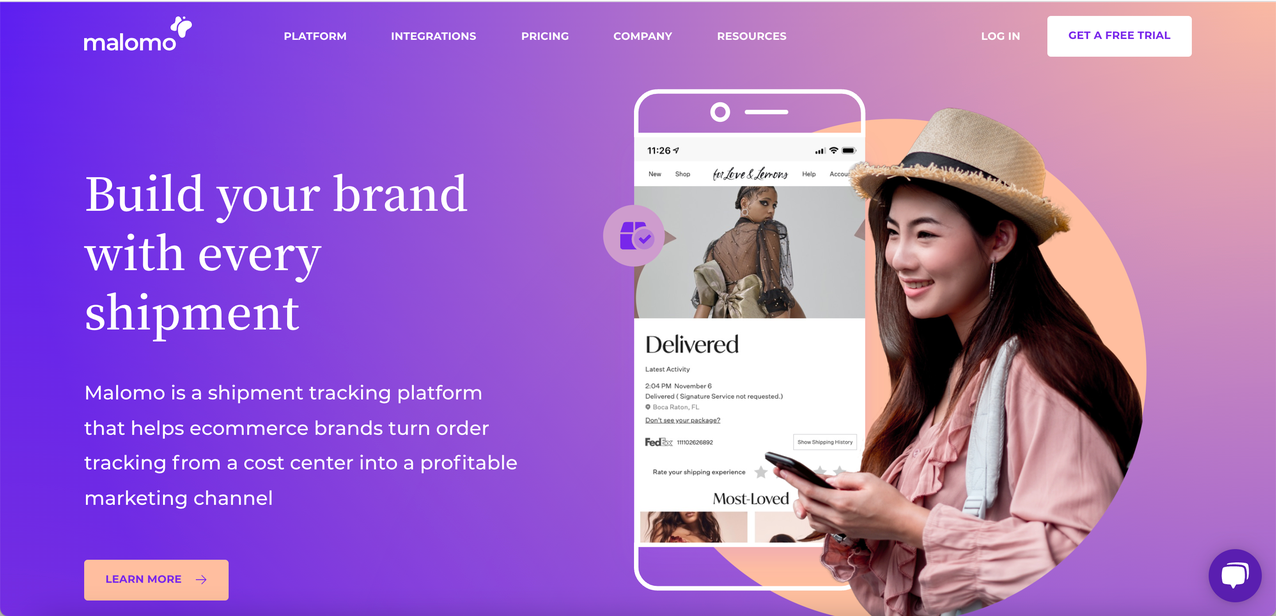 What It Does: The customer experience doesn't end once they click the purchase button, and Malomo knows that. It offers a platform that turns shipment tracking into a way to keep marketing to your customers and proactively monitor their shipments.
How It Benefits You: With Malomo, you can capitalize on the times that customers check their shipment tracking by creating custom pages that display other items or education about your products. You also get a way to monitor both customer engagement and shipping carrier performance.
Cost: Malomo has a free 30-day trial, and then after that, you can choose the $99 a month plan or create a custom pricing plan.
12. Order Bump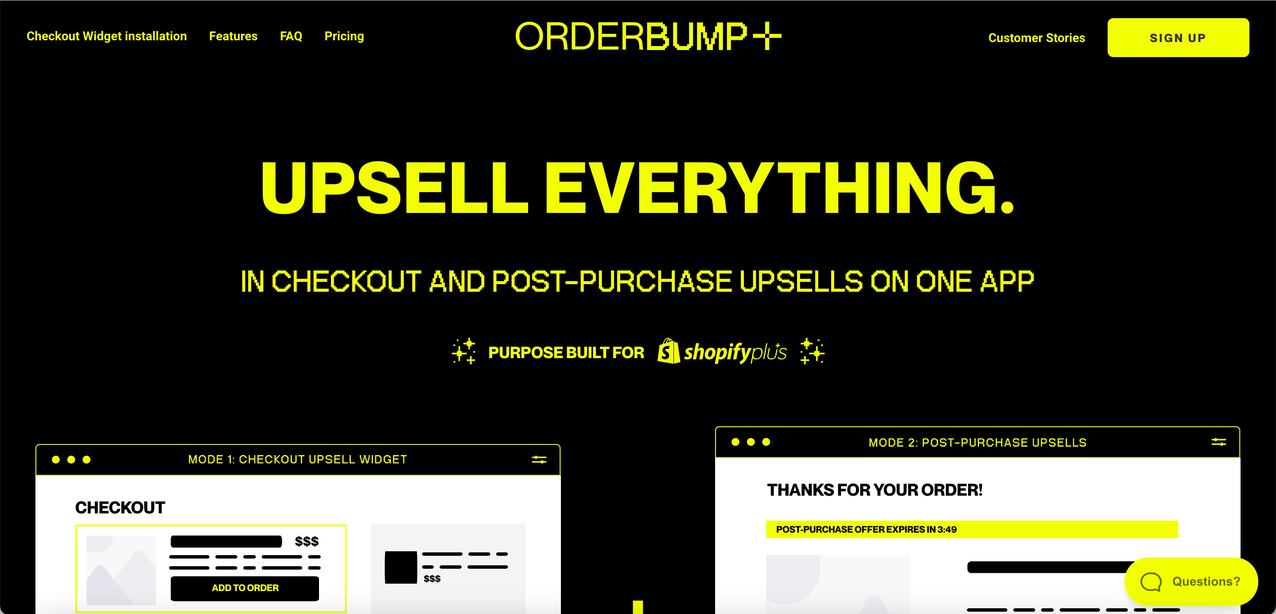 What It Does: OrderBump offers checkout upsells and post-purchase upsells. It tracks how many orders are "bumped up" with upsells, how your products perform, and how much revenue its app helps generate.
How It Benefits You: If you're upselling, you could see a higher average order value. OrderBump positions it like the candy rack in a store checkout line – if someone sees something they want to buy at the last minute, they may add it to their order, boosting revenue for your store.
Cost: You can try it for free for 14 days. From there, the price increases to $39 a month. If you have Shopify Plus, it's $139 a month.
13. PageFly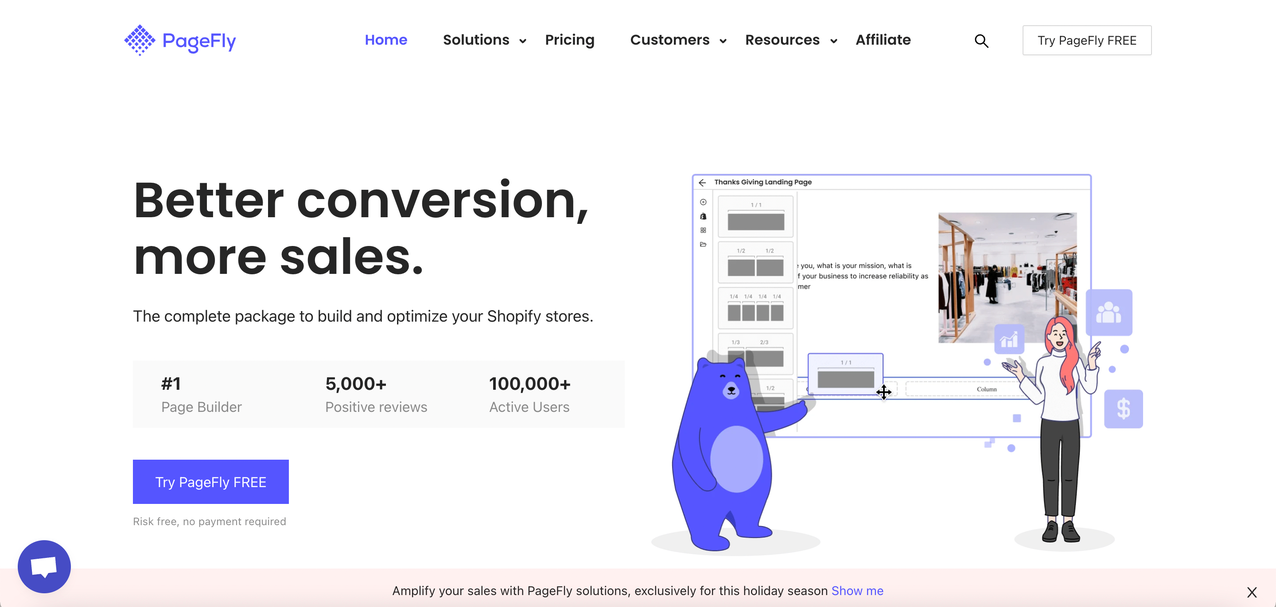 What It Does: PageFly offers a page-builder app for Shopify stores, allowing you to create custom landing pages, product pages, and a homepage.
How It Benefits You: Not everyone knows how to code a page. PageFly removes that block by providing a user-friendly, intuitive drag-and-drop interface where store owners can create their own landing pages without slowing down site speed.
Cost: If you want to just try it out, PageFly provides a free plan. The next option, the silver plan, starts at $19 a month, and the paid plan options increase from there.
14. Peel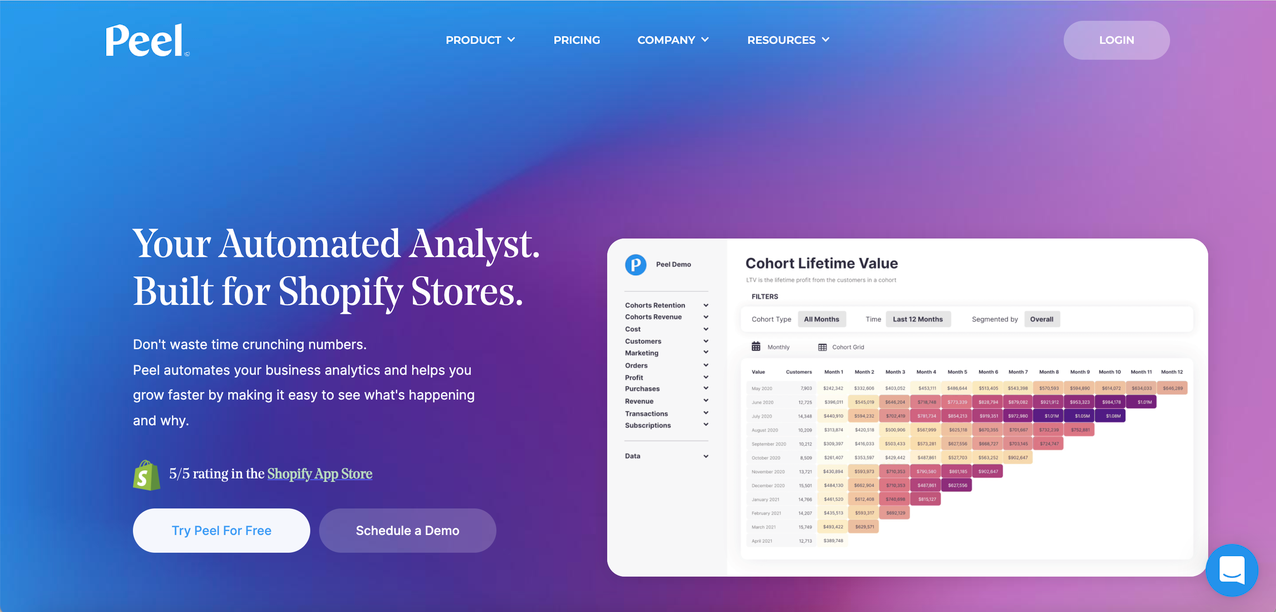 What It Does: Peel automatically monitors more than 100 different metrics for your store, giving you the information you need to make data-driven decisions.
How It Benefits You: You get insight into growth rate, gross profit margin, customer retention, marketing spend, order management, and so much more. This gives you the opportunity to make decisions in real time and be proactive instead of reactive if, for example, your marketing spend is not bringing in results.
Cost: Peel has a 15-day free trial, and then the monthly price increases based on the number of orders your store has. Plans start at $149 a month for up to 1,500 orders a month.
15. Printful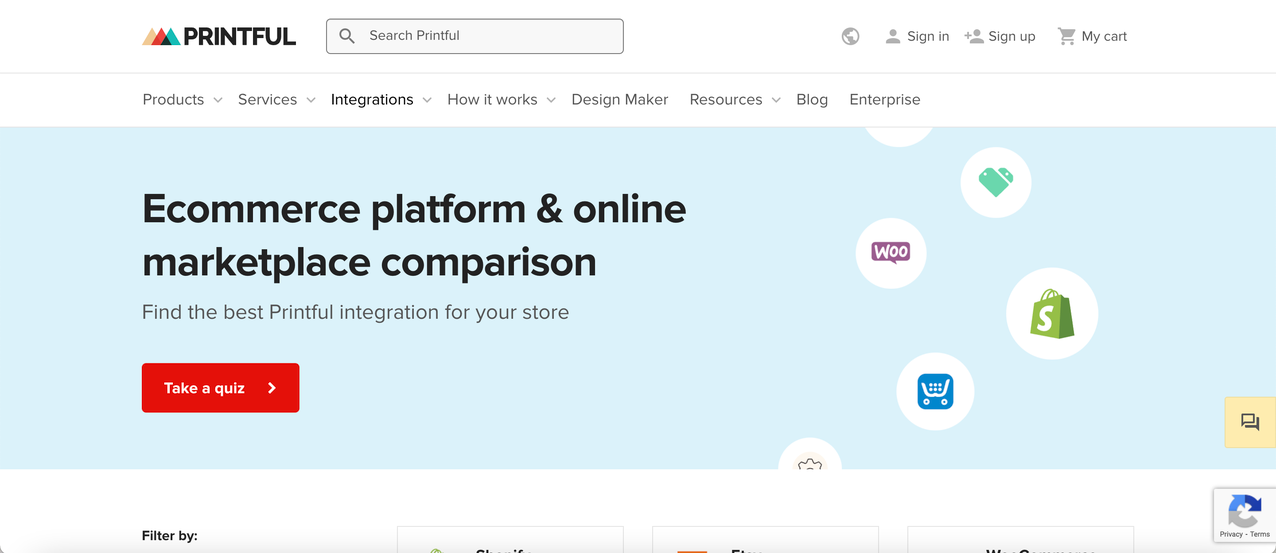 What It Does: Printful provides print-on-demand dropshipping services as well as logo design and other creative work. You can also submit your own designs to print on T-shirts, sweatshirts, blankets, and more.
How It Benefits You: One of the biggest perks of Printful is that you, the store owner, do not have to create or ship anything that's ordered. It handles it all for you and will ship your orders under your brand. It also offers hundreds of custom items, and your customers can create their products in your storefront with Printful's personalization tool.
Cost: If you plan to integrate Printful with your Shopify store, there is a monthly fee starting at $29. You'll also pay a transaction fee.
16. Privy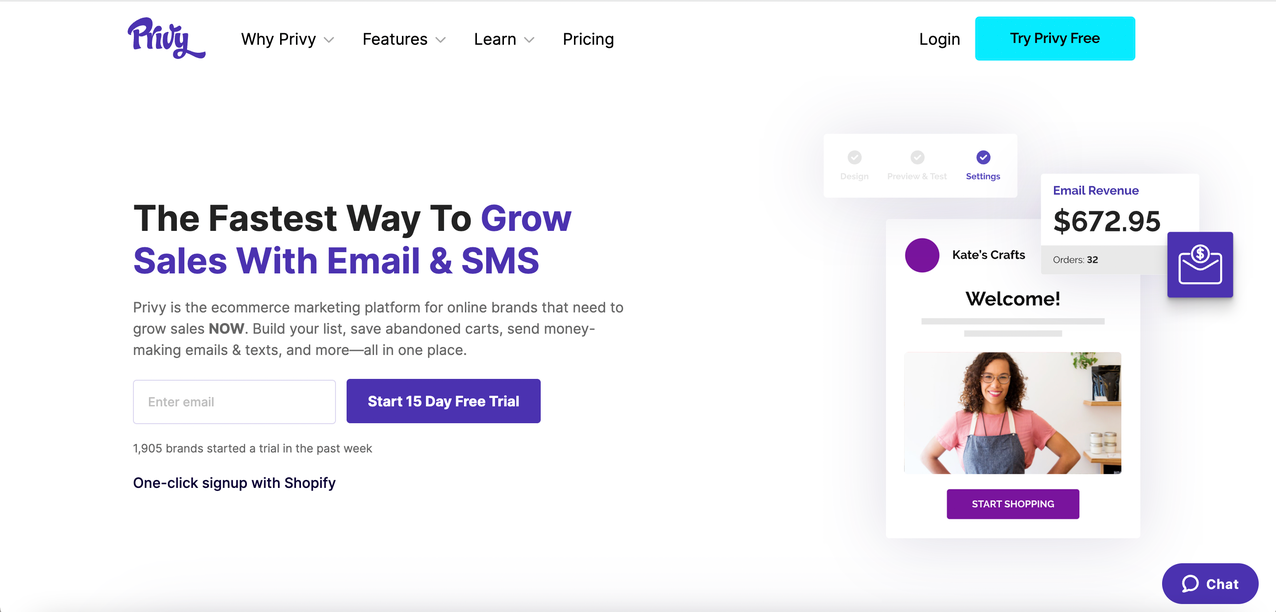 What It Does: At Privy, we offer an all-in-one marketing platform for ecommerce stores. This means you can control your email marketing, create popups, send abandoned cart messages, set up a free shipping bar, launch SMS messaging and so more.
How It Benefits You: Privy users often see an uptick in conversion rates and sales. Plus, you can manage all your marketing in one intuitive dashboard. You can also automate emails and texts, saving you time and driving sales all year, especially around key retail times like Black Friday and Cyber Monday.
Cost: You can try Privy for free up to your first 100 mailable contacts. From there, the Starter Plan starts at $15 a month, and the Growth Plan starts at $45 a month.
17. Shogun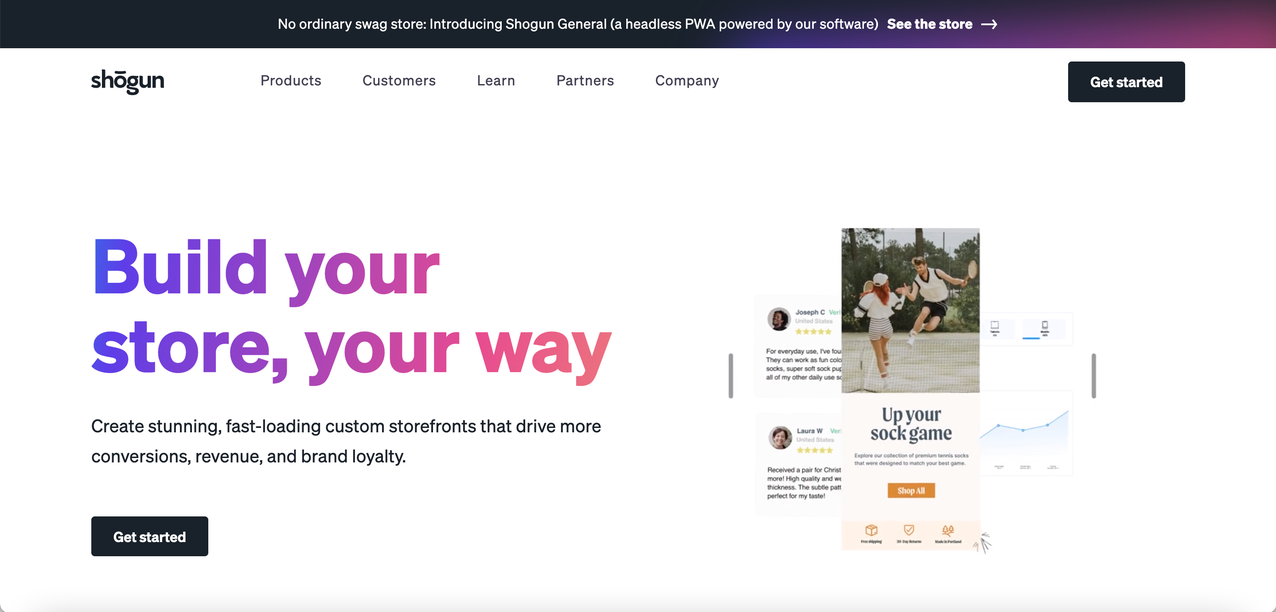 What It Does: Shogun offers page-builder capabilities, allowing you to create customized storefronts. It also provides the tools to make a headless commerce web app, meaning you can separate your website's front end from the Shopify back end.
How It Benefits You: Being able to distinguish your front end from Shopify's templates can be beneficial for a number of reasons, but most importantly it means you have the ability to customize your site design and drastically improve your page speed. You still have all the functionality of Shopify's back end, including checkout, but you get a more user-friendly front-end experience for your customers.
Cost: Shogun's platform is available at different pricing levels, starting with free for one page and going up to $999 a month for custom enterprise plans.
18. Skio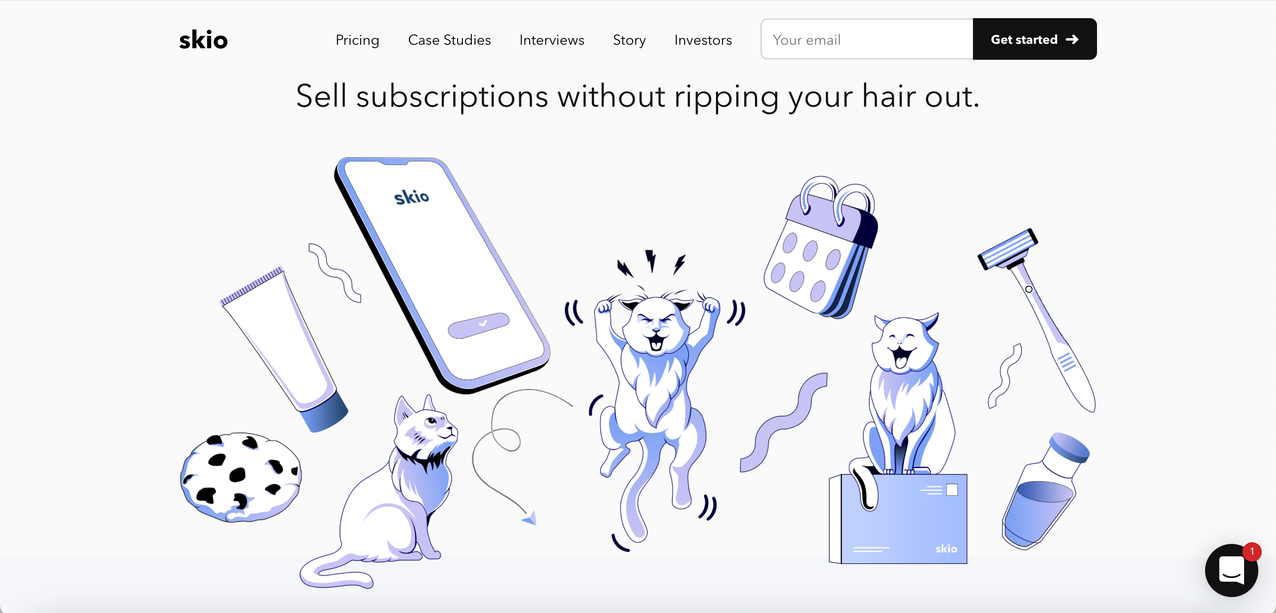 What It Does: Skio offers a subscription portal where users can edit subscriptions quickly and customers can log in without a password. It also gives unique customer referral rewards in the form of group discounts, which can help increase retention.
How It Benefits You: One of Skio's differentiators is that it offers a mobile-friendly dashboard, so merchants can manage customer subscriptions on the go. It also provides a one-click checkout, which it says increases conversions by 72%. Plus, its group discounts bring in new customers as customers recruit friends to join their subscription.
Cost: Skio has a free 60-day trial, and after that, it charges a $299 monthly fee, plus a 1% plus $0.20 transaction fee for every subscription. It also charges 3% for every group subscription.
19. Smile.io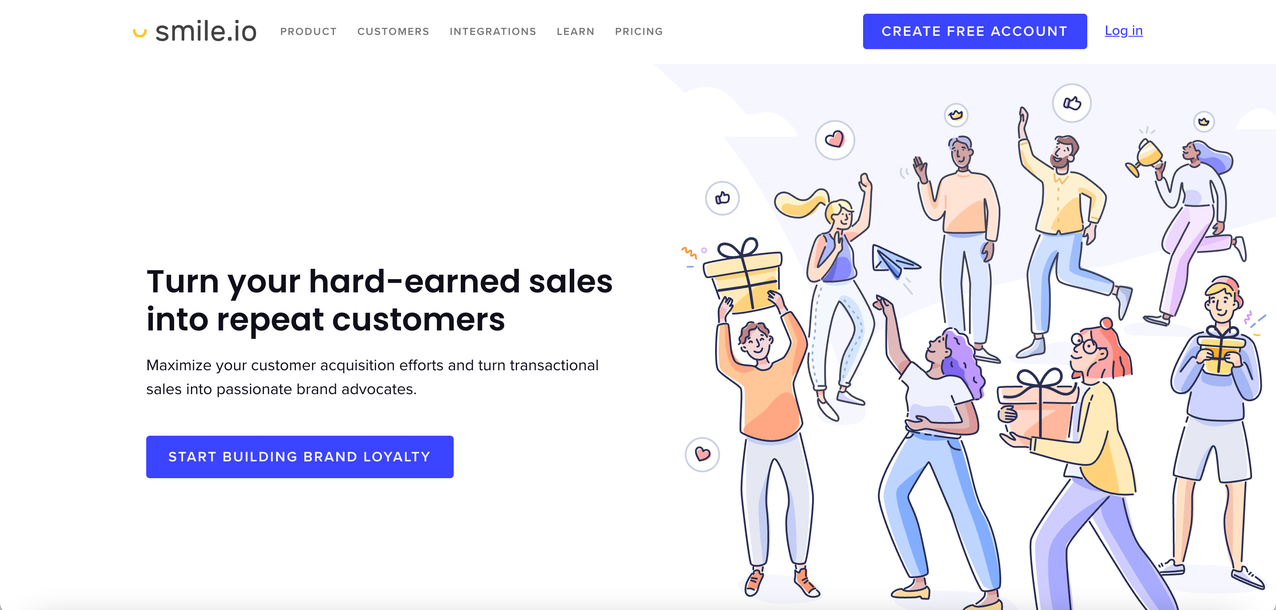 What It Does: Smile.io allows you to create a rewards program for your store. Customers can earn points for their purchases, join a VIP program, and get rewards for referrals or making product recommendations.
How It Benefits You: A loyal customer is a vital asset to your business, and offering them rewards through a loyalty program is a great way to foster that relationship. With Smile.io, you can automate that process and not have to micromanage every aspect of the program. Customers can become brand advocates for you and get reward points in return. Those points can be redeemed at your store, which encourages repeat business.
Cost: Smile.io's Starter Plan is $49 a month, the Growth Plan is $199 a month, and the Pro Plan is $599 a month.
20. soona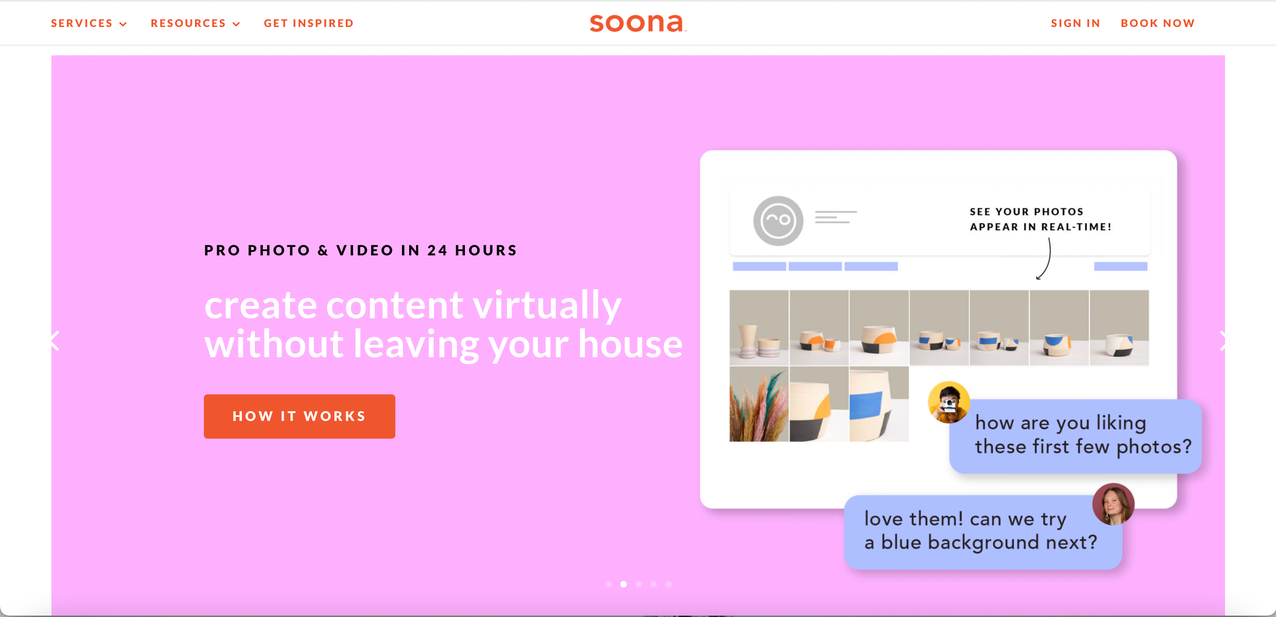 What It Does: Ship your products to soona and they'll create professional photos, GIFs or videos for your store that will elevate your site's look and feel. Because professional photos have never been more important.
How It Benefits You: You're able to virtually join the shoot, or you can go in person to one of its locations if you're nearby. The process allows you to give real-time feedback instead of waiting on the photos to come to you, shortening the typical photo shoot time. You select which photos you want to use and get them back in 24 hours. And if you've downloaded the Shopify app, you can add them to your site with one click.
Cost: soona's prices are a la carte. Each photo you choose is $39, and videos are $93 each. They also offer other add-ons for an additional price.
(App)ly this knowledge to your Shopify store for more efficiency in 2022
With the best Shopify apps like these at your side, you'll have the tools you need to have a great year. Maybe even your best ever.
With so much competition in the ecommerce space, simply having a Shopify store isn't enough.
Smart store owners should always be looking for new apps and add-ons that will give them an edge.
Subscribe for Updates
Get our best content on ecommerce marketing in your inbox 2 times a week.
Written by Lauren Hall
Lauren is a Brand Marketing Associate at Privy. She's the brains behind all things content. When she's offline, she's obsessing over her Bernedoodle pup, Monster, and plotting ways to being a full-time Vermonter ASAP.
Subscribe for Updates
Get our best content on ecommerce marketing in your inbox 2 times a week.