What Is Giving Tuesday? A Guide For Your Shopify Store
Published on Nov 24, 2021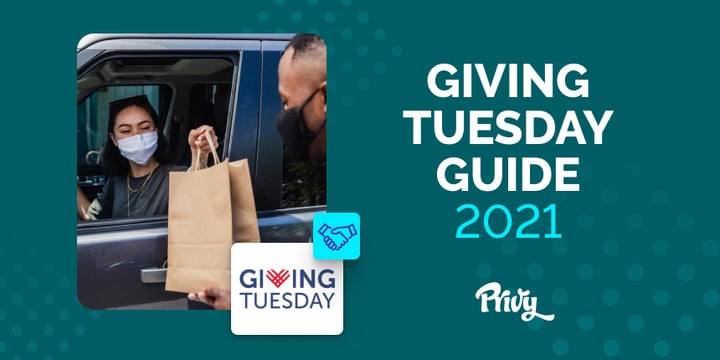 With the craziness of Black Friday and Cyber Monday, Giving Tuesday can be easily overlooked. But it's the perfect opportunity to give back and show your audience you care.
Giving Tuesday falls on the Tuesday after Thanksgiving and serves as the perfect counterpoint to BFCM. The tradition began in 2012 at the 92nd Street Y in New York City and quickly grew into a nationwide movement with the help of the co-founder of the United Nations Foundation.
Now, people across the country (and the world) donate either time or money to nonprofit organizations to contribute to the Giving Tuesday movement's mission, which is to do good through radical generosity.

The day is a great opportunity for individuals to give back to their communities, and it's also a time for businesses to prioritize their corporate social responsibility (CSR) and the ways they work to improve the world around them. Obviously, the first reason to practice CSR is that it's the right thing to do, and it's also a smart business move.

87% of Americans will purchase something from a company if they know that business has advocated for a cause they care about. If you practice CSR and highlight the issues you care about, you could earn devoted customers who spend with you this holiday season, even after the hubbub of Black Friday and Cyber Monday dies down.
Get our best content on ecommerce marketing in your inbox 2 times a week
Ways to participate in Giving Tuesday
As a business owner, you have ample opportunity to be a part of this day, whether it's through your direct involvement, getting your employees involved, or encouraging your customers to participate in a Giving Tuesday campaign. There are many ways to give back, including donation matching, direct donations, or volunteering your time.

For example, Facebook advertises that it will match Giving Tuesday donations up to a certain amount. Last year, that was $7 million. Granted, if you're a small- to medium-sized business, you probably can't match as much as Facebook does, but you can still tell your audience you'll offer a match to a point that's affordable for you.
Partner with a nonprofit
One of your first steps is partnering with a nonprofit for your company's Giving Tuesday initiative. If you're having trouble choosing one or don't know where to begin, sites like GuideStar or Charity Navigator can offer you information about 501 (c)(3) organizations and the issues they support.

While there are no rules about what charity to support on Giving Tuesday, it's a good idea to find one that aligns with your brand and its values. A small local business could seek out community-based organizations, while a large corporation could donate to a national charity.
Get your employees involved
Encourage your employees to donate or organize volunteer opportunities for them. Participating in Giving Tuesday can improve your team's perception of the company; according to charities.org, 71% of workplace donors say that they want to work for employers who have missions and values that align with their own personal values.

You can also match your employees' donations, which may incentivize them to help. According to Double the Donation, 84% of employees are more likely to donate if their company gives matching contributions. At Intuit, for example, employees receive five days off a year to volunteer, and they also match individual employee donations up to $5,000 yearly.
Send a newsletter

To get customers involved, send out newsletters communicating how you plan to work with nonprofits for Giving Tuesday. In the email below, Lyft does a great job of showing customers how they can participate with their initiative and what their donations will go toward.

Your email newsletter campaign can be as extensive as you want. For example, start communicating your fundraising efforts early, telling customers that a portion of Black Friday and Cyber Monday purchases will go to a nonprofit – and your giving doesn't have to end on Giving Tuesday if that's something your small business can sustain. Lyft advertises that they'll work with their featured nonprofits throughout the holiday season.

After Giving Tuesday, continue to send emails during the giving season to highlight success stories from the charity you work with. This helps customers see that their purchases made a difference and helps to keep your company in their minds as they do any last-minute shopping. To simplify this process (and make sure it doesn't fall by the wayside during the holiday hubbub), use a platform like Privy to create and schedule your Giving Tuesday email campaign.

Create social media posts
Along with email, create a social media campaign for your company's Giving Tuesday initiative. People can find your posts via commonly used hashtags like #GivingTuesday and be inspired to donate or check out your store. If you need images or other graphic resources for these posts, you can get them on givingtuesday.org.

Schedule posts leading up to Giving Tuesday so your audience knows you have plans to donate.

After Giving Tuesday is over, make a few posts that show how the online donations or your nonprofit partner are making a difference or social impact.
Add a banner and popups to your homepage
During the Black Friday and Cyber Monday shopping days, promote your initiative on your site and let people know where the proceeds are going. Make it clear on your homepage which nonprofit you're working with, and consider providing some data as well. If donors have a better understanding of how their money is spent, their donations could stretch even further, according to a recent Harvard study.

On your homepage, put up a banner that advertises your Giving Tuesday donations or add navigation that directs people to a donation page. To create an even bigger impact, you could create a welcome popup in your Privy platform that directs visitors to donate.
Encourage customers to give by providing them with a discount code for their next purchase if they make a donation. You can also include a checkout option for customers to donate by rounding up their purchase to the nearest dollar.
Make sure you're giving your all this Giving Tuesday
On Giving Tuesday, do what you can to benefit others and your online shop by following these practices – and use Privy to make your initiative go as smoothly as possible.
Privy can help you create popups, banners, emails, and texts to share your Giving Tuesday campaigns and encourage your audience to take action.
Subscribe for Updates
Get our best content on ecommerce marketing in your inbox 2 times a week.
Written by Lauren Hall
Lauren is a Brand Marketing Associate at Privy. She's the brains behind all things content. When she's offline, she's obsessing over her Bernedoodle pup, Monster, and plotting ways to being a full-time Vermonter ASAP.
Subscribe for Updates
Get our best content on ecommerce marketing in your inbox 2 times a week.