7 Ways To Sell Online Without Inventory
Published on May 25, 2022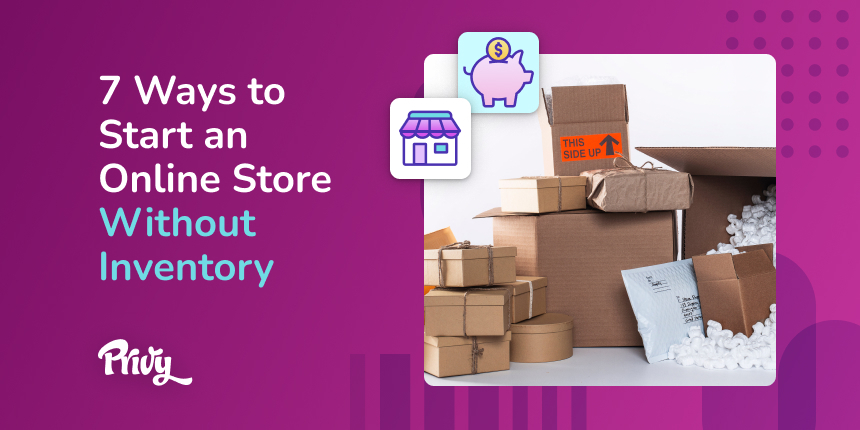 Turns out people love working and shopping from home.

In 2021, there were between 12 to 24 million online shops. For both retailers and consumers of this generation, the digital marketplace has become what brick-and-mortar stores and malls were in the '90s.

So, for those happy at home, short on space, but brimming with entrepreneurship tendencies, starting an online store is really tempting. But making an upfront investment in inventory is out of reach for many people. For them, the best option might be to open an online store without inventory – are these for real, though, or are they too good to be true?
Starting an online store without inventory is possible, but there's no one-size-fits-all approach to doing it. Understanding the different options available within this business model will make it easier for you to know which method is suitable for you.

Here are 7 ways to start an online store without inventory.
Get our best content on ecommerce marketing in your inbox 2 times a week
1. Dropshipping
Simply put, dropshipping is when a store owner acts as a middleman between customers and vendors. Vendors supply their goods virtually through resellers and affiliates who then pass them along to customers.

Products are mirrored in numerous reseller shops. This means the dropshipper "basically finds products, imports them to [their] store, changes the description so that they look more professional, and changes the price." Resellers (or "dropshippers") sell these products without ever having to keep inventory on-site. Each sale earns resellers a commission, while the vendor handles the order fulfillment and ships the item directly to the consumer.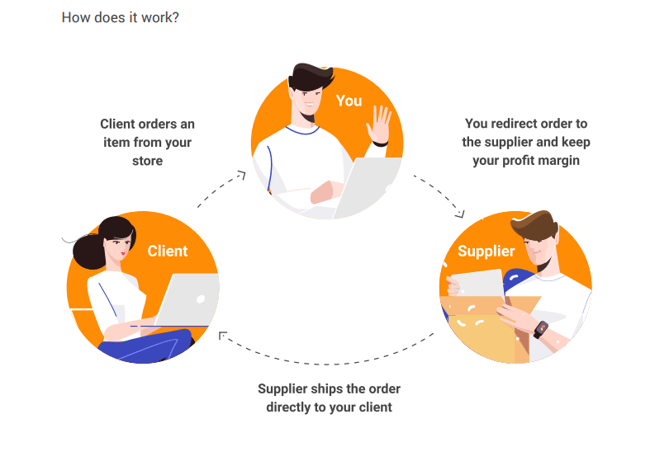 Source
Dropshipping pros
The dropshipping approach is a relatively low-risk and low-effort way to operate an online store. You don't have to design any products yourself; just choose which ones to promote. With all of that free time, you can focus on marketing and driving sales. In a nutshell, your job is to find a vendor to work with, set your own product price, start offering their products, and passively earn that income.
Dropshipping cons
Dropshipping seems like it's too good to be true. But there are genuine drawbacks to consider. Dave Arnold from TabletopMonthly shared that he "dropped the dropshipping because margins were low, cost of return inventory was too high, and, most importantly, shipping from a third-party warehouse led to too many "where is my order" customers questions. The return was not worth the added frustrations."

Additionally, if you offer multiple products, you'll need to make multiple dropshipping arrangements with multiple distributors and manufacturers. This can ultimately make things more complicated.
When dropshipping is the perfect fit
Still, dropshipping can be perfect for sellers with little to no start-up capital and online retail newbies.
2. Print on demand (POD)
Going the print-on-demand (POD) route means you're working with a supplier of white-label products (think totes, T-shirts, and baseball caps) to customize and sell those products. Products are made to order and sold under your designs and brand.

To maximize this method, you can pair brand licensing with your print-on-demand services to create products that already have a strong brand following. Licensing will further cut your profits, but it elevates your brand and product reach; for example, obtaining a license from Disney. POD is a win-win for both the licensor and licensee. In fact, print on demand was a cornerstone of Disney's licensing strategy for its Disney Plus streaming service, and partnering with a mega-brand can potentially blow your store up (you see? win-win).
Print on demand pros
There are a few benefits to this model. First, there's no bulk printing – (emphasis on the "on-demand" part). This means there's no financial gamble for you and 0 chance of ending up with surplus stock. Second, there's no equipment for you to purchase because your supplier handles the printing. Third, before investing in your own equipment, this is a good way to slowly and organically grow your brand.
Print on demand cons
Like dropshipping, you don't handle the product, so you have minimal control over quality and fulfillment. Additionally, you're dependent on your printing partner's availability, so order fulfillment times can take longer.
When print on demand is the perfect fit
Print on demand, like dropshipping, is perfect for the newbie and the 'low startup capital' seller. Additionally, young brands looking to branch out can do really well with POD and the right partner. However, as the digital marketplace continues to grow, this model is fast becoming oversaturated.
3. Use a third-party logistics (3PL) partner
A third-party logistics partner or third-party warehouse offers a full range of ecommerce fulfillment needs. In this online store model, you do (technically) have inventory, but you will never see it, store it, or ship it yourself. From inventory upkeep to order processing and warehousing to shipping and receiving, a 3PL partner is the ultimate middleman between retailers and manufacturers/suppliers.

While this approach might sound like dropshipping, it's more nuanced than that.
1. First, retailers purchase the product in bulk/wholesale directly from the manufacturer.
2. The manufacturer ships the product to the 3PL partner, where it's inventoried and warehoused.
3. Once the product has been inventoried, the retailer can start listing the product as available in their online store.
4. Customers purchase from and pay the retailer.
5. Last, the retailer updates their third-party partner, who then ships the product directly to the consumer.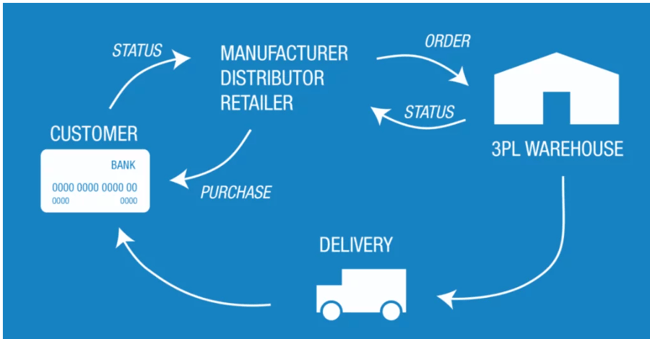 Third-party logistics pros
Outsourcing the most difficult parts of online retail leaves you available to focus on things like marketing. Additionally, 3PLs often have the latest supply chain automation technology, which gives the retailer insight and access to real-time data (like product availability and tracking). Resellers or affiliates operating without a third-party partner are at the mercy of their manufacturer/supplier and without the real-time logistics they need to help customers.
Third-party logistics cons
The 3PL model offers a lot of convenience, but that convenience comes with a potentially high price tag.
When third-party logistics is the perfect fit
This digital retail model is best for already established stores with a steady customer base. Etail newbies or less established marketplaces are better suited for dropshipping or print on demand.
4. Fulfillment by Amazon (FBA)
Fulfillment by Amazon (FBA) "is a service that helps businesses grow by providing access to Amazon's logistics network." Companies/sellers ship their products to Amazon fulfillment centers. When a customer purchases the product, Amazon will handle receiving the order, packing and shipping the order, and any customer service issues (like returns). Similar to a 3PL partner, you will technically have inventory – you will just never actually handle it.

FBA is almost like the lovechild of dropshipping and a third-party partner.
Fulfillment by Amazon pros
There are many benefits to partnering with one of the most advanced systems of fulfillment centers in existence today. First, are the new seller incentives Amazon offers to entice e-retailers to this model. These incentives include promotional ad clicks, free shipping and storage to Amazon fulfillment centers, and free returns processing.

Additionally, you and your ecommerce consumers have access to Amazon's 24-hour customer support services.
Fulfillment by Amazon cons
Like a 3PL partner, these FBA services come with a price that you may not be prepared to pay. Furthermore, because of the fees associated with FBA, sellers must be discerning about the items they offer – low-cost items would not serve this online retail model well.

Perhaps the most glaring con is Amazon's incredibly liberal return policies. Yes, Amazon will still handle the processing of returns, but the potential for their return policy to affect your bottom line is real.
When fulfillment by Amazon is the perfect fit
With Amazon taking care of everything, this model is perfect for retailers with fantastic sales and marketing skills (that Amazon won't do for you). This model is also geared toward mid-high ticket items and stores or brands that are already established and with a secure consumer base.
5. Affiliate store
Opening an affiliate store, like dropshipping, means you won't have to source products. Unlike dropshipping, though, you don't get to set your own product prices as an affiliate store. Instead, as an affiliate store, you sell for other sellers who then pay you a commission.
Affiliate store pros
This online model has many of the same benefits as dropshipping. You save on time and effort, and without inventory, you can focus on things like marketing and driving more sales.
Affiliate store cons
Affiliate stores have difficulty making bigger bucks because they cannot set the product price. The payout as an affiliate store is generally much lower than dropshipping. Without this pricing power and the general costs of running an online store, it's much harder for affiliate stores to make bank.
When affiliate stores are the perfect fit
This e-tail model is best suited for those with little to no interest in sourcing products and those who are excellent marketers and salespeople.
6. Multi-level marketing
MLMs, while not embraced by everyone, still exist and are an option for selling online without stock on hand. And yes, for most people, recruiting and selling to their friends and loved ones feels kind of predatory and gross, but for others, this business model earns them some serious cash.

Here's how it works. First, picture a pyramid. Now, the people above you are your upline and take a piece of your profits, and those below you (downline), in turn, feed part of their profits up to you. MLMs, unlike actual pyramid schemes, are legal (they just feel icky to most people).

With an MLM, you can create websites online and sell directly to customers without inventory. In fact, most MLMs will build your site for you to direct your customers to. Some MLMs will even store your product for you, and you can determine how to distribute it.

Arbonne is the highest-rated MLM out there, and who among us doesn't know someone trying to sell them some Arbonne products…
Multi-level marketing pros
The first, most obvious benefit is the passive income you earn from your downline (the people you recruited as salespeople). MLMs also offer free training and marketing and website building and maintenance. Plus, if you go with the right MLM, you have the advantage of their already established business power.
Multi-level marketing cons
From recruiting your downline to finding customers to sell directly to, an MLM takes a lot of energy. Additionally, you're recruiting from your nearest and dearest, and your ability to earn income relies on them; this is enough to turn most people off this business model.
When multi-level marketing is the perfect fit
This model lends itself to all types, but it's best for those with enough energy to work their way up that pyramid (at all costs).
7. Digital products and services
Providing and offering digital products and services is a great way to sell online without inventory. Of all the methods listed so far, this is the only one where managing your "inventory" will not result in a smaller profit margin for you.

There's a huge spectrum of digital products and services you offer, such as:

Services – like tutoring or training

Educational courses

Books

Entertainment – like music, podcasts, or movies

Software
Selling digital products is without limit – meaning they can be sold online as many times as you want them to be.
Digital products and services pros
With almost no starting costs, the potential for growth in this ecommerce business model is enormous. From offering services, to courses, to music and software, the digital potential is huge.
Digital products and services cons
Initial product ideation and creation (what to sell) can be challenging. Sometimes, even after you have a product to sell, it's hard to prove its value, as many artists and writers can attest. Last, digital inventory is easy to copy and redistribute, which can affect the value of what you are trying to offer.
When digital products and services is the perfect fit
This ecommerce model is great for the tech-savvy. Additionally, you can start this as a side hustle and grow it at your pace.
Next steps: Building your online store without inventory
Let's be real – we just covered a lot of ground. So here's the TLDR:

1. Selling online inventory without inventory is possible.
2. Dropshipping, POD, 3PL partner, FBA, opening an affiliate store, MLMs, and digital products are the most popular ways to sell online without inventory right now.
3. Dropshipping, POD, and selling digital products are the best ways to get started if you have low start-up capital or are new to ecommerce.
4. 3PL and FBA are suited to already established stores, middle to higher ticket prices, and those who are great at marketing and sales.
5. Research a lot before going the MLM route.
6. Offering digital products or becoming an affiliate store means you never have to source products yourself.
Once you have the hang of selling online without inventory and you're ready to take your store even further, check out what Privy has to offer. Privy is already used by over 700,000 online merchants, and if you're on Shopify, Privy integrates seamlessly. With email campaigns, website popups, and SMS marketing (all in a single platform), adding Privy to your Shopify store is a no-brainer. Here's how to learn more about Shopify and Privy.

If you sell on Wix, Privy is easily integrated here as well. With Privy, you can extend your email list, send newsletters, automate cart abandonment emails, and much more. Privy has already driven over $5 billion in online sales for more than 600,000 ecommerce businesses in 180+ countries. Read more about it here: Wix and Privy.
Subscribe for Updates
Get our best content on ecommerce marketing in your inbox 2 times a week.
Written by Lauren Hall
Lauren is a Brand Marketing Associate at Privy. She's the brains behind all things content. When she's offline, she's obsessing over her Bernedoodle pup, Monster, and plotting ways to being a full-time Vermonter ASAP.
Subscribe for Updates
Get our best content on ecommerce marketing in your inbox 2 times a week.