How Winc Became One Of The Fastest Growing Wineries In The World
Published on May 12, 2020
Written by Daniel J. Murphy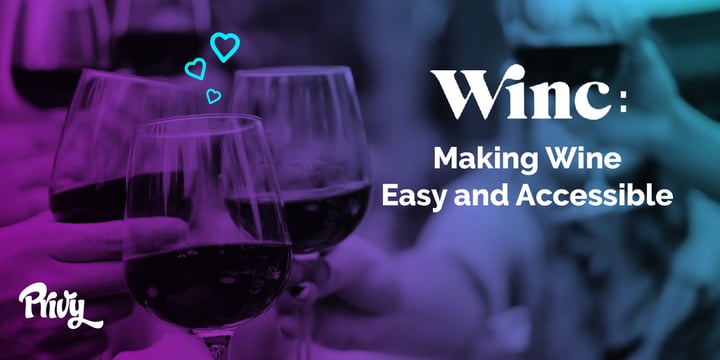 The customer is always right in the world of e-commerce. But in winemaking, bottles aren't usually crafted based on what consumers want. The thinking goes: people don't know enough about wine to have valuable input.

"I'm not going to be asking the market what it wants because they don't know what they want until I show them," a wine executive told Harvard Business Review.

Four entrepreneurs – Xander Oxman, Geoff McFarlane, Brian Smith, and Mark T. Lynn – flipped that idea on its head in 2012 when they started Club W (now Winc), an online wine subscription business. They founded the company on the premise that wine should be more accessible. A person should be able to find and appreciate great-tasting wines without a sommelier's knowledge.

Get our best content on ecommerce marketing in your inbox 2 times a week

Today, Winc lives up to that mission with wines that are driven by customer data. Unlike traditional winemakers, the Winc team crafts its recipes based on which wines shoppers enjoyed in the past. This approach has garnered over $200M in lifetime revenue and over 500K customers.



"To grow a brand by 600% year over year is unusual under any circumstance, but what's especially exciting about our approach is that it's

driven by consumer enthusiasm and feedback rather than traditional brute-force sales tactics,"

said McFarlane.

This growth is remarkable – but it makes sense when you compare Winc to conventional wine sellers. From its early days as Club W, Winc has differentiated itself by prioritizing the customer in its product experience.
Makes wine discovery easy and reliable
Even for the most advanced sommelier, it's impossible to know every wine available on the market. There are over 20,000 wines on Wine.com alone. That doesn't include the hundreds of thousands of bottles available globally that aren't registered with the site.

To simplify product discovery in such a crowded market, people started wine clubs in the 1970s. The model was simple: A winery picks a new bottle every month and sends it to subscribers.

By the early 2010s, a few wine clubs had gone online, but they still followed the traditional system of sending the same monthly bottle to everyone. Winc's four co-founders saw an opportunity to serve wine lovers better.

In 2012, they launched Club W, the first personalized wine club with the goal of making wine "simpler to get and easier to enjoy." Instead of sending the same bottle to every subscriber, which they might not enjoy, Club W sent different bottles to customers based on a sign-up survey about their tastes.

Knowing their shoppers weren't wine experts, Club W asked straightforward survey questions without sommelier lingo ("Do you like citrus?" and "Do you enjoy salt on your foods?").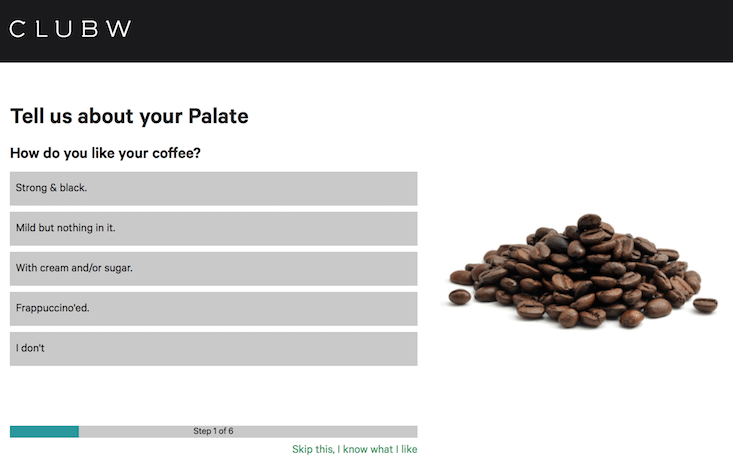 [Source]
The brand then sent third-party wines that matched subscribers' flavor profiles. After customers received their wine and rated it on the website, Club W used that information to recommend other bottles.

Besides helping people find wine they loved, Club W also helped subscribers fully appreciate their wine with add-on resources. Every wine bottle included a QR code that led shoppers to a 90-second video made by Winc about the bottle they had bought. Club W also sent subscribers recipe cards for meals that would pair well with their selected wines.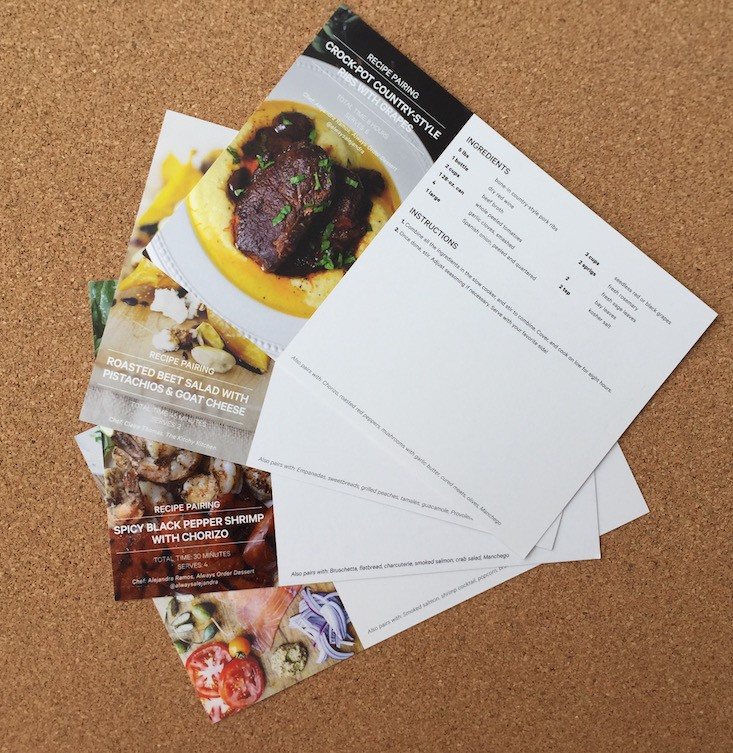 [Source]
The individualized attention Club W gave their shoppers was unprecedented for a wine seller – but it paid off. Within six months of launching in 2012, the brand already had 10,000 subscribers.

"We never thought we would have this many members," said Caroline Czirr, Winc's former Executive Vice President of Experience. "It's been extremely well received."

Investors took note and fueled Club W's success. The brand raised a seed round of $3.1M in February 2013 and a Series A of $9.5M in September 2014. With this funding, Club W would go on to attract even more customers with their curated approach to wine discovery.
Takeaway: Don't let your industry define your customer experience
The Club W team assumed that it would be worthwhile to go above and beyond for their subscribers, even if no one else in the wine industry was offering personalized service. And they were right. The everyday wine shopper appreciated how easy it was to discover bottles they loved through Club W. So the business grew organically.

Follow Winc's example and explore how you can make your product experience not just convenient, but also fun for shoppers.
Send personalized recommendations. Use the customer data you may already have. Survey shoppers, encourage them to leave product ratings and reviews, and track their purchase history to give solid suggestions. Many ecommerce platforms also allow you to track shoppers' site behavior, so you can see which items they're browsing or adding to their carts.
Simplify online ordering. Use this resource to make your checkout experience easier for shoppers to complete. You might also sell some products through a subscription, so shoppers don't have to think about reordering.
Highlight add-ons. Brainstorm extra resources you can include with purchases to enhance the product experience. If a shopper orders a scarf, send them a postcard in their package with ideas about how to wear it. A cookware company might email shoppers a video about how to cut veggies with the chef's knife they recently ordered.
Whatever you do for shoppers, never assume that competitors' customer experience is the ceiling for yours. If you see a way to make your product easier to discover and enjoy, lead the way for your industry and execute that idea.
Reimagines how wine is made, not just how it's sold
A personalized online wine club was a novel idea when Club W first launched. But within a few years, more wine sellers were using the online subscription model. And some were even sending bottles based on subscribers' tastes. Two years after Club W launched, two MIT grads started Bright Cellars, another algorithm-based wine subscription service that sent personalized wines.

Too much competition wasn't Club W's only problem. Its founders also realized that wine experts weren't taking their brand seriously. They wanted Club W to be seen as a source of high-quality, boutique wines. Instead, sommeliers viewed the brand as glorified marketing.

The Club W team made a big shift to differentiate the brand: they started making their own wines for their subscription service. If they were crafting great-tasting wines themselves instead of selling third-party bottles, vino lovers would trust the brand more.

Though Club W had never made wine before, the brand had an edge that put investors at ease: They could craft bottles based on customer data. Unlike most winemakers, Club W had a lot of intelligence on their subscribers' preferences from survey answers, purchase histories, and product ratings. If they could make bottles that reflected those tastes, Club W would be a force to reckon with.

"We had this very direct connection with customers that doesn't really exist in the wine business," said co-founder Brian Smith. "So we're able to kind of reverse-engineer wine production."

Club W collaborated with seven vintners in the summer of 2015 to make its first bottle, a sparkling wine called WKND. In 2016, the brand made its shift to winemaking official by rebranding to Winc.

Since Winc started making its own wines, revenue has increased by 333%. And Winc's average order value grew by 27% from 2015 to 2018.

This success boils down to Winc's customer-centric winemaking. The brand fiddles with their wines' formulas until the taste aligns with their customer preference data.

Take Winc's Summer Water Rosé.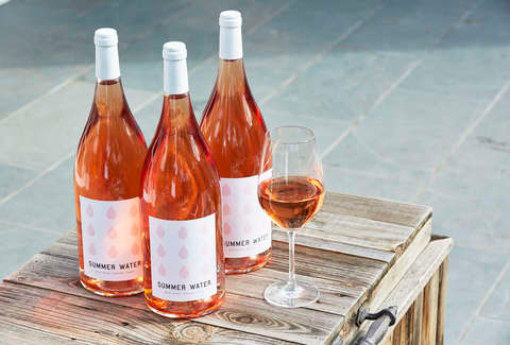 [Source]
When it first launched in 2016, customers told Winc that the wine was a bit too dry. The brand adjusted sourcing to fix the issue, and sales increased.

"Our first year [the Summer Water Rosé] was a little bit of a different style, and we continued to iterate on it and make it better and better," said Brooke Matthias, former Director of Product at Winc.

With $12.3M in all-time sales, Winc's Summer Water Rosé became so popular that the brand launched a separate subscription called Societé for members who just wanted to receive that bottle. In 2018, the club had a 1,000-person waitlist.
Takeaway: Let real-time customer feedback drive product development
In ecommerce, you want to get the product out the door as efficiently as possible. If you make changes to your production process, you risk slowing down sales.

But for the sake of the customer, it's worth occasionally pausing to assess how your products are being made. Take steps to make sure your manufacturing aligns with what the customer wants. That might mean a slight delay in the short term. But if customers love your product changes, it could also mean a revenue jump in the long run.

Start by collecting customer feedback if you aren't already doing so, so you know what shoppers think of your products. The way you use these data-driven insights depends on whether you make your own products or sell third-party goods.
If you make your own products, directly adjust your production process to make improvements. Say you're a clothing brand: if shoppers are saying your tees could be softer, consider switching to a new cotton supplier or assessing your current manufacturer's stitching process.
If you don't make your own products, do your best to learn about the suppliers you buy third-party goods from. Try to find ones that are transparent about their manufacturing practices, so you have a better sense of their product quality and whether it's meeting your shoppers' standards.
After you've made improvements, keep an open mind to more production changes in the future. Shoppers almost always have ideas for how your product could fit their needs even better.
Builds trust as an expert in winemaking
From the start, Winc's core audience has been the intimidated wine drinker – the person who walks into a liquor store and stares blankly at rows and rows of bottles.

But once the brand started making their own wine, an opportunity to expand their audience appeared. Instead of just appealing to novice wine drinkers, Winc could attract serious vino lovers, too.

Over the last few years, the brand's website copy has played a big role in attracting that audience. Winc's Winemaking page explains how Winc wines are made in small batches and use high-quality grapes from all over the world.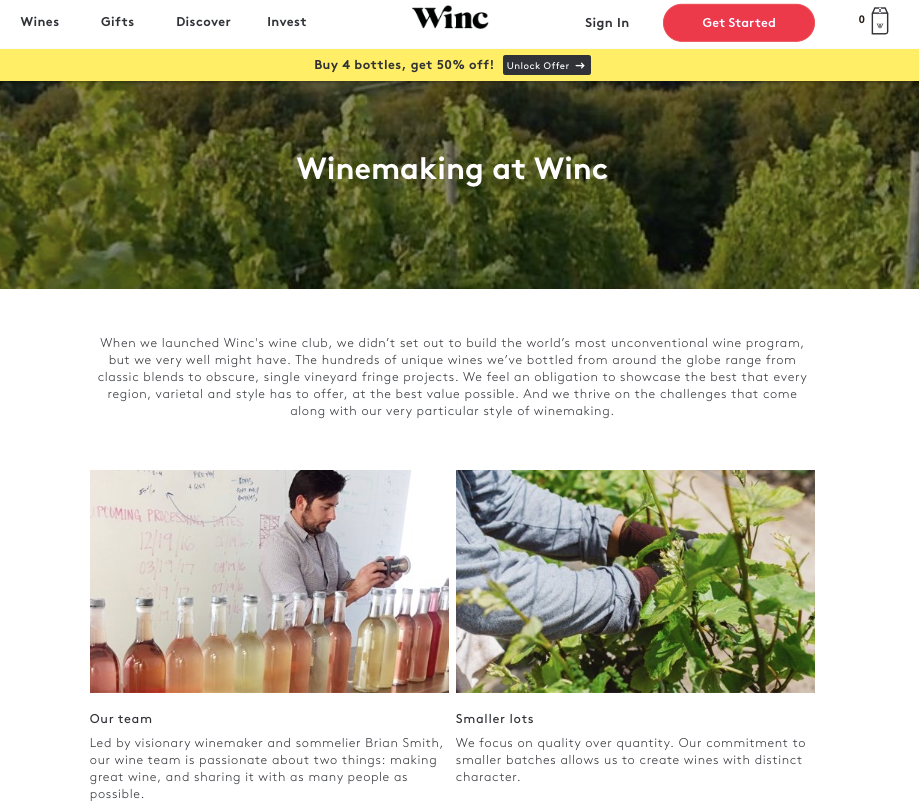 [Source]
Their product descriptions are even more granular. Many mention where the wine's grapes are grown, the nature of the vineyard's soil, and the wine's aging process.

Beyond messaging, Winc's product selection also helps to attract wine experts. Instead of just offering $13 bottles like Club W initially did, the brand now offers a few more high-end wines costing as much as $54. Winc even has a separate subscription program for people who prefer the $13+ wines.

The brand hasn't forgotten its core audience, though. Winc stays true to its mission of keeping wine accessible by pricing most of its wines in the $13 to $20 range. The initial customer survey is still easy-to-understand, with straightforward questions instead of wine lingo. And while product descriptions do include some advanced details, Winc clearly segments need-to-know content – what the wine tastes like, what it pairs with – for shoppers who want to skip that information.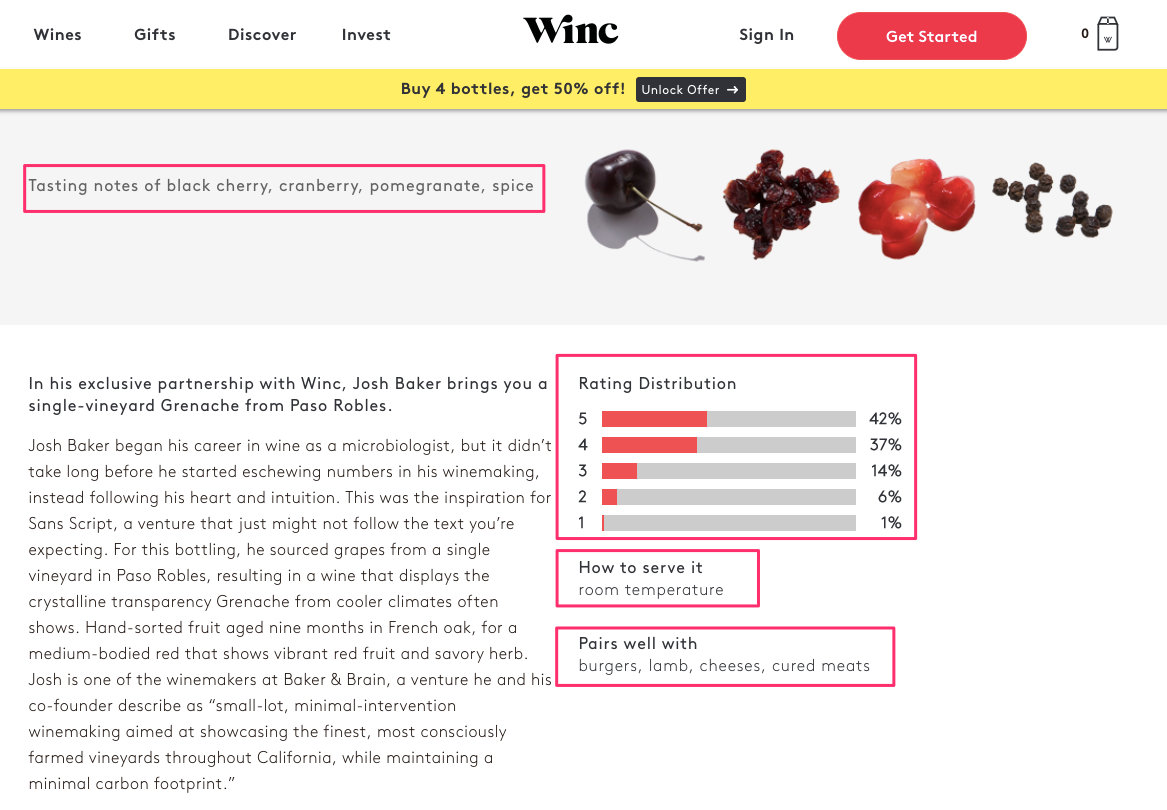 [Source]
Over the last few years, Winc has managed to appeal to both customer groups. Currently, 15% of the brand's revenue comes from retail shops and restaurant sommeliers – a sign that the world of wine experts has welcomed Winc. At the same time, the brand's direct-to-consumer presence remains strong. With over 500K customers, Winc continues to grow membership by making wine approachable and easy to enjoy for the average shopper.
Takeaway: Strengthen your customer base by showcasing your expertise
To expand your audience, promote your product knowledge. Shoppers, especially those who care a lot about your industry, will feel more excited to buy from your brand if they can see your passion for your products.

To start, consider creating content about your production process. Take shoppers behind the scenes with Instagram photos and videos of your products being made. You can also create an "Our process" or "Our approach" site page to explain how you design and source your products.

Along with describing your craft, showcase your expertise with a "press" page that highlights endorsements. Shoppers are much more likely to trust your brand once they see that industry experts and publications give your company a thumbs up.

Finally, think about adding a few high-end items to your product selection. You might be afraid that premium pricing will push away shoppers, but it can actually give them a positive impression of your brand. Often, when people see a high price tag, they assume the product is a high-value item.
Build your product experience for the customer, not for your industry
When Winc's founding team launched Club W in 2012, wine sellers weren't customer-obsessed. They trusted their own gut and other wine experts' opinions to determine which bottles were worth selling.

Instead of succumbing to the pretension, Winc trusted their shoppers' input and let that feedback drive their product experience. Traditional winemakers might scoff at placing so much trust in consumers who know little to nothing about wine. But it's Winc's customer data that has empowered the brand to make so many best-selling bottles.

Follow Winc's example and build your product experience with your shoppers in mind. Always think about what people want to get out of your products instead of only following the example of competitors. With that mentality, you'll be set to craft products and marketing that resonate with your core audience.
Subscribe for Updates
Get our best content on ecommerce marketing in your inbox 2 times a week.
Written by Daniel J. Murphy
Dan is a B2B marketing leader with over 7 years of experience helping SaaS startups grow. Before joining Privy, Dan was the Director of Product Marketing at Drift. He's also worked in demand generation, brand marketing and marketing ops. Dan loves to geek out over marketing strategies and technology. He co-authored "This Won't Scale" with Privy's CMO, Dave Gerhardt at their previous company.
Subscribe for Updates
Get our best content on ecommerce marketing in your inbox 2 times a week.