Whether you're a brand new business or someone who has been around for a while, investing real time and effort into building an opted-in list of potential customers is critical to your success.
This concept is nothing new. Seth Godin, noted marketing author, first published his book, Permission Marketing: Turning Strangers into Friends and Friends into Customers, way back in 1999 and the substance of it holds just as true today.
In fact, building an engaged email list may be the most important thing you can do. It helps you build strong connections with potential customers through engaging welcome emails and newsletters, dramatically expand the pool of people eligible to receive your abandoned cart emails, and gives you the opportunity to stay top of mind when you launch new products and offers.
What is the value of an email address?
We recently published 11 Insightful Email Marketing Statistics that lays out many of the benefits of email marketing. But one additional question we get on a regular basis is "what is the actual dollar value of an email address?"
It's the right question to ask, and precisely why we just added revenue reporting for Privy users on Shopify and Bigcommerce. You can now see exactly how much you have generated from the emails you have captured using our pop ups, flyouts, spin to win displays, and other forms. And the data is pretty amazing.

Across the Privy network, we see that on average, our users are generating $15.23 in sales for every email captured. That means capturing just 1,000 emails over a few months can generate upwards of $15,000 for your business. And if you're a larger business with more traffic… well, you can do the math. It adds up quickly. (That's why the smartest brands are taking a more proactive approach to building their email list.)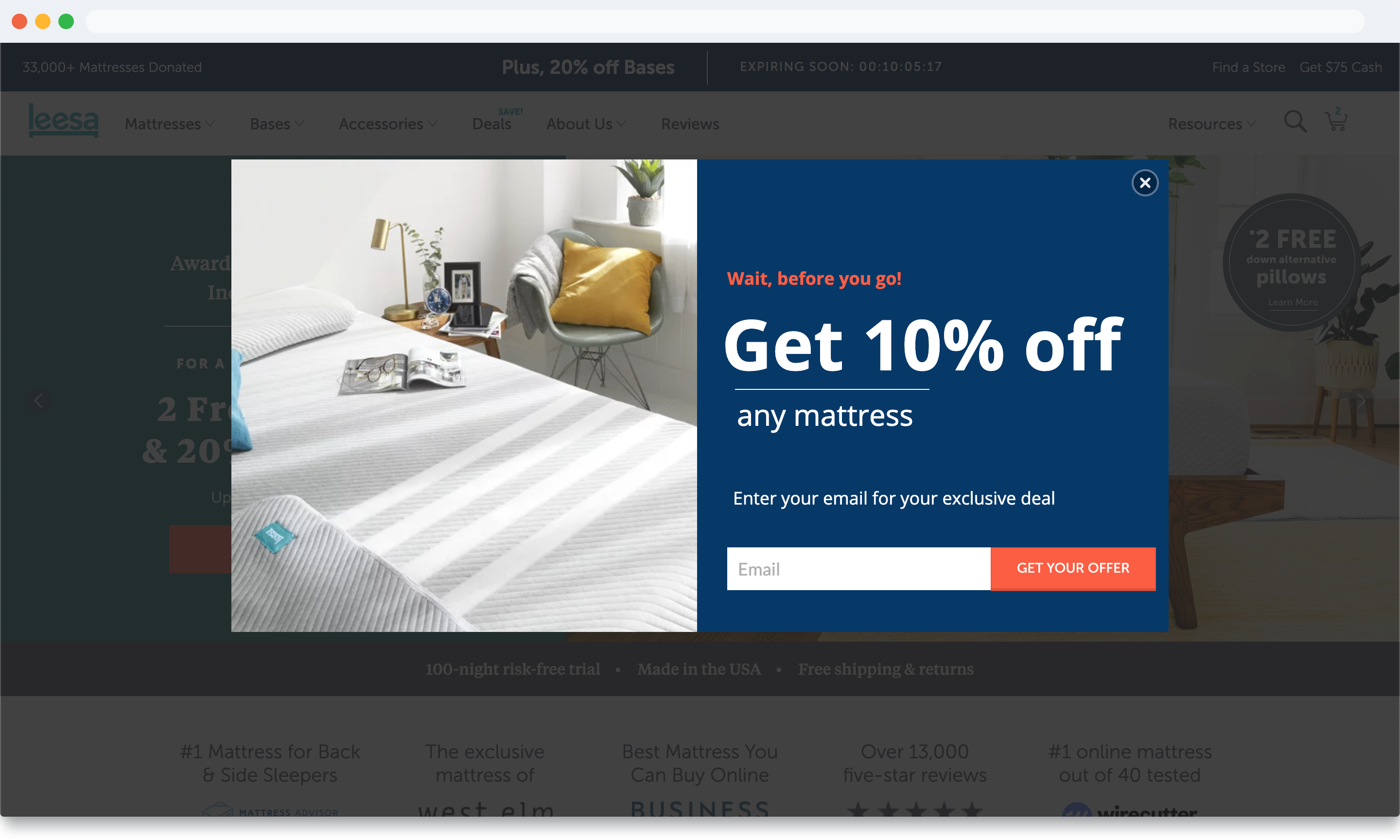 Image courtesy of Leesa
Going a little deeper with the data, we took a look at how that number varies across the top three ecommerce platforms for Privy users; Shopify, Shopify Plus, and BigCommerce.
Based on data from over 20,000 Privy accounts, we found that Shopify Plus merchants were generating the highest revenue per email address at $22.82 per email captured. That's not surprising considering that Shopify Plus is generally home to more established stores than their counterparts due to the higher price point and the enhanced tools for larger businesses.
Shopify Core was the next highest, with users generating $16.53 per email address captured. While not as high as their more premium sister brand, this is still a great return on their email capture efforts.
Lastly, merchants using BigCommerce generated $11.68 email address captured. This number may be lower than Shopify or Shopify Plus, but is still an incredibly positive ROI on list growth efforts for our merchants.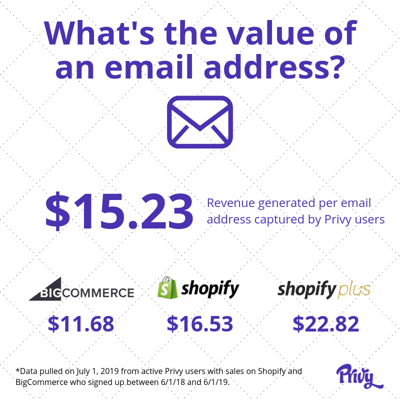 As good as these numbers are, they are actually underselling the potential value of an email address. Because as repeat purchases from these same customers and prospects continue over time (through an awesome email marketing program), your return only continues to grow and grow.
Key takeaway: The time is now
If you're not actively trying to grow your email list, you're simply leaving revenue on the table. It's not enough to just have a contact page or an embedded form in the footer of your website. You need to be creating targeted onsite displays based on shopper behavior that proactively convert unknown visitors into subscribers.
Not actively collecting emails yet? Start a free 15 day trial of Privy Growth today.