7 Klaviyo Alternatives Worth Switching To
Published on Jul 25, 2022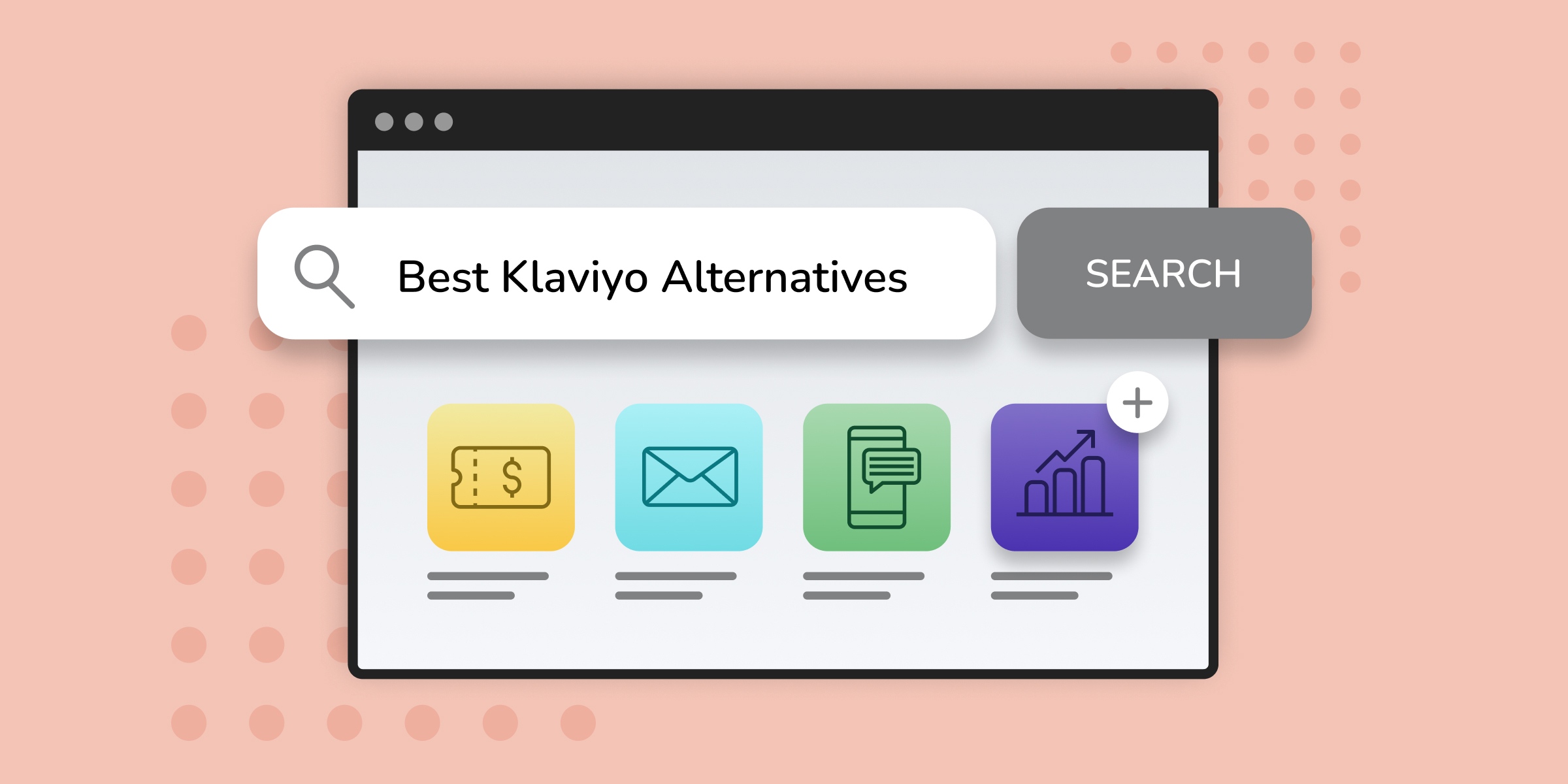 Email and SMS are the two most important marketing channels an ecommerce store has for converting potential buyers into long-term customers.
Why? Because you own those channels. So, while Facebook and Google set a moving target with their rules, you can happily email and text your audience when, what, and however you like.
With so much at stake, it's critical to choose the right email and SMS marketing platform for your business. For many online stores, that choice was Klaviyo.
Klaviyo launched in 2012 and has grown to become a $9.5 billion company. Unfortunately, recent reviewers have noted that price increases and slow support response times made the product less than ideal for growing ecommerce businesses.
Luckily, there are alternatives to Klaviyo. The trick is finding the one that fits your online store. Just about every option offers the ability to capture addresses, build and automate emails, and track results. But each varies by its level of support, usability, and focus on different business stages.
Get our best content on ecommerce marketing in your inbox 2 times a week
1. Privy for a balance of support, simplicity, and functionality
Privy is perfect for growing ecommerce stores that are serious about increasing sales with email and SMS marketing but don't have time to learn complicated software. Privy provides a full suite of tools to grow your subscriber list, quickly design professional and on-brand emails, and automate your email and SMS marketing to match your customers' behavior.

Highlights
Privy is designed to give growing online shops everything they need to sell more using email and SMS marketing but without the steep learning curve.
The software is easy to use and integrates perfectly with Shopify, as noted by the 18,500+ five-star ratings for Privy on the Shopify app store. You can send your first sales-generating email in just a couple of minutes. No matter how technical you are.
Each feature of Privy's tools is built to work in sync to achieve your goals. Say you want to recover more abandoned carts. You can launch a cart saver popup on your website, use a template to create a cart abandonment email, and send a unique coupon code via text – all automated to reach shoppers at the perfect time.
Support and education
Every Privy user with at least 250 email contacts gets a free, live onboarding session with an email marketing expert. All Privy users have access to ongoing live chat and email support 7 days a week. Plus, if you have 10,000+ contacts, you're eligible for ongoing support with a Customer Success Manager.
For async learners, there's a blog and video library full of content to help you not just master email marketing but also improve every aspect of your online store. Privy even has a podcast, Ecommerce Marketing School, that's packed with tips to help you grow your business.
Price
Privy offers a free plan for up to 100 mailable contacts with unlimited email capture popups to grow your list.
Paid plans start at $15/month and allow for more email contacts, email templates, and SMS marketing.
All plans come with unlimited email sends and you can calculate your cost here.
2. Shopify Email for single channel marketing
Shopify Email is well-suited for new ecommerce businesses that are still getting their shop going and want to dip their toes into email marketing. Shopify's email marketing product features basic drag-and-drop design and automation. There's a collection of pre-made email templates and automation workflows, as well as basic performance analytics. Shopify does not offer SMS marketing.

Highlights
The best thing about Shopify Email is that it's made by Shopify. You'll never worry about whether a feature integrates with your ecommerce store or if you can pull sales and customer behavior data.
Building email templates is easy in Shopify, too, since you can quickly pull branding features, products, and prices right from your store.
Support and education
All support is handled via email. Shopify also has a large library of ecommerce educational blog posts, online courses, and a help center with dozens of user guides.
Price
Access to Shopify Email is free to all Shopify store owners. That includes up to 10,000 email sends. After that, it costs $1 for every 1,000 additional emails.
3. Seguno for basic email marketing
Seguno caters to beginner marketers who aren't yet ready for SMS marketing, A/B testing, or automation beyond basic campaigns. It offers a simple email editor, more than 150 email templates, email capture popups, and straightforward automation workflows.

Highlights
As an uncomplicated app that's built only for Shopify, Seguno competes heavily with Shopify's own email marketing software. Working in the app feels like working in Shopify itself. So, when you customize an email, it'll feel similar to the process of customizing a page of your shop.
Seguno doesn't offer SMS marketing, just like Shopify. And there's not an easy way to A/B test, which will be important for any shop that wants to maximize the return of its campaigns.
Support
Seguno offers live chat and email support. It also holds monthly educational webinars and has an active YouTube channel that covers marketing and ecommerce topics.
Price
Seguno's free plan allows for up to 250 subscribers and unlimited email sends. The paid plan starts at $10/month and covers up to 1,000 subscribers with increases as your list grows.
4. Mailchimp for shops that don't have a website
Mailchimp's turnkey product, which includes a website builder and domain service, makes it a good option for those that have yet to launch their online store. It offers email marketing tools, paid ads management, and social media scheduling.

Highlights
The power of Mailchimp's current software comes from the connectivity among its suite of ecommerce products. Users that build their website through Mailchimp will get the maximum benefit of its other marketing services like email automation, social media ads, and automated social media posts. Plus, they've built a very usable visual editor for building emails.
There are a few limitations that require third-party apps to shore up. For example, if you create a popup through Mailchimp, it can only appear on your homepage once per year for each visitor, so you'd need another tool to have better popups. The same goes for SMS marketing and unique coupon codes. You'll need to integrate a different app to make those happen with Mailchimp.
Support and education
You get 24/7 email and chat support with all of the paid plans. There's also a self-guided help center, Mailchimp 101 guides, and a library of marketing education articles.
Price
Mailchimp's free plan allows a healthy list size of 2,000 contacts, but you're limited to 10,000 total email sends per month.
Paid plans start at $11/month and include features like landing page creation and custom branding.
5. Omnisend for complex marketing flows
Omnisend provides a broad and powerful set of tools useful for experienced marketers and those willing to put in the time to learn the platform. These tools include SMS marketing, a drag-and-drop email editor, and A/B testing, among many others.

Highlights
Where some apps focus on simplicity, Omnisend's differentiator is its complexity. Specifically, the tool's clever segmentation and targeting features.
You can reach shoppers on Facebook and Google using the email address they provided when they opted in for your newsletter. There's also a "Campaign Booster" that automatically resends unopened email campaigns to reach more subscribers.
Along with those advanced features comes a steeper learning curve. For example, there's much more to understand about building a custom audience in Omnisend than in, say, Privy. But if you have lots of experience and some extra time to work through it, these additional customization options can be useful.
Support and education
The free plan comes with email support. Paid plans provide 24/7 chat and live support, and users with over 60K contacts are matched with a Customer Success Manager.
Omnisend also has an extensive library of resources, including a blog, reports, a video-based marketing academy, and a podcast. Most of these are available without signing up for Omnisend.
Price
The free plan allows for up to 250 contacts and 500 email sends/month, plus 60 SMS and 500 web push messages.
Paid plans start at $16/month and give you space to reach 500 contacts with 6,000 emails/month.
6. Sendinblue for bulk email
Sendinblue is built for large marketing teams with a huge list of contacts. The software includes contact management and a shared inbox for collaboration. There are email marketing tools, a landing page creator, and SMS marketing. Plus, you can manage Facebook ads from Sendinblue.

Highlights
Sendinblue has among the most sophisticated features of any app on this list. With its tools, you can build HTML newsletters, use dynamic contextualization to personalize emails, and set up a real-time chat box on your website.
Its platform also makes it easy to send a large number of emails in a batch. Its Email API can process 120K emails per minute. And unlike competitors, all its pricing options allow for an unlimited contact list.
Support and education
The Free and Lite plans come with email support. The Premium plan adds phone support. At the Enterprise level, you get a dedicated Customer Success Manager.
Price
The Free plan includes unlimited contacts and up to 300 emails/day. Paid plans start at $25/month for 20,000 emails and increase from there.
7. ActiveCampaign for sales funnel management
ActiveCampaign is ideal for a sophisticated marketing team that monitors buyers throughout the entire customer lifecycle. The platform includes contact and sales funnel management tools, an email and SMS marketing platform, and customer experience features like chatbots.

Highlights
ActiveCampaign is built around a contact management system for sales. That core allows for a lot of prospect and sales funnel tracking features. In addition, you'll find plenty of tools to create and automate marketing emails and texts for your ecommerce store.
The app offers a straightforward drag-and-drop email and sign-up form editor, plus more than 800 integrations. There are plenty of automation workflows so you can send emails triggered by time or customer behavior. You can even split the automation as customer segments take different actions.
Support and education
All plans come with chat and email support. The Plus plan adds a free strategy session call. And the Professional plan includes 1:1 training.
Price
ActiveCampaign doesn't have a free plan, and its paid plans start at $9/month. At that level, you get 1 user, up to 500 active contacts, and unlimited email sends.
Choose the Klaviyo alternative that fits your business
Not all marketing apps are made for every business. Some were designed for B2B organizations and adapted for ecommerce. Some have features only a large enterprise would use. And some aren't built to grow along with your business.
Privy was purpose-built for growing online shops staffed by busy people who need their tools to produce results quickly. If you're ready to learn how Privy can help you turn website visitors into customers and customers into lifelong fans, give Privy a free test drive today.
Subscribe for Updates
Get our best content on ecommerce marketing in your inbox 2 times a week.
Written by Lauren Hall
Lauren is a Brand Marketing Associate at Privy. She's the brains behind all things content. When she's offline, she's obsessing over her Bernedoodle pup, Monster, and plotting ways to being a full-time Vermonter ASAP.
Subscribe for Updates
Get our best content on ecommerce marketing in your inbox 2 times a week.