Influencer Marketing: 10 Examples to Inspire Your Social Media Strategy
Published on Aug 12, 2019
Written by Lauren Shepherd
Influencer marketing is quickly becoming one of the most powerful tools in the ecommerce playbook. And it's not hard to see why. Commanding a whopping 11 times the ROI of all other marketing efforts, influencer marketing seems to be a limitless resource of content creation and distribution.
But before you send a DM or look for the email address of some celebrity or influencer asking him to be your brand's ambassador, you should know that influencer marketing is not always a sure-fire success. There are plenty of risks that come with putting your marketing efforts into the hands of an external influencer, and the companies that don't do their homework get burned.
So, what makes an influencer marketing campaign work? As influencer marketing is still in its infancy, the best way to figure out what works and what doesn't is to look at the brands that are killing it on Instagram.
In this article, we're going to show you some of the most successful influencer marketing campaigns, and we'll tell you exactly why they worked so well.
But first, let's take a quick look at what an influencer is (SPOILER ALERT: You may be one without even knowing it!).
Get our best content on ecommerce marketing in your inbox 2 times a week
What is an influencer?
Influencers are specialists or trendsetters in a particular niche who use the social network Instagram as their content and communication platform.
They have a loyal following of engaged users who they interact with, often on a daily basis. This interaction is what sets them apart from classic celebrities who may endorse products or do ads. Influencers constantly repost, like, and share their followers' content while relying on them to do the same. This give and take creates trust and transparency that is extremely valuable to marketers.
But not all influencers are famous. In fact, if you've shared a brand's hashtag or created an Instagram story about a product you love, you might be an influencer too. Here are five basic types of Instagram influencers:
Micro-Influencer:

These are influencers with 5k-50k followers. Their numbers may be low, but engagement is usually very high (>4%).

Meso-Influencer:

Around 50k-500k followers. Most influencers fit into this category.

Macro-Influencer:

500k and up.

Celebrity Influencer:

They're not usually experts in a niche. They're popular because they're famous (e.g. Kim Kardashian). Followers may be high but engagement is often low (<1%).

Normal User:

Any IG user who participates in a brand's campaign.
As you can see, choosing an influencer is a lot more complicated than just finding someone who shares your niche. Partnering with an influencer takes research, cooperation, and relationship-building. But, this also means that the potential for creative collaboration is limitless.
Let's take a look at some examples of brands that have harnessed the power of IG influencers and reaped massive gains.
10 influencer marketing examples
How can Instagram influencers boost brand awareness, engagement, and conversions? Take a few tips from these success stories.
1.)

DeeMuesli and The Little Plantation
DeeMuesli is a small, UK-based business that sells just one product—muesli. But that doesn't mean they can't take advantage of local influencers to boost brand awareness.
The Campaign: DeeMuesli teamed up with popular British vegan influencer Kimberly Espinel. Via her Instagram account, The Little Plantation, Kimberly posted an original recipe (and mouth watering pictures) which
required DeeMuesli as a primary ingredient.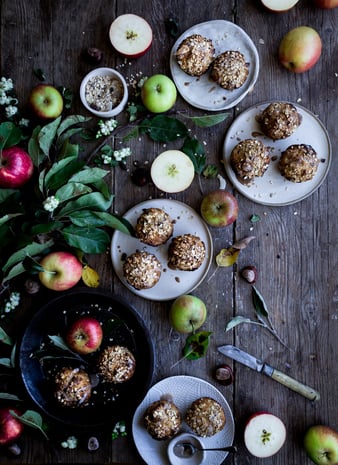 Why it Worked: Sure, DeeMuesli could have teamed up with nutrition and health bloggers or vegan crusaders to push the health benefits of muesli. But that probabl
y wouldn't have worked. Why? Because influencer marketing isn't about showing off your product under big spotlights. It's about letting the influencer do what they do best and then riding the wave to success.
Kimberly did what she does best—cooked delicious food that her followers love—and DeeMuesli got a valuable call to action baked right in.
2.) Lyft's army of influencers
Lyft is a ridesharing app and e-scooter provider that's locked in a constant battle with its rival Uber. As a brand with a very broad target audience (people who need transportation), it seemed impossible to choose the right influencers.
The Campaign: Instead of working with a select few influencers (as most companies do), Lyft took a risk and partnered with over 1,000 influencers all across the spectrum—from celebrities to macros to micros. The goal was to make it seem like everyone who's anyone was taking Lyft. And before long, it was true. Lyft became the most mentioned brand of 2018 and racked up 6 million engagements.
Why it Worked: Lyft didn't just pile on the influencers; it also took a measured approach to expected engagement. For example, celebrity influencer, Snoop Dogg, has 33 million followers, but engagement for a rideshare app would likely be low. Therefore, they tagged on a discount code to turn the heads of his followers.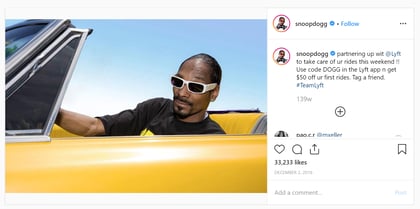 The unsigned indie country artist Maggie Baugh is a smaller influencer with just 90k followers, but her engagement is very high. All she had to do was take a picture with a Lyft scooter to engage 5% of her base.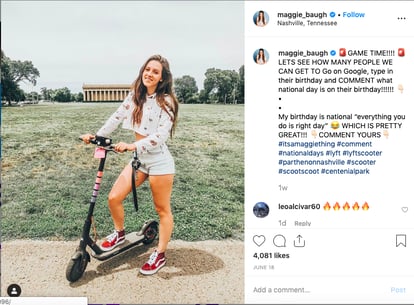 If Lyft had done the opposite, thinking they needed to entice smaller influencers' followers, they would have needlessly given away thousands of dollars to Baugh's followers, and they probably wouldn't have engaged enough of Snoop's base to make up for the cost of his endorsement.
3.) Walmart fights hunger
Walmart isn't lacking in revenue, but it is lacking in reputation when it comes to younger internet users who can choose wherever they want to shop online. Walmart needed a way to change their image and boost awareness with the IG crowd (over 70% of which are under 29).
The Campaign: Walmart launched the #FightHunger campaign as a way to team up with users to give back to their communities. Walmart vowed to donate ten meals for every engaged user that mentioned the campaign and showed an act of support. Walmart teamed up with creative influencers in the food niche like chef Ana Quincoces to drive the campaign and then relied on users to post their own content. At the end of the campaign, Walmart had engaged 89k engagements in one month and donated over 1 billion meals.
Why it Worked: Walmart took a big risk by giving users a platform to post original content. Would they take it seriously or troll the retail giant? By using relevant influencers, Walmart was able to control the narrative and keep it steered in a positive direction.
Once the tone was set by Walmart's influencers, the goodwill campaign snowballed, and soon, tens of thousands of normal users became influencers as well, posting their support and sharing the #FightHunger hashtag.
Related post: 10 Simple Instagram Ad Tips for Ecommerce
4.) Canon goes micro
The rise of the camera phone and Instagram as an instant photo upload binge seemed to be a threat to Canon. But instead of fighting back, they embraced the medium and highlighted a number of amateur photographers and bloggers who use DSLR cameras to make their IG photos pop.
The Campaign: Even before the cameraphone, most people didn't have high-end cameras. Now that many of us have 10 megapixels in our pockets, Canon needed to sift through the amateurs and seek out the photography enthusiasts. By partnering with photographers in the micro and meso range (with high-engagement) as well as bloggers who rely on photography to entice their followers, Canon was able to reach its target and promote its image. Great photography shares like crazy on IG, and Canon managed to claim nearly 3 million engagements in 2018.
Why it Worked: Canon didn't have to show that their cameras were good. They just had to make sure that when the best photos made their rounds on Instagram, there was a #canonusa hashtag next to them. But doing this would take more than a few sponsored posts by influencers. It would take long-term relationships with numerous influencers. By getting serious and committing for the long haul with the right photographers and bloggers, Canon turned Instagram (a photo-sharing app at heart) into an ever-growing promotional machine.
5.) Daniel Wellington's influencer-only platform
Daniel Wellington is a timepiece company that uses influencer marketing as its only form of marketing.
The Campaign: DW uses a number of different hashtags to keep users and influencers engaged, such as #DWPickoftheDay and the flagship #DanielWellington, which at over 2 million uses is one of Instagram's most popular tags. The company uses over 7,000 influencers to distribute discount codes, promote giveaways, and encourage users to participate in the famed daily picture contest.
Why it Worked: DW uses influencers exclusively, and in doing so it has become the brand with the most influencers and influencer mentions. Also, it has grown from nothing to a nearly quarter billion dollar company in just four years.
So, what's the secret?
In a word, transparency. Going 100% social built trust by allowing real users to effectively guide the brand's marketing efforts. They don't have the photo studios and glossy paged ads of other watch companies. Everything you see is a real photo of a real person wearing a Daniel Wellington watch.
They control their image brilliantly through their influencers, and they manage normal users' content via the #DWPickoftheDay campaign. Real users have an incentive to post great shots which embody DW's image because if they're chosen as a winner, their photo could get tens of thousands of likes and result in hundreds of followers gained.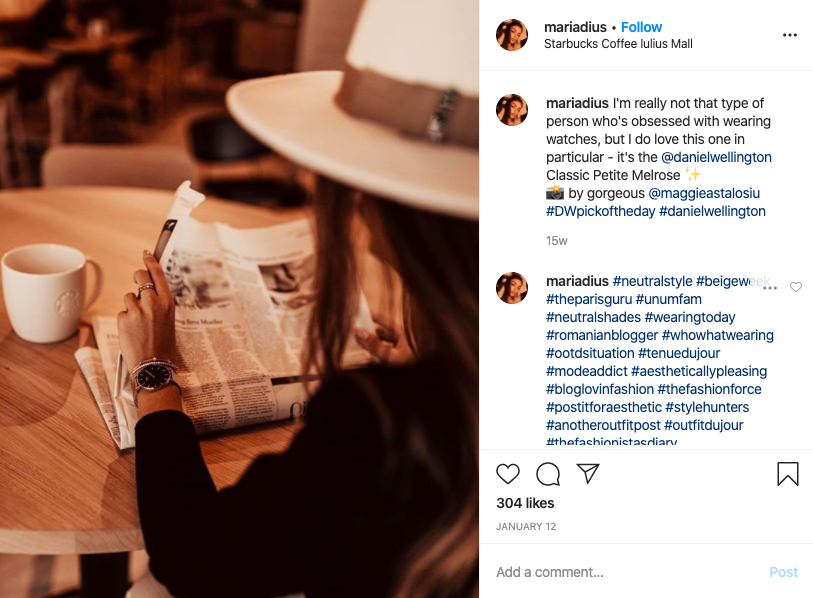 6.) Glossier tells your stories
Makeup and beauty influencers are some of the most common on Instagram, which can make it hard for make-up companies like Glossier to stand out.
The Campaign: Instead of choosing a few influencers, Glossier decided to shape their IG into a marketing machine that turned all of their users into influencers. They encourage all women to post, and the way they succeed is by interacting with them constantly. Not only do their thousands of normal-user influencers post stories and pictures on a daily basis, but Glossier rounds them up and produces IG stories based on influencer input. Those stories get about 10 million views a month.
Why it Worked: By dedicating their team to interacting, reposting, and creating stories based on their users' content, Glossier turned their page into a close-knit community that rewarded interaction and loyalty. This, in turn, incentivized thousands of normal users to create original content for Glossier. As a final touch, Glossier repackaged and reposted its fans' own content which both rewards followers and allows the company to maintain control over the brand's image.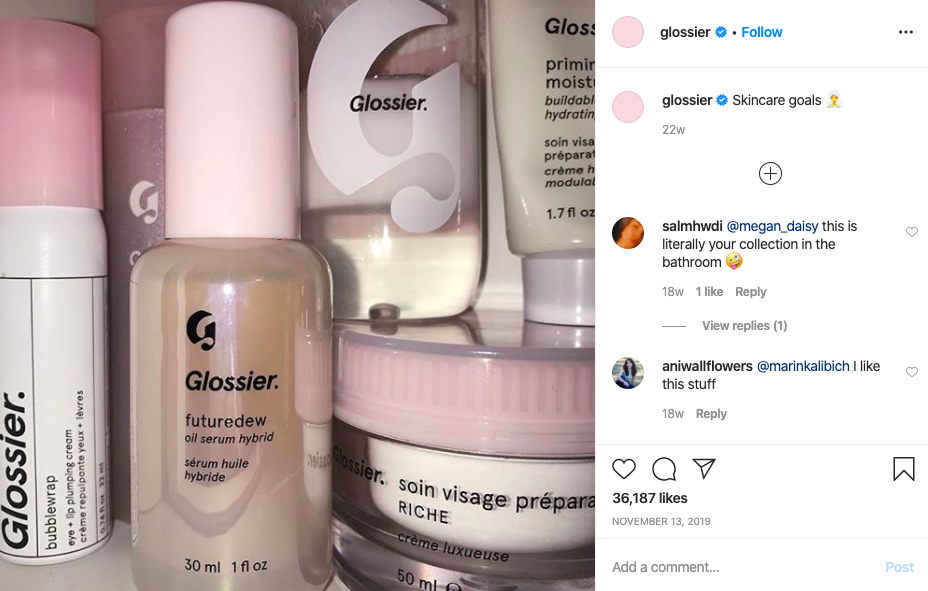 7.) Forever 21 Puts Fashion in Action
Forever 21 markets clothes for women that are affordable and fashionable. As women's feeds are already full of fashion shots, they had to do something different to draw attention.
The Campaign: Forever 21 partnered with some hot influencers, and instead of having them post pictures of themselves, they asked them to post IG stories of them trying the clothes on and giving their opinions.
Why it Worked: The Food Network figured out years ago that watching someone cook is so much more mouthwatering than seeing the finished result. Forever 21 came to the same realization about clothes: watching someone try on an outfit and make a purchase is much more effective. Also, using stories helps Forever 21 jump to the front of the line, as users engage more with stories than they do with the feed.
Forever 21 enlisted chic and relatable influencers (most of them micro) to try on outfits while giving their unique fashion input. Couple that with a discount on screen and a swipe up to shop, and you've got major ROI for a small investment.
Related Post: How to Capture Your Instagram Followers
8.) Ebay gets colorful
As the world of ecommerce grows, the effort required to shop on Ebay threatens to make it an inconvenient option. This brand needed a way to make a purchase feel like a unique reward.
The Campaign: As a way to combat the unavoidable global domination of Amazon, Ebay used influencers like Keri Fay, a New York-based fashion and lifestyle blogger, to market itself as a lifestyle brand—a place of limitless imagination, color, and style that you can use to mix and match and create a new look. The result of their #fillyourcartwithcolor campaign was record-setting engagement (nearly 350k engaged followers) and a global campaign that took their success even further.
Why it Worked: Ebay is neither a fashion company nor a clothing company nor a lifestyle brand. But, IG is very much a lifestyle-based social network that is in love with fashion (fashion is the most active industry on IG). For Ebay, it was less about finding influencers to fit their niche as it was about using influencers to rebrand the company for the IG audience. By the time the campaign was over, Ebay had gone from being the site your dad used to buy old baseball cards to a lifestyle bazaar where millennials could build their own unique look.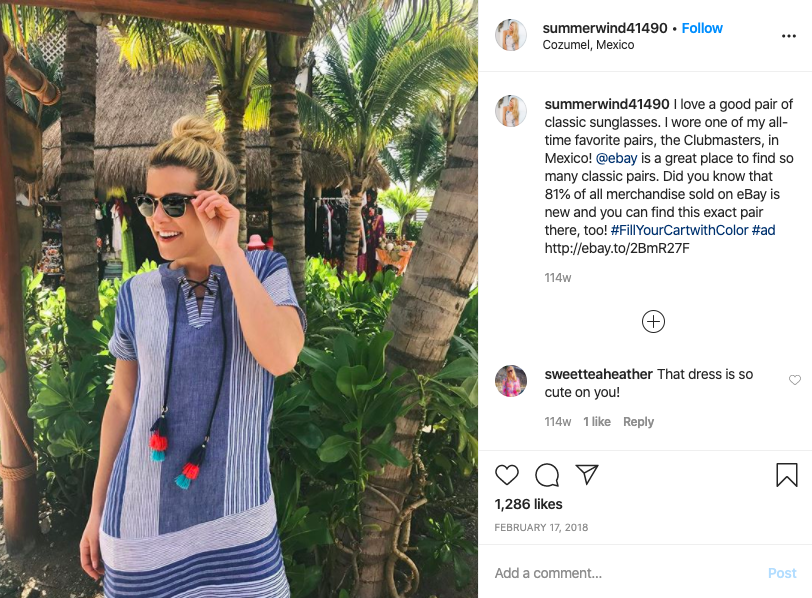 9.) Bigelow Tea lets down their guard
Bigelow Tea is one of the most established tea brands, but nowadays, hundreds of new, hip, and millennial-targeted tea brands are popping up and threatening to make the big guys like Bigelow and Twinings seem boring and outdated.
The Campaign: To keep up with the times, Bigelow brought on craft bloggers and creative culinary influencers to show that there was a lot more to tea then what's in the bag. Their influencers crafted new recipes and foodie-centric beverages with Bigelow's teas, as well as plenty of great photos.
Why it Worked: Bigelow's success came because, despite its conservative image, it gave its influencers all the creative freedom they wanted. By letting go and allowing its influencers to give the brand a lively and spontaneous creative push, Bigelow transformed from the unattractive "old" to the coveted "vintage" and sales boosted by nearly 20%.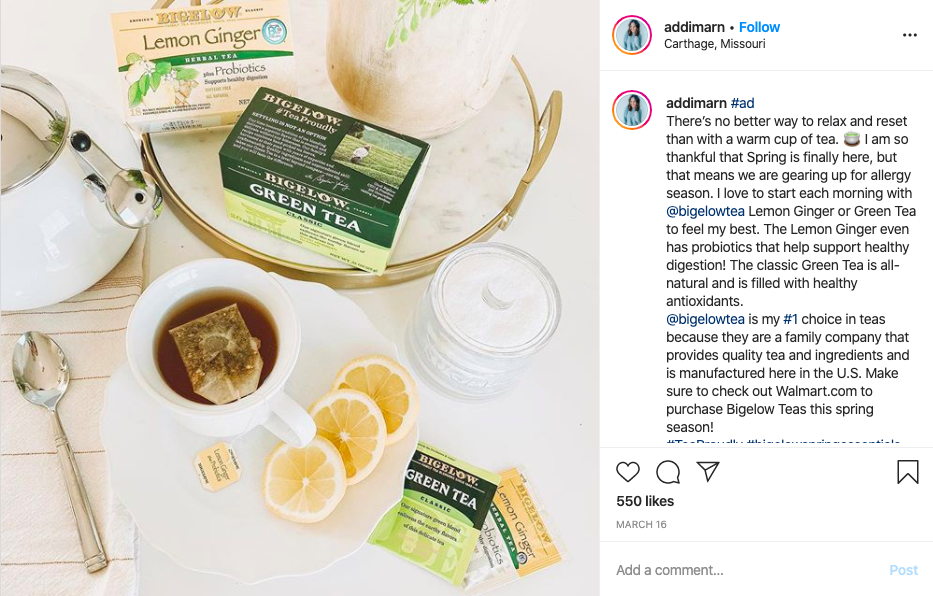 10.) American Express flies high
American Express wanted to promote their high-end AMEX Platinum card to the right audience, but marketing credit cards on social media invites legal trouble (and besides, it's not very fun).
The Campaign: Amex reached out to influencers who flaunted a luxurious and lavish life. Art galleries, 5-star hotels, designer clothes, VIP events—these are all things that AMEX attached to its #AmexPlatinum and #AmexLife tags. The influencers barely mentioned any of the perks of having the card. They simply shared high-quality images of their luxurious lifestyle and associated their ability to live that way with Amex.
Why it Worked: Amex demonstrated a mastery of influencer marketing by letting its product live vicariously through its influencers. This value-driven campaign didn't use influencers as experts to promote an established brand but instead used their lifestyles to build the brand's image. Once the image was built, they introduced elements of exclusivity and FOMO to drive conversions home.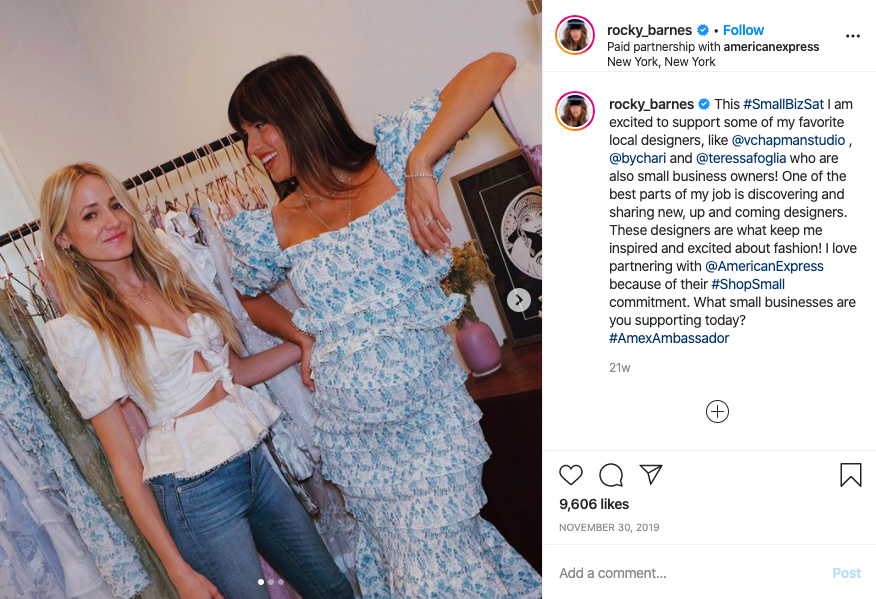 Hopefully you can take some inspiration from each of these 10 brands to help your own social media strategy. While your spending time on your Instagram strategy, you should make sure your onsite displays are optimized for mobile devices. Learn more in our Marketer's Guide to Mobile Conversion!
Subscribe for Updates
Get our best content on ecommerce marketing in your inbox 2 times a week.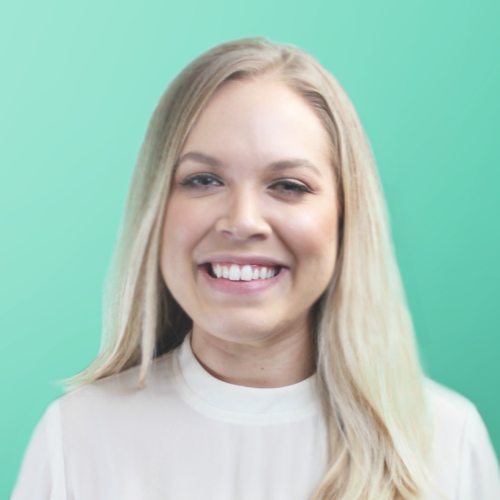 Written by Lauren Shepherd
Lauren is our Senior Marketing Manager. Coming all the way from Minnesota, she's earned her spot on the east coast by working for companies like Brainshark and Teikametrics to create content and lead generation strategies that increase website traffic and build brand awareness. Lauren's passion for small businesses and content creation is what brought her to Privy, but her enthusiasm and love of good beer and all things Justin Timberlake are what make her the perfect fit for our team.
Subscribe for Updates
Get our best content on ecommerce marketing in your inbox 2 times a week.