15 FOMO Marketing Ideas To Boost Online Sales
Published on Jun 14, 2022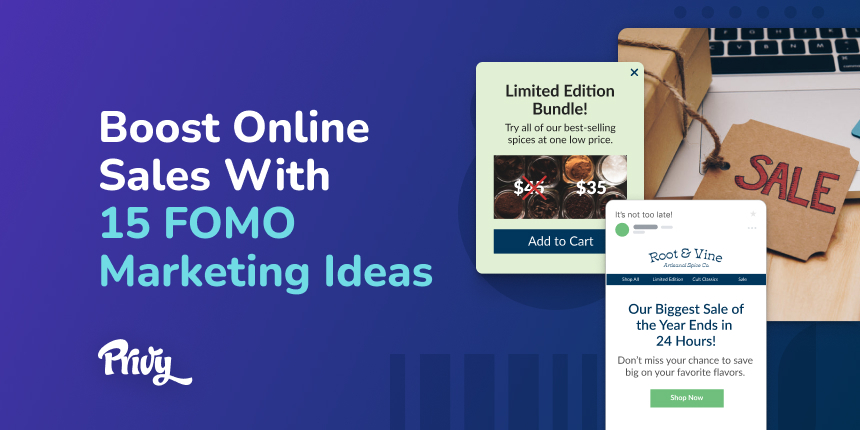 If you've ever made an impulse purchase of a product because you heard it was selling out, you've experienced the fear of missing out (or FOMO).

In marketing, FOMO is a tactic used to show shoppers that inaction means missing out on something great. Think of a McDonald's ad showing real diners enjoying a McRib sandwich, then reminding viewers that it's only available for a limited time. It's all about helping people avoid the regret of a missed opportunity, so they never have to ask, "what if?"

FOMO marketing is a versatile tool you can use in paid ads, organic social posts, email marketing, or directly on your ecommerce website. Online stores that use FOMO marketing will motivate procrastinating buyers to take action, effectively shortening the sales cycle and increasing conversions.

For all its usefulness, FOMO marketing can be a little challenging to get right – there's a fine line between encouraging and pushy. But once you understand the psychology of motivating buyers and learn how successful brands do it, you'll see that it doesn't have to be complicated or difficult. In fact, it might just mean a few tweaks to tactics you're already using.

So, let's get to it! I mean, you wouldn't want to miss out on this awesome strategy, right? 😏
Get our best content on ecommerce marketing in your inbox 2 times a week
Ignite a sense of urgency with FOMO
Regardless of how important a task is, people will prioritize it if there's an illusion of expiration. It's called the Mere Urgency Effect (MUE) in psychology. A common FOMO marketing tactic – setting deadlines and expiring offers – leverages MUE to foster a sense of urgency in shoppers.

Igniting a sense of urgency can be as easy as adding "act now" or "for a limited time" verbiage to a headline or conversion button. There are also plenty of creative examples from savvy ecommerce shops that get their customers speeding toward a purchase.
Beam's flash sale
Discounts are a great way to increase conversions. But discounts that end soon can help increase conversions faster. That's what Beam's flash sale ad aims to do.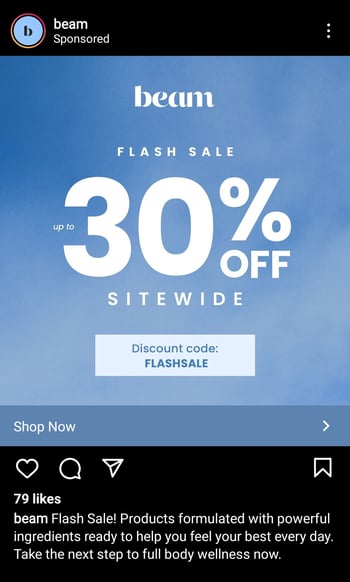 The term flash sale lets viewers know it's a temporary situation – get your discount soon or miss out.

One improvement you could make in your own flash sale ad is to note when the discount goes away. Specifics like that add credibility and even more urgency to the FOMO message.
Bombas' free shipping
Discounts aren't the only value you can offer for a limited time. For example, clothing brand Bombas ran an ad offering free shipping – as long as you ordered by a set date.

Free shipping might be an even better offer than a discount in your FOMO marketing messages. Inmar Intelligence found that shoppers would "spend more and wait longer for online purchases that offer free shipping."
GO Outdoors' countdown timer
Whether it's in the climactic scene of a movie or marking the time a game show contestant has left to answer, a countdown timer is a literal and visceral reminder that something needs to happen fast. It's a natural fit in FOMO ads.

To drive home the point that you have to act fast, GO Outdoors placed a countdown timer front and center in their email conversion ad.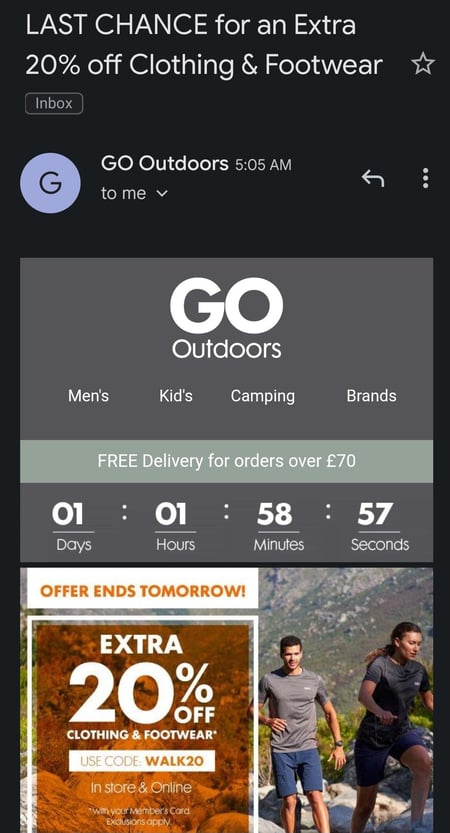 Also, have a look at the subject line of this email. No matter what other strategies you use in FOMO marketing emails, follow GO Outdoors' lead and write a subject line that screams "act now."
True Classic's today only cart recovery email
True Classic makes buttery soft T-shirts and a smooth FOMO appeal in their cart abandonment email. If you complete your purchase today, the email says, you get an extra 20% discount.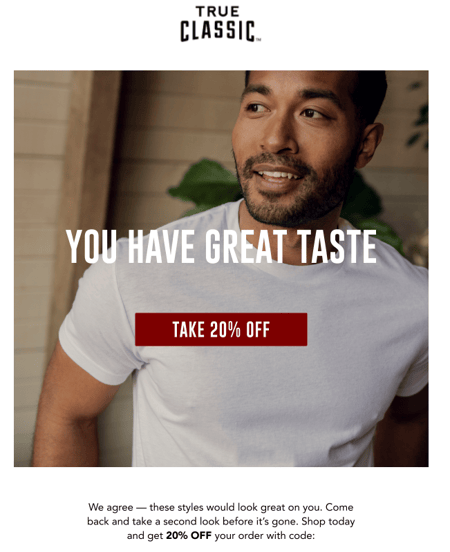 Timing is important in FOMO marketing, and this strategy nails it in two ways. First, the email shows up quickly while the shopper is still thinking about putting on a brand new T-shirt. Second, the 1-day time limit doesn't let the customer stray too far from their original excitement.

Email FOMO campaigns are best suited for people who are already aware of your product and on the verge of making a purchase; they just need a little nudge. So it's crucial to nail the timing and deliver FOMO marketing to customers who just visited your site.
Uncommon Goods' last day to ship ad
The next example highlights a question most online shoppers have had at some point: will it ship in time for the holiday/birthday, so I won't look like a jerk who forgot to buy a present? Uncommon Goods reassures customers they're in the clear...as long as they act now.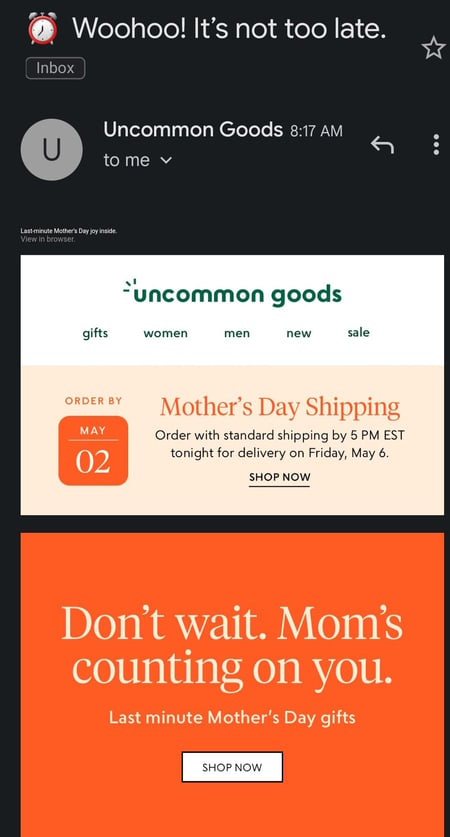 This approach is compelling because the deadline is both concrete and familiar.

Any time you can help your customers plan ahead for a specific event, you'll not only induce FOMO, but you'll provide a helpful service as well.
Highlight scarcity with FOMO
People have a distinct reaction when they perceive a resource is limited. Our brains focus on the scarcity problem, which in turn increases our perception of the resource's value. It's why people buy more of something they don't need when there's a shortage.

The psychology of scarcity is also why offering a limited supply in FOMO marketing is so effective. There are several ways to do it. Some are straightforward ("while supplies last"), and some are a little more subtle.
BlendJet's limited supply
Announcing a limited supply is one of the most formidable versions of FOMO marketing. In fact, some brands have built their entire business model around restricting supply to generate interest. Remember Beanie Babies? They were able to command such high prices because the company produced everything as a limited run.

This BlendJet ad shows that you don't need elaborate creative to induce FOMO around a limited supply. They do it with just a few words.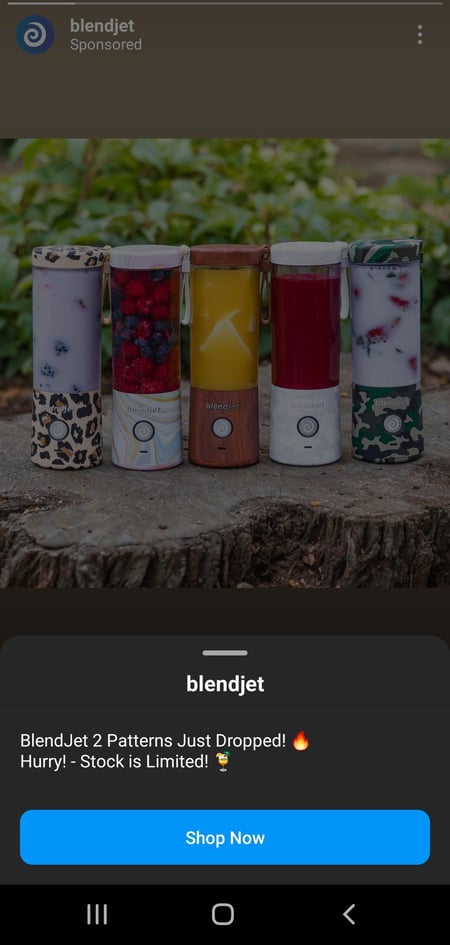 In just two lines of text, BlendJet lets you know new colors are dropping (don't be the last to get them!), and they confirm there's a limited supply (hurry, before they run out!).

Look for the aspects of scarcity in your own product (like if it's a limited release) and simply state it in your ads. No need to get fancy.
Booking.com's inventory tracker
When you're in a physical store, you can see how many items are on the shelf. If it's looking a little light, you might be more prone to buy than if there are plenty left.

The travel booking website Booking.com does this digitally. Any time a room type at a particular property is nearly booked up, the site highlights how many rooms are left.

Coupled with the security of free cancelation, watching the available rooms disappear before your eyes is a great nudge to book a room now instead of procrastinating.

Even if you have plenty of pieces available, you can use the same strategy by showing how many people have looked at a product or placed it in their cart recently. The underlying theme of "these are going fast" will get shoppers to buy.
Inno Supps' back in stock message
Running out of a product isn't usually something you do on purpose. But if it happens, use it as a tool for increasing interest and building FOMO.

Health supplement purveyor Inno Supps weaves that message into their Instagram ads. Under the social-proof video of customers talking about the product, the brand adds the comment, "Our hottest selling flavors of INNO Greens are BACK IN STOCK!!"

What's clever about this tactic is that Inno didn't outright say there was a limited supply. Instead, they let viewers know there was a time, not too long ago, you couldn't get their most popular product. Could it happen again? Why chance it? Get your favorites now.
Magic Spoon's bundle upsell
Some FOMO strategies are about selling products faster. Some, like Magic Spoon's bundling ad, are designed to increase add-on sales.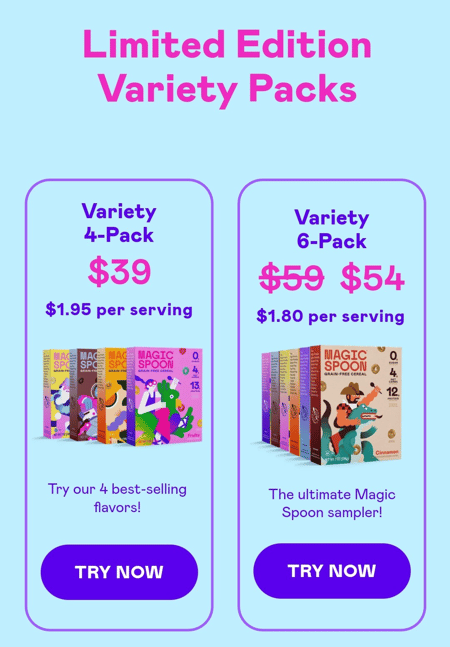 It works because it provides the relief of abundance – the cure for the anxiety of scarcity.

A keen eye will note the "Limited Edition" headline. That suggests a certain additional scarcity to the deal. That's a good reminder that FOMO marketing can have both a push and pull component to increase its effect.
skinbetter's gift with purchase
Sometimes scarcity doesn't have to come from the product you're selling. Skincare brand skinbetter offered a gift with purchase in an Instagram ad. The catch? It was only available for a limited time.

To really get the scarcity brain going, skinbetter could have provided the free gift to only the first 100 customers. It's the same tactic baseball stadiums use when they give away limited edition bobbleheads and miniature bats.
Clue into social norms with FOMO
There's a riverside restaurant in the heart of New Orleans called Cafe Du Monde. On any given day, lines of people wait for an hour or longer there for a beignet, even though several nearby shops sell the same sugary fried pastry. Why do so many people go to Cafe Du Monde? In part, it's because so many people go to Cafe Du Monde.

Researchers have found that social norms, like a busy restaurant or a sign saying most people have made a certain choice, can be very persuasive in communication.

One strategy of FOMO marketing is to show that other people, both influential individuals and the general population, are using and/or benefiting from a product. By showing that your product is the social norm, shoppers wonder what experience they're missing out on if they don't try it as well.
GoPro's UGC
Watching everyday people improve their lives by using a product can be a powerful form of FOMO. After all, if this person who is like me can have these experiences, why can't I?

GoPro is exceptional at sharing their customers' experiences. Their Instagram feed, for example, is full of user-generated content (UGC) that'll make you want to strap a camera on your head and start exploring.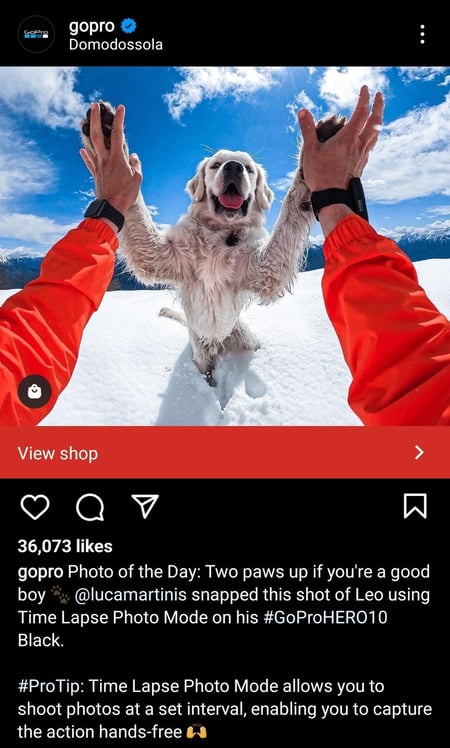 Not only does the adventure camera brand feature images that users have captured with GoPro products, but they even sneak in a few hints on how the viewer can get the same results.

If your products come with a learning curve, you can enhance FOMO by giving insider tips on how to get the same results as other successful users.
Bump Boxes' million mom mention
What are you missing out on when a million people just like you have done something you haven't? That's the question Bump Boxes suggested by showing off how many moms have already received a curated Bump Box of pregnancy products.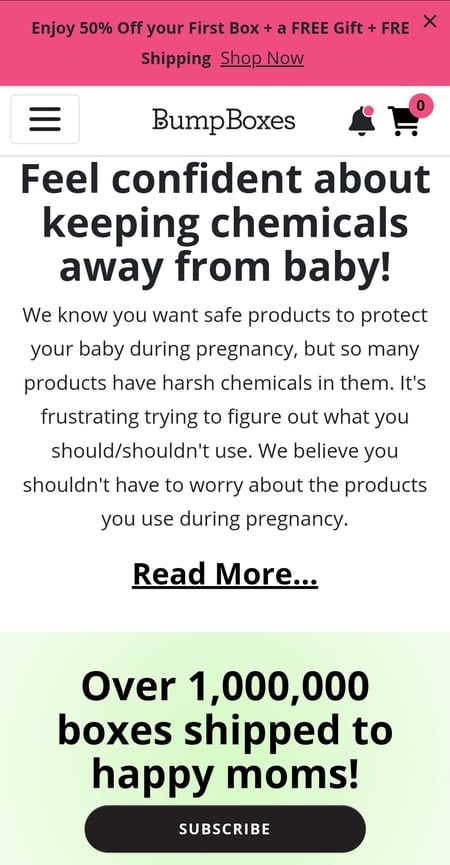 This tactic isn't new. Remember McDonald's showing us how many burgers they served? It is, however, a really good way to foster trust in your product and get people wondering what all the hype is about.
For The Biome's Google reviews
Featuring customer reviews is another way to show your prospects that they're missing out on something that lots of other people love.

Immune system supplement brand For The Biome does it by showing off their nearly five-star Google rating.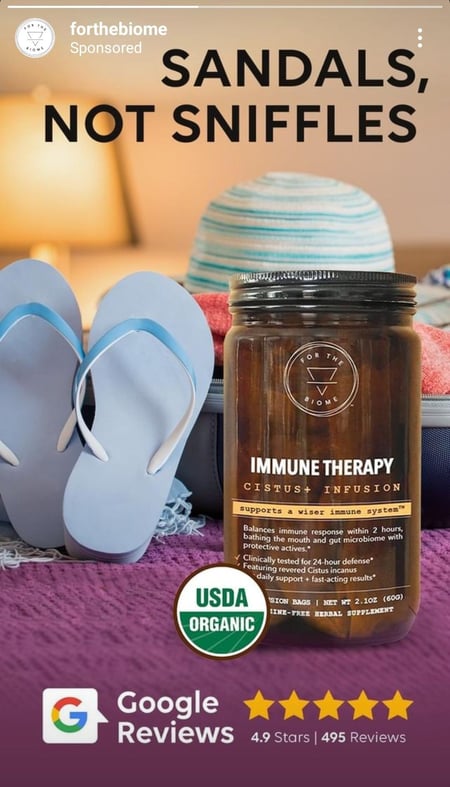 There are several sources with similar customer feedback. Case studies, testimonials, and social media comments are all useful ways to remind potential customers that there's something great waiting for them when they buy your product.
Groupon's running buyer tally
Groupon takes a different approach to foster crowdsourced FOMO. Under each of their daily deals, you can see how many people participated.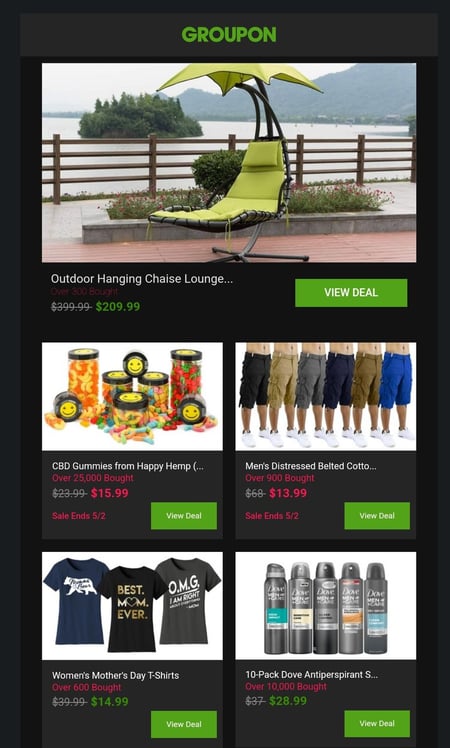 That not only tells you how popular a Groupon is, but it also puts it into the context of other deals. It's like driving by two lunch spots and seeing one empty and the other with a line out the door. The busy restaurant must have something great going on.

You can use a more generalized version of this tactic by labeling some products as "hot sellers" or "most popular." Anything that clues shoppers in that lots of people are interested.
Recover Brands' exclusive content
Sometimes FOMO isn't about showing people that they could do what a lot of people do, but rather inviting them to do what a select group is doing.

That's what Recover Brands, a company that makes clothing from recycled material, does with their newsletter invitation.
If you're passionate about protecting the environment, you'll want to join the club of people who are part of the solution. Plus, you'll get information on events, sustainability news, and product discounts before anyone else.

You can get new subscribers and leads the same way. Offer deals, information, or other perks only an insider can get. To make a bigger impact, share a current subscriber's review of what they got when they signed up. It's double the FOMO.
Use FOMO marketing strategically
One of the greatest strengths of FOMO marketing is that it stands out against other types of marketing messages. But overusing FOMO is like highlighting every sentence on a page or typing everything in all caps. It quickly loses its potency.

To make sure your FOMO remains effective, use it:
At a time when your audience has a high buying potential
On a targeted audience that will find the benefit relevant
As part of a broader marketing mix
Once you master the art of FOMO marketing, you'll have people lining up to buy your products. Which, of course, will attract even more people to line up and buy your products.
Subscribe for Updates
Get our best content on ecommerce marketing in your inbox 2 times a week.
Written by Lauren Hall
Lauren is a Brand Marketing Associate at Privy. She's the brains behind all things content. When she's offline, she's obsessing over her Bernedoodle pup, Monster, and plotting ways to being a full-time Vermonter ASAP.
Subscribe for Updates
Get our best content on ecommerce marketing in your inbox 2 times a week.