How Chubbies Uses Comedy To Build A Base Of Die-hard Customers
Published on May 26, 2020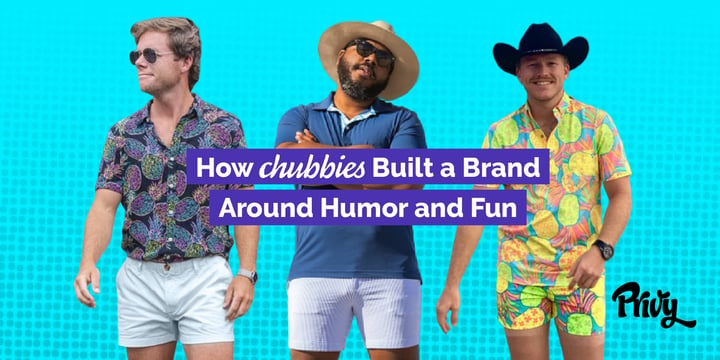 Chubbies started with four Stanford bros who loved short shorts.

In college, they would scour thrift stores and their dads' closets to find retro, colorful pairs. Post-graduation, after a few years of so-so jobs, the four friends considered the possibility of turning their fashion passion into a career. Why not start a business selling short shorts?

To test the idea, the group made a few pairs to sell at a Fourth of July beach celebration. They immediately sold out. Soon after, the team launched Chubbies.

But regardless of how big the business grew, the cofounders didn't want to lose the fun-loving spirit around shorts that led them to Chubbies in the first place.

"Our mission is to treat our customers the way we treat our friends, to engage in the same way," said cofounder Tom Montgomery.

For Chubbies, that principle in action means focusing on humor and fun. The brand doesn't create content just to get a sale — they also want to get a laugh out of their shoppers and celebrate the weekend. With that philosophy, it's easy to see why so many millennials are excited about Chubbies shorts.
Get our best content on ecommerce marketing in your inbox 2 times a week
Shares videos of shorts-driven antics on Facebook
Posing models, electronic music, scenic backgrounds — these are the typical ingredients of fashion marketing videos, whether it's a TV commercial or a YouTube ad. These videos typically make a brand's clothing seem cool, but they aren't particularly fun to watch.

Chubbies takes a different approach. Instead of using video to highlight their products, the brand entertains their shoppers.

Often featuring Jimmy Fallon-esque antics, Chubbies' Facebook videos are absurd and hilarious. One video shows a group of friends playing their own outdoor version of beer pong — rope swinging into a river and attempting to land in floating tubes. Another video has a much simpler but equally silly premise: men wearing shorts that are way too small.
[Source]
Chubbies shoppers love these videos, as seen by the thousands of likes, views, and shares the videos get on Facebook. The "Size Matters" video performed especially well, with more than 900,000 views, 3,600 likes, and nearly 1,000 shares.

"We put a lot of emphasis on video content because we've seen that be the more sharable, the most talkable of the content that we put out," said Tom Montgomery, cofounder and CMO of Chubbies.

Why do Chubbies' videos work so well? They're designed for the brand's target customer. Videos full of pranks and partying won't appeal to every shopper. But Chubbies isn't trying to appeal to every shopper. Men in their twenties, though? That's the exact kind of goofy, light-hearted content they're looking for on the internet.
Takeaway: Viral videomaking boils down to knowing your audience
When it comes to creating the next popular video, it doesn't matter what's worked for other brands. You have to think about what your target customer wants to watch, so you know which elements to bring into your own content. Ask yourself:
What does "fun" mean for your target audience? If shoppers see that your video is about their favorite leisure activities, they'll be likely to click and watch.
What does your target customer find funny? Ask your followers on social about their favorite TV shows and comedians to get a feel for their sense of humor. Also consider your shoppers' lifestyles. Are there certain routines — like getting ready for school or preparing dinner — that you could poke fun at? Everyday moments often make the best video premises since they're so relatable.
What is timely? If the holidays are coming up, a video about beach vacations probably won't get a laugh — but a video about a Thanksgiving celebration could be perfect.
Looking for more guidance on how to make a viral video? Check out this clip of Chubbies' former editorial director Grant Marek explaining the brand's video strategy.
Pokes fun at men wearing short shorts with Instagram memes
Instagram has a reputation for stunning photos. People even say "that is so Instagrammable!" when they see an opportunity for a great photograph.

Fashion brands tend to view Instagram through the same lens. They use the platform to share sleek, high-res shots of staged models wearing their clothes.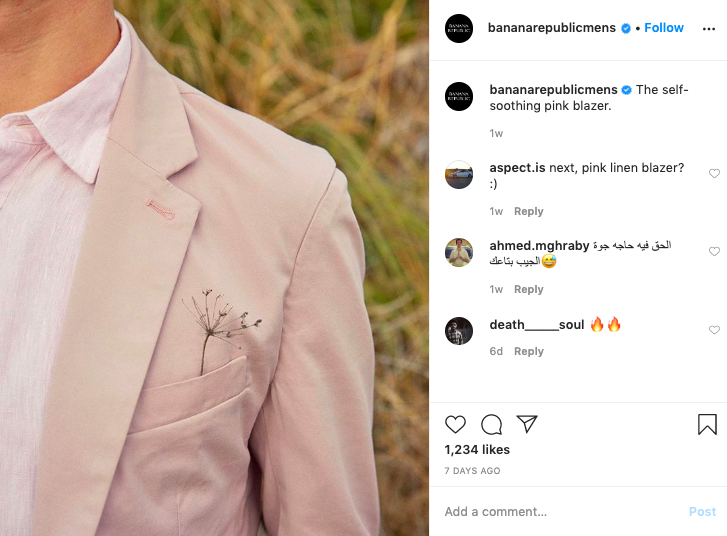 Banana Republic posts a crisp photo of their new blazer on Instagram. [Source]

Chubbies, on the other hand, feels no pressure to maintain a glossy Instagram. In fact, their account is quite the opposite. Almost all of their posts are memes of men wearing short shorts.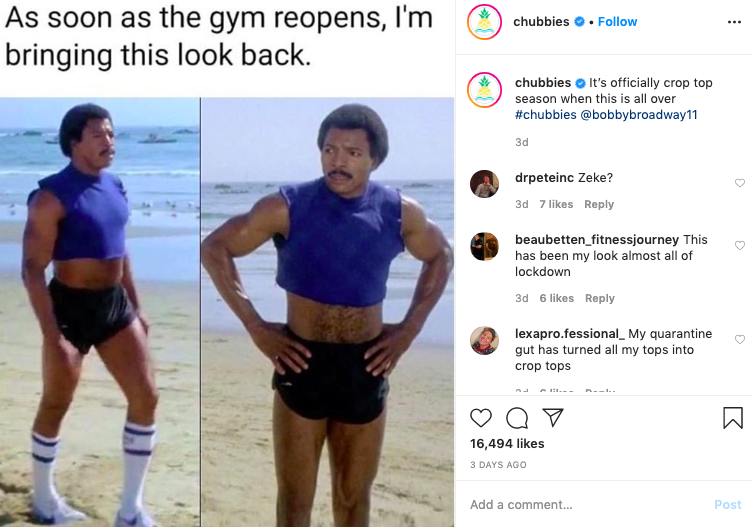 [Source]
Their meme photos are usually grainy, blurry throwback pics from the '70s and '80s. But Chubbies' followers don't seem to mind that the pics aren't "Instagrammable." In fact, the brand's posts regularly get over 10K likes — a decent metric for an account with a little under 500K followers.

Beyond likes, Chubbies' meme posts often get tons of comments, with many followers tagging friends in comment threads.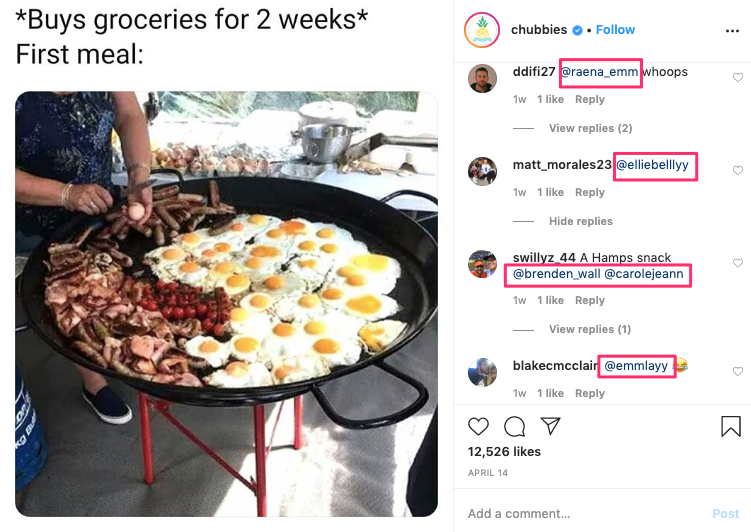 [Source]
With every tag, there's a potential for the friend to follow Chubbies and maybe even become a customer. The brand boosts their reach even further by regramming memes. It tags the account that originally posted the image in their caption, so all of that account's followers see the post, too.

For Chubbies, it doesn't make sense to use Instagram to post a bunch of catalog-worthy shots like other fashion brands. After all, their core customer is more likely to look for memes than read Vogue when they're on the Internet, so why not share the former? By doing just that, Chubbies reaches plenty of potential customers and builds current shoppers' love for the brand.
Takeaway: use Instagram to be funny, not just glossy
There's definitely value in posting jaw-dropping product shots on Instagram. But if that's all your brand is using the platform for, you're missing a chance to delight your shoppers — by making them laugh!

Follow Chubbies' lead, and loosen up your Instagram presence with a funny photo here and there. Start with a throwback Thursday post. Retro shots usually get a laugh when they include dated details — think Sean Connery wearing a romper as James Bond — so look out for pics that could never have been taken in 2020.

You could also surf through user-generated posts with your brand's hashtag to see if shoppers shared any funny content. The makeup brand Glossier loves sharing silly messages from shoppers on Instagram.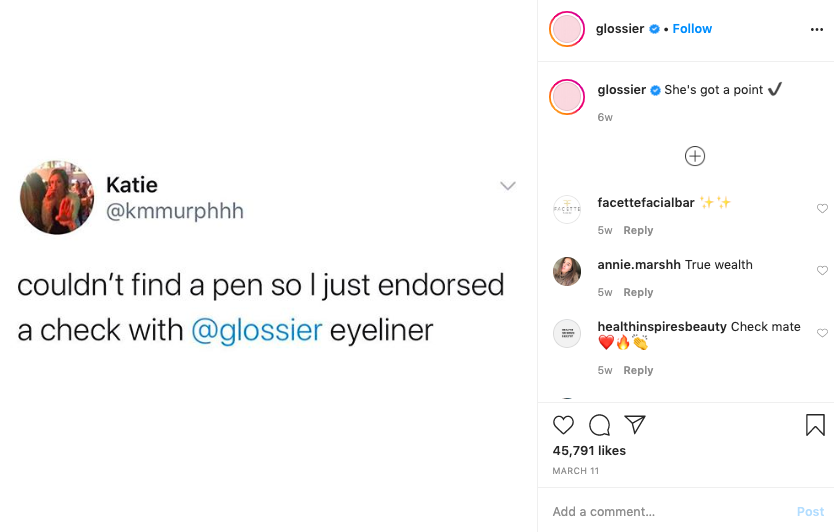 [Source]
Even if your brand isn't known for being funny, like Chubbies, try sprinkling humor throughout your Instagram. If you manage to get a laugh out of shoppers, you'll only grow their love for your brand.
Mixes product mentions with jokes in email newsletters
The typical shopper isn't rushing to their inbox to hear from fashion brands. According to Klaviyo's ecommerce benchmarks report, the open and conversion rates for fashion emails are below the averages for all industries.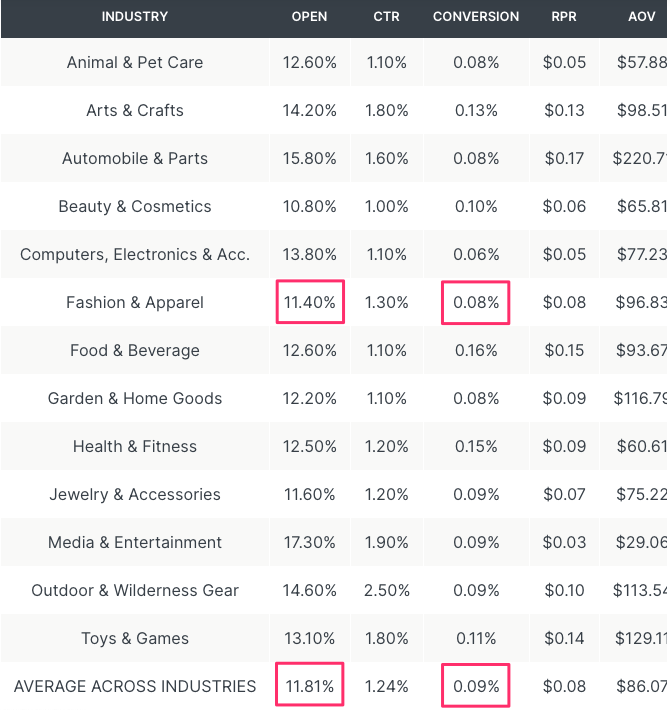 [Source]
It isn't hard to imagine why engagement is low. Most messages from fashion brands look like catalogs. The messages are almost entirely full of product photos with little text. The goal is clearly to get a sale — every CTA leads to the online store.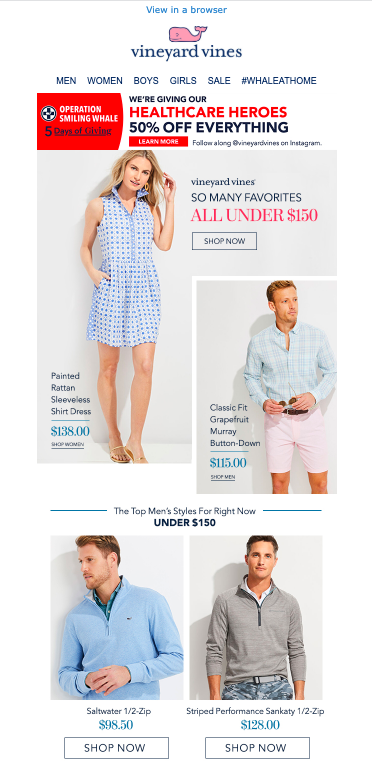 A recent email newsletter from Vineyard Vines highlighting their products. [Source]

If shoppers expect a brand's emails to push their products, they probably aren't going to open them unless they're big fans of the clothing. And if they don't open messages, there's no chance of the emails leading to purchases.

Chubbies does count on email to drive sales, but it doesn't write strictly promotional messages. To keep the content on-brand and entertaining, the company mixes product and humor into their messages. Photos show people wearing Chubbies shorts but also striking goofy poses. The descriptions are full of jokes. And instead of using the typical "Buy now" CTA text, Chubbies uses fun, playful messages, like "couchside is the new courtside" and "SLAM BAM," on their buttons.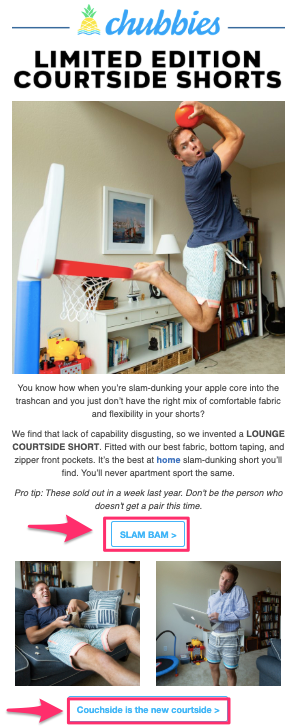 [Source]
Chubbies' most comedic email is their weekly "Weekender" message. While it can include product mentions, it's more focused on silly, fun content that isn't related to the brand at all. A January 2020 "Weekender" shared tips for crushing the weekend, including drawing six-pack abs on your dad bod and jamming out to the Bee Gees.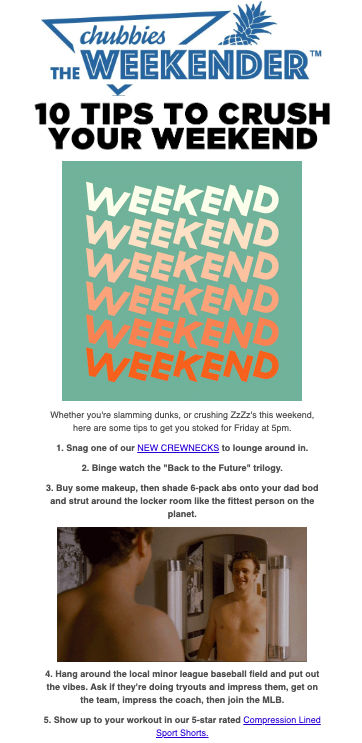 [Source]
This blend of funny and branded content works well for the brand.

"Email is absolutely huge for us," said Joey Avery, Chubbies' content manager. "We notice immensely on days when we don't send an email or an email doesn't do well a difference in revenue."

Even though Chubbies' messages are geared toward sales, they still delight shoppers. Avery says customers will often go out of their way to post screenshots of messages on Twitter and share praise.

"It is actually rewarding for us that so many people enjoy the emails," said Avery. "We'll get to go on Twitter and see people talking about what they appreciated. That always makes us feel good."
Takeaway: keep your content entertaining, even when you're trying to sell
To keep shoppers opening your messages, the content can't be entirely promotional. Even your brand's die-hard fans are bound to get tired of seeing staged photos and salesy copy.

Instead of treating your emails like catalogs, view them as an entertainer. Craft messages around what your target customer would want to read, instead of constantly priming them for a purchase:
Write surprising copy. Replace standard promotional language — "buy now" and "limited time" — with conversational writing.
Link to fun resources outside of your online store. On Chubbies' Leap Day Sale email, the brand shared a link to a page with celebrity Leap Day birthdays.
Shine a light on your employees. Many shoppers are curious to know what the internal operations of their favorite brands are like. Give them a glimpse by sharing quotes from team members about whatever topic you like.
Driving purchases with email doesn't have to mean writing bland, promotional messages. Spice up your strategy by focusing on entertainment alongside your product mentions.
Cut through the noise with funny, on-brand content
Chubbies' raucous, absurd jokes don't necessarily lead to successful content campaigns. If L.L.Bean adopted that style of humor, they'd probably lose the support of many flannel-wearers.

But every brand can make their customers laugh. How? By following Chubbies' lead and knowing their audience well. The short-shorts brand knows exactly who they're catering to — 20-year-old men who love to party. With a set target customer, Chubbies has a clear starting point for crafting their campaigns.

Brainstorm and experiment to figure out what makes your shoppers chuckle, and develop a solid brand voice around that taste. If your content reliably delivers on that sense of humor, you'll likely see a boost in engagement from high-value customers.
Subscribe for Updates
Get our best content on ecommerce marketing in your inbox 2 times a week.
Written by Lauren Hall
Lauren is a Brand Marketing Associate at Privy. She's the brains behind all things content. When she's offline, she's obsessing over her Bernedoodle pup, Monster, and plotting ways to being a full-time Vermonter ASAP.
Subscribe for Updates
Get our best content on ecommerce marketing in your inbox 2 times a week.