How Asos Built A Fashion Juggernaut With Inclusive Marketing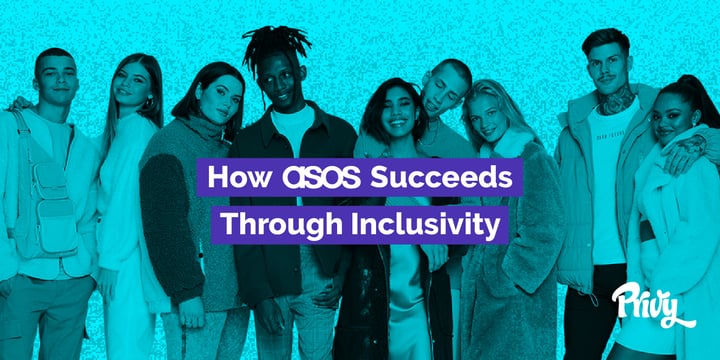 We're past the days where every fashion model looks like Gisele Bündchen. More and more brands are showcasing models of all shapes, sizes, races, and abilities.

But a photo ad isn't enough to persuade today's shoppers that a company is socially conscious. People want to see fashion brands fully commit to inclusivity, not just pay lip service to it.

Exhibit A: Everlane. The brand came under fire in 2018 for using plus-size models in their underwear ad without offering plus sizes for the new line.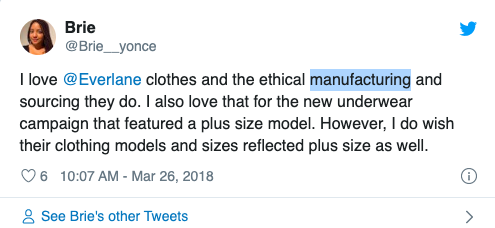 [Source]
The online fashion retailer ASOS knows better. At $3.2B in annual revenue, ASOS attracts all types of shoppers because of its genuine approach to inclusivity. By collaborating with its target audience, ASOS learns from the communities they're showcasing and makes its brand welcoming for all shoppers.
Get our best content on ecommerce marketing in your inbox 2 times a week
Let shoppers showcase their own styles
It's common for online fashion stores to have a "looks" section, where the brand displays outfit ideas for customers to consider.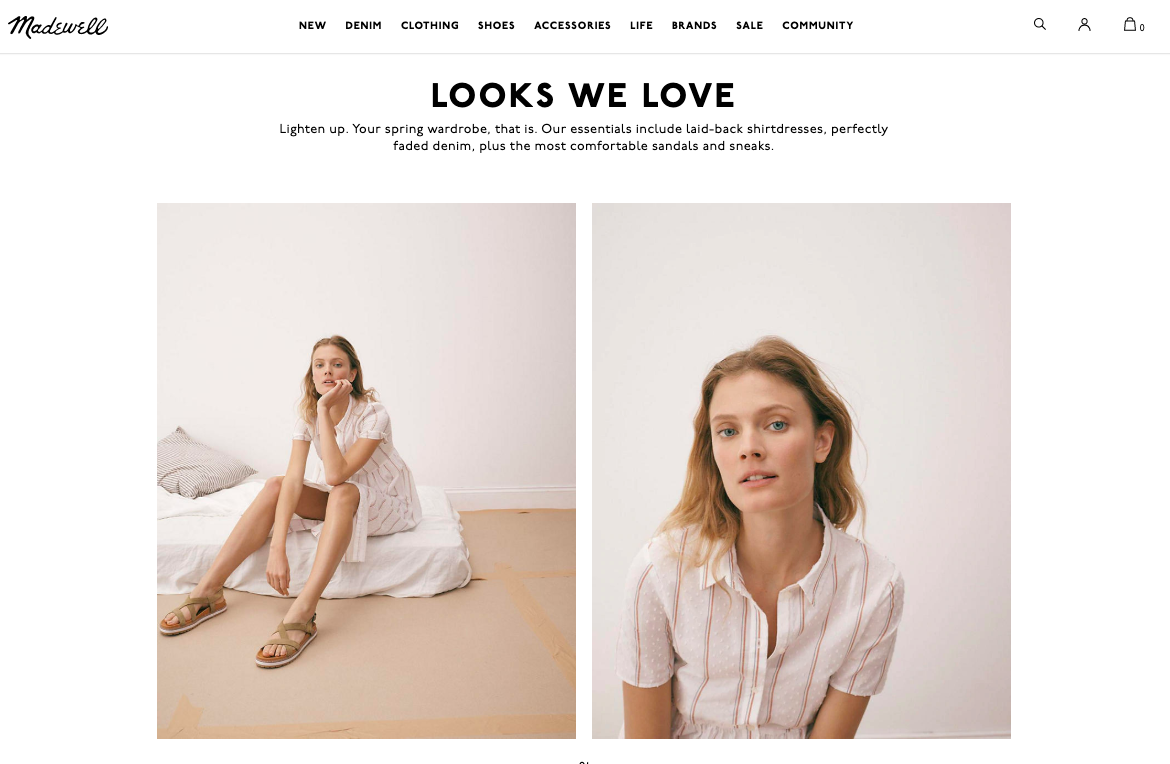 [Source]
These style suggestions are a helpful starting point, but they aren't usually representative of today's modern shoppers. Looks are often segmented by gender and feature slender, tall models. And the selected products are usually chosen because they're new, full-priced items – not necessarily because they're what shoppers want to wear.

ASOS takes a more inclusive approach to style guides with their Insider influencer program. The company has partnerships with 29 influencers who have distinctive looks. Each has ASOS-branded Instagram and Pinterest accounts, as well as a page on the website featuring their product suggestions.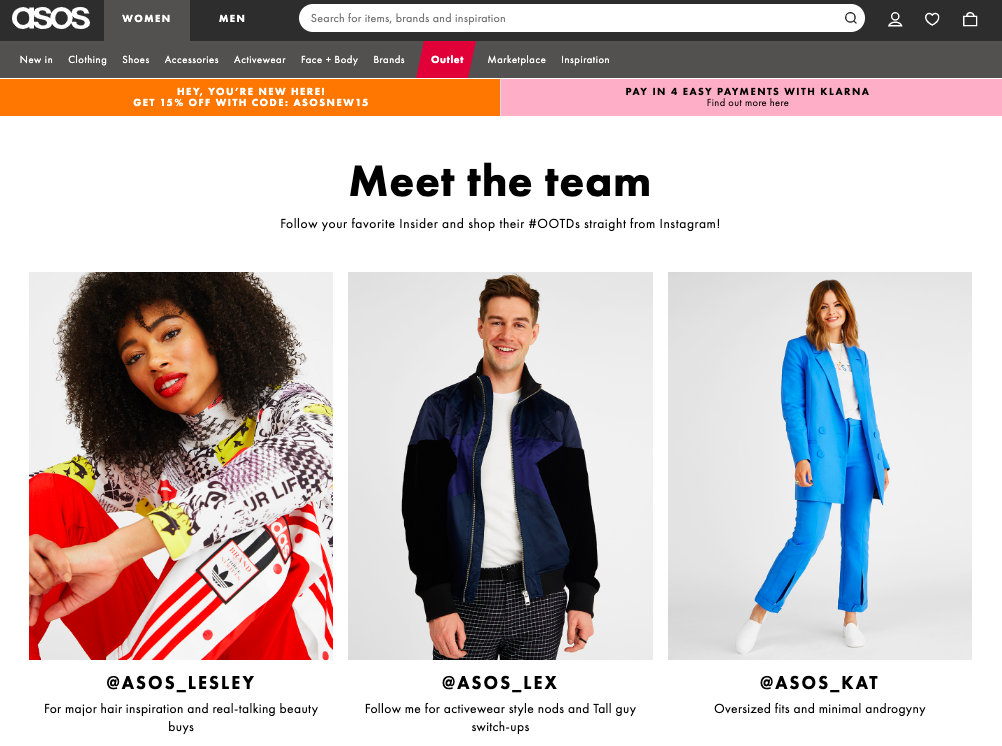 [Source]
With so many different styles to choose from, every ASOS shopper can find their perfect look. The content also carries weight with shoppers because it's coming from real (albeit stylish) people – not directly from the brand.

You might wonder if an influencer program this big is worthwhile. Many companies settle for one-off partnerships with influencers who have similar styles. Wouldn't it be risky and expensive to commit to so many different types of influencers for long periods?

In fact, ASOS boosts their reach and sales with this strategy.

"Each Insider's personal style was carefully selected in alignment with the sales data we were seeing in each of our core territories," said Sedge Beswick, former senior social media manager at ASOS.

And because ASOS forms long-term relationships with their Insiders, the influencers are able to build stronger followings than a one-off partnership post could generate. Each Insider Instagram account has anywhere between 20K and 80K followers, so, collectively, the program brings in anywhere from 600K to 2.4M followers.

ASOS's Insider program also drives sales with influencers sharing product codes and links in their posts, along with product recommendations on ASOS's site. This content has had a major impact on ASOS's revenue. When former Insider Felicity Hayward, the company's first plus-sized influencer, joined ASOS in 2016, her content led to an 800% increase in the brand's curvy clothes sales.

Instead of telling people what to wear, ASOS drives sales by letting influencers make recommendations. Their content inspires shoppers because it's coming from a real person, not the brand. And with so many different styles, the Insider program offers something for every shopper.
Takeaway: Build partnerships with a wide variety of influencers
Too many fashion brands make the mistake of choosing influencers who have their brand's "look." But, in reality, their customer base is a diverse group that can't be narrowed down to one style. Build a base of influencers that's representative of your entire customer base and you're likely to attract more shoppers.

Wondering how you might afford multiple influencers? Follow ASOS's lead, and target microinfluencers – people who have between 1,000 and 10,000 followers. The partnership fees for these accounts are affordable, so you can work with the influencers regularly. As a bonus, microinfluencer content often has a relatable feel because the accounts are run by everyday people.

To choose your influencers, look at your customer data. Yes, it's important to have a wide variety of influencers, but you also want to make sure that each one represents some segment of your customers. Otherwise, it's unlikely that their followers will be interested in your brand.
Collaborate with shoppers to launch your next product
It's one thing to let shoppers drive your marketing with user-generated content. It's quite another to give them control over your product development.

ASOS went this far with its gender-fluid clothing line, Collusion.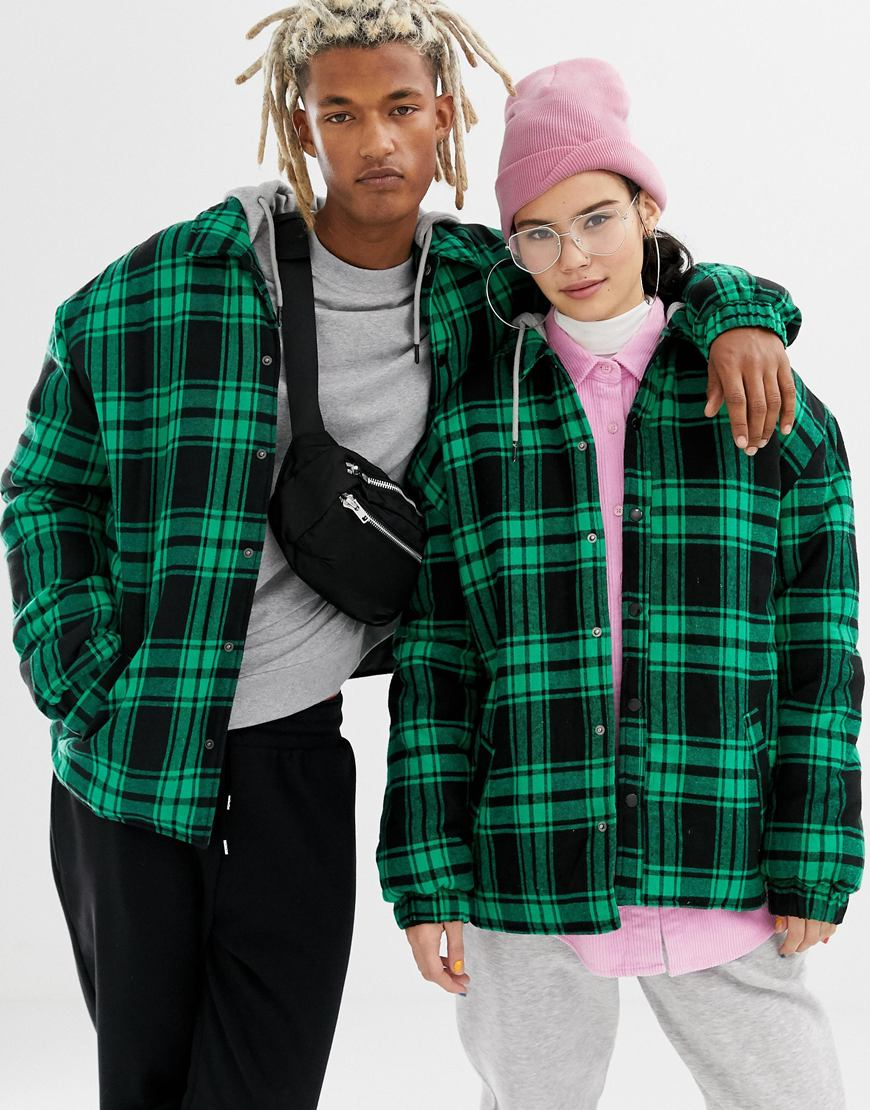 [Source]
The brand knew that if Collusion was going to live up to its mission – to be as "inclusive, collaborative and experimental as possible" – they needed to collaborate with young people.

To design the first Collusion collection, ASOS worked closely with a group of creatives between the ages of 17 and 22. Each came from a different background – activists, stylists, authors. What united the group was a commitment to inclusivity.

In addition to developing the products, young creatives also helped promote the new line. In 2018, Collusion was launched with a film featuring 100 18-year-olds in the UK answering, "What does it mean to come of age?"

A year later, a new group of collaborators went on a new female-led online radio station, foundation.fm, for four weeks to promote the 2019 Collusion collection. Instead of talking about fashion, the group led discussions about social issues, like gender identity and female representation in tech.

Everything about Collusion is unconventional. ASOS let inexperienced young adults shape a line's fashion products and then marketed the clothing, bags, coats, and scarves with discussions of personal, social topics. Yet it was ASOS's most successful brand launch ever, according to their February 2019 six-month report:
The Collusion line sold 1.5 million units from September 2018 to February 2019, which put it in ASOS's top 10 brands list.
The full price sell-through rate for Collusion was above average for ASOS brands.
Within the UK, Collusion was the most-searched brand on ASOS.com
ASOS's leadership knew that young creatives were up to date on social trends, so the company sought out the creatives' expertise to launch the experimental fashion line. The move played out well for the brand. Today, Collusion resonates with young shoppers because it was both created and promoted by its target audience.
Takeaway: Get shoppers directly involved in your product launch
Launching a product without customer input is risky, to say the least. Without it, you won't be able to tell when your product or marketing is missing the mark.

Check yourself by collaborating with your audience more frequently. If your brand is small, start with a focus group to validate your new product idea. Collect a group of 7 to 10 people who more or less represent your customer segments. Ask them open-ended questions about your new product and the messaging you plan to use to promote it. Based on their answers, you'll know what you need to tweak prior to the launch.

If your customer base is more engaged, consider consulting your brand's favorite influencers. They'll know your target audience well through their own followers, so their input will likely be invaluable. Brainstorm not only how your product might be improved, but also how you might promote it together.
Revise your brand messaging with shopper feedback
Figuring out how to be inclusive hasn't been a smooth journey for ASOS. The brand had to learn from a few mistakes to figure out how to be truly welcoming.

How did ASOS move forward after these setbacks? By collaborating with its audience to self-correct.

In 2016, ASOS faced backlash after posting a photo of model Naomi Shimada on Instagram and labeling her as "plus-size" in the caption. The first few users that commented were outraged, saying that the model was normal-sized and shouldn't be given the "plus" label. To clear the air, ASOS removed the word from the caption and conceded that plus-size is a "whack term."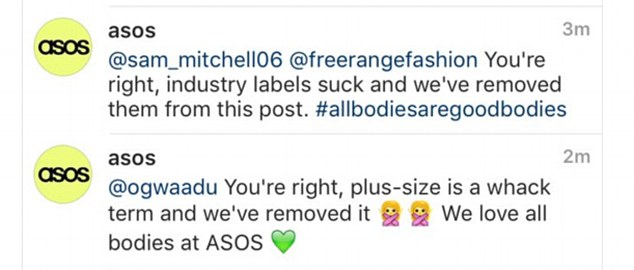 [Source]
Their response sparked even more outrage. More users slammed ASOS for treating the phrase "plus-size" like an insult, especially since the model had openly embraced the term in the past.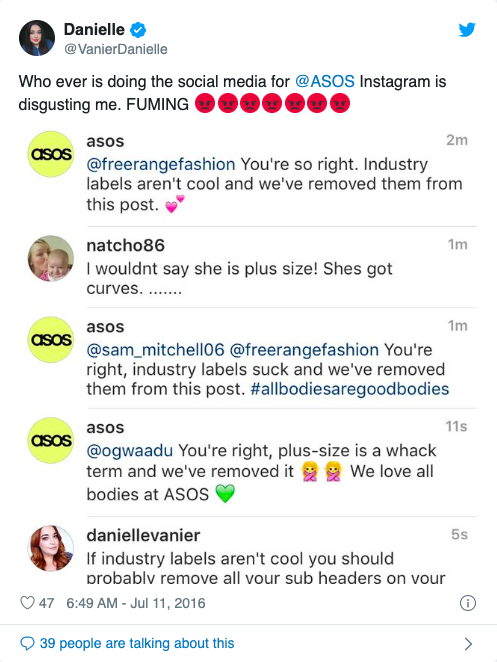 [Source]
At this point, ASOS had a right to be confused. Their audience was sending conflicting messages.

The brand could have thrown up their hands and vowed to never mention "plus-size" again. But instead of giving up, ASOS continued to engage in the conversation to figure out how they could "get it right for the community."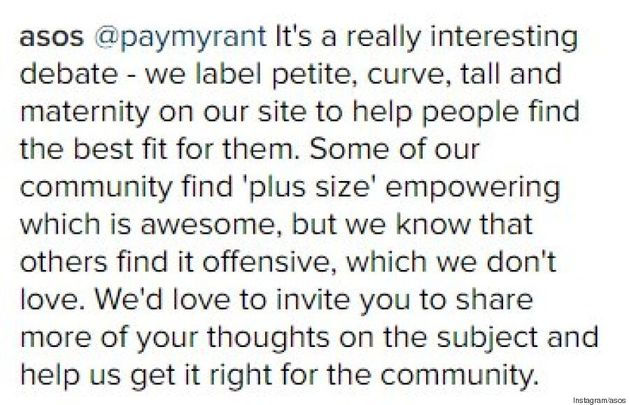 [Source]
Through that dialogue, the brand and its community agreed that "plus-size"‌ is an acceptable term. Getting the green light from their audience, ASOS went on to become a leader in plus-size fashion.

In January 2017, just six months after the social debate, ASOS became the first retailer to launch plus-size menswear.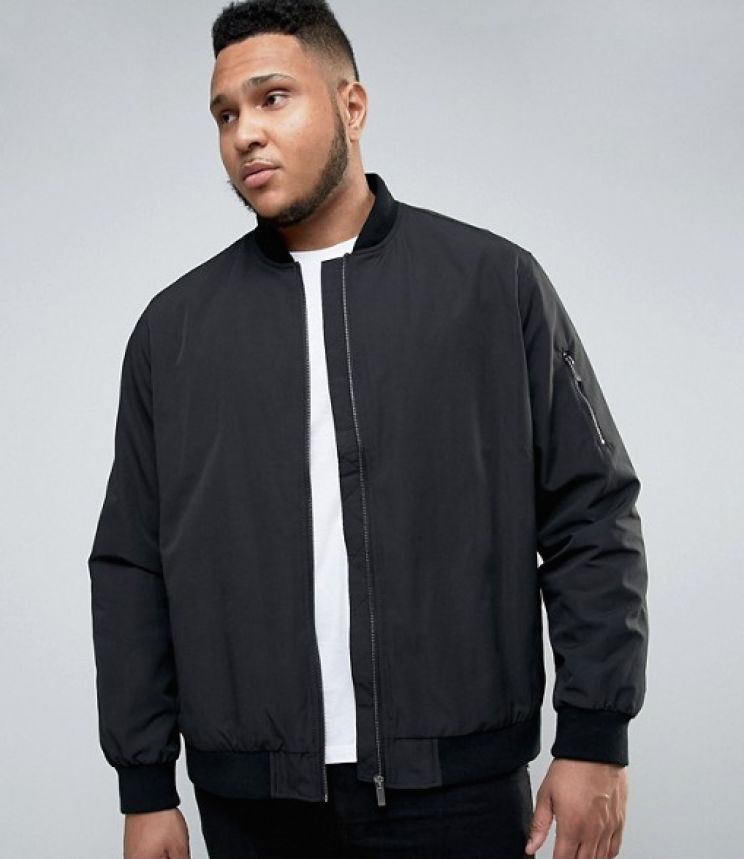 [Source]
The launch was a success. Their plus-size men's items took just 51 days on average to sell out – almost three times as fast as the clothing in their main menswear line.

ASOS continues to lead the way in plus-size fashion with their latest AR tool, See My Fit. Released as a trial in January 2020, the technology lets ASOS shoppers see 800 dresses on 16 different models, who range from size 4 to 18. Before, the dresses were shown on just four models, and none of them were plus-sized.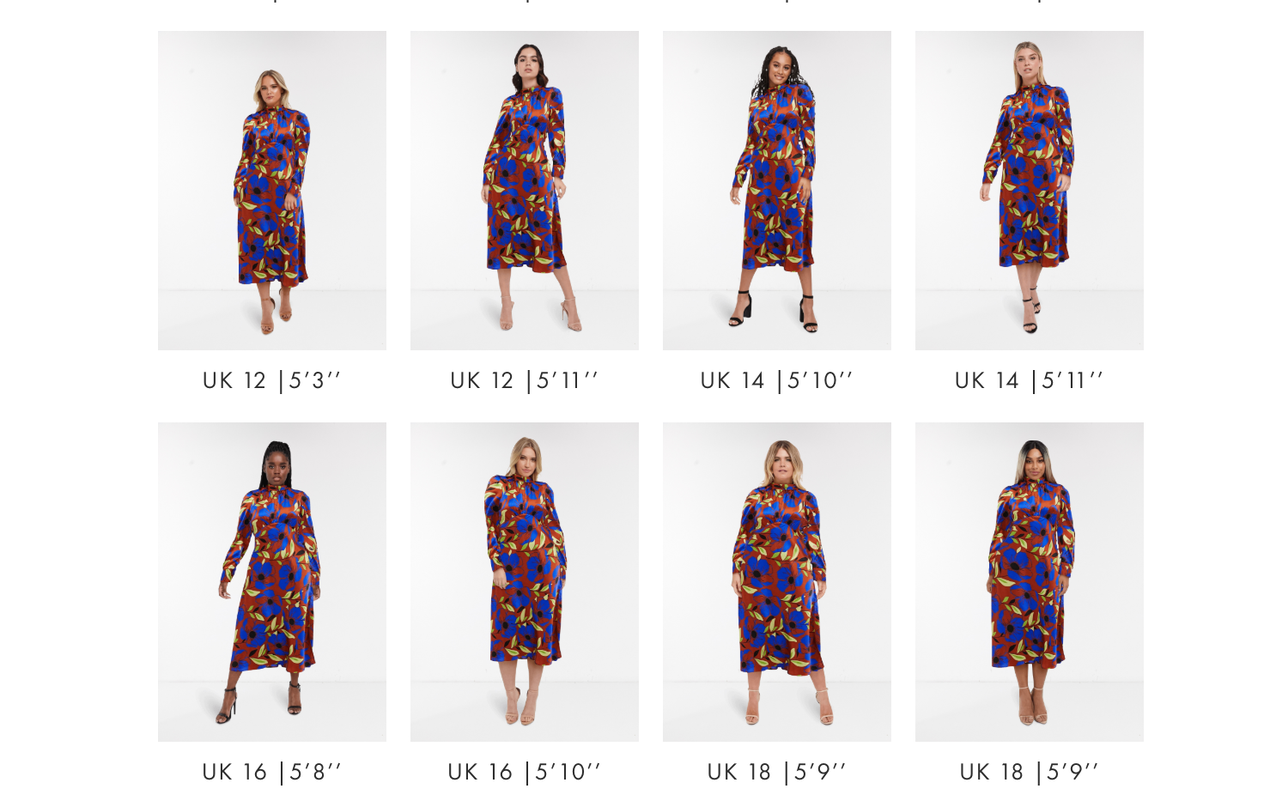 [Source]
So far, See My Fit is a hit.

"It's super rare for me to buy a garment online and it fits perfect. It's always too small," said ASOS shopper C. True Coleman. "[With ASOS] I got to view the dress on a model that had a body that looked like my body."

Instead of being discouraged by their 2016 faux pas, ASOS learned from it and changed because of it. Thanks to their misstep, the brand was more prepared to deliver products and messaging that its plus-size audience would love.
Takeaway: To be socially conscious, be receptive to shoppers' input
Even with the best intentions, you may release a product or marketing campaign that rubs your audience the wrong way. That's okay!‌ Instead of focusing on the mistake, move your business forward by working with your community to find a solution.
Listen to your audience. Take the time to process what shoppers are saying so you understand how to self-correct.
Publicly acknowledge you made a mistake. Whether it's on social or through an email, tell your audience exactly where your brand went wrong. The sooner you own up, the sooner you'll regain shoppers' trust.
Self-correct. Recall your product. Revise your marketing campaign's copy. Do whatever it takes to show your community that you care about making things right. These changes might cost your business in the short term, but you'll be better positioned to retain customers in the long term.
When in doubt, turn to your shoppers. If you're humble and open-minded, they'll be willing to help you reorient your brand to make it welcoming for everyone.
Attract more shoppers by collaborating with your target audience
No class in business school will teach you how to build an inclusive brand. Every group of customers is different, so there isn't a single handbook for making your brand more welcoming.

To make your brand inclusive, you have to listen to and collaborate with your shoppers. Learn more about their experiences through social media conversations. Engage with customers directly to understand how your brand can better represent them. The more inviting your brand is to people, the more likely they are to become customers.
Subscribe for Updates
Get our best content on ecommerce marketing in your inbox 2 times a week.
Written by Lauren Hall
Lauren is a Brand Marketing Associate at Privy. She's the brains behind all things content. When she's offline, she's obsessing over her Bernedoodle pup, Monster, and plotting ways to being a full-time Vermonter ASAP.
Subscribe for Updates
Get our best content on ecommerce marketing in your inbox 2 times a week.