How Allbirds Built A $1.4 Billion Company With A Sustainable Sneaker
Published on Apr 30, 2020
Written by Daniel J. Murphy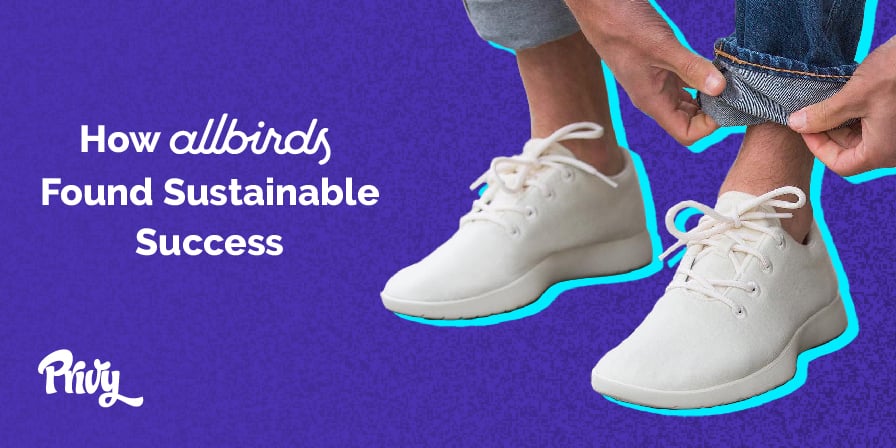 When Tim Brown and Joey Zwillinger partnered to create a sneaker company in 2014, they knew they wanted their footwear to be environmentally friendly. But, pretty quickly, the duo realized that sustainability couldn't be the brand's only selling point.

"We spoke with Eric Ryan, one of the founders of Method products, who said that if you want to incorporate sustainability into a consumer brand, don't talk about it," Brown said. "People don't buy sustainability, they buy great products."

With that advice, Brown and Zwillinger didn't rely on a green label to grow Allbirds. To build the $1.4 billion sneaker company, the duo focused on making sure their product was:
High-quality. Shoppers won't buy sneakers that don't fit well and that fall apart after a few wears, sustainable or not.
Cost-effective. Brown and Zwillinger knew that they would only make a profit if their production costs stayed below revenue.
Genuinely sustainable. For shoppers interested in eco-friendly shopping, Brown and Zwillinger wanted to be open about what made their shoes good for the planet.
Six years later, Allbirds sneakers still check all three boxes. The shoes are incredibly comfortable—which keeps customers coming back—but they're still cost-effective for the brand to make. And for shoppers who do care about sustainability, Allbirds earns their trust by being 100% transparent about production.
Get our best content on ecommerce marketing in your inbox 2 times a week
Started with a great product
From day one, Allbirds shoes were environmentally friendly. Wool was their original shoe material, which is naturally renewable, recyclable, and biodegradable. It's also still widely used in their shoes today.

But this steadfast commitment to sustainability didn't drive the initial success of Allbirds. Instead, it was Brown and Zwillinger's focus on comfort and durability in their product development and marketing that attracted shoppers.

Brown dreamed up the idea of Allbirds in the early 2010s. As a retired pro soccer player (he played in New Zealand), he had tried on tons of sponsored footwear brands. He was struck by how many types of sneakers there were on the market, and he wasn't particularly impressed with any of the designs.

"My initial insight was that footwear had become overdesigned, over-logoed, overly bright—and you're overwhelmed by the amount of choice," Brown said in an Inc.com interview.

Brown set out to make a simpler sneaker with a material well-loved in his country: wool. No other footwear brand was using it, so Brown partnered with a New Zealand research firm to create a wool sneaker. It took two years, from 2012 to 2014, to develop the first pair.

In 2014, Brown released the first model of his shoe through a Kickstarter campaign, which focused on how comfortable and resilient the shoes were.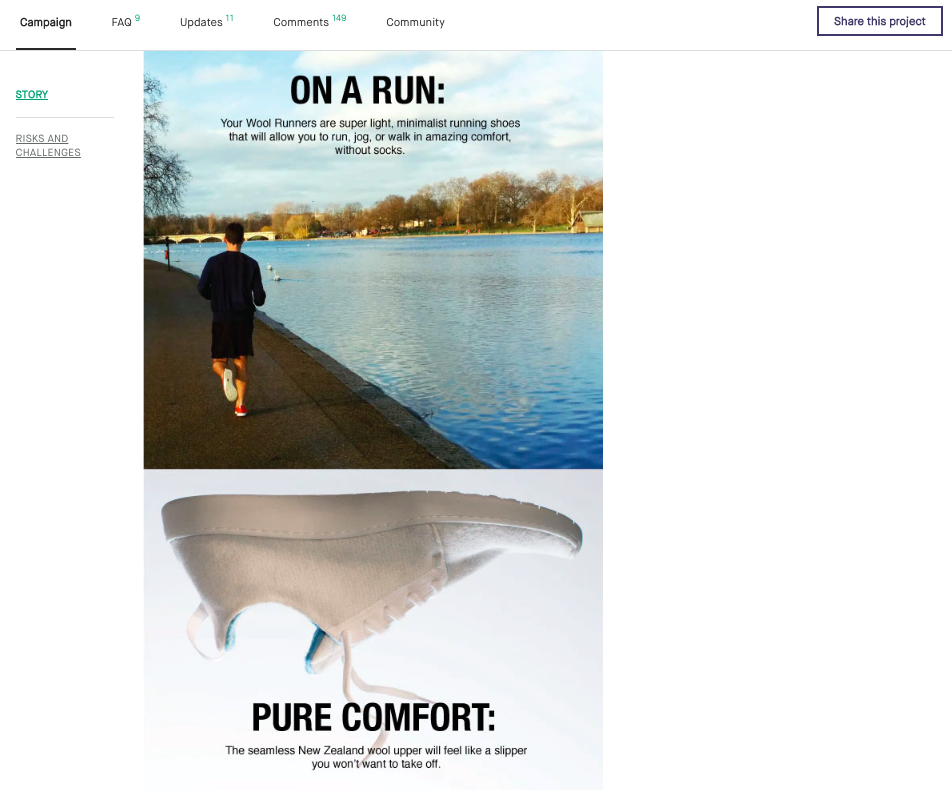 [Source]
Brown's goal for the campaign was $100K in donations. He ended up surpassing his goal in 5 days, raising $119K.

Zwillinger, a biotech engineer at the time, was impressed by the campaign and Brown's innovative use of materials. He reached out to Brown (their wives were friends), and the two spent the next two years improving the shoe even further.

In March 2016, the duo officially launched Allbirds. To get shoppers hyped about their shoes, Brown and Zwillinger did something unconventional for an early startup: they invested heavily in brand marketing. The team spent 20% of their initial budget—roughly $400–500K—on marketing and PR campaigns.

What was the focus of these campaigns? Not sustainability, but quality. Brown and Zwillinger made it clear through marketing and PR that these shoes felt incredible to wear.

The campaigns paid off. On the day Allbirds launched, Time magazine published a piece on the sneakers, with the headline "The world's most comfortable shoes are made of super-soft wool."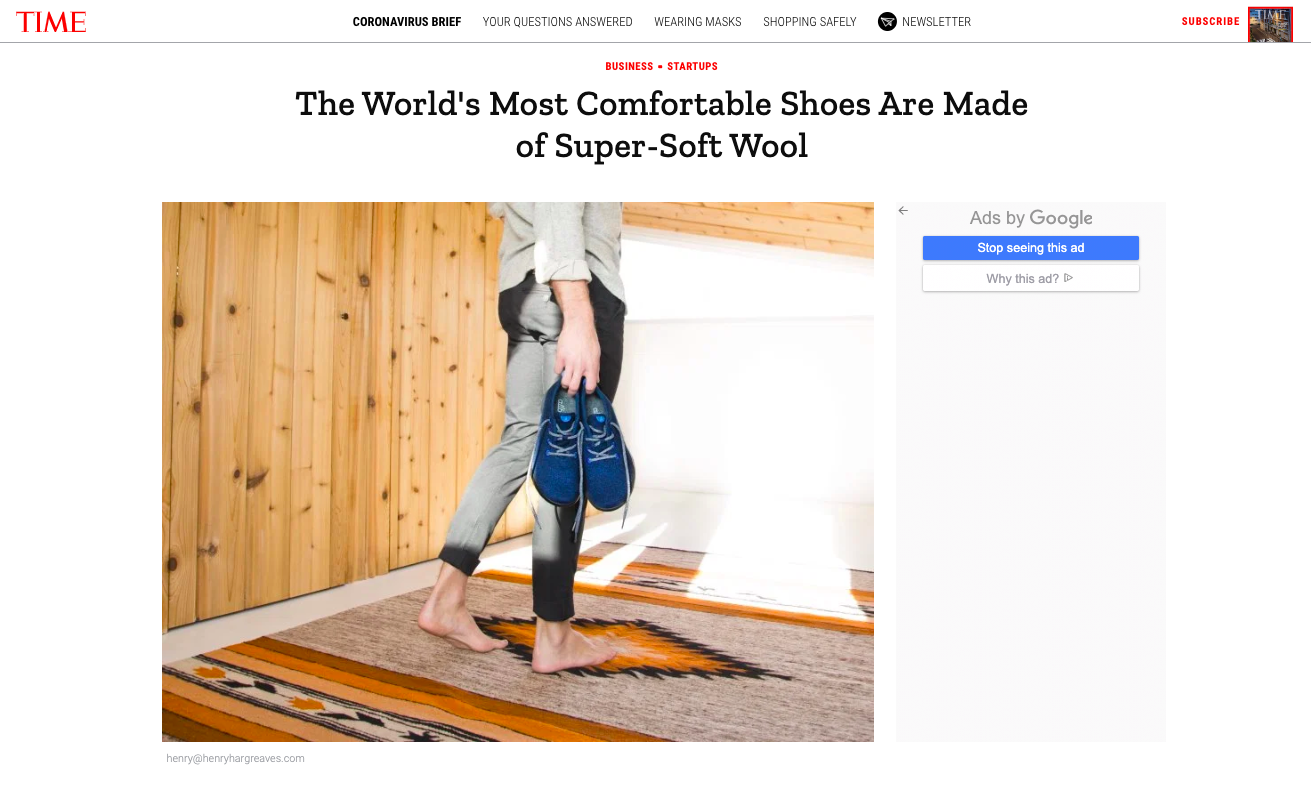 [Source]
That article had a ripple effect. Within months, Allbirds shoes became the darling product of Silicon Valley, with VC leaders raving on social about how much they loved them. And a whole host of celebrities—including Mila Kunis and Jennifer Garner—started sporting Allbirds, too.

In just two years, Allbirds sold more than a million pairs.

What drew so many shoppers to the product initially wasn't sustainability, but the experience of wearing it. Brown and Zwillinger's obsession over quality—both in their product development and marketing—made the shoe a hit.
Takeaway: Prioritize product quality as much as sustainability
Being a green business isn't an excuse to make mediocre products. The average shopper cares more about what it's like to use a product than how it's made or what it's made of. It's in your business's best interest to focus on quality.

Start by conducting market research to determine your biggest competitors. Based on their strengths and weaknesses, brainstorm how you might update your own product development to stand out from these brands.

Another idea: survey your shoppers to understand their product expectations. What features could they do away with, and which are essential? And what would they like to see added to your product? These survey responses will help you figure out what to prioritize in product development.

If you're worried about compromising your environmental values, don't be. Product quality and sustainability can be aligned, as Allbirds shows. The factors that make their sneakers so comfortable—natural materials and simple designs—are also what make them environmentally friendly.
Kept sustainable production cost-effective
People often assume that sustainable products will always be expensive to make. As the thinking goes, green production is costly since it involves unconventional processes and materials.

Without proper planning, eco-friendly production has the potential to drain your business's budget. But, as Brown and Zwillinger have shown, that doesn't need to be the case. Using innovative production and distribution methods, Allbirds offsets the costs of their high-quality, sustainable materials.

For example, a single footwear brand will often use a wide variety of materials for hundreds of shoe styles. Allbirds, on the other hand, uses just four environmnetally friendly materials across all of its designs:
SweetFoam, a sugarcane blend, for its shoes' soles
Eucalyptus fiber for Tree Runner sneakers
Merino wool for Wool Runner sneakers
Trino, a mix of eucalyptus and merino wool fibers, for socks
With just four core materials, Allbirds has room to focus on quality over quantity. Instead of investing in hundreds of shoe designs, the brand can dedicate their resources to comfortable materials that are good for the planet.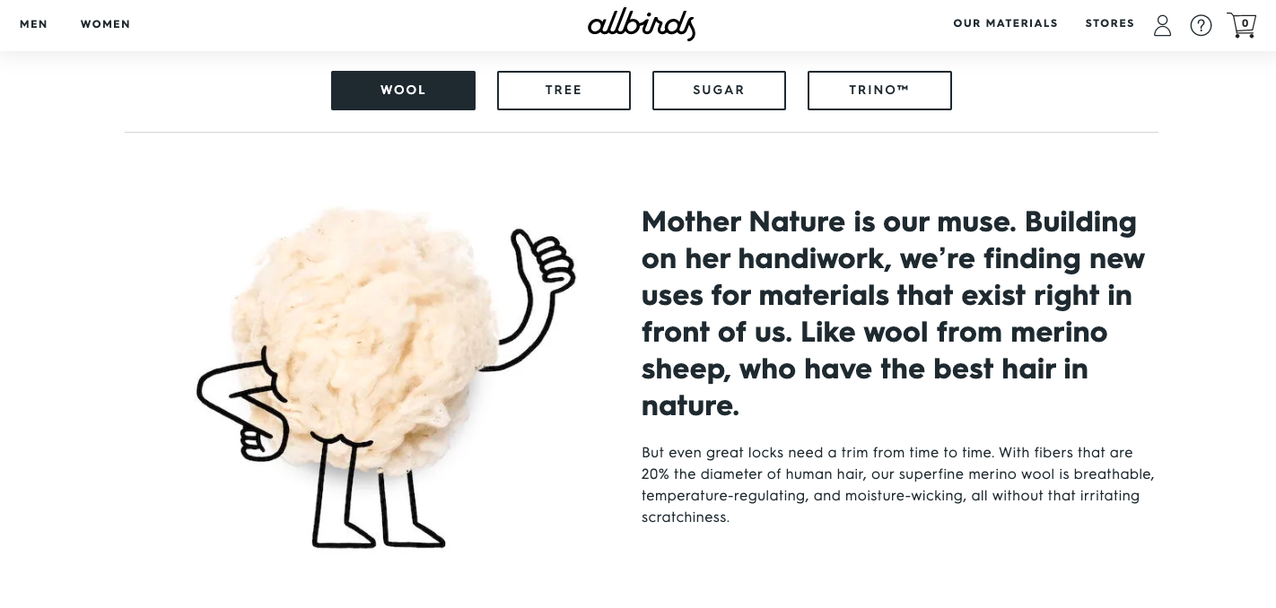 [Source]
Another way Brown and Zwillinger minimize traditional footwear costs is by selling DTC, or direct to consumer. Many footwear brands don't use this model, going wholesale instead—selling their shoes to retailers who then sell them to consumers. But with wholesale, footwear brands leave potential revenue on the table. They have to sell their shoes to the retailer at a lower price than the customer will pay so the retailer is able to make a profit.

Allbirds maximizes their margins by selling at the highest possible price directly to the shopper. With this revenue, the brand has more money to invest in high-quality, sustainable materials than traditional footwear companies have.
Takeaway: Simplify to reduce production and distribution costs
Sustainability and profit-making aren't incompatible. As Brown and Zwillinger have shown, with the right budget adjustments, it's possible to build a business that's both financially viable and environmentally friendly.

Try simplifying your own production and distribution methods to see whether that creates more room to invest in sustainability:
Prioritize the product features your customers absolutely need. If you're able to cut down on features, you'll lower the number of materials and production methods needed to make your product.
Look for potential overlap across products. If multiple items use the same parts and materials, you can buy these items in bulk to reduce costs.
Consider switching from selling wholesale to DTC to maximize profit margins. If you're worried about disrupting current relationships you have with retailers, Shopify recommends following DTC for only a part of your business to start. Check out Shopify's DTC resource for guidance on how to make the switch.
Your production and distribution methods don't need to be permanent. Rethink your current processes to see whether there are opportunities to simplify and open up more funds to sell high-quality, sustainable products.
Clearly communicated what makes their business eco-friendly
If a product's only selling point is its environmental friendliness, it probably won't be very popular. But it is true that many people today factor the planet into their purchases. According to NYU's research, sustainably marketed goods accounted for 50% of growth in consumer packaged goods from 2013 to 2018.

That said, shoppers aren't quick to trust products marketed as eco-friendly. Thanks to the Internet, they're able to investigate whether a brand's sustainability claims hold water. Willing to be scrutinized, Allbirds is radically open about the company's sustainability goals and how the shoes are made.

In 2018, the brand shared the formula for their SweetFoam sole. Transparency around production is rare in the footwear industry. Afraid that competitors will copy their products, most companies are secretive about how their shoes are made.

But Allbirds shared the formula in hopes that other brands would use SweetFoam.

"Traditionally, the footwear space is about secrecy and keeping things to yourself," Brown said. "But our purpose and our mission are around tackling this climate crisis with products that are made more sustainably."

Risking greater competition, Allbirds' openness around production shows how much the brand wants to protect the planet.

Allbirds also builds trust with environmentally conscious shoppers by gaining sustainability certifications. It currently holds one of the most widely-known environmental qualifications—a B Corp certification. To keep this status, Allbirds has to maintain a minimum environmental score, which is publicly shared on the B Corp site.

The brand also shares a carbon-footprint score for every shoe on their product pages.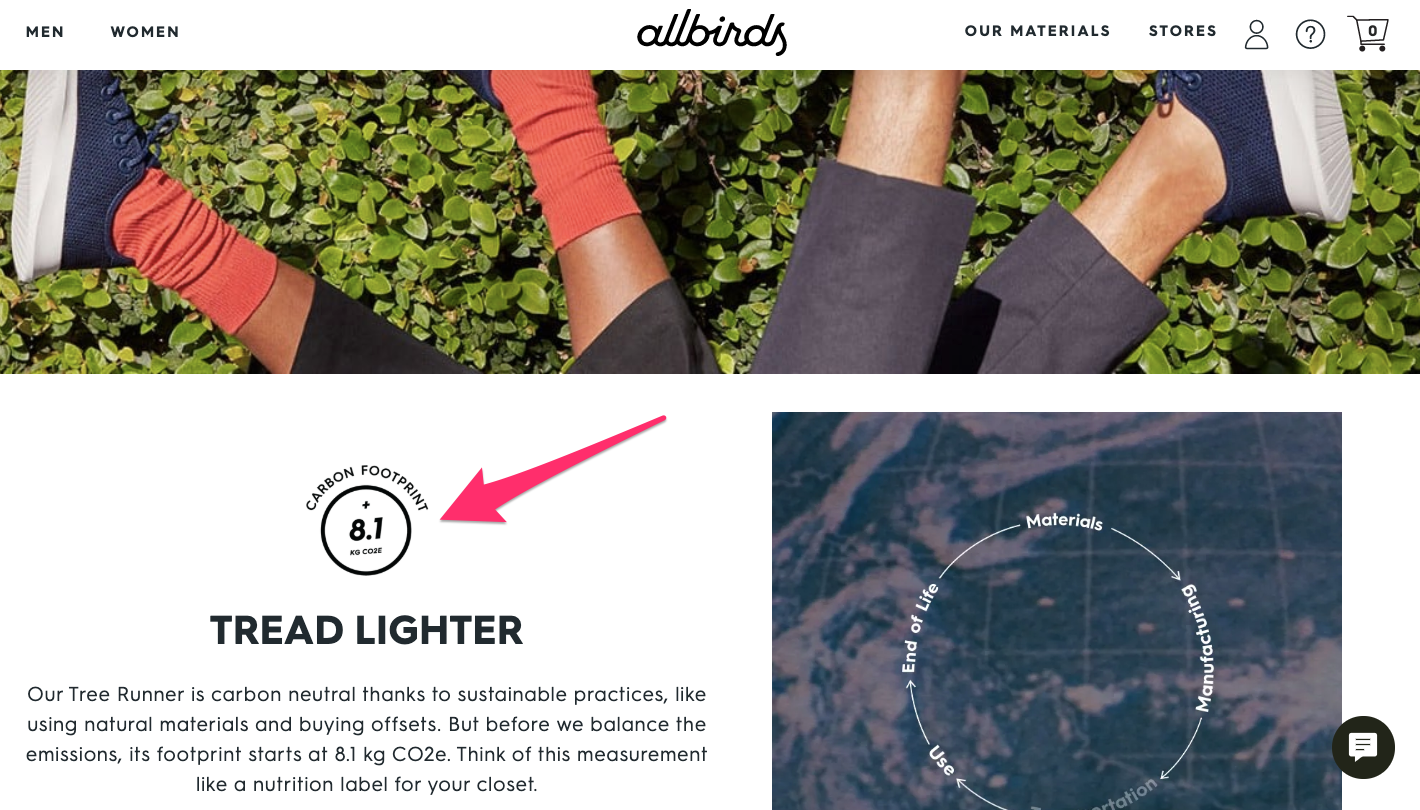 [Source]
Many companies would balk at posting carbon scores on product pages. Reminding shoppers of their brand's negative environmental impact could easily dissuade them from clicking "buy now."

But Allbirds' target customers buy the company's products because they know the environmental cost and how the company is minimizing its impact.
Takeaway: Don't make sustainability claims unless you can back them up
Today's shoppers are curious about what brands are doing to protect the planet. Build their trust in your business by explaining how your brand is committed to sustainability.
Create an "Our Materials" or "Our Process" page on your site to describe what makes your materials and sourcing methods environmentally friendly. If your production process isn't quite as sustainable as you'd like, share the steps your brand is taking to lower its environmental impact.
Apply for sustainability certifications. If your business doesn't meet the qualifications for these programs, brainstorm how you might alter your current practices. If your business is accepted, post certification logos on your site for shoppers to see.
Create environmental reports annually to update shoppers on what your business is doing to be more sustainable. These reports don't have to be formal—they could be a blog post or even a video. Post the reports on social so they're easy for your followers to find and share.
If you're serious about combatting climate change, share what your business is doing to help. These initiatives will likely attract business as more and more people become concerned about global warming. And by holding yourself accountable, your brand is more likely to stick to its sustainability commitments.
Sustainable ecommerce is a massive but rewarding commitment
Allbirds shows that sustainability in business is more than slapping a green label on your brand. You still need a high-quality product that is profitable to produce. And with today's discerning customers, you need to be specific and up front about what makes your business eco-friendly.

If that sounds like a lot of work, that's because it is. But for Brown and Zwillinger, the effort is beyond worth it—both for their business and the planet.

"Our vision is to make our shoes function like trees—a net positive to the climate," the two cofounders said. "We hope every consumer product company follows suit."
Subscribe for Updates
Get our best content on ecommerce marketing in your inbox 2 times a week.
Written by Daniel J. Murphy
Dan is a B2B marketing leader with over 7 years of experience helping SaaS startups grow. Before joining Privy, Dan was the Director of Product Marketing at Drift. He's also worked in demand generation, brand marketing and marketing ops. Dan loves to geek out over marketing strategies and technology. He co-authored "This Won't Scale" with Privy's CMO, Dave Gerhardt at their previous company.
Subscribe for Updates
Get our best content on ecommerce marketing in your inbox 2 times a week.