5 Emails Every Ecommerce Brand Should Include In Their Welcome Series (With Examples)
Published on Mar 25, 2021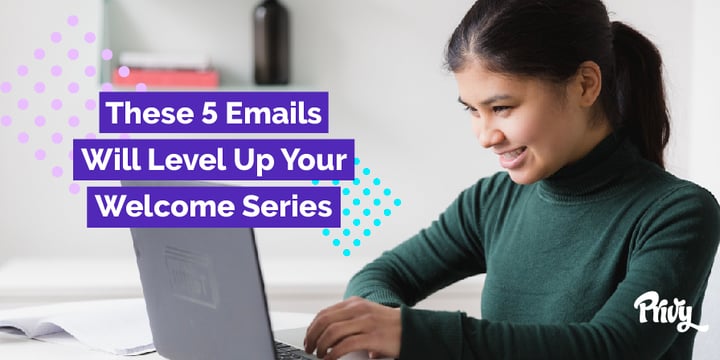 First impressions matter.
And if your website is like your store front, your welcome emails are like your sales reps that help customers make their purchase decisions (and welcome them to your business).
A welcome series is an automated series of emails that help ecommerce brands introduce their stories, products, and FAQs.
These automated emails are quick to set up and pay dividends for weeks and years to come.
And whether you're sending only one or a series of 12, the important thing is to be sending them.
That's why today, I'm going to share with you five ideas that you can use in your welcome series to build your brand and boost your sales.
1. Follow up with their coupon offer
First of all, you should think about why this contact is even receiving this welcome series in the first place.
Chances are, they came to your site and saw a welcome popup like this one from Death Wish Coffee: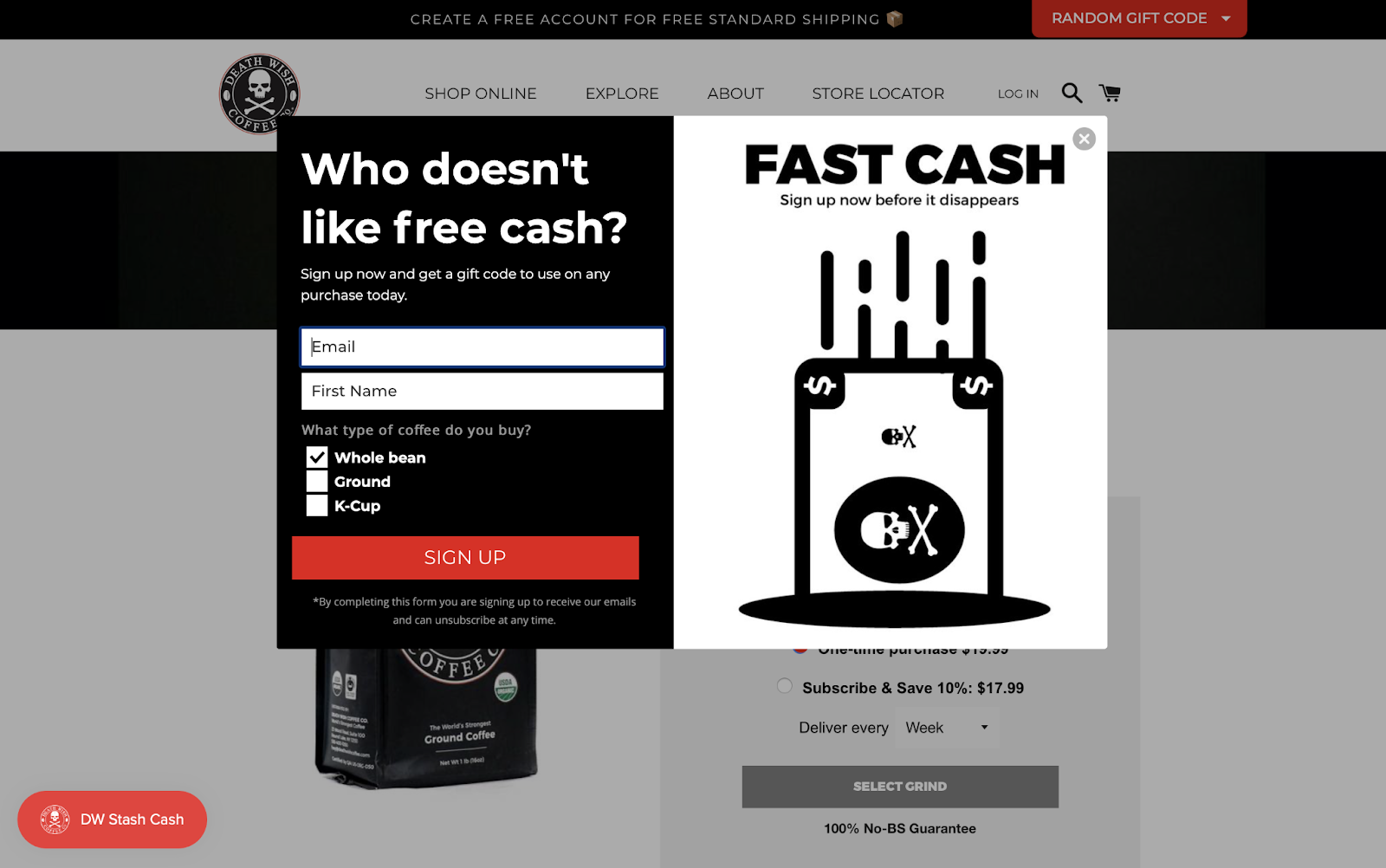 Now at this point they've given you their email, gotten a discount code, andddd they're gone.
Maybe they got distracted or now's not the right time for them to buy.
Either way, the best thing you can do from here is follow up with them and send their coupon code over email.
Here's what Death Wish sends immediately after capturing a customer's email: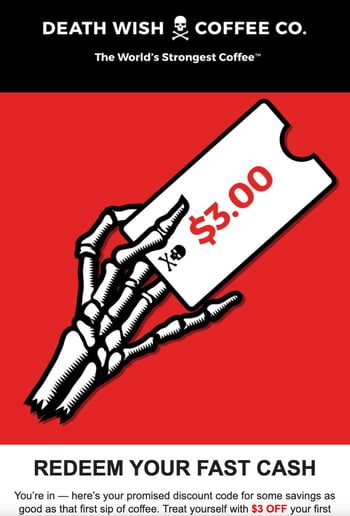 2. Remind them about their coupon
While your brand is the most important thing in the world to you, the reality is that most other people don't care about your brand as much as you do.
Seriously.
You've probably been on half a dozen ecommerce sites this week. How many do you remember?
That's why it's so important to be diligent about reminding customers about your brand and the coupon code you gave them.
Tiger Lily does a great job at this by using Privy to set up a coupon that expires in 1 week.
Then, 4 days after a customer signs up, they remind them about their coupon and to use it before it expires.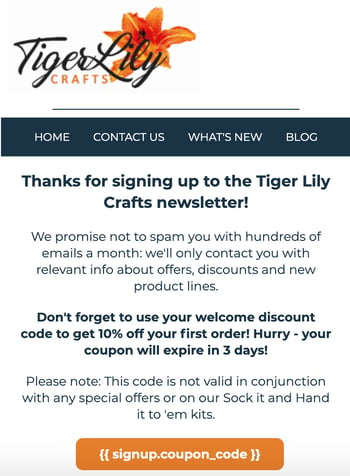 3. Share your founding story
The hardest part about selling online is that it really doesn't feel personal.
You're not walking into your downtown shop on Main Street. You're on a random website on the internet!
That's why sharing your founder's story is so important. It's a great way to humanize your brand.
That's exactly what Wandert Heart has done (bonus points if you can add a video like they did).

This is the perfect email to include in your welcome series to help a customer learn more about your company (and start building a connection with you on a personal level).
4. Show off your best selling products
These days, at least 50% of your traffic is coming from mobile.
And let's be honest for a minute...
Mobile traffic is great, but there's a high chance that they're not seeing everything that your store has to offer.
It's just harder to navigate around dozens of pages from your phone.
That's why featuring your product catalog in your welcome email series is a great way to highlight products your subscribers may have missed on your site.
Take a look at how West & Willow does it in their welcome email: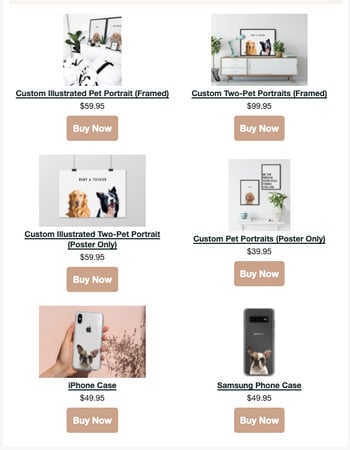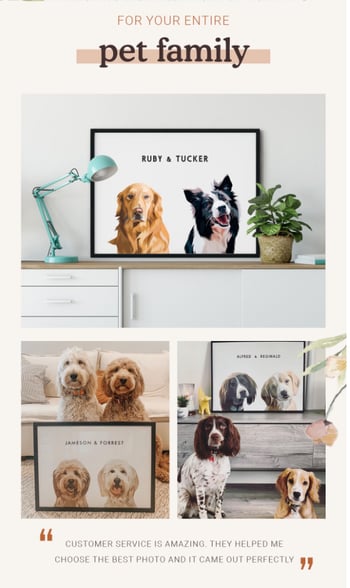 5. Introduce your happy customers
Social proof is a great way to sell more to new visitors to your store.
Show them how happy other customers are that have bought your products and what the reviews on your website are saying.
I love this example from Recess where they formatted customer photos to look like social graphics and stories.
This lets new subscribers see their happy customers and even helps Recess promote their social media accounts to potential customers.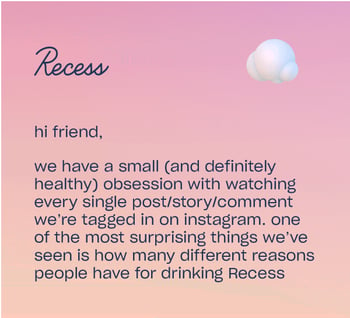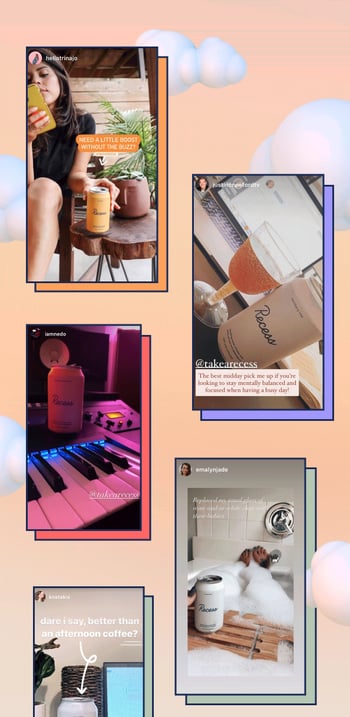 Turn on your welcome emails today
If you're capturing emails today and you're not already sending out welcome emails, you're leaving a ton of money on the table.
Lucky for you, you can get started with a free 15 day trial of Privy email here.
Subscribe for Updates
Get our best content on ecommerce marketing in your inbox 2 times a week.
Subscribe for Updates
Get our best content on ecommerce marketing in your inbox 2 times a week.