Download:
The Ultimate Guide to
Reducing Cart Abandonment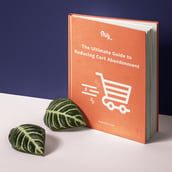 Cart abandonment is a top problem for over 72% of merchants.
And the truth is that most merchants today are approaching the problem all wrong.
In this guide, we'll highlight the most important components of a successful cart abandonment strategy, including:
The way top merchants are approaching cart abandonment
Actionable strategies for continuous list growth
How to craft a cart abandonment email that will convert
please fill out the form
below to get the guide!