How To Use Your Referral Program to Engage with Website Visitors
Published on Sep 13, 2018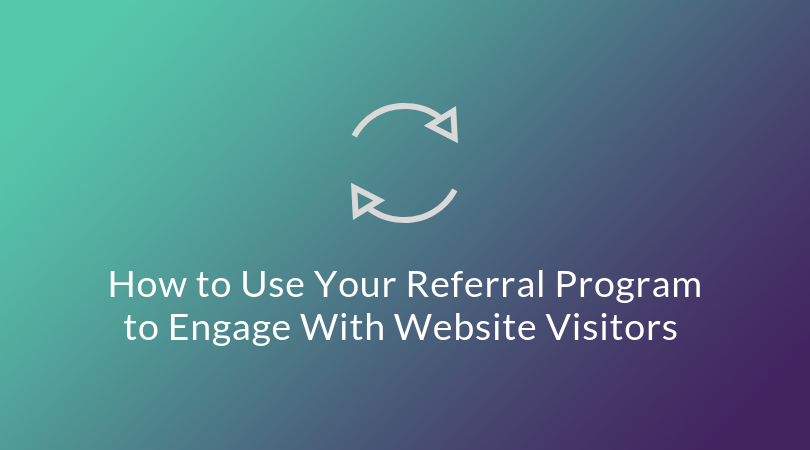 Your referral program can be a great way to engage your website visitors. Creating an awesome referral program can help to gain feedback about what your customers want, need and like. Your referral program can increase your social media presence as your customers share their links with their friends. You can also gamify your referral program in order to encourage even more sharing and engagement.
Awareness of Your Referral Program
For your referral program to work, you have to make sure everyone is aware of it. Luckily, referral programs have become so popular in the last few years that people not only know about them, but they tend to search for them when they enter a website.
First and foremost you should make sure that your visitors can easily find your referral program. It should be featured prominently on your website. A great place for it is a link at the top of your website in the menu. That way whoever comes to your website can easily see that you have a referral program that they can join and ear rewards. It is a real shame when you have to search around a website to find a referral program and can't seem to locate it.
We can see a great example of this in TruBrain's website. They have it listed prominently on their header.
There are some other great ways to inform your customers and potential customers of your referral program. You can send invitations to past customers notifying them of your referral program and asking them to participate. Past customers may still be interested in your product, but simply got busy and need a reminder to purchase and share their experience with their friends.
Social media is a great place to post information about your referral program. It can easily be shared on social media with friends and family. They can like and share it with a single click. Additionally, you can create a Facebook ad regarding your referral program.
After customers make a purchase, you can create post-purchase popups to get your customers on-board with the referral program while they are still thinking about their purchase.
If you have an email list, you should start sending email reminders to your advocates. Teach your customers about the referral program and how they can share it with their friends. Many businesses assume that their customers know how to refer friends or where to share their link, but some people may be hesitant about it. You can create a video tutorial teaching them how to sign up and send their referral link to their friends.
Finally, invite the influencers in your niche to share your referral program. Simply send out an email to all the major bloggers and youtubers inviting them to joint your referral program and notify their followers of your referral program. If it is relevant to their niche, they will likely share it with their followers.
"83% of consumers are willing to refer after a positive experience — yet only 29% actually do."
— Texas Tech University
Motivate Your Customers with a Reward
Logo Up is a great example of motivating their customers to engage on their website. In their header, they include a link to the program to get $50 off their next purchase. They simply use the reward as a teaser to get their website visitors to click on it and discover the details.
As you can see below, the "Get $50 Free!" is highlighted in red and easily visible at the top of their website. It is crying out for customers to click on the site and discover how they can get a $50 bonus. Make sure that the placement of your rewards program link is easily noticeable for website visitors.
Simple Instructions and Calls to Action
Once visitors click on the "Get $50 Free" link they are directed to the customer referral program.
There are three simple steps for customers to follow for Logo Up's referral program. First, you must sign up to become an advocate and receive a link. Next, you must share the link with friends. Once the friend signs up, you both get $50 off your next order.
LogoUp does a great job of keeping it simple. The layout isn't cluttered up with a lot of images or text. They have kept the steps to a minimum and the call to action is clear and easy to find.
This LogoUp picture is a great example of a visual that not only helps to explain a referral program, but also gives the advocate ideas of how to share the link with their friends. The picture hints at sharing via email, Twitter and Facebook. This is very helpful to people who are new to sharing referral programs. Remember, not everyone is an adept networker that constantly shares links. Sometimes you have to give them ideas about where to share in order to earn their referrer bonuses.
"People are more likely to perform an action — like a page, click a link, comment on a post, buy a product, etc. — if a friend did, too. That's social proof in action" – Jon Loomer
Eye Catching Images
Your referral program will be much more exciting and shareable if it has eye-catching images. People are less likely to share a link to a program that doesn't have any visual interest.
However, fun images that catch your attention are shared all the time on Facebook and Instagram even without the incentive of a referral program reward. Therefore, if you add great images to the referral program link, you will likely get more people to share it and sign up for it.
This gives you the opportunity to make more sales and engage with more customers.
When selecting the images for your referral program, make sure that they are relevant to your industry and are up to date in terms of graphic design trends, no customer would be attracted to an image that looks outdated. Keep it simple. You also want to make sure the text is easy to read.
Yummy Bazaar provides an excellent example of using eye-catching images with their referral program sign up page. They display some of the most delicious and enticing dishes that they offer. It almost makes you hungry just looking at it. Underneath the eye-catching image, they tell you that you can give your friends 10% off and receive $10 off your next order. You and your friend will save money and be able to enjoy some savory food!
Engage with Polls and Surveys
As your website visitors sign up for your referral program, you can collect their email and engage with them via email. Email is a great way to gather information through polls and surveys. Survey Monkey, AirTable and TypeForm allow you to send a survey or a poll to your email list and gather responses from your customers. Each of them have a free trial, so you can test out which platform fits your business best. You can ask what products they prefer and tailor your referral rewards to their needs.
You can use surveys to discover many things about your clientele. In addition to asking their opinion on the products, you can also find out information about their demographics, their personal preferences, their color preferences and style preferences. Make the surveys fun, simple and easy to complete. When surveys become too long and complicated, often customers will quit in the middle.
Create a Contest
To gamify your referral program, you can create a contest for your customers. You can have the customers compete with each other for a top prize in addition to earning a bonus for referring their friends. There are many competitive people who love a challenge and will go the extra mile to win a contest or an extra prize.
To create a contest, you can select a month to challenge your customers to get the most referrals. As the month progresses, you can share the numbers on your website and send out emails updating your customers as to who is in first place and how many people they referred.
This will encourage your visitors to return frequently to your website to check their progress in the contest. You can also create milestones for the number of people referred. Recognizing the people who hit 10, 20 or 30 people referred can be effective as well. Many people like to be recognized for their efforts and this can even be something that will help to engage and encourage your referrers.
Contests are fun and often shared on social media. Having many people on social media participating can increase awareness of your website quickly and give you the opportunity to engage with even more people. Updating your social media fans about the contest progress gives you an additional reason to create daily posts and engage with your followers on Facebook, Instagram and Twitter.
Offer Freebies
One of the most commonly used ways of engaging website visitors is through giving freebies when people sign up for an email list. To inspire people to sign up for your referral program, you can offer not a freebie just to sign up. This can be a simple ebook, a free trial or a sample of something. This often helps to increase customer loyalty and encourage repeat business.
About the author: Melinda Curle is a blogger at Referral Candy. She loves learning about internet marketing and maintaining her own fitness blog. She enjoys running, swimming, dancing and Pilates.
Subscribe for Updates
Get our best content on ecommerce marketing in your inbox 2 times a week.
Subscribe for Updates
Get our best content on ecommerce marketing in your inbox 2 times a week.