How To Launch A Product Using Text (And Run Your Most Successful Campaign Ever)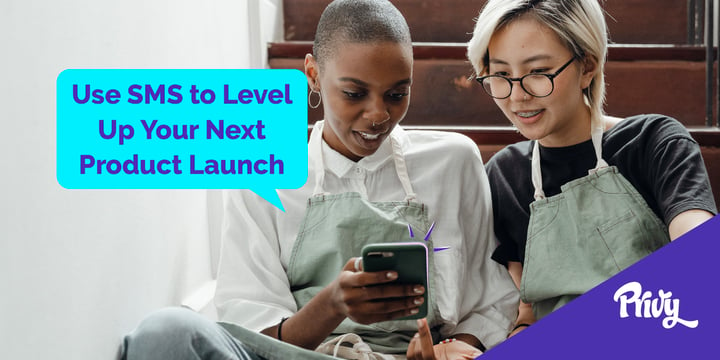 As is the case with your overall marketing strategy, a product launch isn't rooted in a single channel. Instead, it's a coordinated effort. You use every tool in the toolshed to reach as many potential customers as possible.
With the rise of text marketing, you now have the opportunity to reach a segment of people (i.e. people who prefer communicating via text) that you might have missed with previous product launches. Here's a quick primer on how you can incorporate text messaging into your future launches.
Pre-launch
Build out your text list
First things first. To use text to launch a new product, you have to have, well, a list of people to market to. And if you're not sure whether you can text any of the numbers you already have, Messenger Mastermind's Jeremy Horowitz recommends assuming that you can't use any of the numbers you've captured before setting up your SMS lead capture. (Here are the rules you need to know.)
The fastest way to build your list of SMS contacts? Email your customers to tease the launch. Jeremy recommends sending something along the lines of: "Hey, do you want first access to this product launch that's coming up on X date? If you do, sign up for our SMS list and you'll be the first to know."
Then you've built a list of people almost immediately who are interested in your latest products. Demand is there before the products are even live because you've built a list of people who have raised their hands to let you know they're interested in whatever it is that you're selling.
People love to feel like they're getting inside information. Use your text list as a way to give it to them!
Of course you should email, too, but maybe your text list hears about the launch a few hours before anyone else. They get first dibs. That's an incentive to get people to sign up and actually want to hear from you.
Choose a launch date
You need to decide on a launch date for your new product. And while the date you choose will no doubt be dependent, at least in part, on internal factors (e.g. when you're able to get the new product in stock), it's also important to consider when your customers will be most likely to buy.
According to Messenger Mastermind, to optimize product launch sales, you should avoid Mondays (when people are busy getting their work weeks kicked off), avoid weekends (when people are busy hanging out with friends and family), and, in some cases, even avoid holidays (when people can be overwhelmed by all of the other sales and promotions happening).
One caveat on that last one: as an ecommerce business, you'll need to think about whether or not you'd want to launch a new product during Black Friday/Cyber Monday. On the one hand, promoting a brand new product in your store could help you stand out from the crowd. On the other hand, your store is probably going to get a lot of attention anyway during that time frame, so maybe it's best to wait and save that product launch for a time when your business could use a little extra oomph.
Regardless of what time of year you launch your new product, the best day of the week to launch (according to Messenger Mastermind) is Friday. That's because a lot of people get paid on Fridays and average order values are likely to be higher.
One final tip: Make sure to plan your launches as far in advance as possible. That way, you can start teasing your new product via text messaging weeks ahead of the actual launch.
For example, you could schedule your first text to go out two or three weeks before the launch. And at this point, you wouldn't even necessarily want to announce the launch date (which might cause people to put off checking out your store and/or prevent them from making an immediate purchase). Instead, just let them know that something new is coming and that they'll be among the first to know when it's live in your store. Next, you could schedule a follow-up text to go out around five days to a week before the launch in which you deliver on your promise and share the exact launch date.
Launch
If you follow the Pre-Launch guidance above, you won't catch any of your text subscribers by surprise on the day of the launch. And that's a good thing. Because instead, they will have been anticipating your product launch for weeks and counting down the days until the big reveal.
On launch day, send a text message to your list announcing the new product and be sure to include a link back to your store. The best time to send this text: In the morning. That's because people check their phones throughout the day, even when they're at work. So if you send the text in the morning, people will have lots of opportunities to open it (e.g. during coffee breaks, lunch, etc.). The worst time to send: the evening. That's because after work, people aren't checking their phones as much – they're having dinner and walking dogs and spending time with family and friends.
Whenever you decide to send your day-of launch text message, don't be afraid to really SELL. Remember: texting has huge revenue-generating potential, but in order to unlock that potential, you can't be afraid to sell. More than 50% of Cyber Monday sales are now made on mobile devices and overall, 79% of smartphone owners use their phones to make purchases (source: OuterBox).
With more and more people making purchases on their phones, texting gives you a unique opportunity to reach people when they're ready to buy and to get them to move directly from a marketing message to a purchase. (Just be sure to include that store link!)
Yes, being overly salesy in your text messages all the time can scare people off and make you come across as spammy. But the day of a product launch is a day when subscribers will be expecting to be sold to. You'll have invested enough into building a relationship and building anticipation that you'll have earned the right to say, "Hey, here's a link to our new product. We think you might like it."
One final launch tip: Be consistent with your launch days. If you always launch new products on the same day – e.g. on the first Friday morning of every month – your customers will learn that pattern and you'll be able to drive even more anticipation.
Launch Timeline
First text (teaser) goes out 2-3 weeks before launch
Second text (date drop) goes out 5-7 days before launch
Day-of text includes link to product
Friday = the best day for a launch
Morning = the best time for a launch
Avoid Mondays, weekends, holidays
Post-launch
After your product launch, review your texting metrics: What were your open rates? How many subscribers visited your store? How many subscribers purchased your new product?
Over the next few days, you can dissect these results and think about what improvements (if any) you'd want to make for your next product launch. But now isn't a time for reflection only: You can take action by following up with your subscribers who didn't buy, and potentially, you can recover some of those sales. Just send a simple text reminding them about the launch, and if you feel so inclined, offer a discount to entice them further.
For your text subscribers who do end up purchasing that new product, you now have a topic for your next text conversation: Ask them how they like the product. The call-to-action at the end of your text can be for them to leave a review.
Long term benefits of text marketing
The traditional playbook for growth revolves around driving traffic to your website. The levers you pull are all rented channels: social media, search results, paid ads. But here's the thing…ponying up the dough to pay for those rented channels just isn't sustainable – not as the owners of those channels continually raise the rent.
These days, it's more important than ever that in addition to attracting new customers, we focus on retaining the customers we already have. To quote our friends at Shoelace, "As cost of acquisition continues to rise, it is more important than ever for brands to turn their newly acquired audiences into repeat customers."
Today, retention is the new growth. And one of the keys to increasing retention is to make strong investments in your owned channels.
Remember: when you share content on Facebook, Twitter, or Youtube, or buy search ads on Google, or sell products on Amazon, you're merely renting an audience. At any moment, an algorithm change could pull the rug out from under you. But with owned channels, like email and your website, you own the audience you build, and you get to customize the experience however you like.
Text messaging is the next big owned channel for ecommerce businesses. The gold rush in text marketing is happening RIGHT NOW. It's new. It's fast. And the revenue upside is enormous. Once you build your text list, you'll be able to return to that well again and again, sharing new content and new promotions with your subscribers and giving them a reason to keep coming back to your store.
Subscribe for Updates
Get our best content on ecommerce marketing in your inbox 2 times a week.
Written by Lauren Hall
Lauren is a Brand Marketing Associate at Privy. She's the brains behind all things content. When she's offline, she's obsessing over her Bernedoodle pup, Monster, and plotting ways to being a full-time Vermonter ASAP.
Subscribe for Updates
Get our best content on ecommerce marketing in your inbox 2 times a week.