Ecommerce Discount Strategies: How to Craft an Offer Shoppers Can't Refuse
Published on Apr 26, 2019
Written by Josh Mendelsohn
When you're building an ecommerce business, there is no bigger challenge than getting that first sale from a new visitor to your website. One of the most popular ways to close the deal is to create a compelling offer that encourages people to join your email list and take a positive first step.
But you need to earn that email address. For example, offering a discount to first time customers such as 10% off your order or free shipping on all orders over a certain amount.
These tactics are great for growing your email list, power your abandoned cart email program, and gives you a way to market to people in the future. Most importantly, they can drive urgency and give people a reason to buy sooner rather than later.
Choosing your offer: Three questions to consider
As any sales rep can tell you, one of the most basic sales principles (and like it or not, we're all in sales) is giving value to get value. In fact, Microsoft recently conducted research among consumers that showed that 89% of consumers are willing to share their personal information in exchange for clearly defined benefits.
Coming up with a great offer can be tricky. Ask yourself these three things when trying to decide what will work best for your business:
1. What do your visitors care about?
Think about the visitors to your site and why they have come there in the first place. Are they driven by your mission? Your products? Word of mouth? Your offer should reflect what you know about their intentions.
2. What is the behavior you're trying to drive?
With any onsite message or web copy, this is always a key question to answer up front. Is it simply to grow your list and engage them with a welcome series? Is it short-term sales? Is it pushing a specific product? Knowing what you are trying to achieve will help you craft the right offer.
3. What can you afford to give?
You need to find the balance between giving something great to your customers and not bankrupting yourself in the process. The intersection of those two things make a great offer and reduce the amount of risk involved. If your offer isn't obviously going to bring in more than it costs you to deliver, it's probably not the best one for your business.
To discount or not to discount. Which offer type makes the most sense for you?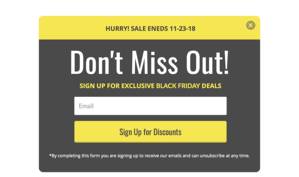 Once you've answered those three questions, think about your specific offer. While most merchants choose to use a discount (and we find them to be particularly effective), there are other options to consider.
The discount
One of the most common offers is a site-wide discount in exchange for signing up for your email list. This gives visitors something of value if they choose not to buy today, but it also gives them a reason to come back in the future. Just be sure to send the offer immediately after the subscriber opts-in. It's what they'll expect.
The sweepstakes
One of the most impactful offers is an enter-to-win or sweepstakes offer. This allows you to give away something of higher value without breaking the bank because you are only fulfilling it for one customer. The higher the incentive, the more likely a subscriber will opt-in.
The only downside is that this offer may draw less engaged leads who want to win but won't ultimately be good customers. Be sure to let entrants know they will receive emails from you as a result of entering. Otherwise, those subscribers could turn around and unsubscribe if they don't recall opting-in in the first place.
The exclusive content offer
For organizations who prefer not to offer discounts or aren't selling a tangible product, exclusive content can be a great draw for an email sign up. Things like special behind-the-scenes videos, ebooks, and case studies tend to work really well and can start building up the number of leads for your organization.
Unique coupon codes vs. master coupon codes
If, like most merchants, you've decided to offer a discount, the next question you need to ask is whether that discount should be delivered using master coupon codes or unique coupon codes.
But what is the difference between a master coupon code and a unique coupon code?
Master coupons
A master coupon is a single coupon code that is given to all individuals that sign up for your Privy campaign. Specifically, this means that if you have two customers sign up, they will both receive the exact same coupon code in your thank you page and/or autoresponder email.
The advantage of this coupon type is that it is simpler to manage and you can use the same code in multiple campaigns and promotions. The drawback, however, is that a Master Code can be more easily shared to people who did not subscribe to your list and there are limitations to the criteria you can apply to the code.
Unique coupons

A unique coupon, on the other hand is a coupon code that is assigned to one and only one person when they sign up. As an example, if customer A and customer B sign up each will receive their own code which would not be transferable between them even though their discount is the same.
We recommend using unique coupon codes in your displays and automated emails whenever possible for two reasons.
First, unique coupon codes dramatically reduce the amount of risk involved in putting a discount code out in the world because each code can only be used one time. That means that the only one who can share the code is you, not some random website or customer social post.


Second, you have more flexibility in how you handle code expiration dates. Instead of just setting an end date for your sale you can use relative time and date windows to drive urgency and action on your site. For example, if someone abandons their cart you may want to include a unique code that expires 48 hours after they abandon. Or you may want to set a new shopper discount to expire 7 days after they first join your list.
So, when you are building your new visitor campaigns think about how much control you want to have and how you can drive urgency with short window discounts using unique coupon codes.
Distributing your coupon code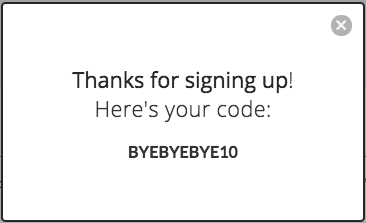 We recommended not only displaying your coupon code on your thank you page after a shopper has submitted a form, but also sending out coupon reminders via email to increase the odds of redemption.
The goal is make it as easy as possible for them to use the discount, right? Here's a pro tip: once a shopper is given a coupon code, display that code in a bar at the top of the screen until they make their first purchase. This serves two purposes.
First, it is a constant reminder of the discount that can help alleviate fear of making that first purchase. Second, especially if you are using unique codes, it makes it easier to access the code when the shopper is ready to use it. There is no need to write it down or check their inbox for an autoresponder they can simply copy and paste.
In conclusion
Okay, so that's a lot of information in here. Here are three things to remember about as you develop your strategy.
1) Using a discount offer is a great way to grow your email list and get that initial sale from a new customer.
2) Unique codes give you more control over your discounts than a master code
3) Make sure you're making it easy for your shopper to use the code by making it easy to access in a bar or via a coupon reminder email series.
Subscribe for Updates
Get our best content on ecommerce marketing in your inbox 2 times a week.
Written by Josh Mendelsohn
Josh brings his marketing chops and lifelong passion for jam bands, craft beer, and SMBs to the team at Privy. Having spent time working at SMB and ecommerce leaders like Constant Contact and Salsify, he has a deep understanding of how to help small and medium sized ecommerce businesses be all that they can be. In addition to leading Privy's marketing team, Josh spends too much of his time managing his pug Marvin's instagram account.
Subscribe for Updates
Get our best content on ecommerce marketing in your inbox 2 times a week.