Email Marketing Tactics To Win Back Lost Customers
Do your customers think you've forgotten about them?
It's not too late. There's still time to win them back. With the right email marketing strategy, coupled with the best technology, executed at the right time, there's no reason buyers should be left hanging.
As I mentioned in my previous post about email welcome series and beyond, you're already doing the most important thing right, which is getting customer emails. But as your customers progress along their subscriber path, it's imperative to find new ways to create value for them.
In today's article we're going to explore several best practices around abandonment emails, both cart and checkout, paired with tactics and examples for incentivizing subscribers to take that final step and buy.
Cart abandonment vs. checkout abandonment follow up emails
Thanks to exciting marketing technology, you now have a chance to win back lost customers who have not completed their buyer journey. But before sending an email, it's important to differentiate between two crucial scenarios: abandoned cart and abandoned checkout.
Abandoned cart is when a customer adds something to their shopping cart and leaves your site. Perhaps upon the prompt for submitting personal information, that customer closes their window and moves on. Think of it like a brick and mortar retail shop. The customer was simply window shopping.
For these abandoned cart scenarios, you don't want to hit customers with a follow up email too quickly. They are lower intent buyers, and so, it will make more sense to pace that message out a little further. The last thing you want is for your brand to appear as invasive. What's more, you don't want to set the expectation for your customers that they can abandon their cart, and immediately get an email with a promo code, completing the purchase for less. Doing so will lower your average order value and miseducate important buyers. (Want to intervene before shoppers ever get a chance to abandon? Try launching a cart saver campaign on your site!)
Abandoned checkout, on the other hand, is a completely different level of intent. These customers have gotten as far as possible in the buyer flow without converting. It means they're ready to buy, but for some reason, didn't complete the purchase.
In this scenario, my recommendation to clients is to send an email about one or two hours later. Abandoned checkout should always take priority over abandoned cart because it's closer to the final sale and easier to turn browsers into buyers.
Here are some abandon examples from my personal collection: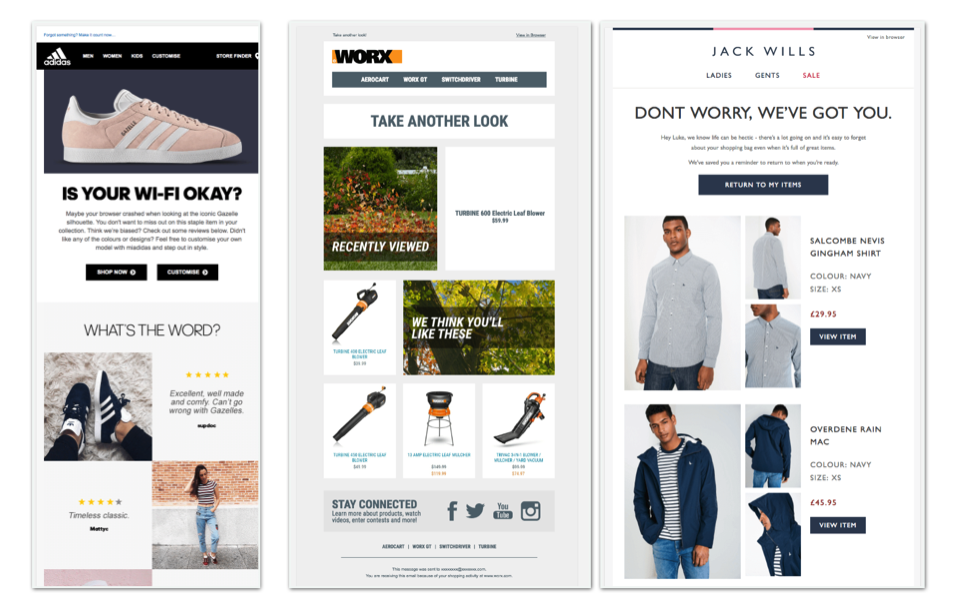 The overall best practice here is, know where your critical moments are. This is a term we use to help our clients optimize their subscriber path through inflection points like abandoned cart, abandoned checkout, placing an order, and so on. Once you have an understanding of where and how these moments show up, you can send emails to reinforce them. Here are several examples:
Be hyper specific, listing out products your customers abandoned.
Be hyper relevant, with similar products customers might have missed
By hyper economic, with discounts as a soft sell to push people over the edge
Be hyper valuable, with reminders of why your brand is different than the competition.
Remember, just because customers abandon cart or checkout, doesn't mean you need to send an email with only the exact product they left behind. You have their permission to send an email about anything. Take advantage of it and you'll increase the likelihood of a sale.
Pairing your follow up emails with incentives
As you think about your different segments of customers, both abandoned cart and checkout, also think about what special offering might push them over the edge.
Many companies will offer an incentive in exchange for email address, like free shipping, percentage off purchase, a thought leadership download, and so on. This is a easy way of communicating from the start that these emails are providing value, and they're worth it to opt in. Whatever you offer and communicate about that offer, just make sure it's customer centric. And be straightforward about the value proposition.
Here are several more examples: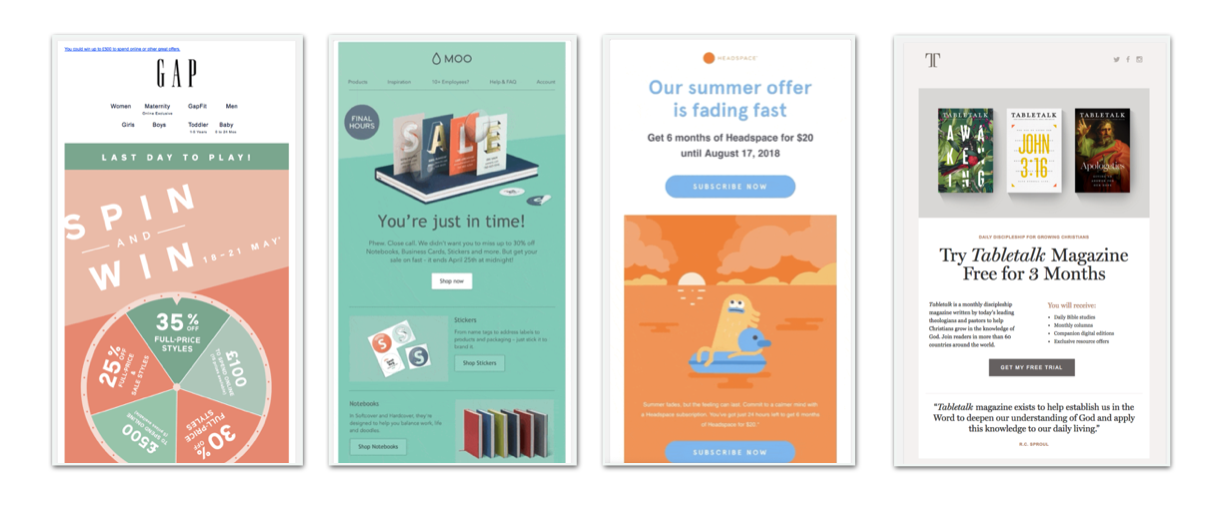 But let's talk about the caveat of incentives. If you offer a value forward asset in abandonment emails, understand the binary nature of customer behavior. In my experience working with hundreds of clients from a variety of industries, users will either take advantage of the incentive immediately, or not at all. That's why we advise clients to always put urgency around that incentive. If your welcome series includes five emails, make sure the fourth and fifth messages use language grounded in immediately to stimulate purchase behavior:
"Twenty four hours left until this is gone."
"Your discount ends tonight!"
"Five more days left to register!"
"Last chance! Only ten units left in stock."
"Get it before it's gone forever"
Remember, people's inboxes are competitive places, but you can cut through the clutter if you have the right strategy and tactics.
With these abandonment and incentive best practices, customers will never feel like you forgot about them ever again. And you'll have the sales to prove it.
This post was written by Cory Smith, VP of Email, at Metric Digital. Click here to view the first post in Cory's series.
Subscribe for Updates
Get our best content on ecommerce marketing in your inbox 2 times a week.
Subscribe for Updates
Get our best content on ecommerce marketing in your inbox 2 times a week.