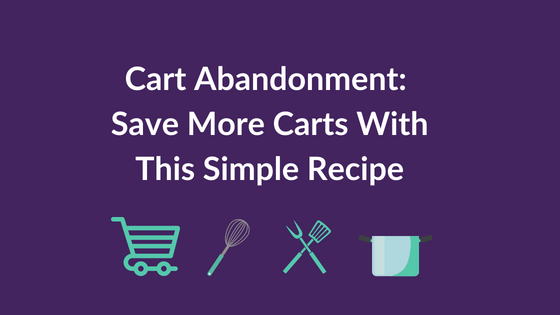 Cart abandonment is a huge issue for online merchants. In fact, 72% of sellers consider reducing the number of abandoned carts to be one of their top challenges.
72% of sellers. That's a lot of money left on the table. So how do we solve for this?
Many merchants are finding success with a simple, yet effective recipe called a Cart Saver. Read on to find out what Cart Savers are and how to really get cooking by saving more abandoned carts.
What is a Cart Saver? Add to your abandoned cart email strategy.
Cart Savers are pop up displays that trigger upon exit intent on the checkout page of your site, preventing customers from abandoning carts by capturing their email. These displays are a critical bottom of the ecommerce funnel strategy that incentivize a sale to occur.
Think about all of the shoppers that come to your website and add something to their cart. Did you know that 75% of those customers will abandon their cart before they purchase? By using a Cart Saver campaign, you can rescue up to 10% of those people who are trying to abandon your site.
Many merchants are already doing abandoned cart emails - which are a fantastic strategy that you should certainly employ. However, in order to send the abandoned cart email, you need the email address first. By combining a Cart Saver display with an email, you're able to make sure that you're incentivizing that user to not only complete the sale, but also grabbing their contact information before they leave your site.
Check out this amazing example of a Cart Saver display below. The "before you go" language acknowledges the customer's behavior and catches their attention.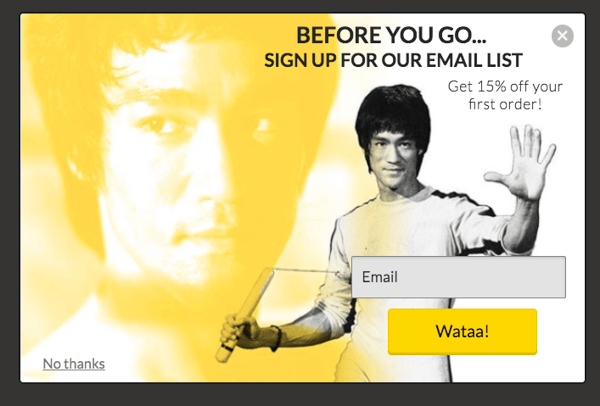 Audience targeting recipe: how to create a Cart Saver
Now we get to the critical part. The recipe for building a Cart Saver within Privy. There are four important factors that you should think about when setting up your Cart Saver campaign.
1. Pop Up Trigger
Cart savers are based on exit intent, which means that the display will trigger when the user tries to leave the page. For example, if a visitor heads toward the back button, closing a tab, or the refresh, the mouse movement will be detected and the campaign will trigger.
Design tab >> Pop up triggers >> Show on exit-intent

2. Cart Value Targeting
By setting the cart value audience targeting condition to be greater than zero, you can ensure that the campaign only triggers when a visitor has something in their cart.
But we can take that one step further. We work with a lot of customers that find a tiered cart saver strategy to be very successful. This involves creating multiple Cart Saver campaigns targeted at different values. This way you create more incentive for those who have higher value carts. Here's an example of how you might set that up:

Between $0 and $25 offer free shipping

Between $25 and $50 offer $5 off.

Between $50 and $100 in their cart, and offer them $10 off.
Design tab >> Audience Targeting >> "Cart Value" + greater than + value

3. URL Targeting (optional)
To ensure that your campaign triggers at the right place you'll need to set up URL targeting. From the dropdown, select "Current URL contains" and then enter "cart".
Design tab >> Audience Targeting >> "Current URL" + "contains" + enter "cart"

Note: If you want to save anyone who abandons with an item in their cart, regardless of page, you can skip the URL targeting step.
4. Campaign Signed Up
You may not want to offer more than one discount, and that's completely fine. To solve for that, you can use the "campaign signed up" rule under the Design tab. That way if a customer has already signed up for a welcome campaign or some other offer, you can exclude them from seeing your Cart Saver.
Design tab >> Audience Targeting >> "Campaign Signed Up" + "does not contain" + select campaign

And there you have it - an easy to create recipe for saving more carts. You can create a basic Cart Saver campaign by simply using number one or two, but the real pros are using three and four as well. Happy cart saving!
To learn more data and insights on cart abandonment, download this research report on How Merchants Deal with Abandoned Carts!