Introducing The 12 Laws of Ecommerce Marketing – The Universal Truths Of Marketing You Must Master To Grow
Published on Jul 28, 2020
Written by Daniel J. Murphy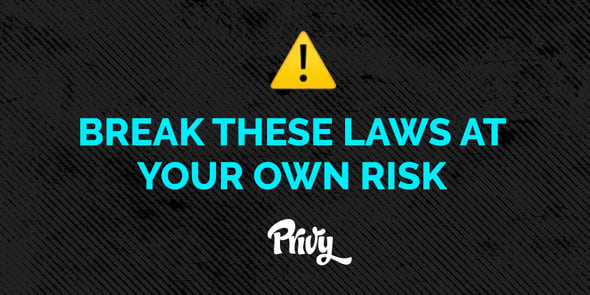 Ecommerce marketing doesn't have to be difficult.
But unfortunately only about 8% of the estimated 20 million stores online today will sell more than $1,000 this year.
Our mission is to provide not just the tools, but also the education and support small ecommerce brands need to grow their online stores.
Because if you can master the principles of ecommerce marketing, then you probably won't be worried about selling more than $1,000 this year (instead, you'll be selling so much you'll be worried about running out of supply, which is a much better problem to have).
That's why today we're introducing the most important ecommerce marketing principles we teach, or as we call them the 12 Laws of Ecommerce Marketing.
They are the universal truths - no matter your audience, what you sell or what stage of growth you're in, these laws will help you convert more people on your website, increase your average order value, save more abandoned carts and get people to buy from you again and again.
So consider bookmarking this page 😊
And hey – no shame if you're not abiding by them already. That's okay.
But now that you have them, break these rules at your own risk. This is our proven formula for helping small ecommerce brands grow.
Get our best content on ecommerce marketing in your inbox 2 times a week
Law #1 - The Law of Discounts
If you offer a discount, ask for something in return
We sometimes refer to this as the give/get principle in marketing.
If you give them something, it's okay to ask for something in return.
The most common give/get offer in ecommerce marketing is the welcome discount. You offer a 10% discount to new visitors in exchange for their email address. Ask for their phone number too if you do text message marketing.
Don't be afraid to make that ask! If you're giving away a discount, you're giving away money. But it's worth it if you're capturing their email address or phone number in exchange.
Law #2 - The Law of Automation
Set up automated emails so you're not leaving money on the table
There's really no other way to say this: If you're not running an email (or text) sequence to save abandoned carts, you're leaving money on the table!
Your goal with email automation is to drive people back to your website.
Your cart abandonment sequence should be running 24/7 automatically through your email provider, driving people back to their cart to complete their purchase.
But here's the thing: don't just send one email, send three! Over the course of 72 hours, send three emails to invite them back.
Also make sure it's cart abandonment not just checkout abandonment. Carts are abandoned about 70% of the time. That's free money you're leaving on the table.
And there's also post purchase follow up emails. You should be thanking your customers after they buy from you and staying in touch with them. This is another automated sequence that should always be running from your email provider.
Law #3 - The Law of Objection Handling
Remove all potential objections to buying up front
Look, there's several reasons why someone might decide not to buy from your store.
But the good news is that you can prevent this by removing potential objections up front.
Things like:
Shipping cost and how long their order will take to get delivered
Product quality, sizing, features & dimensions
To fix this, include this information on your product pages. Shopify makes it easy to include information right on the page.
But you should also include customer reviews and other social proof on these pages. Again Shopify makes this easy.
Law #4 - The Law of Personalization
Don't make the same offer to everybody
If you're offering the same coupon to everyone on your site, you're not going to get great results.
Instead you should create different offers based on where someone is in their buying journey.
This is why marketers talk about "personalization" so often. When you personalize the experience, you get better results.
For instance: someone that has something in their cart, or someone that's bought from you in the past should get different offers than someone that's visiting your website for the first time.
By the way, if you're using Privy Convert you can create multiple campaigns, each focused on a different step in the buyer's journey using Privy's advanced targeting capabilities.
Law #5 - The Law of Buying Experience
Create a buying experience, not conversion points
Imagine walking into a grocery store and being offered a free sample. You take it. What a nice experience.
But then five minutes later the same person walks up to you in the store and asks you if you want to buy that simple. You say no thank you.
And then five minutes after that, the same thing happens! Okay now this is getting annoying. Not a great experience.
Unfortunately that's what popups can feel like on your website if you don't design a buying experience.
Instead of just using popups to convert visitors, think about the experience you want someone to have on your website. It shouldn't be overwhelming to them. You should have a clear offer for new visitors and perhaps additional offers after they've taken additional steps.
Think about how you'd like to lead someone new to your website all the way through becoming a repeat customer.
Law #6 - The Law of Storytelling
Tell your story, don't just sell your product
Here's the thing. Especially in 2020, buyers want to support small businesses and entrepreneurship.

Big corporations like Amazon provide buying convenience, but you have an edge too: and that's your story.
That's why the sixth law of ecommerce marketing is to tell your brand's story.
We encourage our customers to do this because it really does work. For instance, Old Try, a letter printing business, sends an email thanking their customers for signing up for their newsletter. They include a family photo in that email (and write a personal note).
Next time their customers are looking for letter printing, who do you think they're going to think of first? Amazon or the cute family from Old Try?
Every business has a story. Don't be shy about who you are, it'll help you grow.
Law #7 - The Law of Urgency
Give them a reason to complete their purchase now instead of later
Urgency is an age-old marketing principle used by marketers for over a century.
And that's because it works.
To apply urgency to a purchasing decision, there's several things you could try: using positive reviews, showing ratings, or perhaps running limited edition items, or limited time offers (like discounts or free shipping).
Get people to buy now, not later.
Law #8 - The Law of Cross-selling
Never miss an opportunity to suggest an additional purchase
Sticking with the grocery store analogy for a moment…. Now imagine you're in line to check out.
In almost every grocery store, the checkout line is filled with small items a shopper might not have had on their grocery list but would be tempted to add to their cart: chocolates, drinks, candy, gum and so on.
What items do you sell that you should offer in your check out line?
Don't miss an opportunity to cross-sell your buyers with items they might like. This helps you increase your average order value, meaning you make more money without having to get more people to visit your website.
You can do this through using a "Frequency bought together" app or a cross selling app like Privy Convert.
Law #9 - The Law of Follow-up
Always send a follow-up email
Capturing someone's email is extremely valuable to your business. In fact, on average Privy customers generate about $16 in sales for every email they captured.
And that's because once they've captured someone's email, they use it right away.
For instance, if you're offering a welcome discount to new visitors on your website and you give them a coupon, you should always send them that coupon code in an email. You can set up your email automation to do this so long as it integrates with Shopify.
You can instantly give them the code on your website, but you'll get better results if you put the coupon code in their inbox, because not all buyers will use it right away.
Law #10 - The Law of Mobile Experience
Design for mobile first, then desktop
In 2019, mobile visitors accounted for 63% of ecommerce store traffic (source).
So while most people start by designing their website experience for desktop, you should really be thinking mobile first.
Luckily Shopify templates make it easy to build great mobile friendly stores. And so does Privy Convert.
For instance, you can design a flyout campaign just for mobile visitors so they get the very best experience when they visit your store from their phone.
Law #11 - The Law of Customer Preference
Design for your customer, not for yourself
What you like, might not be what your customers like. Embrace that!
So when it comes to making decisions about your website experience, or what should be included in your marketing emails, make those decisions based on the data in your marketing tools, not just your own personal preference.
You can grow your business if you use the data at your fingertips. Also: don't sleep on A/B testing. You can try out two variants and find out which actually performs best.
Law #12 - The Law of Outreach
Send an email to your list at least once a month
Ezra Firestone taught us this one. Even if you don't have a reason to email your list, come up with one at least once every month.
Maybe you run a promotional sale, or you have a special holiday offer (there's a holiday almost every month).
It doesn't matter. Come up with a reason. Emailing your list will drive new sales, and will keep them engaged with your brand.
Consistency builds trust, so find a reason to stay in touch with your audience.
What You Should Do Now
Now that you know the 12 laws of ecommerce marketing, you should do a marketing audit. I wish I had a better word than audit, because that sounds lame, but that's really the best next step.
And extremely valuable.
Jump on your website and review the experience of a new visitor in an incognito window. Try submitting your email for a coupon. Test your cart abandonment.
Auditing your marketing step-by-step will help you find areas where you can improve. Applying all 12 laws to your marketing will help you grow sales, not overnight, but over time.
I'd also love to hear from you. If you have feedback about our 12 laws or success stories, give me a shout dan[at]privy.com.
Subscribe for Updates
Get our best content on ecommerce marketing in your inbox 2 times a week.
Written by Daniel J. Murphy
Dan is a B2B marketing leader with over 7 years of experience helping SaaS startups grow. Before joining Privy, Dan was the Director of Product Marketing at Drift. He's also worked in demand generation, brand marketing and marketing ops. Dan loves to geek out over marketing strategies and technology. He co-authored "This Won't Scale" with Privy's CMO, Dave Gerhardt at their previous company.
Subscribe for Updates
Get our best content on ecommerce marketing in your inbox 2 times a week.