Cross-selling is the practice of recommending additional, complementary products to existing customers. This is a common practice in commerce as it exposes customers to products that they would likely purchase anyway.
An everyday example of cross-selling is fast food. McDonald's is famous for asking customers, "Do you want fries with that?" at checkout. This is a classic cross-selling approach. Fries are an add-on or cherry-on-top to many of their meal choices, so it's a really easy way to increase the amount customers are spending.
And it can be a straightforward way for you to increase your average order value by offering customers complementary products to whatever they're already purchasing.
Cross selling in ecommerce
Let's have a look at what Blume does on their site. When you add a skincare product to your cart, they suggest two other products you might also be interested in.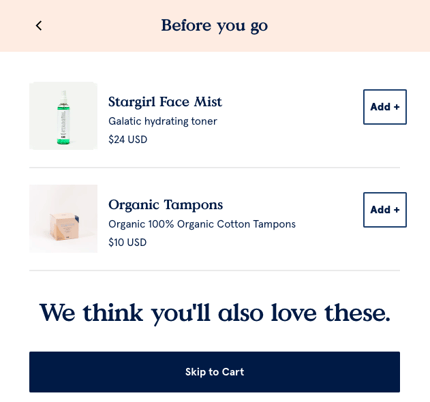 Amazon is also famous for doing this. How often have you fallen for their 'Frequently Bought Together' suggestions?
Oui the People uses a really similar technique on their product pages. Each one has a 'So many reasons to pair it with' section that shows related products you might be interested in.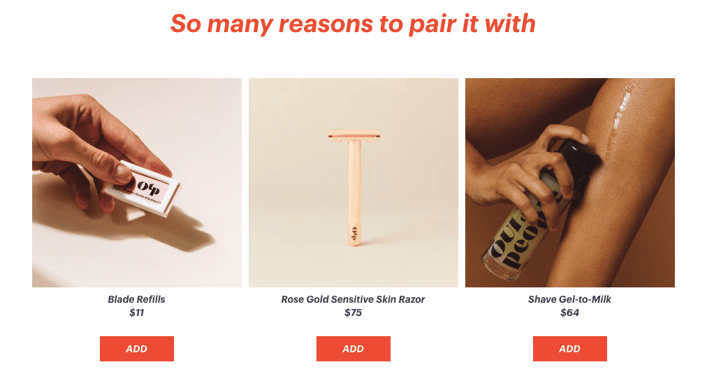 *Cross-selling gets confused a lot with upselling. Here's what an upsell is. But this is a quick way to remember. Cross-selling is an offering with complementary products (both C's, which makes things super easy) and upselling is, essentially, trading up for a better version of whatever you're already purchasing.
Cross-sell resources
Here's a list of our favorite resources to level up your cross-sell game: