How To Create The Perfect Unboxing Experience For Your Audience
Published on Apr 20, 2022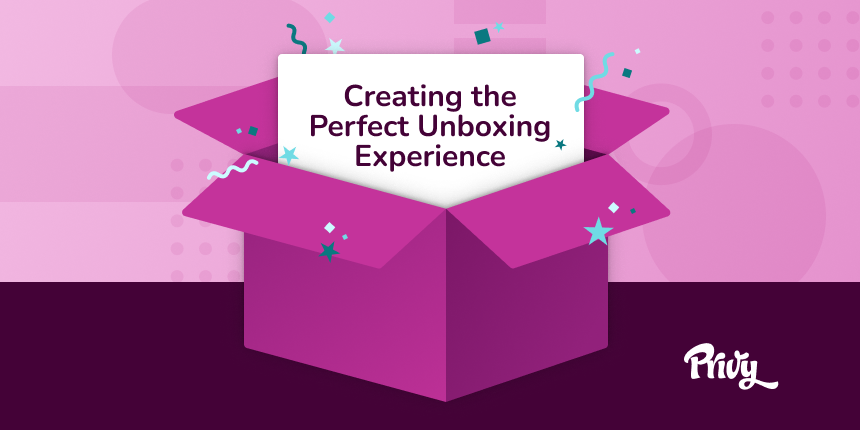 You've heard this saying your whole life: don't judge a book by its cover.
But these days, the ecommerce industry is turning that upside down. Because today, a product's box is part of the product, and packaging is designed to create the new must-have: the unboxing experience.

You've likely seen unboxing videos from influencers on Instagram, TikTok and YouTube, who film their reactions to opening new packages. And while the videos are great, you don't need to go viral for unboxing to be a success: you can deliver that same level of hype to every single customer who orders something from you.

Imagine how excited someone is to open a holiday package. That's how you want your customers to feel every time they receive an order from you.

And by giving customers a fun unboxing experience with unique packaging and presentation, you can make a meaningful, lasting impact that will keep them coming back again and again.
Get our best content on ecommerce marketing in your inbox 2 times a week
Why you need an unboxing experience
You might be thinking, "Amazon doesn't use fancy packaging, and they're doing just fine..." However, when you're a small business trying to compete against the giants, you need all the differentiators you can get.

"Custom packaging helps customers easily identify and remember your brand, even on the smallest scale," said Leslie Gilmour, CEO of Cube Digital. While the brands Gilmour works with don't often require fancy packaging (think plumbing parts, power meters, etc.), he still encourages them to put their logo anywhere they can as it increases brand awareness for the customer.

"This way, your customers will come back to you instead of finding other suppliers for the same type of product," Gilmour said.

At The Critter Depot, they rely on their unboxing experience and packaging materials to keep customers coming back. They sell live crickets and roaches to zoos, reptile owners, and pet stores.
"Our customers get satisfaction when they see lively, hopping crickets and roaches. So we package our feeder insects directly in the box, so when they open the package, they are greeted with active, lively bugs. This has helped us build up a secure foundation of repeat customers. And we have many unboxing videos on our YouTube channel to demonstrate to new customers what the process looks like," said Jeff Neal, engagement officer at The Critter Depot.
4 Best practices for a great unboxing experience
If you want to create a truly extraordinary package as part of your overall customer experience, then there are some best practices you can follow, such as branded packaging, branded boxes, inserts with discounts, and more.
1. Customize your packaging inside and out
When you go to a nice restaurant, you don't just expect good food; you expect it to be artfully plated. Think of presenting your products in that same light with your overall packaging design.

Grab attention from the beginning with the product packaging, whether you use boxes or a mailer, then build up the experience inside with branded tissue paper, filler, colored bubble wrap, and more.

"[Our] custom wrapping paper is manufactured from recycled banana peel, which aligns with our sustainability goals as well," said Elisa Bender, co-founder of RevenueGeeks. "Moreover, the funky packaging can bring joy to any customer's face, as it also includes cute matching stickers and a sweet handwritten thank you note," Bender said.

Also, consider utilizing environmentally friendly packaging. Using sustainable products shows your customers that your packaging wasn't wasteful and demonstrates your company's social responsibility.

"We believe in increasing customer awareness regarding sustainability, and it helps us to build a strong brand image. It enhances their unboxing experience and encourages them to generate a positive word of mouth," said Alex Williams, the chief financial officer of Find This Best, LLC. "For example, our packaging is unique and simple, tailored to the brand's aesthetics. We insert paddings that are not wasteful; rather, they make the unboxing experience fun."
2. Include a free sample or discount
A free sample, discount coupon, or even a handwritten note helps the customer to stay excited and hopefully engaged with your brand. These extra personal touches could help increase your customer's brand loyalty.

"When I first started, I saved money and got the boxes from USPS. We were using shredded paper as fill and wrote a note on the printed order form. It was not any kind of 'experience.' At least the products were great. After we realized that the purchase starts at the website, continues through the unboxing, and into the shower, we updated and upgraded," said Roberta Perry, owner of ScrubzBody Scrub, Inc. "We created a door hanger for customers to use to keep others out of the bathroom while they are caring for and loving themselves. We started including samples with the orders. We handwrite a note on a separate card."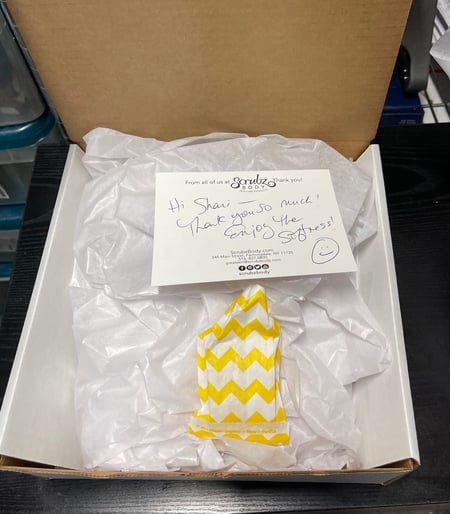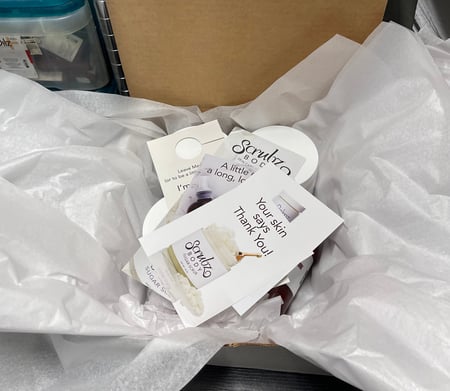 Source: ScrubzBody Scrub
At Custom Neon, a company that creates custom neon LED signs for its customers, they also found value in adding little goodies to their packaging. They include leaflets that give the customer everything they need to know about operating the signs, as well as branded freebies like stickers and small squishy balls.

"From the moment they receive their Custom Neon sign to the point where they're hanging it up in their space, we want our customers to think fondly of our brand and want to purchase with us again," said Courtney Stables, who runs public relations for the company.
3. Encourage customers to post on social media – and share it yourself too
Obviously, the best unboxing experience is one that your customer films and posts live, where it can serve as free marketing. But for that to happen, customers need a little encouragement to break out the camera. Use your customers as brand advocates and ask them to share their unboxing online using branded hashtags.

"I always add a personalized thank you note and encourage my customers to share unboxing videos of the products on their Instagram to experience and show the excitement of their newly purchased items," said Albert Vaisman, the founder of Soxy, a company that merges content with commerce so that customers can both read about fashion and shop for it at the same time.

Also, make your own unboxing videos to maximize visibility. Henrie, a premium direct-to-customer (DTC) pillow brand, shared an Instagram reel recently of their unboxing experience, which includes a satin-lined dust bag, an illustration on the inside of the box, and sustainable packing materials.
4. Partner with influencers to showcase your brand
It's great for any customer to show off their purchases, but influencers can reach more people and help build your brand audience.
If you have a great unboxing experience, it's easier for them to get hyped and showcase what you've sent them. Plus, 38% of shoppers say that they rely on influencer reviews, according to Shopify. And influencers tend to build up a certain degree of trust with their audiences.
A survey from Business Wire found that shoppers were more likely to trust influencers than brands during the pandemic. Working with an influencer likely means you'll need to either send free products or monetary compensation, depending on the terms they require for a partnership.
Deliver a killer experience from start to finish
If you want to convert your customers into repeat buyers, a memorable unboxing experience is a great way to get them to remember you and keep coming back.
Every part of the customer journey is an opportunity for you to create unique experiences that build brand loyalty. But remember you don't have to break the bank to get your customers excited to receive your products. Something as simple as a handwritten note and a custom mailer can go a long way.
Subscribe for Updates
Get our best content on ecommerce marketing in your inbox 2 times a week.
Written by Lauren Hall
Lauren is a Brand Marketing Associate at Privy. She's the brains behind all things content. When she's offline, she's obsessing over her Bernedoodle pup, Monster, and plotting ways to being a full-time Vermonter ASAP.
Subscribe for Updates
Get our best content on ecommerce marketing in your inbox 2 times a week.