How To Ace DTC Marketing In A Crowded Space
Published on Jan 28, 2022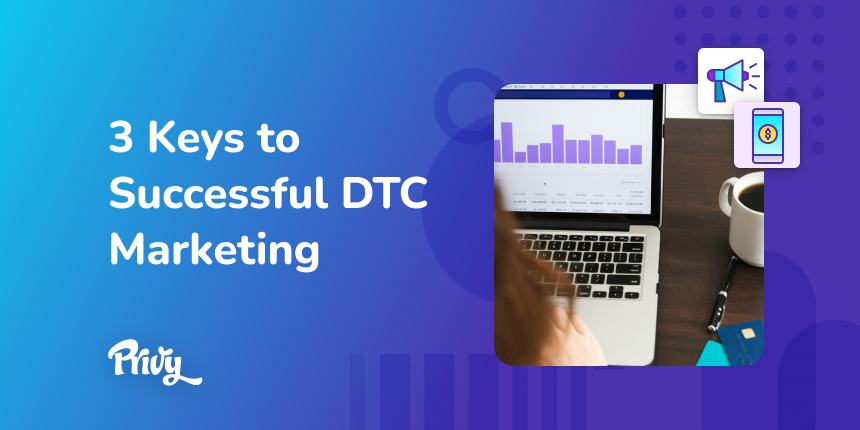 In the old days, consumers went to different merchants for all their needs: the butcher, the baker, and the candlestick maker. Then, the rise of big-box retailers gave birth to the idea of "one-stop shops." But lately, we're seeing a return to the old days in the world of ecommerce.
Plenty of people have separate subscriptions for their razors, pet toys, even underwear, all provided by different DTC (direct to consumer) brands. But selling straight to consumers requires a specialized marketing strategy.

With DTC marketing, brands can establish a stronger bond with customers because their interactions aren't mediated by a third-party retailer. Not to mention DTC brands have been having a serious moment during the pandemic, when people have taken more of their shopping online and away from traditional retailers.

DTC marketing requires brands to chase every sale, but the key to doing it successfully is putting processes in place so you can hustle without breaking a sweat.
Get our best content on ecommerce marketing in your inbox 2 times a week
What is DTC marketing?
DTC (sometimes spelled "D2C") is a business model where brands sell directly to consumers instead of using a retailer or wholesaler, and DTC marketing describes the methods used for making those sales happen.
Successful direct-to-consumer brands include Dollar Shave Club, Allbirds, Warby Parker, Casper, Glossier, and more.
Even brands that sell their products via retailers or on third-party platforms can employ DTC marketing to encourage customers to buy directly from them.
For example, Amazon may market the current craze of Funko Pops to people who show an interest in them, but with a DTC strategy, the Funko company itself can reach out to consumers via email marketing or social media.
DTC vs. B2C: What's the difference?
Essentially, DTC is a subset of the B2C (business to consumer) model. With a B2C business model, products are sold from a producer to a retailer to a customer.
In a DTC model, the retailer is removed from the equation. For example, a customer can buy razors from Walmart and likely pay an upcharge for buying from the store, whereas if they buy directly from the manufacturer, like Dollar Shave Club, they end up paying less, and the manufacturer is able to scale at their own pace and operate with more autonomy.
A potential drawback to relying on DTC only? You only make one sale at a time instead of getting bulk orders from those retailers. But don't let that stop you. If you get it right, DTC marketing can be crazy successful.
3 keys to successful DTC marketing
DTC marketing requires creativity and constantly being open to trying new things.
When you're winning over one customer at a time, you've got to fight for every sale, and you need a multichannel approach – including email, SMS, social media, and paid ads – to establish your brand.
Here are 3 tips to get your strategy off the ground:
1. Build a strong brand voice on social media
Social media is one of the most essential tools in the DTC marketing toolbox. It lets brands establish a direct line to consumers, take advantage of influencers, and build a distinctive brand voice.
For example, Billie, a razor brand for those identifying as female, makes it a priority to criticize the "pink tax" any time they can.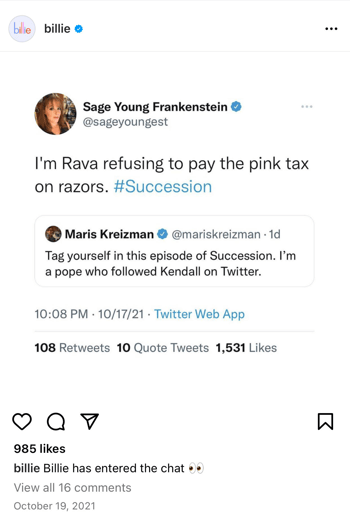 Customers appreciate brands showing off their authenticity and may be more likely to shop with a store that demonstrates its values. In fact, a 2017 study found that 87% of consumers would buy a product because the company advocated for an issue near and dear to their hearts.
When you're working through your own DTC marketing strategy, try to follow Billie's example and find a cause your company can champion on social media.

You should also use social media to interact with your customers directly. Comment on reviews, reply to their comments on your posts and ads, and let them see you're paying attention to their experience.
Use influencers to drive sales
Many successful DTC brands have paired with social media influencers to help increase their audience and drive sales.
According to McKinsey, social media is the new "window shopping" for many people, and if they see an influencer using your product, they could be more inclined to purchase. In fact, brands see a 650% return on investment for every dollar they spend with influencers.
Using influencer marketing can help new and growing brands earn customer trust by piggy-backing on influencers' reputations among their followers.
2. Send email campaigns for each stage of the customer journey
Keep your brand top of mind for your audience by sending them emails throughout their journey. When a new customer visits your site, capture their email with a welcome popup.
Then, include them in your one-off newsletters and automated messages that are relevant for their stage in the journey.
Cart abandonment emails and texts will remind them they left something in their cart, new product alerts and back in stock notifications will keep them engaged, and post-purchase emails will build hype before their products arrive.
You can even send customer winback emails in case they haven't made another purchase in a while. Or maybe you want to send product-specific content for previous purchases...
The truth is, your email marketing throughout the customer journey can either help you stand out or blend in. AND if you get it right, it makes you money while you sleep. So take the time to build a powerful email program for your business.

3. Offer referral programs that reward your customers
Word-of-mouth marketing has HUGE value for DTC brands. And offering referral programs can be a great way to draw in new customers while rewarding your existing super fans.
Everlywell, a company that sells medical tests directly to consumers and lets them send the results back in to be tested, rewards existing customers for referring new people to the site with $35 Amazon gift cards for anyone who ends up buying a test.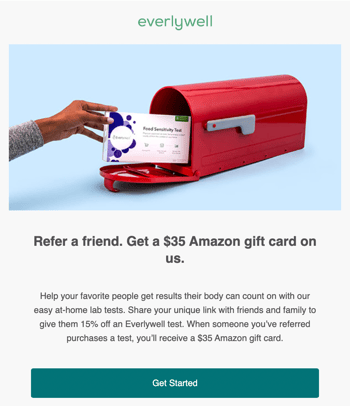 If your offer is good enough and you have plenty of customers who will go to bat for you, a referral program can be an amazing way to scale. But if you're still perfecting the first-time buyer experience, you might want to hold off.
Use Privy to manage your DTC marketing
The importance of marketing increases exponentially when you're selling directly to consumers. Because it's the only way they'll ever learn you exist without a retail partner to put your products on shelves.
But that doesn't mean you shouldn't get help. Use a platform like Privy to get the tools you need to run successful DTC marketing campaigns.
Let us help you with tasks that can be automated, like sending out emails and collecting customer data with popups, so you can focus on the rest of your business, like answering customer questions quickly and perfecting your next big launch.
Subscribe for Updates
Get our best content on ecommerce marketing in your inbox 2 times a week.
Written by Lauren Hall
Lauren is a Brand Marketing Associate at Privy. She's the brains behind all things content. When she's offline, she's obsessing over her Bernedoodle pup, Monster, and plotting ways to being a full-time Vermonter ASAP.
Subscribe for Updates
Get our best content on ecommerce marketing in your inbox 2 times a week.