7 Ways To Customize Your Emails To Boost Open Rates And Sell More
Published on Feb 11, 2021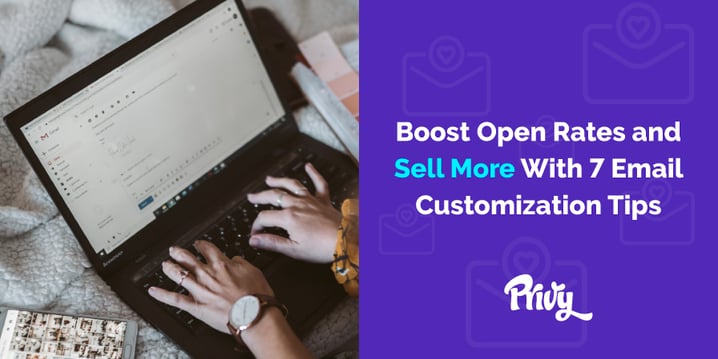 There's no denying that personalization works.
And the numbers prove it.
Personalized subject lines are 26% more likely to be opened.
And revenue is 5.7x higher in emails that are personalized.
Here are 7 ways Privy Email can help you personalize your emails to get more customers to read your emails and buy from your store.
Get our best content on ecommerce marketing in your inbox 2 times a week
1. Personalize by Birthday Month
Nothing says we appreciate you more than a special gift on your birthday.
Not only are they effective emails, they are also a great campaign to boost your email capture rate!
Here's a pop-up that The Blue Collection has been running that has an incredible conversion rate.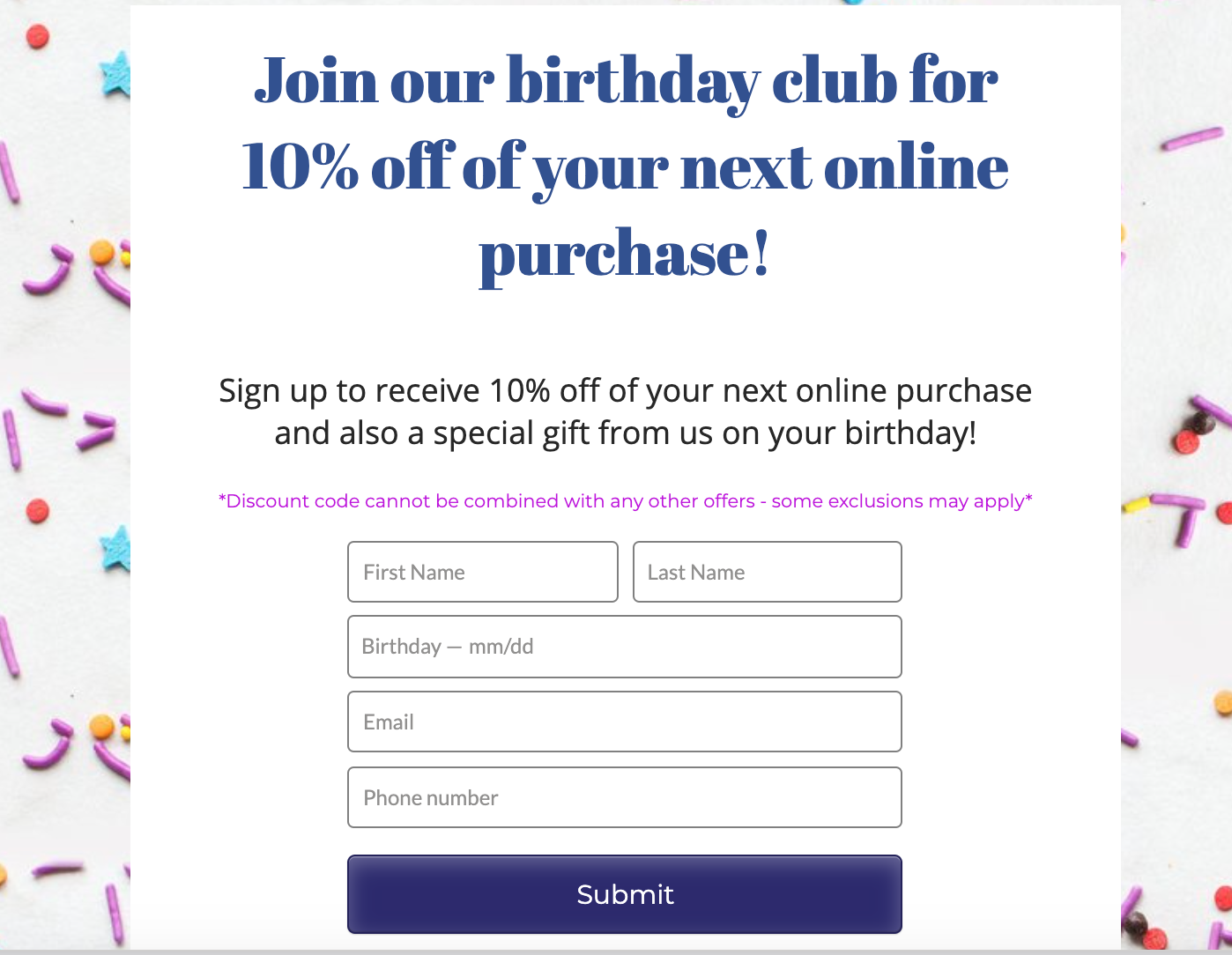 Once you know a customer's birth month, you can begin sending newsletters at the beginning of every month offering your customers with birthdays that month a unique discount code.
This little trick is a simple way to boost lifetime value and can simply make your customers love your brand.
Pro Tip: If you're setting these up in Privy, try saving the email as a template so you can quickly use it for all your future birthday emails.
2. Personalize with First Name
Adding customers' first names to an email might be overdone, but it's overdone for a reason.
It works!
I'm always reminded by the Dale Carnegie quote "a person's name is the sweetest sound."
And first names are one of the easiest ways to get started with email personalization.
Not to mention greeting your subscribers by their first name in the email subject line can help you stand out from a busy inbox.
Caution: The only downside of this is it could backfire if you have the customer's name wrong. For instance, my email is 'Connor From Privy' and I've gotten countless emails form a brand that starts like this:

3. Personalize by Order History
Do you have a flagship product?
Or one that makes up over 25% of your sales?
Well with Privy's newsletters, you can easily target customers that purchased that product with others that they might enjoy.
Here's an example from Hashtag Presets: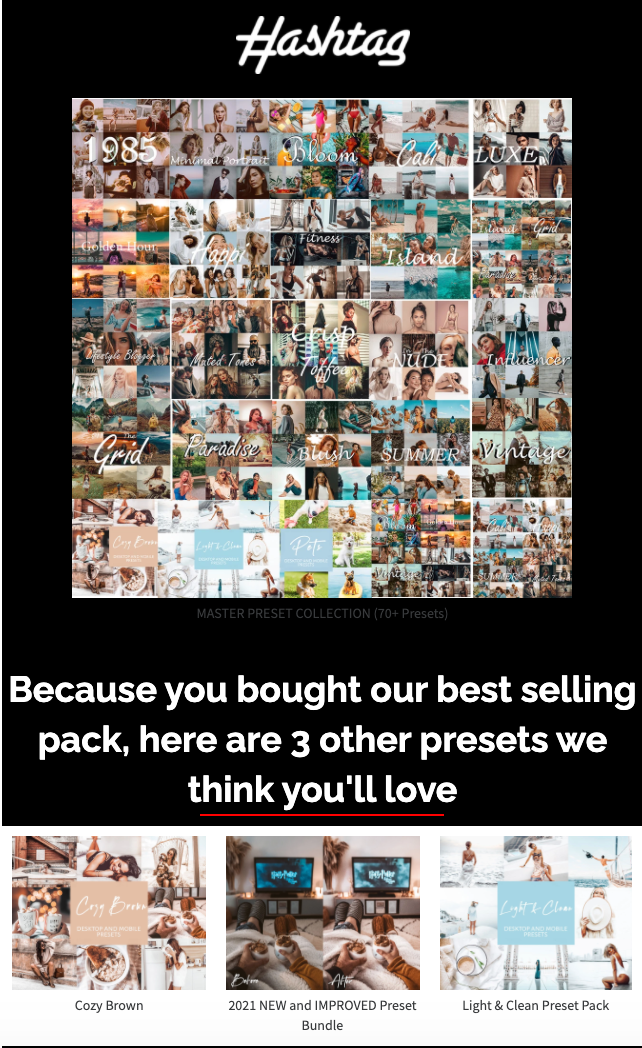 And if you want to take things one step further, you can automate these emails with purchase follow-up emails that will make you money even when you're sleeping.
Not only does this keep emails relevant, but you're also able to cross-sell products throughout your catalog.
4. Personalize by Job Title
If you're selling to a specialized group like healthcare workers, segmenting your contacts by job role early on can help you send more relevant emails.
Take a look at how Figs segments their audience early on by profession type.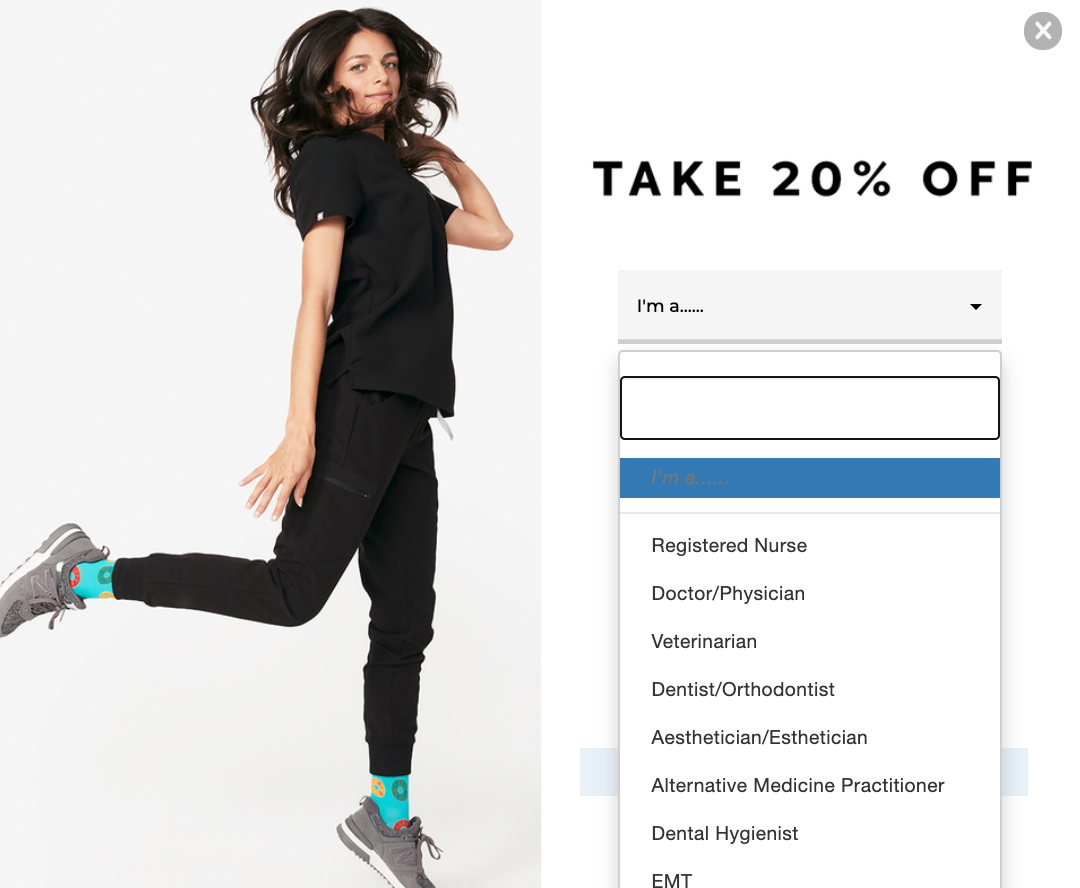 Now Dentists won't receive Fig's National Nurse Day email on May 12th.
And Doctors won't be receiving Veterinarian wear.
Capturing this information early helps your brand send more relevant messages.
And it reduces your email unsubscribe rate by only sending the emails that are important to each customer.
5. Personalize with a Unique Coupon Code
Rather than sending a generic coupon code to your customers, try a unique coupon code with Privy.
These codes are created for each email recipient.
Not only do these codes make each email more personalized, but you can also set expirations.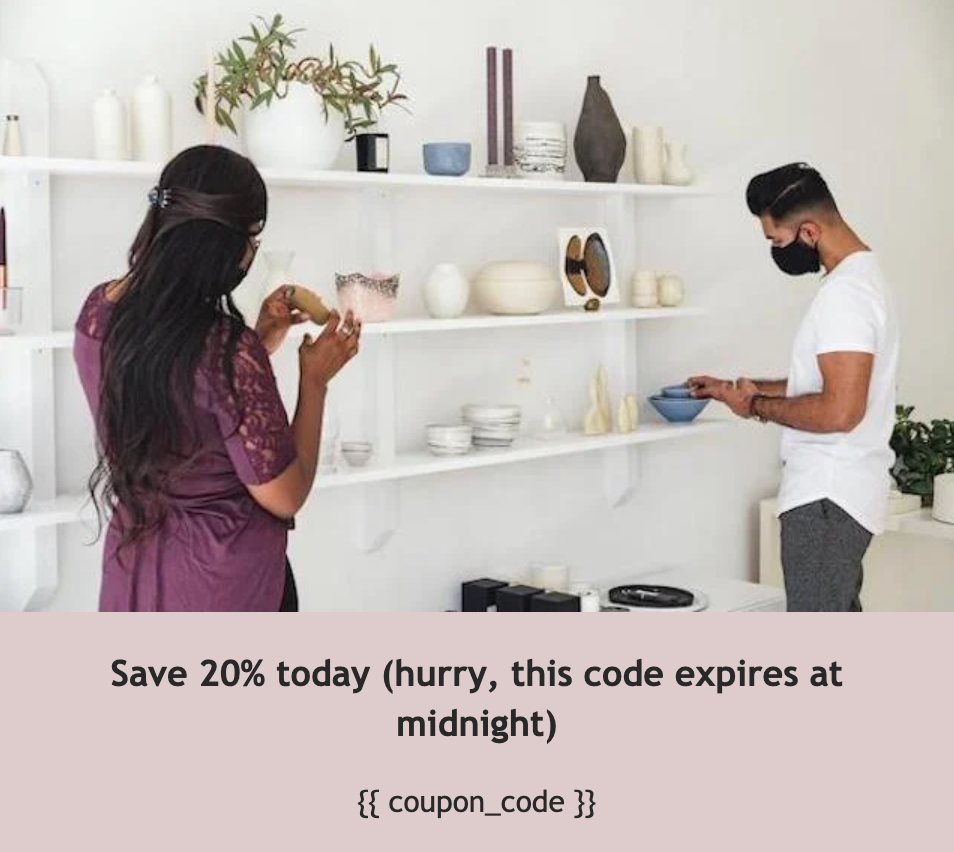 This will drive urgency for your shoppers and help you get them to buy even faster.
6. Personalize by Date Last Seen
If I asked you which store you were in 30 days ago, you'd probably have no idea.
But if I asked where you've been shopping in the past week, that's easy.
Send emails to customers who have recently been on your site and left without buying.
That's why we recommend using Privy Convert & Privy Email together.
Because Privy Convert captures a customer's email and cookies them so you know exactly when they were on your site, and you can send personalized emails that match that date.
If a customer has been shopping in the past 7 days, they might be looking for a Valentine's Day gift, for example.
If they haven't been to your site in 30 days, try sending them an email letting them know you haven't seen them in a while.
7. Personalize by Gender
If you're running an online clothing store, this is the perfect segmentation for happy customers.
Can you imagine getting an email for women's clothing after you just bought a pair of men's joggers?
Just look at how Gymshark sent me their recent Valentines day campaign: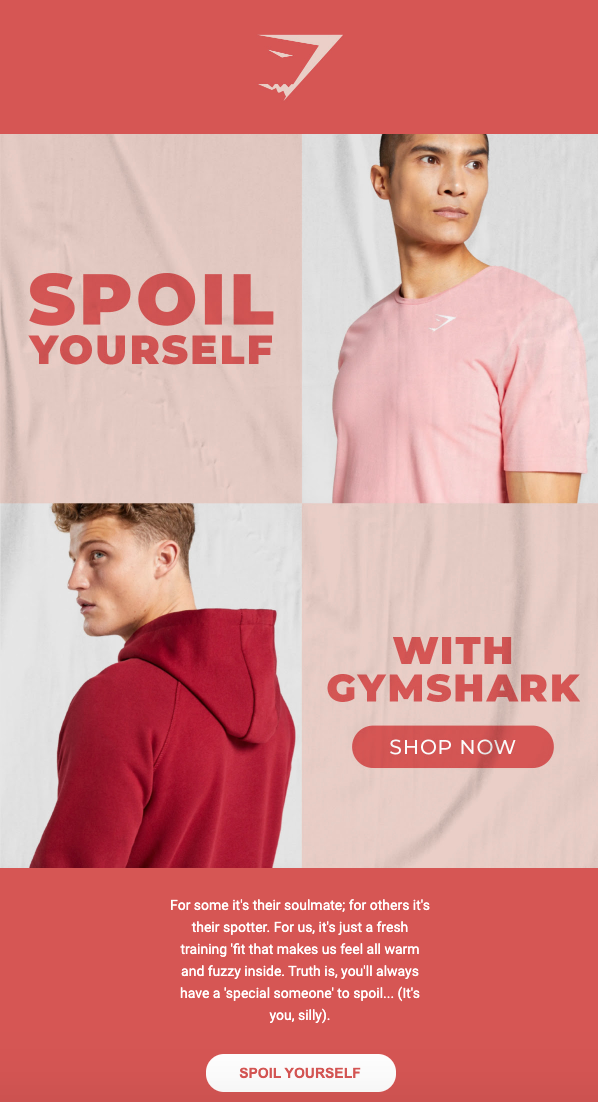 Including photos of a certain gender wearing or using your products can boost conversion rates by making your emails more relevant to your shoppers.
The Power of Being Specific
At the end of the day, personalization is really about getting specific.
If you send the right message to the right person at the right time, the chances you get that person to convert are SO much higher than taking a shot in the dark and sending irrelevant messages to your entire list.
So the next time you're trying to make your messages relevant for specific audiences, make sure you think about these 7 ways to personalize your emails.
Subscribe for Updates
Get our best content on ecommerce marketing in your inbox 2 times a week.
Subscribe for Updates
Get our best content on ecommerce marketing in your inbox 2 times a week.