RECOVER 5X MORE CARTS WITH PRIVY's ABANDONED CART EMAILS
Send automated cart recovery emails to all known shoppers who have added an item to their cart but not completed their purchase (not only those who reach the checkout step) on your Shopify or Shopfy Plus store. Learn more about the ecommerce dirty secret of abandoned cart emails.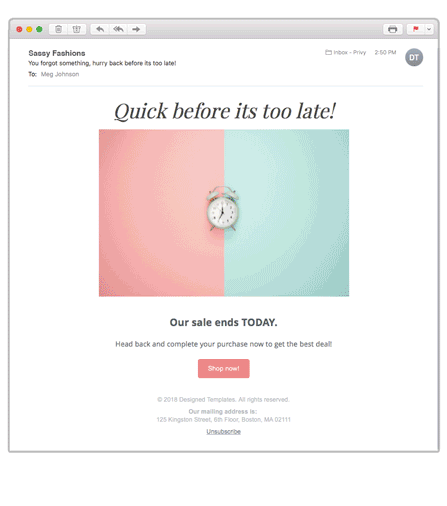 SAY THANK YOU WITH AUTOMATED ORDER FOLLOW UP EMAILS
Automatically send branded, customizable emails that are triggered by a customer making a purchase to say thank you, ask for a review, or suggest other products they may be interested in.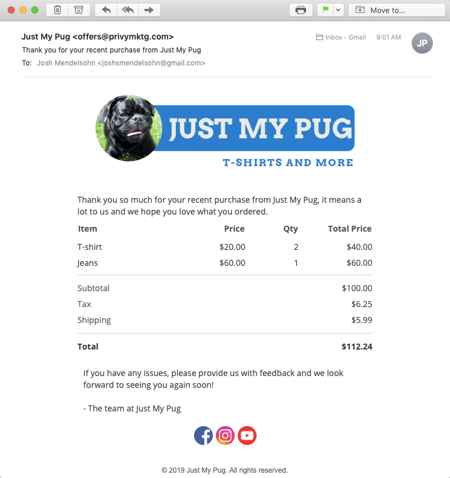 UTILIZE UNIQUE COUPON CODES IN AUTOMATED EMAILS AND DISPLAYS
Deliver compelling offers in your onsite displays and automated emails using master and unique coupon codes that sync directly with Shopify stores.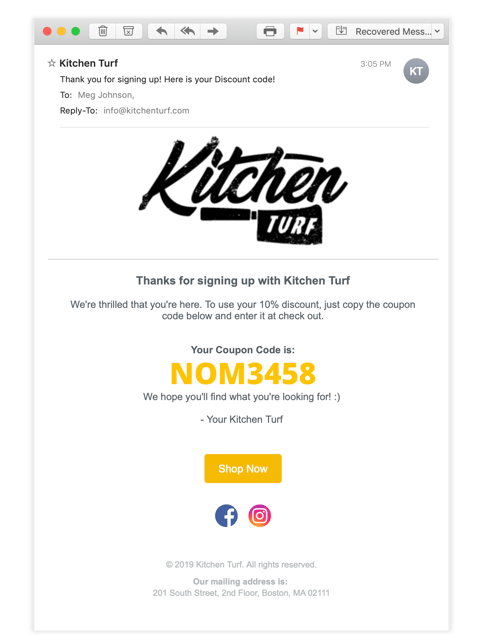 TARGET YOUR DISPLAYS TO INCREASE CONVERSION
Create high converting pop ups, flyouts, spin to win games, bars, and banners and choose exactly which pages and device types (e.g., mobile, desktop) they are shown on to reach the right visitor at the right time.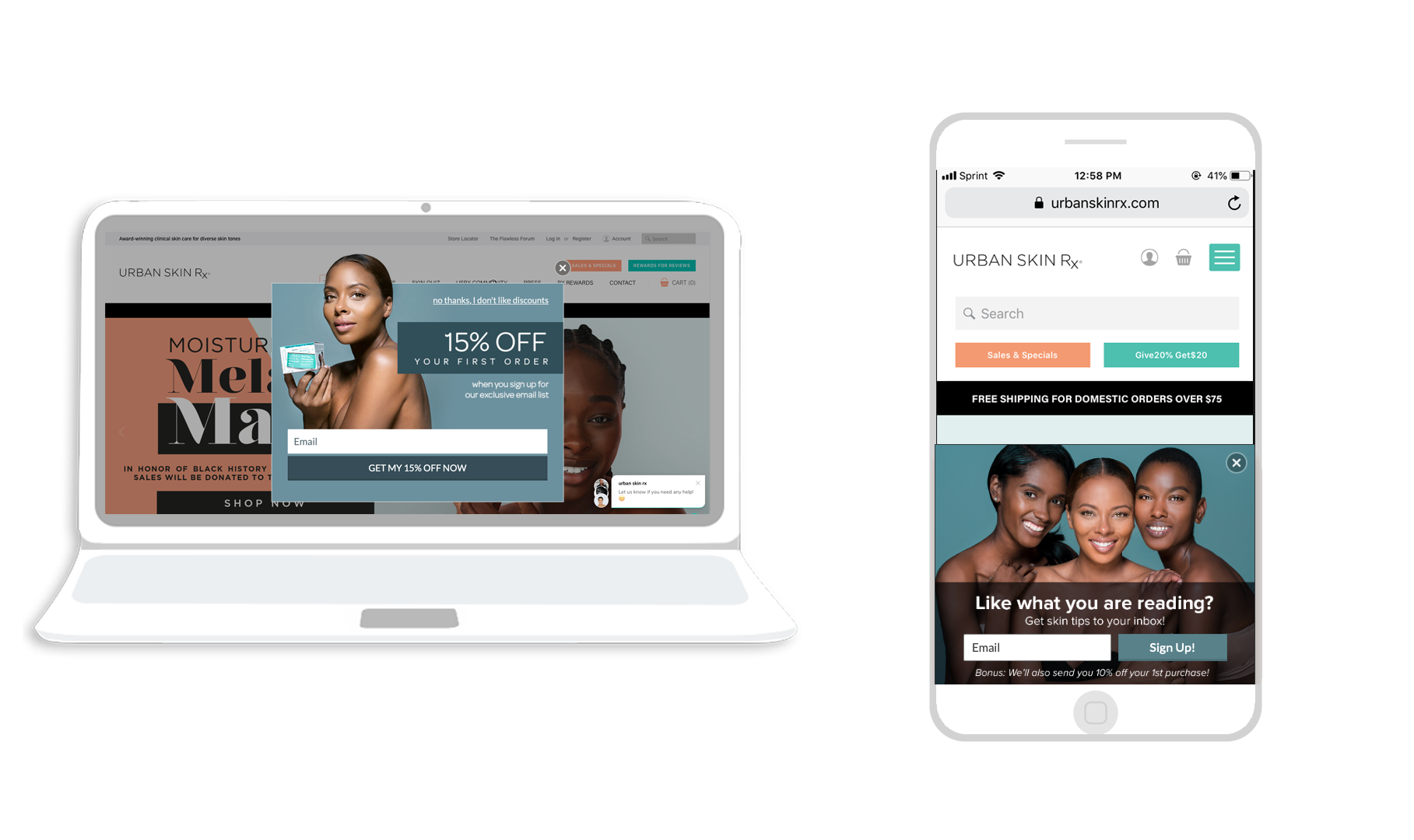 CREATE BEAUTIFUL NEWSLETTERS AND ANNOUNCEMENTS
Use our drag and drop email editor to easily create and send great looking newsletters, announcements, and more to all of your contacts within Privy or behavioral segments within your audience.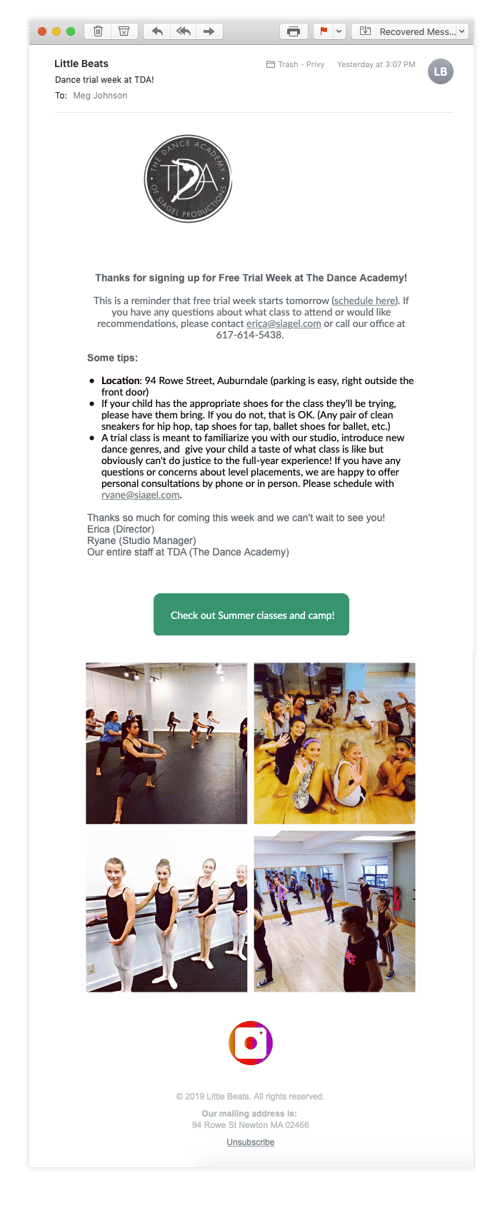 SEND AUTORESPONDER EMAILS TO NEW SUBSCRIBERS
Automatically send customizable welcome emails from Privy when someone signs up for one of your campaigns that include coupon codes, content links, and more.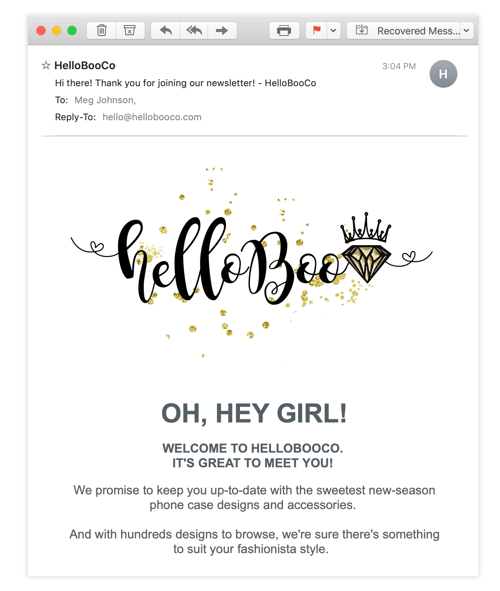 DRIVE REPEAT VISITS WITH WELCOME SERIES AND COUPON REMINDERS
Send automated, time-based coupon reminders and engaging welcome series to people who sign up for each of your campaigns without ever leaving Privy.

SYNC TO YOUR KEY PLATFORMS
Privy is connected with the rest of your marketing tech stack so you can sync subscribers your ecommerce platform, loyalty program, analytics tools, legacy email providers, and more. All it takes is a few seconds to get set up. Read more about our email integrations.