All-in-One Ecommerce Marketing Platform
Privy is the Fastest Way To Grow Sales With Email & SMS
Get the ecommerce marketing platform built for stores that need to grow sales now. Grow your contact lists, save abandoned carts, send money-making emails & texts, and more – all in one place.
Over 18,500 five star Shopify reviews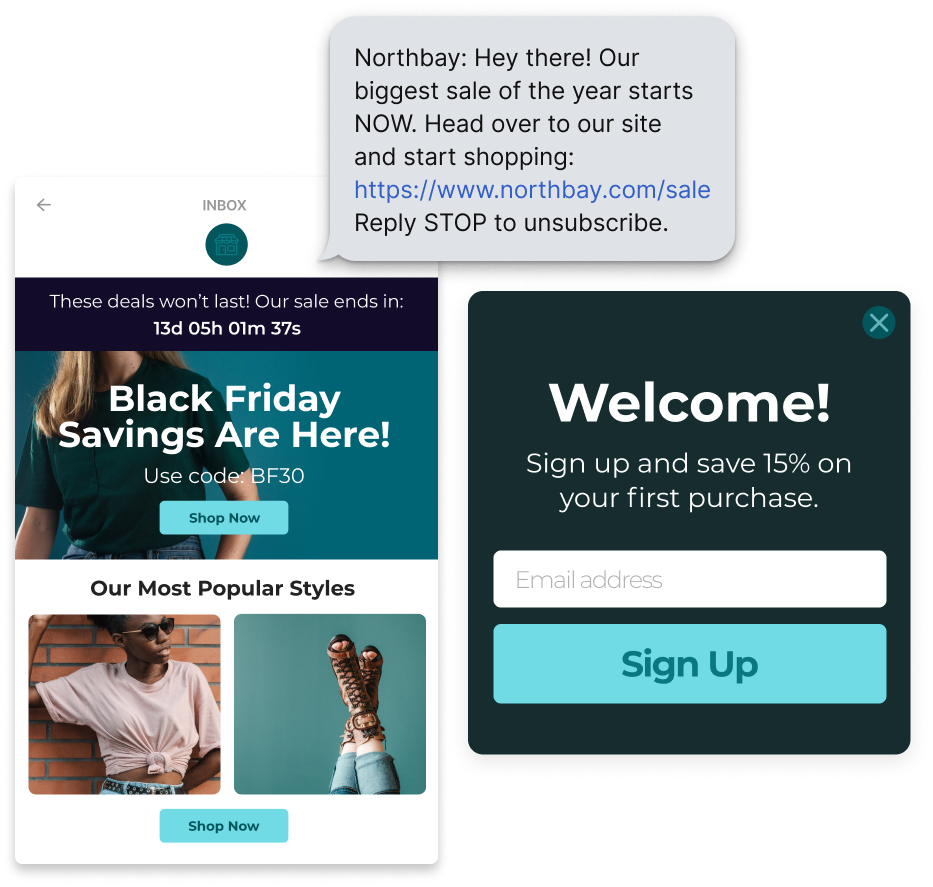 What can Privy do

for your online store?
Get access to all the Email, Conversion, and SMS tools you need to increase sales at each stage of your customers' journey.
Grow your lists
Interact with subscribers
Sell more products
Reconnect with customers
Build beautiful emails in a snap with Privy's library of

customizable email templates
Choose from a variety of our pre-built email templates, and customize them to fit your brand with Privy's drag-and-drop editor










Privy's trusted
platform can help
your brand grow.
And we have the
receipts to prove it.
17+
Thousand
Brands choose Privy for their ecommerce marketing.
$9+
Million
Revenue driven for Privy email customers each month.
100+
Million
Monthly email sends by Privy customers.
342+
Million
Total signups collected by Privy customers.
Made to

work seamlessly with your Shopify store
Privy's ecommerce marketing platform has a powerful and direct integration with Shopify to help your brand sell more online, no additional apps needed.
Choose right from your product catalog
Insert products from your Shopify store into an email in just two clicks.
Easy-to-understand revenue reporting
See exactly how your email & text marketing campaigns are paying off.
Automated abandoned cart emails & texts
Automatically email or text shoppers who left items in their cart, even if they haven't started the checkout process.
Create unique or master coupon codes
Control who gets your coupons and how they are shared. Send recipients their own unique coupon code that automatically syncs with your store.
Case Studies
Read stories from real brands who have had real success using Privy
View all posts
How Kōv Essentials Grew From 0 to 7 Figures in 1 Year With Privy
Get a behind the scenes look at how Kōv Essentials uses Privy and the marketing strategy that grew their brand from 0 to 7 figures (and beyond).
How Bdellium Tools Drove Over $1M in Sales And Made The Switch To Privy
After using Privy Convert on their website for 3+ years, the Bdellium Tools team came to Privy looking for an alternative to Klaviyo. We had the chance to sit down with Ivan to hear more about the switch and how they generated over $1M in sales using Privy.
How Bryght's Segmentation Strategy Grew Revenue by 1500% for BFCM 2022
Get an inside look at Bryght's journey using Privy and their Black Friday Cyber Monday campaign strategy that drove 1500% growth year over year.
Get coaching & support from ecommerce experts,
no matter where your Privy journey begins
Live Chat + Email Support
Get live chat or email support from a real human seven days a week. You'll never be left to figure it out on your own. And if you need Help Docs, we've got plenty of those, too.
1:1 ecommerce coaching
You'll have access to in-house ecommerce experts who can show you what's working and what's not. It's like having your own coach any time you need one.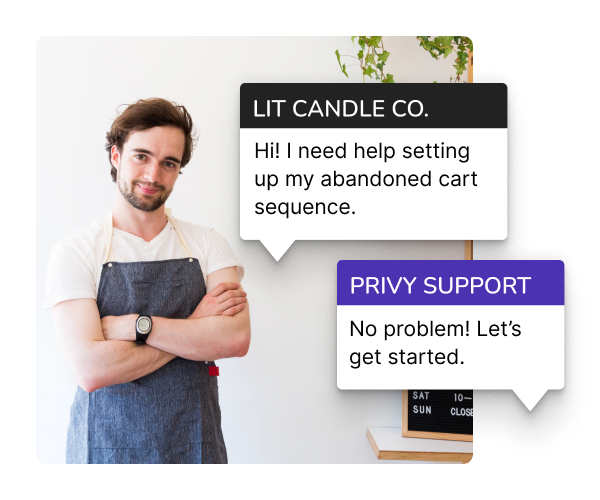 Try Privy Free for 15 Days
Grow your email or SMS list with our pre-built templates and start sending money-making emails for the next two weeks. Automatically syncs with Shopify.
Start my trial
No credit card required.
Still have questions?
How much does Privy cost?
Privy has a Free Plan, Starter Plan, and Growth Plan. The cost of each plan depends on your # of mailable and/or textable contacts. You can also just add SMS marketing or list growth separately. To get a more detailed breakdown of what Privy will cost, use our Pricing & Plan Calculator.
How is Privy's customer service & support?
All Privy customers get live chat or email support from a human – 7 days a week with an average wait time of 5 minutes.
At Privy, you'll always get support from a real person no matter how many contacts you have. Plus, if you have 10,000+ contacts, you're eligible for 1:1 ongoing support with a customer success manager.
Does Privy limit the number of emails I can send each month?
If you are on the Starter Plan or the Growth Plan then you won't have a sending limit. Privy email customers can send an unlimited number of emails regardless of how much your plan costs. If you are in a free 15 day trial of Privy, you will have a 100 emails per day sending limit. When you upgrade to a paid plan after your 15 day trial you will not have a sending limit.
Does Privy limit the number of texts I can send per month?
Yes. The number of texts you can send per month is limited to a 6X multiplier of however many textable contacts you have. For example, if you have 500 textable contacts, you'll be able to send up to 3,000 texts per month.
Can I import contacts from other email services to Privy?
Yes. Privy integrates with most other email service providers and allows you to import contacts directly into your Privy account. You can also upload a CSV file of your contacts to Privy.
Can I send text messages to contacts that I collected with something other than Privy?
No. Your textable contacts must provide their phone number to you via a Privy popup or onsite display in order for you to text them with Privy Text.