Privy's Ultimate
Black Friday Bundle Offer
You're probably waiting to launch your best bundle offer in November. But we're not. Get access to the tools, coaching, and the community to make this your best holiday season yet.
days
Hours
Minutes
Seconds
Sign up for the

Ultimate Black Friday Bundle Offer
Here's what we're offering*:
Tools: Privy's Bundle Plans will give you everything you need to build your list and send money-making emails & texts.
Coaching: Work 1:1 with a Privy coach who will help you set up up your account, launch new campaigns and answer any questions you might have.
Training: You'll get access to the Ultimate Black Friday Calendar - the 17-week marketing plan to reach your goals this BFCM.
Accountability: An exclusive community where you can ask questions to Privy coaches, experts and merchants just like yourself.
*Offer is only eligible to new Starter Plan or Growth Plan customers after 9/8/2022.
Make this your best holiday season yet with
The Ultimate Black Friday Bundle Offer

Last year, Shopify stores drove more than $6.3 billion in sales across BFCM (Black Friday/Cyber Monday). This year is going to be even bigger—and we want to help you prepare NOW.
And we know what you might be thinking:
"I have a million other things to do before I start my BFCM marketing plan"
Sound familiar? Well, you're not alone.
That's exactly why we launched this offer—to give you the marketing plan you'd probably spend weeks trying to write. Think of this as a cheat code.
With this offer, you won't just get the Privy tools, you'll also get 1:1 coaching sessions and an entire training plan that guides you through every step of your Black Friday preparation (with check-ins and reminders!).
And because you've got a lot on your plate…you'll also have access to a brand new, exclusive community where you can stay on track and engage with store operators in this program just like you.
So... what exactly will you get?
1) Privy's

money-making tools
Build your list, maximize cart recovery, and send money-making emails (and texts) this Black Friday (and beyond) with one of our Privy Bundle plans. Once you're set up on the right Privy plan for you, you'll unlock complete access to the rest of this offer.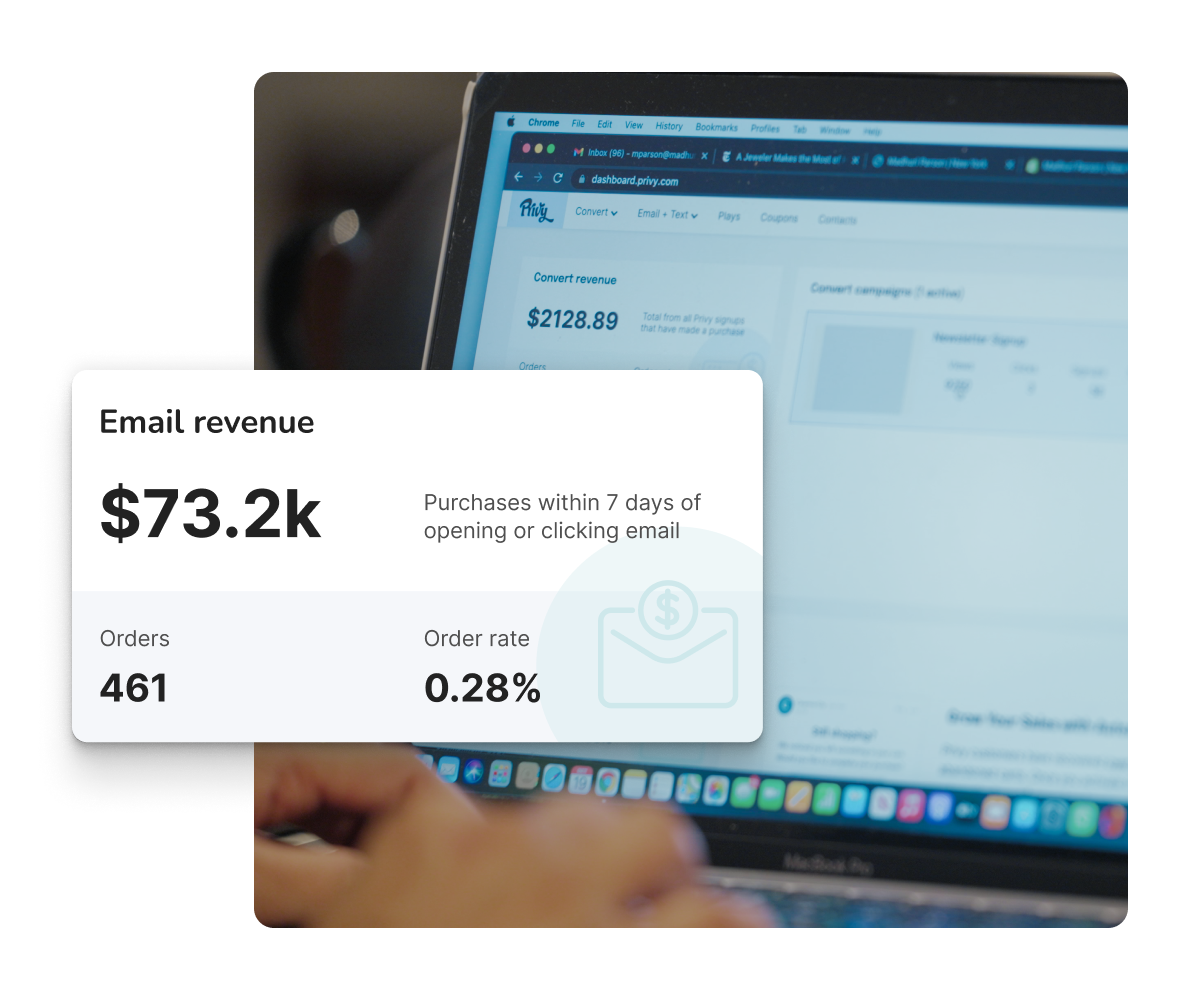 2) Coaching & support


no matter where you start
You'll be assigned a dedicated member of our customer success team who will work with you 1:1. Your coach will help you set up your account, launch your first campaigns and get you ready for Black Friday/Cyber Monday. Plus, they'll be here to answer any questions and provide guidance when you need it.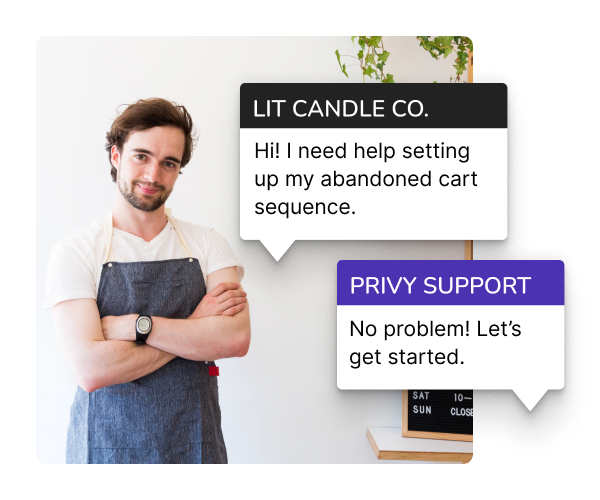 3) The Black Friday training plan

you can steal
We put together an entire training plan that guides you through the holiday season. It's packed with the steps to prepare (and transition) from Black Friday—including actionable tips, examples and regular reminders to guide you along the way.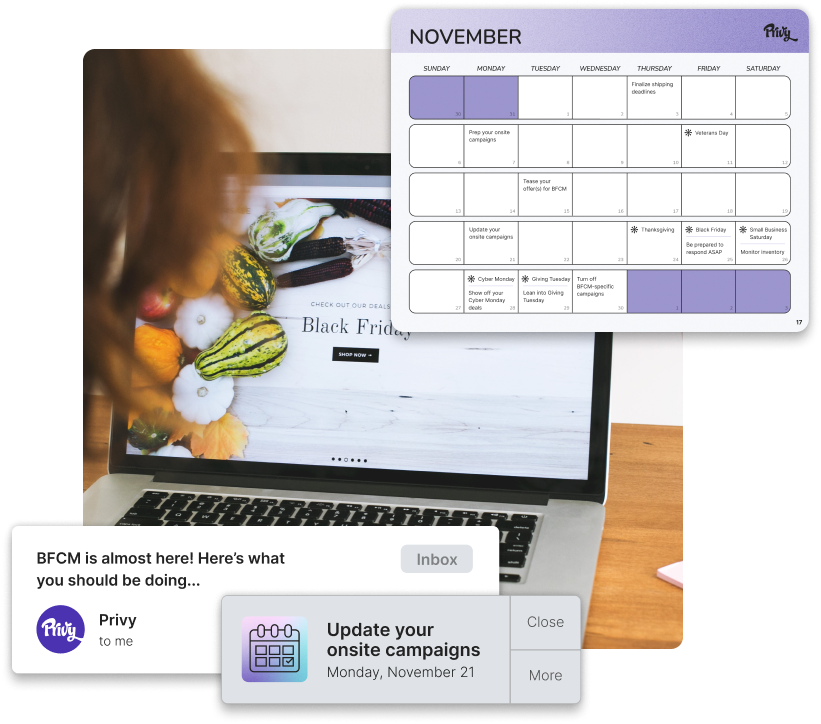 4)

Team of experts and community to stay accountable
We know preparing for Black Friday can feel like a lot. But investing the time to rollout an A+ Black Friday strategy is going to be worth it (just think about those Shopify cha-chings 💰).
That's why we're creating a brand new, Facebook Community exclusive to merchants who sign up for this offer. Our team of coaches will check in and share tips to keep you on track—plus you'll be able to ask questions and bounce ideas off your peers.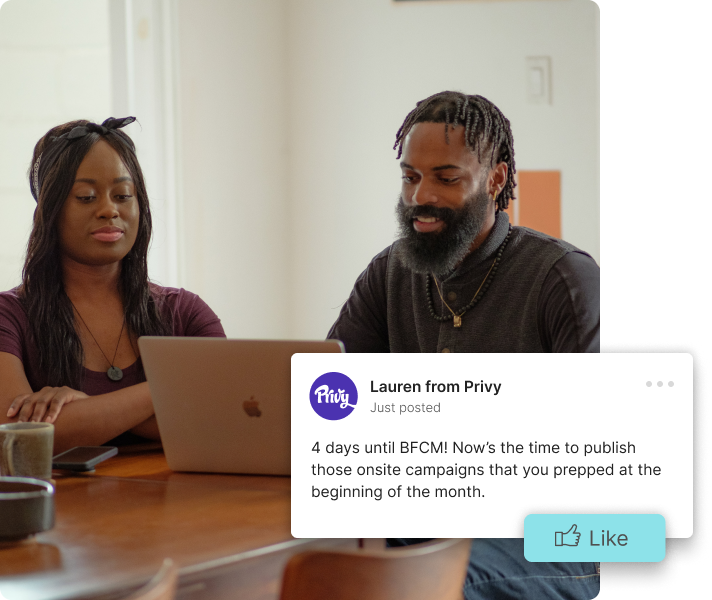 Excited yet?
Well, the community just. Got. Sweeter...
We're bringing in Kurt Elster 🎉
Kurt Elster is THE Shopify expert. He's the host of the Unofficial Shopify Podcast, runs a consulting agency for Shopify merchants and creates content on all things Shopify growth. We're pumped to bring Kurt on as the official coach for this offer—where he'll guide you through the next few months by sharing tips, answering questions and engaging with you all in the Facebook Community.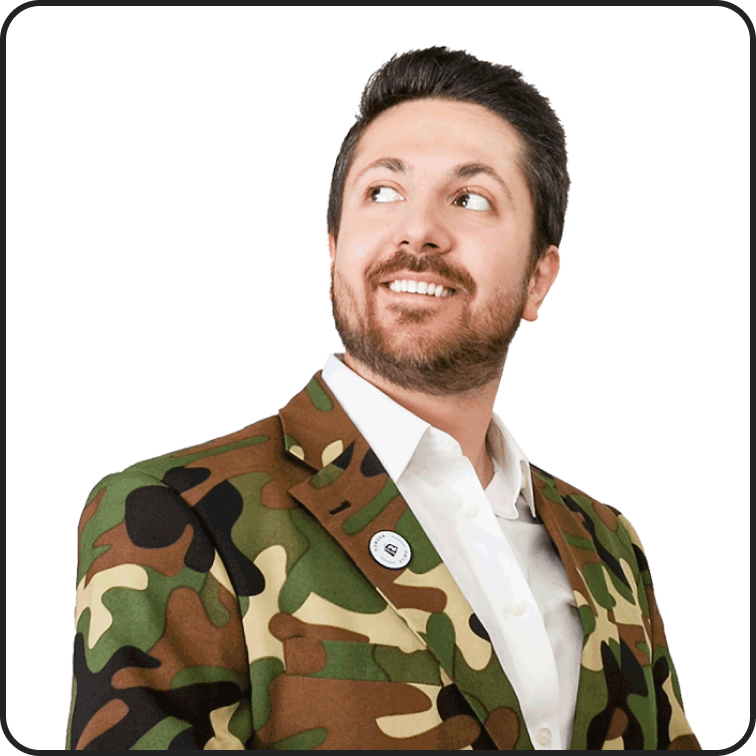 Ready to get started?

Fill out the form on this page & meet with your Privy coach: get a live walkthrough of the platform from an expert, cover best practices, learn why you should make the switch and ask any questions you have.

Choose a Privy Bundle plan: get setup on your plan to get access to this full offer. *You must be a new upgrade to either the Privy Starter or Growth Plan to qualify for this offer.

We'll send you the Ultimate Black Friday Calendar: get access to the full PDF training plan. Plus, we'll add you to the list for regular check ins and reminders through the end of the year.

Join the private Facebook community: we'll send you instructions so you can join the private Facebook Group (only available for customers who take this offer).

Start working with your Privy coach: hit the ground running by scheduling your first 1:1 onboarding call.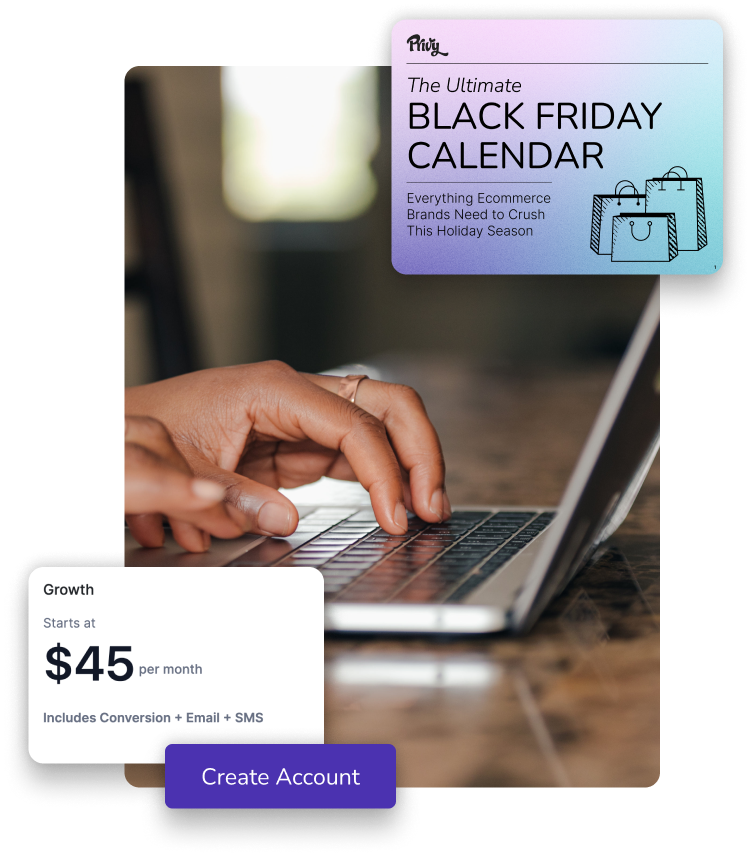 Shopify stores ❤️ Privy
Privy is the #1-reviewed sales app in the Shopify App Store today.
ABSOLUTELY AMAZING!!! Frankie led me through exactly what I needed to do to make my site even better. Miranda built up the examples and since she had an emergency, Frankie stepped in and was flawless!!! I will stick with Privy cause they have all the right tools to have a successful online shop with perks. People can shop with ease and not be overwhelmed by unnecessary pop ups and emails that they have seen before. I am so grateful and thank you from the bottom of my heart.
One of the best Shopify apps available. I've been on Shopify over 5 years and have tried quite a few apps. Great product. Helped sales immensely on Black Friday and got a lot of signups for our emails! Super support.
I had the most informative onboarding session with Victoria. She was very friendly and thoroughly knowledgeable, making navigating through Privy's application a breeze. I look forward to growing my business with Privy's marketing components.
We've been using Privy for a few years now and they have been great. Their onboarding is fantastic and our assigned account manager is incredibly helpful and super responsive. She is jus like a member of our team and often provides new ideas that will help grow our business. Would give them 6 stars if we could!
Amazing app! Recently left from a competitor and I do have to say, nothing compares to Privy's capabilities and ease.
Make this holiday season your best one yet with Privy's Ultimate Black Friday Bundle Offer: A dedicated coach to work with 1:1 The Ultimate Black Friday Calendar
An expert community to stay on track
Still Thinking It Over? These Questions Might Be On Your Mind...
When does this offer expire?
The offer expires October 31st, be sure to book your call before then to get access!
What do I get when I sign up?
You'll get access to everything you need to make it your best holiday season yet: money-making tools, 1:1 coaching, 17-week training plan and an exclusive community to help keep you on track.
Do I have to use Privy tools to get access?
Yes, to get access to this full offer, you'll need to upgrade to a Privy bundle plan first. Schedule a meeting today to learn which plan is the best fit for you.
Why should I get started with my Black Friday plan now?
While Black Friday might feel far away, it's going to be here before you know it. Getting started with your strategy now means you'll be set up to maximize your sales during the holiday weekend—and as part of this offer, you'll get access to our entire 17-week training plan that will guide you through everything you need to do (growing your list, warming up your email audience, experimenting with offers and more).
Can I get access if I'm already a Privy bundle customer?
This offer is meant to help new bundle customers get started—if you're already onboarded to a Privy Bundle plan, we recommend checking out the Ultimate Black Friday Calendar, which you can snag for free today.
Not ready to sign up for this offer yet? No worries!
Check out the Ultimate Black Friday Calendar while you think it over.
Get this FREE Resource