Shopify FAQs: What is Shopify, How to Use It, How To Boost Sales & More
Shopify is an ecommerce platform that includes tools and services to help you launch, manage, and grow an online business.

Whether you're considering using Shopify to open an online store or you're a Shopify expert, you probably have some questions about the platform.

You've come to the right place—in this article, we'll cover everything you need to know about Shopify, from setting up your store to boosting sales and everything in between.

Feel free to browse around or skip to the section you're looking for.
Quick reference
General FAQs about Shopify
Managing your Shopify store
Making money with Shopify
How Privy helps you sell more on Shopify
General FAQs about Shopify
There's a lot to learn about Shopify, but let's start with the basics.
What is Shopify, and how does it work?
Shopify is a software service that simplifies the process of selling products online. Rather than juggling multiple services to list products, engage with customers, ship orders, and process payments, Shopify bundles all of those capabilities into one user-friendly platform for a monthly subscription fee.
Why use Shopify, and who is it for?
Shopify is an ideal solution if you want to sell products online without the hassle of designing or developing a website from scratch. Whether you just started a business today or you've been selling for years, there are flexible, affordable Shopify plans for companies of all sizes.
What is Shopify Plus?
Shopify Plus is a customizable solution for enterprise-level businesses that outgrow Shopify's standard plan. Some of the key advantages of Shopify Plus include 24/7 priority customer support team, automation tools, a built-in wholesale channel solution, and advanced customization tools.

More than 10,000 brands and artists use Shopify Plus, including Pepsi, Gymshark, and Kylie Jenner.
What is Shopify Lite?
Shopify Lite lets you make any website shop-able in just a few clicks, whether you're on WordPress, SquareSpace, Wix, Tumblr, or somewhere else. This plan, which costs $9 per month, enables online selling with Buy Buttons and includes reporting and 24/7 support. However, Shopify Lite users don't get access to the functionality of the Shopify basic plan, such as a full online store with a shopping cart.
How much does Shopify cost per month and per sale?
Shopify offers multiple pricing plans depending on your goals and needs. Here's an overview of each. You can always start by trying Shopify free for 14 days.
Shopify Lite costs $9 USD/month with transaction fees of 2.7% (in-person) or 2.9% + $0.30 (online).
Shopify Basic costs $29 USD/month with transaction fees of 2.9% + $0.30.
Shopify costs $79 USD/month with transaction fees of 2.6% + $0.30.
Advanced Shopify costs $299 USD/month with transaction fees of 2.4% + $0.30.
Shopify Plus starts at $2,000 with transaction fees of 0.15%.
Note: transaction fees are waived when you use Shopify Payments. For a complete breakdown of Shopify pricing plans and what's included in them, check out Shopify's pricing page.
Managing your Shopify store
Ready to start selling on Shopify? Here are some quick tips to get you up and running.
How to set up a Shopify store?
Here are 7 basic steps to start a Shopify store:
Sign up for Shopify (you'll start with a 14-day free trial)
Create the pages for your site, such as a homepage, product pages and a FAQ page
Add a product to your store
Customize your store's design, including colors, fonts, and logos
Transfer a domain name to your store or purchase a new one from Shopify
Choose a payment gateway, such as Stripe or Shopify Payments
Click the "Launch Website" button to go live
How to change a Shopify store name?
You can change your Shopify store name in 5 steps:
Log into your Shopify admin page
Click "Settings" on the bottom left of the navigation menu
Click "General"
Your current name appears in the "Store name" box. Delete this and type in your new store name
Click "Save" on the top right, and you're all set
How to edit a Shopify website?
You can change the look and feel of your Shopify store without touching the CSS on the backend of the site.

To start, log into your Shopify dashboard, click "Online Store" on the left navigation menu, then click "Themes."
In the Themes window, click the "Customize" box in the upper right corner. From here, you can choose a page to edit from the menu on the left.

You can also customize your store's theme by clicking "Theme Settings" in the same left navigation menu. Here, you can adjust elements such as typography, colors, linked social accounts, and more.
How to change a Shopify domain and URL?
When you sign up for Shopify, your default domain looks something like this:

your-store-name.myshopify.com

Using a custom-branded domain helps potential customers recognize your brand and also helps with search engine optimization (SEO). The change your store's URL, you'll first need to purchase a domain through Shopify or a third-party registrar.

Once you secure a domain, log into your Shopify admin and click "Domains." In the Primary Domain section, click "Change primary domain," choose the domain you want as your primary domain, and click "Save."
How to remove "Powered by Shopify" in a store?
To remove the "Powered by Shopify" message at the bottom of your store, log into your Shopify admin and click "Online Store" in the left navigation menu and choose the theme you want to edit from the "Themes" tab.

Click the "Actions" dropdown menu and choose "Edit languages." Type "powered" into the Search translations box. Scroll down to the "Powered by Shopify" box and use your space bar to remove the text completely or replace it with another message.
Don't forget to click "Save."
How to add a Facebook pixel to Shopify?
A Facebook pixel is a piece of code that lets you track customer data and behavior on your Shopify store. Here's how to set it up:
Create a Facebook pixel in Facebook Ads Manager.
Log into your Shopify admin and choose "Facebook" in the Sales Channels section.
Click "Enable data-sharing" in the Customer Data-sharing section.
Choose a data-sharing level: Standard, Enhanced, or Maximum.
Select your pixel from the list.
Click "Confirm."
How to add Google Analytics to Shopify?
Google Analytics lets you gather important data about your Shopify store—here are the steps to set it up:
Log into Google Analytics and click "Create Property" in the Property column.
Enter a name and select "Create a Universal Analytics property only."
Click "Next," then "Create."
Copy the Universal Analytics property to your clipboard.
Log into your Shopify admin and go to "Preferences."
Paste the property in the "Google Analytics account" box.
From here, you can choose between basic ecommerce tracking and enhanced ecommerce tracking.
To enable basic ecommerce tracking, log into your Google Analytics account and choose Admin > View > Ecommerce Settings > Enable Ecommerce > ON.
To enable enhanced ecommerce tracking, go into your Shopify admin and choose "Preferences." In the "Google Analytics" section, check "Use Enhanced Ecommerce" and click "Save." Then, in your Google Analytics account, click Admin > View > Ecommerce Settings > Enable Enhanced Ecommerce Reporting > ON.
How to cancel a Shopify subscription?
You can close your Shopify store at any time. Here's how:
From your Shopify admin, click "Settings," then "Plan."
Click "Cancel subscription."
Select a reason for closing your store, then click "Continue."
Enter your Shopify password and click "Close store."
You can still re-open your store or view past bills for 2 years.
Making money with Shopify
More than 1 million people use Shopify to earn money online. Let's take a look at some of the most common questions about staying profitable on the platform.
How to make money on Shopify?
You can sell almost anything on Shopify, but here are three of the most common ways people make money on Shopify:
Start a clothing line: It's never been easier (or cheaper) to sell clothes online, especially with services like Printful that handle manufacturing, printing, and fulfillment for you.
Dropshipping: This is a business model where you don't stock or own products—instead, you buy them from a supplier who ships them directly to the consumer. In other words, you're the middle-man.
Sell digital goods: Shopify isn't just for physical products—you can also sell ebooks, online courses, or live coaching sessions and use the platform to easily process payments.
How do you get paid on Shopify?
Getting paid on Shopify starts with setting up Shopify Payments. This allows customers to make credit card purchases in your store. You can also choose alternative payment providers, such as PayPal, Apple Pay, Amazon Pay, and Google Pay.
After a customer purchases something from your store, the payment gets processed and moves into your merchant account.

If you use Shopify Payments, check your pay period to see when you'll receive payouts into your linked bank account. Other payment providers have their own payout schedules.

It may take 24-72 hours for payouts to reach your bank account.

For more information about getting paid on Shopify, visit the Help Center.
How to sell more on Shopify?
Once your store goes live, you shouldn't expect a flood of purchases out of nowhere. Here are 4 tips to boost your Shopify sales:
Run a social media ad campaign to attract relevant audiences to your store. Facebook ads also let you run Instagram ads simultaneously.
Create content that converts, such as in-depth blog posts that generate traffic to your site and cover important keywords about your product.
Partner with influencers who will promote your product or service for a fee.
Add an email signup form to your Shopify site to collect contact information. Then, you can communicate product launches and exclusive sales.
How to add products to Shopify?
Log into your Shopify admin and click "Products" on the left navigation menu. From there, click the "Add Product" button in the top right corner.

From here, you'll enter the product title, along with details such as a product description, image, availability, and price.
Click "Save" to make your new product live in your store.
How Privy helps you sell more on Shopify
Once your Shopify store is live, the next step towards success is adding plugins to find new customers and sell more products. That can include email marketing, custom coupons, or in-depth reporting.

That's where Privy comes in. You can think of Privy as a digital toolbox with everything you need to grow your store faster and track progress along the way.

More than half a million ecommerce brands use Privy to optimize and grow their online storefronts. With more than 18,000 5-star reviews, Privy is the #1 rated sales app in the Shopify app store. Here are just a few ways Privy helps you sell more on Shopify.
Drive more sales with custom emails
25% of ecommerce revenue comes from email newsletter marketing, on average. Privy's drag-and-drop templates aren't just easy to use—they're revenue-generating machines. In fact, merchants have earned more than $600 million with Privy Email.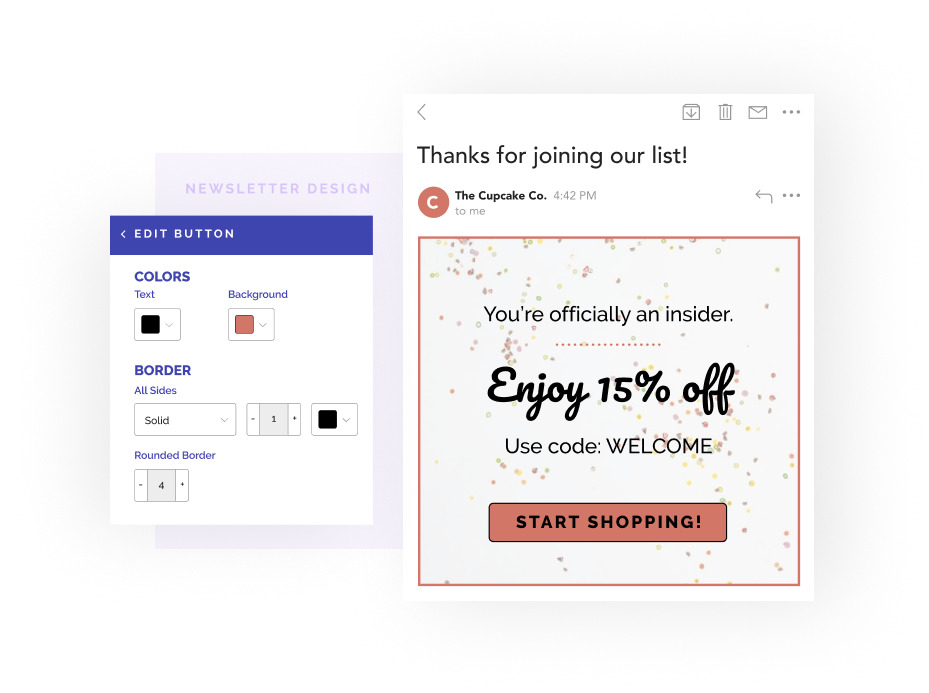 Grow your list of email subscribers
More than 500,000 merchants use Privy Pop-Up Displays to capture email addresses while shoppers browse. Choose from dozens of templates that are tested and proven to convert traffic into paying customers.

Save abandoned carts
Less than a quarter of shoppers who add items to their cart end up buying them. Fortunately, you can recover a good chunk of those sales with Abandoned Cart Emails for Shopify.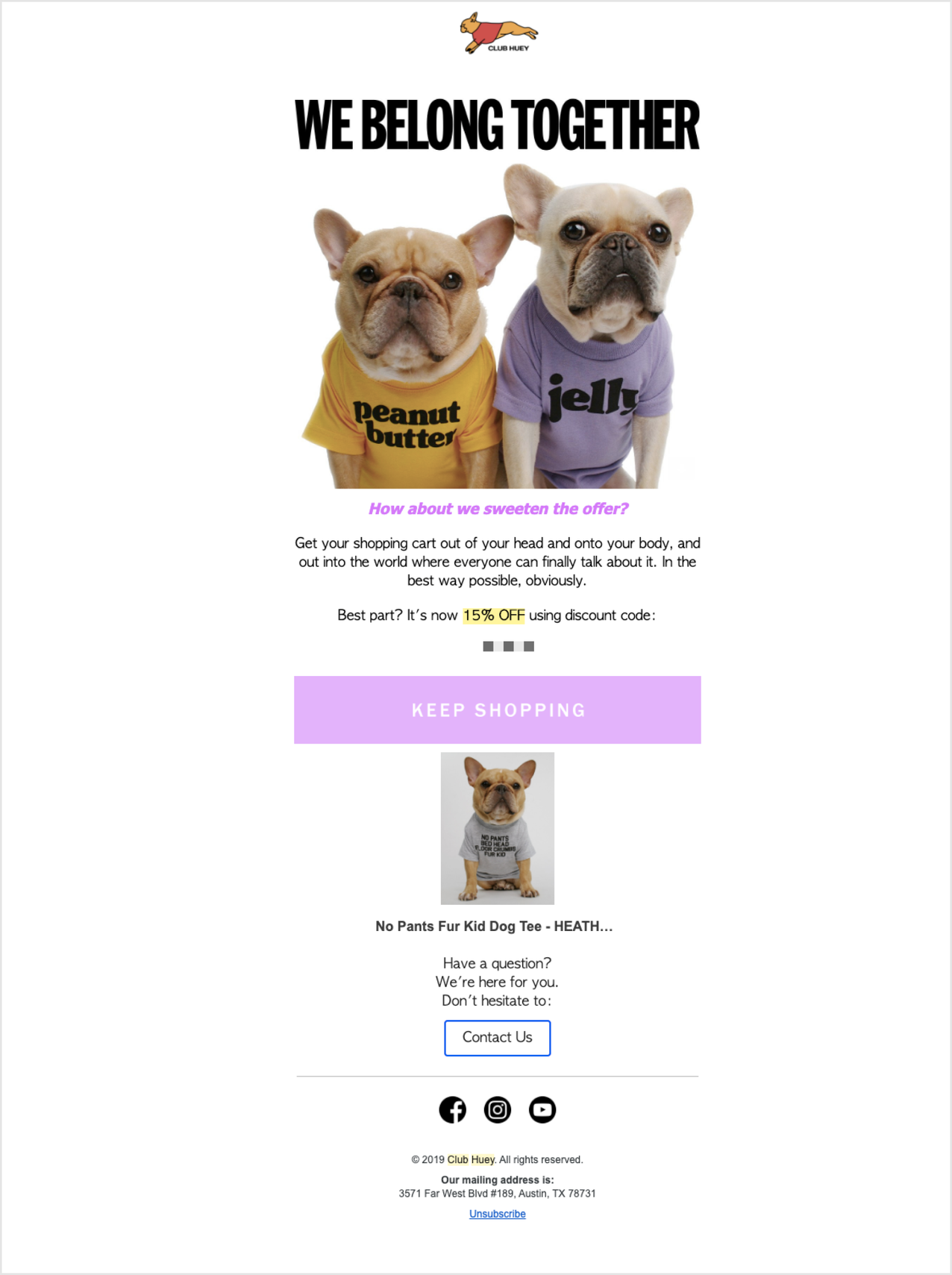 The average cart recovery rate is 7%. But for Privy customers, the average is 16%. That's because Privy equips you with automated, customizable emails that entice customers to complete their orders.
Grow your Shopify store with coupons and discounts
Easily create custom coupons to incentivize purchases from target audiences and grow your Shopify store. Privy coupons integrate into emails, pop-ups, and text messages. Best of all, your coupons sync with Shopify so you can track redemptions in real-time.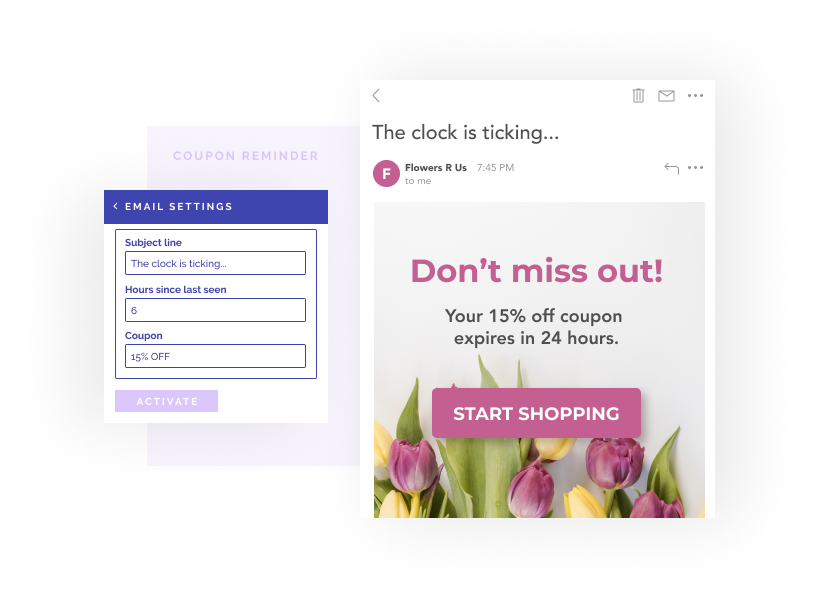 Measure your success to guide decision making
You can't improve what you don't measure. That's why Privy comes with a customizable dashboard where you can dig into key insights like purchase history, conversion rate product preferences, email analytics, and so much more.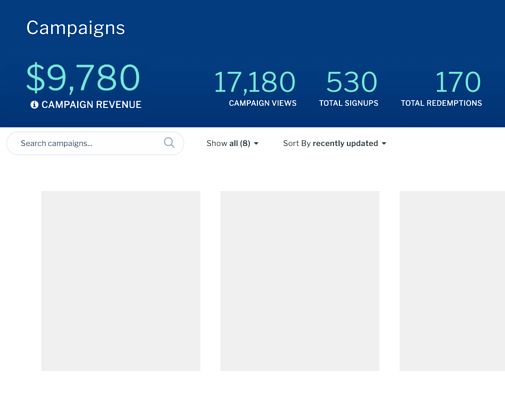 Privy + Shopify = More Sales
Ready to see how Privy's tools can take your Shopify store to the next level? Try it for free today and join the 500,000+ stores using Privy to boost sales.