An upsell encourages your customers to purchase an upgraded, or more expensive version of a product.
Many brands leverage upselling as a way to increase their average order value.
Let's take a look at what Native Deodorant does. When you add one of their deodorant products to your cart, they automatically ask if you want to subscribe to receive the same product at different intervals (1-4 months, with 3 being the most popular).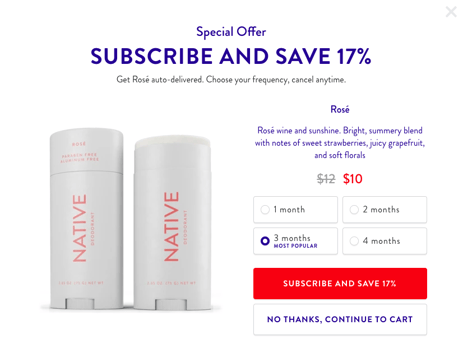 So their upsell is a subscription model. Which doesn't actually increase the average order value for this particular order (because you save 17% by subscribing), but locks in longer term profits.
Rather than just getting one $12 order, their goal is to encourage customers to subscribe to increase their customer lifetime value.
Here's another example. Let's say you're buying a 12-pack of seltzer online. At checkout, you see a prompt asking if you'd like to purchase a 24-pack of the same seltzer at a slightly discounted price. Here, they do increase AOV because you're paying more for a larger quantity of the same product.
*Upselling often gets confused with cross-selling. Here's what a cross-sell is. But this is a quick way to remember. Upselling is, essentially, trading up for a better version of whatever you're already purchasing and cross-selling is an offering with complementary products (both C's, which makes things super easy).