Spin to win is a more engaging way to grow your email list than many traditional pop ups.
Visitors to your site are asked to enter their email address for a chance to spin the wheel to win one of 12 prizes.
Popular offers for the slices include free shipping, different percentages off, and a free gift with purchase. But of course they're not all winners – that's the fun of it! So there are often slices with language like 'So close!' 'No luck today.' and 'Bummer!'
Here's an example from Death Wish Coffee.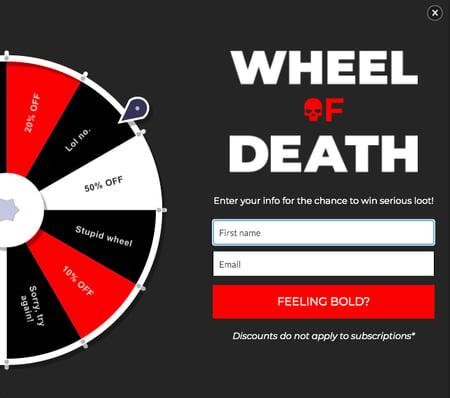 It's a great option for brands with a certain feel. It's the perfect fit for Death Wish because their brand is bold, and spin to win offers a more fun experience than a typical pop up.
For secrets to nailing spin to win, listen to this episode of Ecommerce Marketing School.