Privy's Fall Get It All Event
This offer has now expired.
days
Hours
Minutes
Seconds
Switch, Save, And Get More Sales This Fall With Privy (the

#1 reviewed sales app

in the Shopify App Store)
This offer has now expired. To learn more about your options with Privy this holiday season, you can schedule a call with a Privy coach here.
Privy's Fall Get It All Event is our Biggest. Offer. Ever.

And we're heading into the biggest online shopping holiday season ever.

So we're meeting the moment and giving you FREE, unlimited access to add Privy Email to your existing Privy Convert plan at no additional cost until December 1st, 2021.

Yes, really—100% free. No gimmicks. No commitment required.

Plus, we'll give you 1:1 onboarding support to help you get started with Privy Email.
Sign up before September 30th, and you'll have everything you need to crush this holiday season. No strings attached.

We bet it'll be worth it—Shopify merchants using Privy generate on average $581.71 in sales for every email they send. Yes, each email sent.

And last year, Privy Merchants made $300 million in campaign revenue on Black Friday + Cyber Monday alone.

So don't wait—this offer expires September 30th.

Sign up today to have your most successful holiday season yet.
How You'll
Get It All

and Grow Your Sales

We're confident that Privy's Fall Get It All will give you the tools, support, and education you need to drive more sales this holiday season. Here's why.
Step One
We'll show you how to set up a welcome discount play so you can capture more website visitors and grow your email list quickly before Black Friday. Privy customers on average see $33 in sales for every email you capture. Every email counts.
Step Two
Then we'll focus on cart recovery. We'll show you our 3-part email sequence proven to recover up to 10% of your carts. And hey - 10% might not sound like a lot, but it actually is. Privy customers using cart abandonment emails generate on average 2.6x more revenue than merchants without those emails.
Step Three
Lastly, we'll show you how to set up those money making emails, which we call newsletters, that help you convert sales from your email list. We even have a 6-part email series you can launch. It's perfect for first time merchants running their first Black Friday + Cyber Monday offer.
Step Four
And that's just the stuff we'll focus the training on. You can also run free shipping bar displays, exit intent offers, spin-to-win campaigns, set up a customer winback email series, a welcome email, plus a ton more. And again—no additional cost. You get access to all of Privy's email and conversion tools, free until December 1st.
Sign up today to take advantage of our biggest offer ever.
After you sign up, you'll chat with your dedicated coach, unlock your Privy Email access, and schedule your 1:1 onboarding session.
Sign Up Today
This offer expired on September 30th, 2021
Eager to get started?
Click the link above to schedule time with an ecommerce coach to unlock your free access to Privy Email. They'll get you access in less than 5 minutes, and are always happy to answer your questions and give you a demo.
Book a time with your Privy coach
Click the sign up button on this page to schedule time with your coach.
Meet with your coach
Your coach will help you get everything in place access to Privy's email and conversion tools.
Add Privy Email to Your Existing Plan
Get access to all the tools you need to lock in your strategy for a monster holiday season!
Privy's Fall Get It All includes everything you need to

grow online sales

this holiday season, all with one app.
Send Emails
Send newsletters & promotions to your email list
Save Carts
Save abandoned carts with automated emails
Grow List
Grow your email list with popups & advanced targeting
Increase AOV
Increase your AOV with add to cart and free shipping bar campaigns
Measure It All
Measure impact on revenue from all your marketing in one place
Previous
Next
Send Emails
Save Carts
Grow List
Increase AOV
Measure It All
How we'll prepare you for your

best holiday season

yet
Black Friday + Cyber Monday is your time to shine. We'll make sure you have the tools and coaching you need to make it happen.

By Black Friday + Cyber Monday, you will:
Have 3+ campaigns running on your website that'll grow your email list and help you make more money from your website visitors.
Be trained on how to use Privy Email + Conversion so you can build more campaigns and send money making emails on your own.
Have a winning playbook in place to make the most of the biggest online shopping holiday season ever.
All without spending a dime.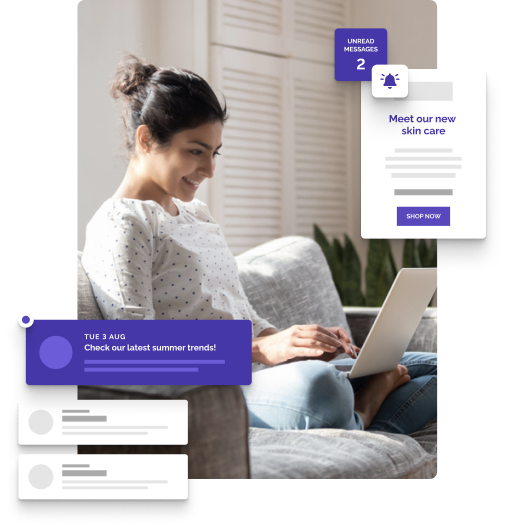 Frequently Asked Questions
What If I'm already paying for Privy Convert?
If you're already paying for Privy Convert today, we'll give you FREE access to Privy Email during Black Friday/Cyber Monday. You'll continue paying the price you pay today with unlimited access to try out our email tools.
How will I get access to the training?
We'll automatically enroll you into our weekly Black Friday + Cyber Monday training series in October. We'll walk you through proven tactics and answer your questions live.
I already have an email tool setup, will you help me make the switch?
Absolutely! We have a team here to help you get set up for success. We'll work with you to make sure your transition to Privy Email + Conversion is as smooth as possible.
Can I talk with someone about the details of this offer?