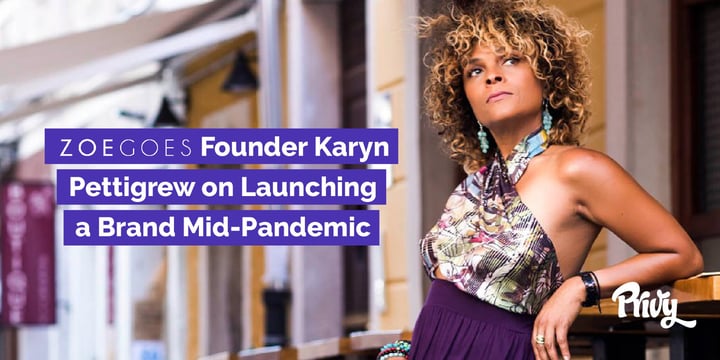 When Karyn Pettigrew missed an international flight because of her luggage and spent the night on an airport bench, she realized there had to be a better way.
One that allowed her to travel with just a carry on and still feel like she had everything she wanted. That's where the idea for ZoeGoes, her 6-piece travel wardrobe solution, was born.
The only problem? Her launch was set for March of this year. You know, when our lives, well, changed a little (OK, a lot). And fashion and travel were a couple of the hardest hit industries.
But despite all that, Karyn is convinced she couldn't have launched at a better time.
Did her launch look a little different than originally planned? Of course. But the timing has also forced her to get creative in terms of her positioning.
Here's what she had to say about launching a brand in the middle of a pandemic. I hope your girl crush is as big as mine after reading her responses. 😍
Get our best content on ecommerce marketing in your inbox 2 times a week
[Lauren] You launched a travel brand in the middle of a pandemic that makes travel close to impossible, but you're convinced the timing actually worked out perfectly. Can you explain that a little more? Because most people would be bumming hard and you have an incredible attitude about it.
[Karyn] It's so interesting. I guess I should be bummed, but I realize that the brand was designed for the new world that we're moving into. It's designed for simplicity and minimizing as a capsule collection – to work from anywhere.
It's designed for sustainability both with a made-to-order production process, which significantly reduces waste (something the industry is struggling with) and the fabric choices.
The fabrics all have technical attributes that add to the ease and convenience; like temperature modulating, anti-microbial, moisture-wicking, wrinkle resistant and machine washable (even the wool).
These are things that many existing brands are trying to grapple with right now. I think this is why I feel like the brand was born at the right time. I'm actually really excited about how anticipatory it feels.

[Lauren] What are some of the aspects of your launch that had to be changed because of everything that's going on right now?
[Karyn] Wow, well to start, we sent a launch email announcement acknowledging that the site was live for pre-orders, but didn't press on that too hard. It just didn't feel right given everything that was going on.
Instead, I leaned into my coach training and invited everyone to a free inspirational workshop. Basically an opportunity to talk about where they are and some ideas for navigating these unprecedented waters. I've been hosting that workshop each week ever since.
I also had to dial down the travel positioning and lean into the ease and convenience of the line with a greater emphasis on "fashion meets function." Look great without a lot of effort. Having a no-wrinkle fabric and a shirt that can be worn four ways really helps with that concept.
[Lauren] The timing has kind of forced you into being more creative in terms of your ideal customer. Who will you start targeting now that you weren't necessarily thinking of when you first launched the brand?
[Karyn] Roadblocks can be blessings in disguise. Not being able to travel has led to some interesting opportunities in terms of both sales, distribution, and ideal customers.
I hadn't really considered moms with newborns or toddlers before, but I realized that the wrap shirt is perfect for breast-feeding and the fabric is super forgiving with spills.
New moms don't have a lot of time and certainly aren't thinking about ironing. The pieces are constructed ideally for them with the skirt and pants having an elastic waist and deep "hands-free" pockets. Plus if there are spills, wipe up or just throw it in the washer.

[Lauren] Can you talk about your sizing a little? That really stood out to me when I was on your site. What's the thought behind using words like love, grace, and magic instead of more traditional sizing? This is one of those things that seems like a small detail, but goes a long way.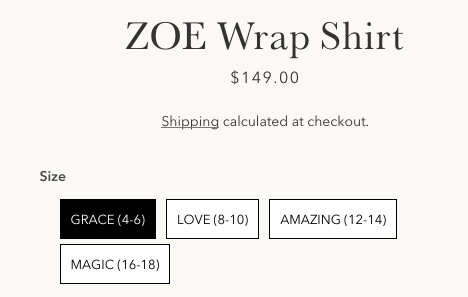 [Karyn] This brand was never just about the clothes for me. I wanted it to be empowering for women. I want the brand to be a demonstration of what is possible - being over 50, launching a new brand, designing it on my own terms.
My business philosophy is that your business is a physical representation of you. I pass every aspect of the business through my personal core values like empowerment, freedom, creative expression, simplicity, honoring the earth and the people who inhabit it, possibility, and love.
I loved the idea of someone reading I am "Love" or "Magic" every time they put on one of the pieces. I want them to know they matter. They are seen.

[Lauren] You mentioned that Pinterest is a huge driver of traffic for you. Can you explain your strategy there and why you think it's such a powerful channel for ZoeGoes?

[Karyn] Pinterest really operates like a search engine. People are usually looking for something when they're on the site – they need inspiration or ideas.
When they enter something like wrap shirt or sustainable clothing, ZoeGoes may pop up in their feed. It's a place where you can meet people who are ripe - ready. I love that. You are meeting the people who are looking for you.
[Lauren] In our conversation you said, "Your business should be an expression of you." How is your business an expression of you and what can other brands learn from this philosophy?
[Karyn] I think we should be building businesses with soul - adjective and noun.
When we do, they come to life with our flavor and will resonate with the right people because that flavor finds expression in everything we do - copy, imagery, strategy, product development, hiring, partnerships, etc.
It creates a tone that is unique - it's the best way to find your blue ocean. You really are looking for the audience that is looking for you, what you stand for, how you engage your customers, community and environment.

[Lauren] What are some of the best tools you've found that you'd recommend to other ecommerce brands?
[Karyn] So far some of my favorite tools are Privy - we've used pop ups, abandoned carts, and more! Shopify has been a great hosting platform, Constant Contact for email and TaxJar for those pesky state sales tax issues when you sell in multiple states.
Subscribe for Updates
Get our best content on ecommerce marketing in your inbox 2 times a week.
Written by Lauren Hall
Lauren is a Brand Marketing Associate at Privy. She's the brains behind all things content. When she's offline, she's obsessing over her Bernedoodle pup, Monster, and plotting ways to being a full-time Vermonter ASAP.
Subscribe for Updates
Get our best content on ecommerce marketing in your inbox 2 times a week.